If you are looking for a new affordable place to go on summer holidays, you may have just found it.
Carvoeiro in the Algarve is a small village in the south of Portugal, right by the ocean. This means you can enjoy some nice days on the beach and also delight yourself with wonderful Portuguese cuisine.
A guide to Carvoeiro holidays
We are going to tell you all about Carvoeiro as it's not as well known as some other places in the Algarve which means you can have a quieter and more authentic Portuguese holiday.
So let me tell you about Cavoeiro.
Where is Carvoeiro?
Carvoeiro is also known as "Praia do Carvoeiro" (which literally means Carvoeiro Beach). This village can be found somewhere in the centre of the Algarve, more to the west side if we were to be more precise.
It belongs to Lagoa, which is in Faro. There, you can find the most typical Portuguese beach there is – with lots of rocks and reefs surrounding the sandy beach area.
How to get to Carveiro, Algarve
Let's say it how it is: if you can, go there by car. It is indeed the most expensive way there is, but it's also the fastest and most comfortable of all. Getting to Carvoeiro in the Algarve can be difficult by public transport, although it is possible.
In a most "general view", Carvoeiro belongs to Faro, which can be reached by train from Braga, Porto, Coimbra or Lisbon. You will need to change trains, but you can get to Carvoeiro like that.
However, even if you leave Faro's station, you will need to get in a car to get to Carvoeiro beach and that journey can take up to one hour. There aren't direct trains from one place to the other, but you can take the bus if you wish.
Buses leave many times during the day and are operated by Eva bus company. They can take up to one hour and a half between Faro and Carvoeiro and often cost around  €7.
If you come from other countries, there are a lot of plane routes coming to Faro International Airport (also known as the Algarve Airport)
Sign up for our newsletter today and you will never miss out on top tips for visiting Portugal! 
When is the best time to visit Carvoeiro
Without question, the best time to visit Carvoeiro in the Algarve is during the summer. The Algarve is known to be a perfect spot to catch some sun and enjoy hot summer days by the beach.
From the end of May to October, there are mainly sunny days and no rain. Between July and September, the sun can be extremely hot and temperatures can reach 35ºC (95ºF) very easily.
The rest of the year is also enjoyable, but not as warm as in summer months. You can find dry days and nice weather in other months.
Have a look at weather in the Algarve throughout the year here.
Carvoeiro weather over the next seven days:
Things to do in Carvoeiro
Rest, undoubtedly. This is the single best thing you can do in Carvoeiro, Algarve. During the day, you can enjoy some time at the beach, go to the pool if you are staying in a hotel or an apartment and take nice long walks at night, as you will be able to enjoy the Algarve's hot temperatures.
You can also enjoy long boat rides that go inside and around some of the reefs and explore the rest of the coast.
During lunch hours or in the afternoon, you can visit the local market where you will find out all sorts of food.
If you are able to go to the centre of Lagoa, you can enjoy the following local activities:
Things to do nearby
The Algarve is known for its breathtaking beaches, nice and warm temperatures and also the wonderful food. So, if you already have that in mind, you will have no difficulty in finding things to do around Carvoeiro.
Go to the beach
The most beautiful beaches, that are worth visiting even if you don't want to lay in the sand.
Some of these are located in:
All of them are so different that, if you can, you really should try to visit, at least one of them.
Also, you can go on boat trips or ride the Bananas (and other fun rides) in pretty much all of the coastal areas.
Best Carvoeiro beaches
The most popular one is Carvoeiro Beach, but some others around the area are:
From one to another, you should always go by foot so you can enjoy the most wonderful views.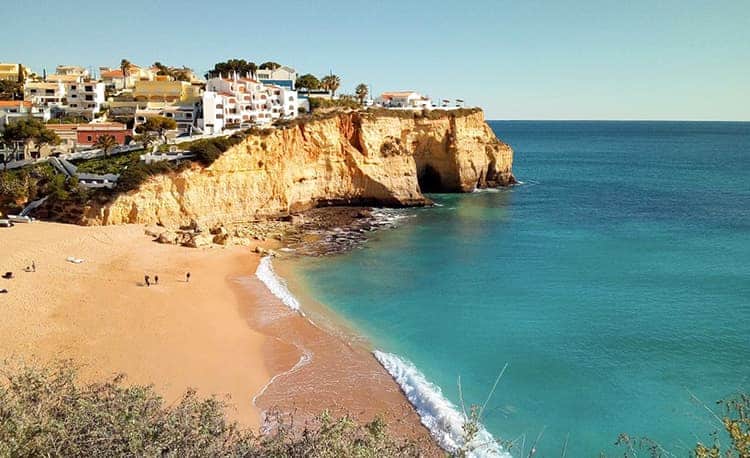 Evening entertainment
At night, we advise you to go to the marinas, which you can find in some of the Algarve's top cities like Vilamoura (the most popular) and Portimão.
In Vilamoura especially, you can find a lot of restaurants to choose from that offer great varieties of food that you will certainly enjoy. You can then take a walk around the marina to enjoy the view over the (great amount of beautiful) boats.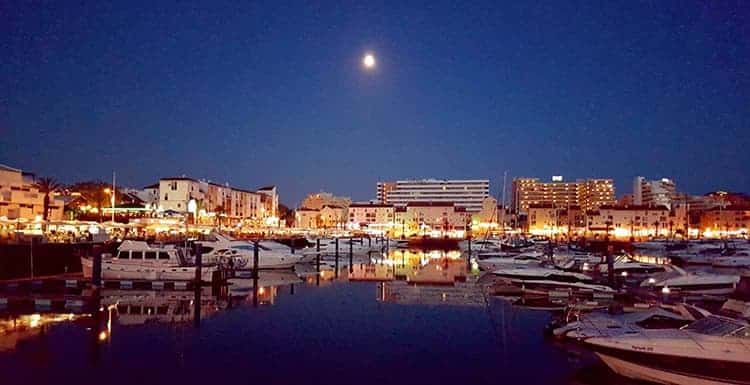 Also, if you are around Vilamoura, you can go to a dance in some bars or night clubs.
The most well known are:
But let's suppose you are near Albufeira, then you will have a hard time choosing the best bar to have a drink since there are so many of them.
Check out The Albufeira Strip for more fun in Albufeira.
Best hotel in Carvoeiro
Tivoli Carvoeiro is the best hotel in Carvoeiro Algarve.
It's a magnificent five-star resort that belongs to one of the most luxurious companies in Portugal, offering top services in exquisite conditions.
There, you can go to the pools or the Spa, you can dine in the finest restaurants or enjoy a drink in the most beautiful bars. Also, if you are a golf fan, take your gear with you and score the most points at their courses.
This can be an expensive hotel even if you visit during the winter, where each night can cost over €100 and, in the summer, it can be  €300 per night.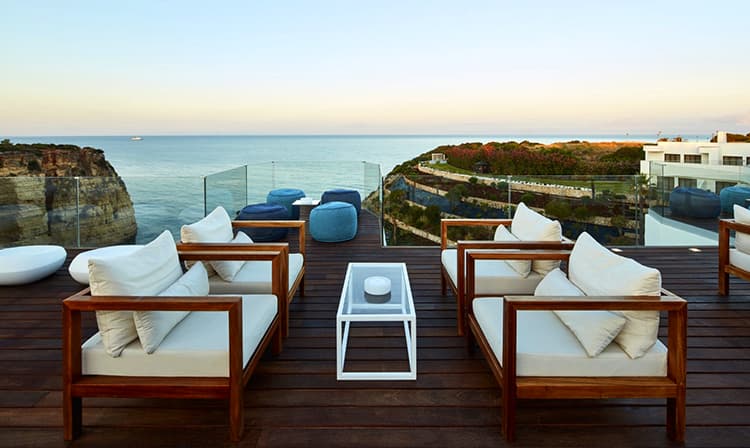 How to find other accommodation in Carvoeiro
But you do have other hotels you can choose from in Carvoeiro and the best deals can be found at Booking.com.
We must say that Carvoeiro in the Algarve is one of the best places to go for a family holiday or for a romantic getaway. Every hotel has new experiences to try, kids' clubs and other activities to choose from.
Best supermarkets in Carvoeiro
If you are staying in an apartment and want to cook for yourself, it's nice to know where the best supermarkets ("supermercados") are and if they have the products you are looking for.
The top ones in Carvoeiro are:
Only the last one is a little further away, but the other two are relatively close to one another.
Best restaurants in Carvoeiro
If you look forward to enjoying the best of Portuguese cuisine, Carvoeiro is the place to go. The variety of restaurants is immense and you can find all the typical dishes or choose from themed places, such as seafood only, Indian or Italian places.
The top regional restaurants in Carvoeiro, Algarve are:
How much does it cost to have a holiday in Carvoeiro, Algarve?
A 10-day holiday for four people during the summer (end of July) can be about  €1,000 (in an apartment) to more than €4,000 in a top hotel. It really depends on what you are looking forward to having during your summer vacation.
You should, however, book your holidays a few months before, so you can guarantee the best prices.
Do you have any questions about visiting Carvoeiro in the Algarve? Let us know in the comments below.