Have you ever heard about Albufeira? I'm 100% sure that's a Yes!
Why?
Because Albufeira is the largest and probably the most famous resort town that lines southern Portugal's beautiful Algarve coastline.
Where is Albufeira and what's the Albufeira strip?
Albufeira is around 40 km (25 miles) away from Faro airport.
This sea-side town is an ideal holiday destination because it provides more than stunning beaches and a glorious climate.
Within the charming and historic streets of the old town, there is a vast selection of bars and restaurants. The nightlife there is vibrant and social and continues into the late night hours.
For those of you who want more of a hedonistic holiday, you should head to New Town – Albufeira strip (colloquially called the Monte Choro strip or Rua da Oura in Portuguese), a long street crammed with bars and clubs in Portugal which actively encourages excessive drinking and partying.
You will find this amazing place on Avenida Sá Carneiro that runs from the Monte Choro neighbourhood to the Areias de São João neighbourhood in Albufeira.
The Albufeira strip becomes absolutely heaving at night with mostly young northern European tourists and stag and hen parties.
Everyone can enjoy Albufeira
Though Albufeira welcomes a wide range of different visitors, it's still primarily a family holiday destination with a lot of activities for children and teenagers, like for example, water sports and theme parks.
If you're tired of the beaches, there are many interesting day trips including towns like Silves, Faro and Loulé that can be explored independently by using the bus services or you can join organised boat tours that depart from the marina.
These tours range from deep sea fishing, coastal tours, dolphin watching, and all the way through to party boats.
Check out some of the things you can do in Albufeira here.
As you can see, the city has a lot to offer for everyone, it doesn't matter if you're single, a couple, a family or a group of friends. It's hard to believe that it used to be a peaceful fishing village before the 60s, right?
Things to do on the Albufeira strip (Rua da Oura)
So, let's continue the topic about what you can do on the Albufeira strip.
As I mentioned above there are many bars, clubs and restaurants that you can visit. I'll try to recommend the best ones for you.
Bars on the Albufeira strip
There are many bars on the Albufeira strip, so you won't have any problem to find a spot to drink here. Most of them will have a lot of drink offers, even free shots to encourage you to enter. Practically every bar employs staff to lure you in with their deals.
If you need a suggestion you can try:
Matt's Bar
Matt's Bar offers stag and hen parties and also a sunset boat party every Saturday from May until September from 6 pm to 9 pm. The price is €35 and includes transport to and from Vilamoura Marina, two drinks on the board, free club entry and one drink in the Matt's Bar after-party. Contact them to buy your ticket and check their excellent reviews on TripAdvisor.
Matt's Bar is open during the summer from 8 pm until 4 am.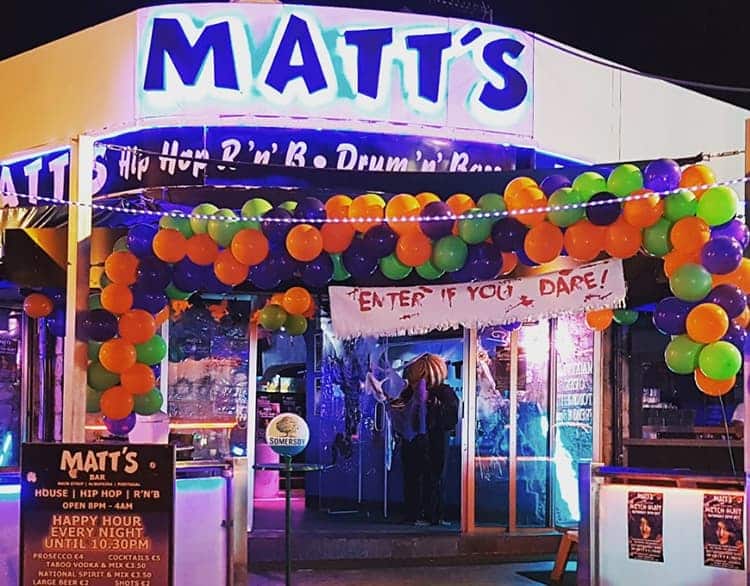 Wild & Co
Wild & Co is a mix between an Irish pub and an American saloon that also includes a steak house. Their main attractions are bartending flair shows and live music with the resident band. Check their live music programme on their website as well as their excellent restaurant reviews on TripAdvisor.
Wild & Co are open from 11 pm until 4 am.
Clubs on the Albufeira strip
For those of you who want to meet Albufeira nightlife, there are plenty of parties of different styles so it depends what you're looking for.
The most popular clubs are Club Heaven and Club Vida, but if you check reviews on TripAdvisor, you'll see that the best one is Libertos Lounge Club.
Two other big name's clubs are Kiss located between the Albufeira strip and Albufeira old town and Kadoc located several kilometres (several miles) outside of town.
Let's have a look at these in detail.
Libertos Lounge Club
According to the reviews, Libertos Lounge Club is the best club in Albufeira and is located on Travessa Antero de Quental 59. This club is famous for its nice cocktails, live shows and great atmosphere. It's a bit more expensive, but definitely worth a visit. Have a look on their website for more information about bands and events. They are open in summer from 10 pm until 4 am.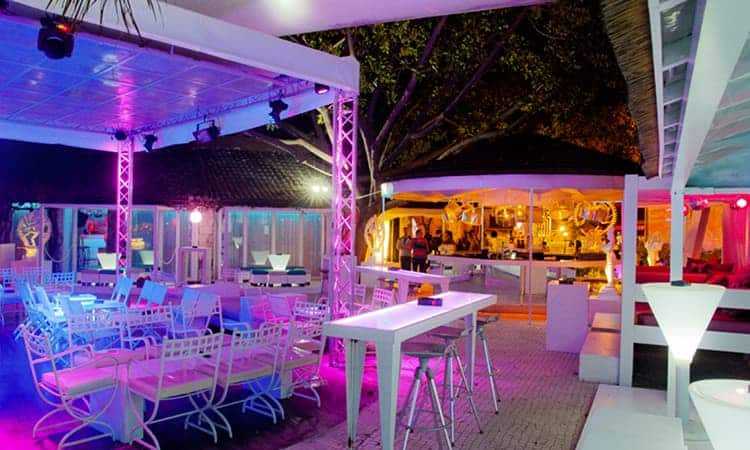 Club Heaven
Club Heaven is currently running a T-shirt competition. If you'll make a selfie and post it on Instagram or Facebook with #heaventillseven, you could win the VIP package. Besides this,  they also offer a Sunset Party from 4 pm until 8 pm. You can book your tickets here. Club Heaven is open from 2 am till late and the entrance fee is normally €10.
Club Vida
Consisting of four rooms dedicated to providing the best possible sound quality: The Box, The 103, The Baby Box and The Loft, Club Vida is huge. You are sure to fid one of these rooms suits your style of music. The entrance price depends on the events, but it can be between €12 and €55. Check their website for all of the upcoming events. Club Visa is open only during the weekends from 11 pm until 7 am on Rua Victória.
Kiss Disco Club
You'll find Kiss Disco Club on Rua Vasco da Gama, five to 10 minutes walking distance from the bottom of the Albufeira strip. They offer great sounds to suit the most varied musical tastes. Curious how it looks? See their parties gallery here. Kiss Disco Club is open from 1 am until 7 am.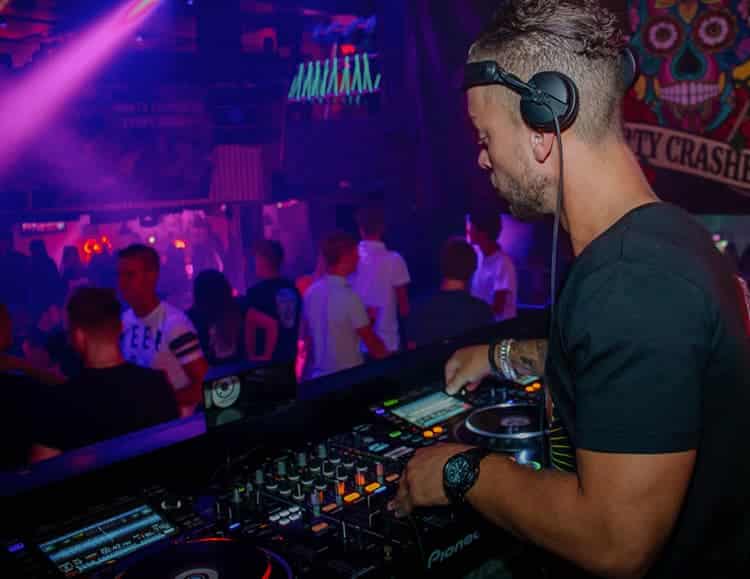 Kadoc
Kadoc is located outside of Albufeira town, about halfway to Vilamoura (10 minutes in a taxi), but it deserves a mention here. The club is vast accommodating up to 7,000 clubbers over five dance floors with a sub-tropical garden terrace outside and is regularly attracting big-name DJs from all over Europe. I couldn't find the opening time, but you can check their website in summer for their next events and DJs.
Restaurants on the Albufeira strip
On the Albufeira strip, there are more than a 100 restaurants that offer different flavours from traditional Portuguese cuisine to British and Indian, so as you're in Portugal probably you would like to try something traditional. If not, you can always grab some fish & chips.
For great food on the Albufeira strip, try these:
O Lusitano
O Lusitano is one of the best Portuguese restaurants that serves up dishes like bacalhau (cod fish), porco preto (black pork), as well as fish and shellfish. The average price based on a two-course meal is about €25. Have a look at their excellent reviews on TripAdvisor. You can find them just off the Albufeira strip at Rua da Correeira. They are open for lunch from 12.30 pm to 3 pm and for dinner from 7 pm until 10.30 pm every day except Sunday.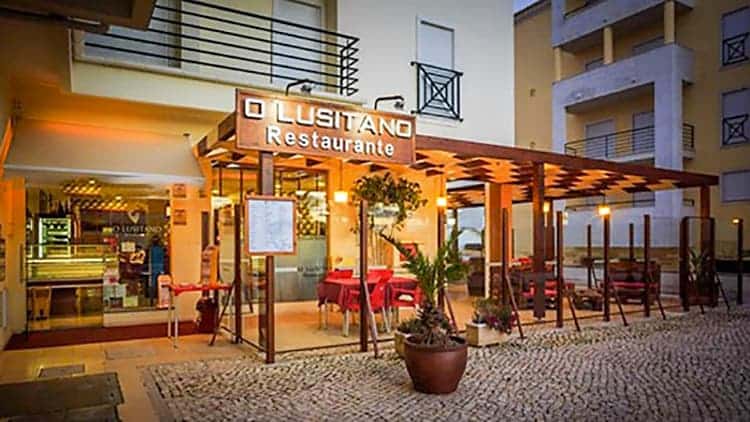 Churrasqueira O Manel Dos Frangos
Another Portuguese restaurant, Churrasqueira O Manel Dos Frangos (website is in Portuguese) is popular for its piri-piri chicken which is a "must-eat" dish in Portugal. Piri-piri chicken is one of Portugal's best dishes and is served with chips for less than €10. The restaurant is located on the Albufeira strip, at Avenida Dr. Francisco sá Carneiro 178. They are open for lunch from 12 pm to 3 pm and for dinner from 7 pm until 10.30 pm every day.
The Cockerel Country Kitchen
Are you a devotee of fish & chips? Then here is where you can get it! The Cockerel Country Kitchen is a British restaurant that also offers vegetarian, vegan and gluten-free meals. You can find them at Rua Alexandre Herculano 29 (a little east off the Albufeira strip) and they are open Tuesday to Saturday from 6 pm until 10 pm.
Things to do during the day in Albufeira
Besides the Albufeira strip nightlife, there are also other attractions to check out during the day besides lying on the beach and eating delicious food. You can try water parks, theme parks and boat tours.
How about a hop-on, hop-off bus tour to get your bearings around Albufeira? Book one here for only €18 per person.
Water parks and theme parks
There are amazing water parks and theme parks, but unfortunately, they are just outside of Albufeira, so you need a car, taxi or shuttle service to get there.
The best water park is Slide n' Splash, 30 km (18 miles) from Albufeira and is a huge complex of insane slides. Entrance for adults costs €27.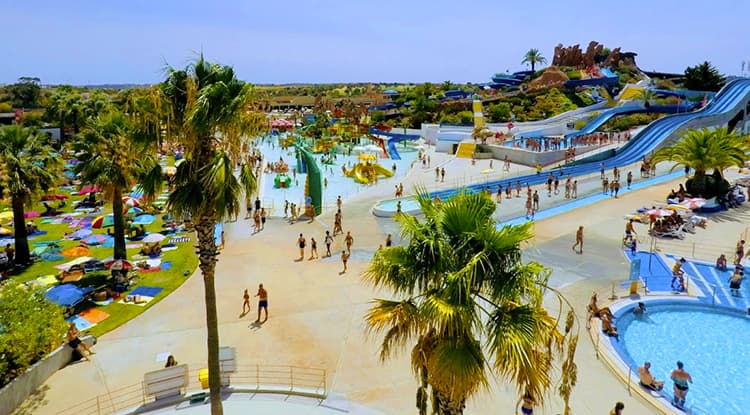 A bit closer, 15 km (9 miles) from Albufeira, is Aquashow Park with rides and animal shows. Entrance for adults costs €29.
Much closer, only 9 km (6 miles) from Albufeira, there is Zoomarine theme park which is a combination of waterpark and sea life center that specializes in dolphins. Entrance for adults costs €29.
Boat tours
Another popular activity in Albufeira are boat tours which include boat rides, dolphin watching, coastline deep fishing and party boats (like the ones organised by Matt's Bar).
Check out some great boat tour deals here.
Accommodation on and around the Albufeira strip
There are several well-rated hotels as well as villas and apartments within walking distance of the Albufeira strip. You can check below what I've prepared for you.
Hotels near the Albufeira strip
Luna Hotel de Oura
From €33 per night, Luna Hotel de Oura is just six minutes from the Albufeira strip and 15 minutes from the beach.
Hotel de Aldeia
Hotel de Aldeia has rooms from €38 per night. They are right on the Albufeira strip itself and seven minutes from the beach.
Villas and Apartments near the Albufeira strip
Golden Beach by 3HB (some of the website is in Portuguese) apartments are just three minutes to the Albufeira strip and two minutes to the beach. You can check out their excellent reviews on TripAdvisor.
Vila Petra Aparthotel has self-catering apartments and is only two minutes from the top of the Albufeira strip and 20 minutes to the beach. Read the excellent reviews on TripAdvisor.
I also recommend that you check Airbnb if you want to save some money.
If you are coming to Albufeira, you might also like Visit Albufeira: Everything You Always Wanted to Know
How to get to the Albufeira strip (Rua da Oura)?
You have few options to travel to the Albufeira strip from Faro or Faro airport. It depends on how much you want to spend on your journey and from the time of your arrival. Below you can check all the possible options.
By private transfer
A private transfer is the easiest and fastest method to travel from Faro airport to Albufeira. The highest regarded transfer company is Yellow Fish Transfers. A transfer from Faro airport to Albufeira costs €32 (single transfer) and takes 45 minutes. You can book your transfer directly on their website.
By public transport
There are three stages to get to the Albufeira strip from Faro Airport:
1. Faro airport to Faro city (by bus or taxi)
There is a direct bus from the airport to Faro city (number 16). The journey takes under 20 minutes and costs around €3. The tickets are purchased from the driver. There is at least one bus per hour between 6 am and 11 pm.
A taxi to Faro city costs between €12 and €15.
2. Faro to Albufeira (by bus or train)
There are two bus services between Faro and Albufeira, an express bus (55 minutes) or the regional service (90 minutes). The express bus ticket costs around €6 and the normal route costs around €4 and have to be purchased at the ticket office. You can check the timetable at the Eva website (choose number 57 for an express bus, and number 9 for the regional service).
If all of the seats on the buses are sold out, you can take the train, but Albufeira (Ferreiras) train station is 6 km (4 miles) away from the main resort town. The train ticket cost around €4 and the journey lasts 35 minutes. Check the timetable at Combios de Portugal (CP).
3. Albufeira bus (or train) station to your hotel (by bus, taxi or walk)
If you travelled by bus, the closest bus stop is on Avenida dos Descobrimentos. Then you'll have to walk to your hotel on the Albufeira strip.
If you decided to go by train, you can take a taxi from Ferreiras/Albufeira train station to Albufeira, which will cost around €10 to €15 or a local bus to Albufeira bus station which is still around 1.5 km (.93 miles) away from the centre so you'll have to walk.
I don't recommend you to travel by taxi from Faro airport to Albufeira because it'll be too expensive, even with Uber. You could pay more than €60 or €70.
Before your arrival check the timetables if you want to travel by public transport, because busses and trains from Faro to Albufeira depart only until 8 pm so maybe you'll have to stay in Faro for a night.
Here is some great advice about Visiting Faro: What To Do and See
Best time to visit the Albufeira strip
Well, Albufeira is the busiest holiday destination in the area. If you want to visit it during the summer (July to August), you should book your flights and accommodation well in advance as the best hotels sell out before Easter.
You should also expect high temperatures and busy beaches in Portugal. But I guess that's what some of us miss the most, sun and hot weather, right?
In September and October you still find temperatures around 20°C (68°F), but if you're planning on walking and cycling, the best time to visit will be around April to June.
How much do you need to go to Albufeira strip?
Well, it depends if you're going with a family or friends and how you're planning to spend your time. I would estimate around €50 to €100 per day taking into consideration meals outside (breakfast, lunch, main meal), entrances for the parties and drinks in the clubs, also additional activities like water and theme parks or boat tours.
Alternatives to the Albufeira strip – there's more to Albufeira
If you're done with the Albufeira strip, there are some great places to enjoy in Albufeira.
For instance, you can head to the historical Albufeira downtown area where you'll find a wide variety of bars, discos, street cafés and restaurants for a quiet meal, a cool drink or a delicious ice cream.
It's definitely worth a visit as it's more relaxed and has a quaint central square surrounded by trees.
The marina is also a very colourful and lively place to take a walk and enjoy a drink and good food.
Is it worth going to the Albufeira Strip (Rua da Oura)?
I really hope you could find the answers to all of your questions about the Albufeira strip.
Now, just book your flights and wait for summer to spend the best holiday of your life on the Albufeira strip.
Want to know more about the Algarve? Check out our article: Visit the Algarve, People Say it's the 'Florida' of Europe
Do you have any tips for fellow travellers? Leave a comment below, we'd love to hear from you.