If you are planning a trip to Portugal and are looking to relax by the beach, then Albufeira is surely one of the cities you should visit.
Here is everything you need to know about one of the most scenic and liveliest Portuguese beach resorts.
A bit about Albufeira
Once a small fishing village and now a very popular tourist destination, it still keeps all of the allure of the old days. The city of Albufeira boasts its original charm with its cobblestone streets, pretty corner-cafés and stunning ocean views.
Where is Albufeira?
Albufeira is a city located by the coastline in the heart of the Algarve, the southernmost region of Portugal.
It is 250 km (160 miles) from Lisbon.
Faro, the capital of Algarve, is situated 45 km (28 miles) to the south-east and Lagos is about 30 km (19 miles) to the west.
How to get to Albufeira
Getting to Albufeira by plane
If you're planning a holiday in Albufeira and you're flying directly to the Algarve, keep in mind that the Faro International Airport is the nearest airport and is 40 km ( 25 miles).
For those of you flying into Europe, there are many options to get to the Algarve, if you check Faro's airport site you can find the list of different companies making direct flights to the region. Ryanair and EasyJet are two of the low-cost companies flying directly there.
From Toronto, in Canada, there's also a direct flight to Faro.
Getting to Albufeira from Lisbon
If you're in Lisbon and want to take some days off and enjoy the nice weather by the Algarve coast, there are many trains and buses travelling directly to Albufeira.
Renting a car could also be a good option since it's possible to get quite a cheap car, just bear in mind you will have to pay for the tolls which will amount to around €20.
You can also travel from Lisbon by train. Lisbon Oriente to Albufeira – Ferreiras costs €20. There is also a bus, that leaves from Lisboa Sete Rios, for which you will pay €18.50.
The journey from Lisbon to Albufeira takes between two and a half to three hours. It really depends on which means of transportation you choose.
Travelling from Faro to Albufeira by taxi, train or bus
There are different ways to reach Albufeira from the airport: bus, train, taxi or private transfer.
To get to Albufeira from Faro, you will need to get a regional train from just outside the town. This will usually cost €3.30. If you want to travel from Faro to Albufeira by bus, expect to pay €4.65 for the trip. Just keep in mind that no matter which option you choose, booking in advance will be the best way to get a better deal and to guarantee you get a seat.
Private transfer with either Bravotur or Yellowfish will cost you about €35, whilst a taxi will charge you at least €50. Public transport is more affordable. However, buses and trains may not take you all the way into the heart of Faro and a taxi might be needed for the final leg of the journey.
What's the weather like in Albufeira?
There is no chance you won't fall in love with the weather in Albufeira (and the Algarve in general)!
Between February and May, the average temperature is a mild 15°C (59°F). During this period, highs of up to 19°C (66°F) are common during the day, dropping to about 11°C (52°F) at night.
The hottest time of the year in Albufeira is between July and the mid-August with an average temperature of 23°C (73°F). During the day, it goes up into the 30's (over 86°F)and falls down to 18°C (64°F) after dark. Slap on some suncream and keep well hydrated to avoid any nasty sunburns and heatstroke!
While an average temperature of 16°C (61°F) in Albufeira during the winter makes it milder than most European holiday destinations, this Portuguese city has around 20 rainy days in the winter months, so there might be one or two showers during your stay.
What is the best time to visit Albufeira?
Albufeira certainly has some exciting activities for everyone throughout the year but the summer months, from July to September, can be a bit crowded. This is to be expected as the weather is glorious.
However, if you prefer to have some quiet time with your friends or family and enjoy the nice sunny weather on the beach, the period between April and June is a good off-peak option.
Visiting between October and May also offers some nice weather compared to the rest of Europe.
Where to stay in Albufeira
There are many hotels in Albufeira, catering to everyone from families with young children to adults only and couples' retreats. The choice is immense so to help you decide, here are some suggestions.
For families, you have a resort style hotel called Grande Real Santa Eulalia Resort & Hotel Spa. It's a five-star resort by the Santa Eulália Beach. For a week in June, you can pay as little as €790. This hotel is not only great for couples and families, but it is also amazing for children as they have a kids' club running throughout the summer.
If you are travelling with a group of friends, you can rent a villa in Albufeira. HomeAway has some great options and you can get a villa for eight of your friends for as little as €90 a night.
For couples, Aqua Pedra Dos Bicos is an adults only, designer beach hotel and could be a good option. There is direct access to Oura Beach from the hotel. For a week in the summer, you can pay as little as €700 for two with breakfast included.
For travellers on a budget, there are also some really nice, cheaper alternatives where you can stay. You can pay as little as €18 for a four bed, mixed dorm or €56 for a private room if you book your stay at Lost and Found Hostel.
Top things to do in Albufeira
Albufeira is not just about sunbathing on the beach and enjoying the stunning views. There are countless cool things to do in this beautiful city that will make your experience unforgettable.
Here's a choice selection:
Enjoy an organised horseback riding tour
For all the animal-lovers reading this, there are two companies that organise regular horseback riding tours around the city of Albufeira; Albufeira Riding Centre (you should book at least five days in advance)and Riding Center Quinta da Saudade.
A 30-minute riding session usually costs about €30, while the price of a two-hour beach ride can go up to €75 per person.
Have an ice-cold glass of  'Sagres' in the historical centre of Albufeira
No matter how much time you're planning to spend in Albufeira, find a moment to explore the historical centre's romantic cobbled streets and be rewarded with breathtaking views and an interesting history.
Why not stop for a while and enjoy a refreshing glass of Sagres, the most popular beer in Portugal, in one of the several cute, little bars?
Grab the camera and visit the famous Benagil caves
Seacret Tours is a local tour company specialising in organised boat tours to the famous Benagil caves near Albufeira. This company also offers group bird-watching tours to Salgados lagoon, as well as dolphin spotting tours.
Keep in mind that there are quite a lot of companies organising these kinds of trips on a daily basis. We recommend booking your tour in advance in order to get the best price possible.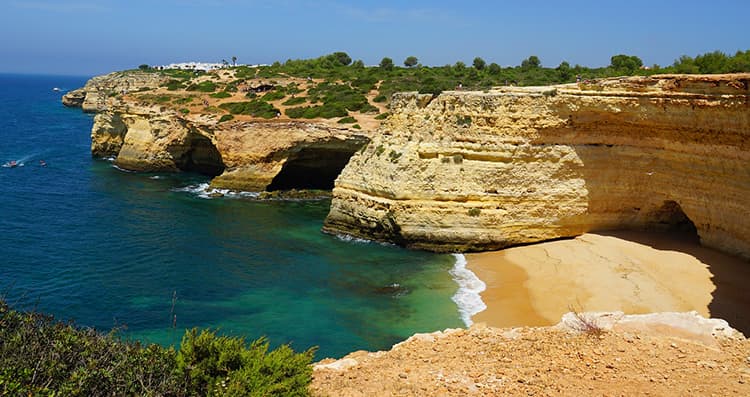 Which are the best beaches in Albufeira?
You couldn't go to Albufeira without enjoying the fabulous golden sandy beaches, the main reason why people visit Albufeira every year. Here is a list of the best beaches around the city.
Praia dos Pescadores or Fisherman's beach – situated in front of the historical centre (old city) of Albufeira, the closest beach to the city. The most accurate way to describe it is; A sandy beach with stunning rock formations. Because it's an urban beach, sometimes it can be crowded but if you visit Albufeira outside of August or July, this is a lovely beach where you can relax and take a dip in the sea.
If you like walking, you can also go to Praia do Inatel, an endless line of golden sand which is around a 10-minute walk from Albufeira's city centre.
Also, make sure you visit Praia de Oura, Praia de Santa Eulália and Praia de São Rafael, which are amongst the most loved beaches in Albufeira, according to locals and travellers alike.
Top tourist attractions in Albufeira
Aside from the insanely beautiful beaches and crazy nightlife, Albufeira has a lot more to offer for the fans of history, food and photography.
Albufeira's old town centre is an absolute must-see thanks to its outstanding buildings and attractive cobblestone streets. The main square, Largo Engenheiro Duarte Pacheco, is named after a noble 20th-century Portuguese politician and civil engineer and is well worth a visit.
You should also try to find some time to see the rich collection in the Archeological Museum ("Museu Arqueológico") and enjoy the breathtaking view from the Castle of Paderne ("Castelo de Paderne").
Where to eat in Albufeira?
Buzzing Albufeira is a thrilling spot for all food lovers. Here are some of the best places to try some local dishes.
O Marinheiro is a cute Mediterranean restaurant, located close to the city centre, that's offering a wide range of delicious Portuguese meat and seafood dishes. A great spot for families or groups of friends!
Dom Carlos is a mainstay in the city of Albufeira. It's a typical Portuguese restaurant serving traditional seafood dishes. However, Dom Carlos is also renowned for its popular five-course menu.
Castelo do Mar combines traditional Portuguese food recipes with modern world cuisine. Even if this does not tempt you, go for the view which is beyond spectacular!

The nightlife
Old town centre. It's impossible to talk about Albufeira without mentioning the nightlife. It boasts a busy strip right in the centre of the city, which is popular with hen and stag parties. In almost every door you will find bars, restaurants, cafés and clubs.
Rua da Oura is three km (1.9 miles) from the old town centre. It is also the next stop for those looking to continue the party into the small hours.
Is Albufeira a good city to live in?
YES, YES, YES! Albufeira is a great city to live in. Why? Because it's a very lively city with amazing beaches and a very rich nightlife. The weather in the region is also sublime and the locals are very welcoming. There's also a large community of expats living around the Algarve region so there is never a shortage of meet-ups and events to go to.
Last, but not least, the cost of living is more affordable compared to Lisbon.
Did we cover all the options in Albufeira for you? Do you have any experiences to share? Feel free to leave a comment below.
We publish new content every day so be sure to subscribe to our newsletter to get notified of the latest tips for your visit or move to Portugal.