Visiting Lisbon and looking for a good market?
Here you'll find the best markets for food, produce, clothes, books, homewares, crafts and art.  Also, pick up a bargain at a flea market and something cool at an alternative market.
It's all here in Lisbon.
A Lisbon market for every taste and budget
Like most European capitals, the market culture has been present in Lisbon for centuries. With the city's increasing tourism, the markets have become popular attractions due to their amazing range of products, offering an insight into Portuguese culture, yet the locals still use the markets as they did historically.
Best Lisbon food market
Mercado da Ribeira / Time Out Market
Mercado da Ribeira is the main food and farmers' market of Lisbon that has been operating since 1882. It offers fresh fish, vegetables, fruit, eggs, bread, meat, cakes as well as flowers, plants and gardening items.
In 2014, it was taken over by Time Out Lisboa magazine who added stalls offering traditional and gourmet specialties.
Time Out Market acts as a food court in the same building as Mercado da Ribeira, and it facilitates more than 40 vendors under one roof. It hosts cafés, tapas bars, gastro pubs and Portuguese restaurants. Some of the most popular restaurants in Lisbon have a stand here, so you can sample their dishes before you book a table.
When you enter the hall, you will be faced with a vibrant and noisy atmosphere, people weaving between vendors, some sitting at long tables and bars. Due to its location and outreach it is typically very popular.
My personal favourite stall is Mantegeira, which in my opinion, sells one of the best "pastéis de nata" in town.
Due to its popularity amongst tourists, the prices are higher than at other Lisbon food courts.
The space is not only aimed at hungry and thirsty people but also music enthusiasts. On the first floor you can find Time Out Studio with parties and concerts on a huge space with a view of the food market downstairs.
This Lisbon market is near the river Tagus, and in front of Cais do Sodré train station. Whilst you are waiting for your train, you can just drop by and have a taste of the city's most delicious dishes.
The Time Out Market is walking distance from the city centre, however if you live a bit further out, you might want to consider taking public transport. Cais do Sodré is the nearest station where you can get to by taking the green ("verde") Metro line, tram 15 and plenty of bus lines.
You can get there easily by catching a bus, train, Metro or even the ferry if you are staying across the river. Taking a car? Here you can read more information about parking near the market.
Opening hours
Time Out Market is open from Sunday to Wednesday at 10 am until midnight and from Thursday to Saturday from 10 am until 2 am.
The traditional food market of Mercado da Ribeira is open daily from 6 am until 10 pm and on Sunday from 9 am until 8 pm.
Address: Avenida 24 de Julho (opposite the Cais do Sodré station).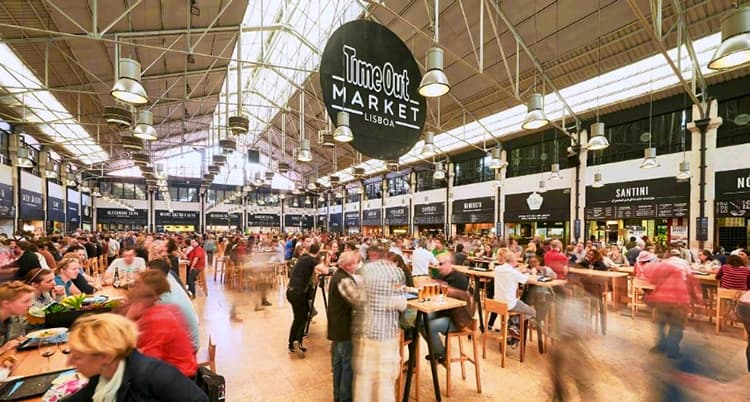 Best Lisbon flea market
Feira da Ladra
The market where no one goes home with empty hands.
From antiques and furniture, books and clothes as well as handmade-artisan goods, you can find anything here for a bargain.
Flea markets are becoming more and more popular nowadays, but the Feira da Ladra is thought to have its roots dating back to the 13th century. It has moved from place to place until it settled in its current location in Alfama.
For me it's a mixture of Berlin's famous Mauer Park flea market and London's Brick Lane market, but with much more affordable prices where you can find the best deals and can also discover talented artists selling their products. In comparison to Mauer Park and Brick Lane, Feira da Ladra has a lot more local engagement and feels more genuine.
I think haggling is the key when I go to a flea market, so I always try to get the best price possible sometimes with more sometimes with less luck. Don't be shy, there is no harm in trying.
My best find recently was a copper Cataplana which was used for preparing seafood dishes in Portugal.
However, it wasn't my intention to cook in it, but to use it as a lampshade.
You can find little treasures which would cost you much more if they were new and the creative opportunities of some of the items on offer is endless.
This Lisbon flea market is located in the beautiful neighbourhood of Alfama right next to the magnificent Saint Vincent church. You can walk up from Santa Apolónia station which is on the blue ("azul") Metro line, or take the bus 734.
Opening hours
Feira da Ladra is open only on Tuesdays and Saturdays from 9 am until 6 pm.
Address: Campo de Santa Clara, in the historic neighbourhood of São Vicente de Fora, Alfama.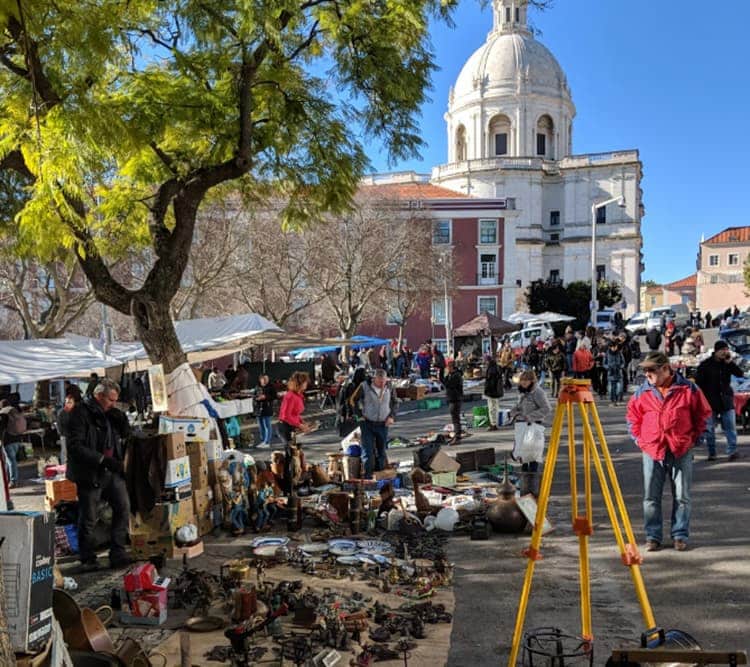 Best alternative Lisbon market
Anjos70
During the daytime, Anjos70 (website is in Portuguese) functions as a co-working space and in the evenings they host concerts, workshops, yoga classes and sometimes it serves as digital nomads' Meetup venue.
But on the first weekend of every month, Anjos70 turns into an art and flea market where emerging artists show their best works. You can also find vintage clothes, teas, coffees, and bars with locally priced booze.
What I like about this Lisbon market so much is that they really try to support young artists and entrepreneurs by letting them rent a space at a very affordable price.
Opening hours
The Art & Flea market of Anjos70 takes place on the first weekend of each month from 11 am until 7 pm, except for the months of August and January.
Address: Regueirão Anjos 70. Anjos70 is walking distance from Anjos Metro station which is on the green ("verde") line. But you can also get there by taking bus 208, 708 or 736.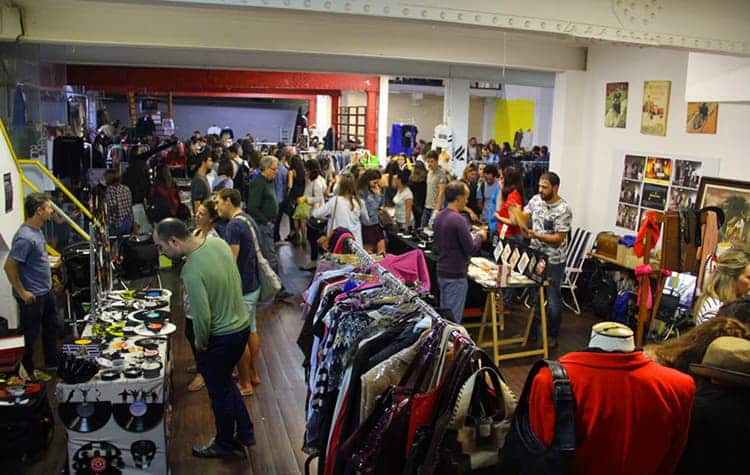 Lisbon Christmas markets
When someone asks you about Christmas markets, first thing that comes to mind is a German or central European-themed market full of mulled wine, Bratwurst, roasted almonds, and kitschy decorations, right?
You wouldn't necessarily think that Lisbon offers quite a wide variety of Christmas markets, as well.
Some of the best Lisbon Christmas markets are:
Wonderland Lisboa Parque Eduardo VII
Wonderland Lisboa (website is in Portuguese) is one of the biggest Christmas markets in Lisbon, usually taking place from 1 December until New Year's Day. You can take your family and try out the Ferris wheel, ice-skating rink or enjoy the stalls selling handicrafts, drinks and food.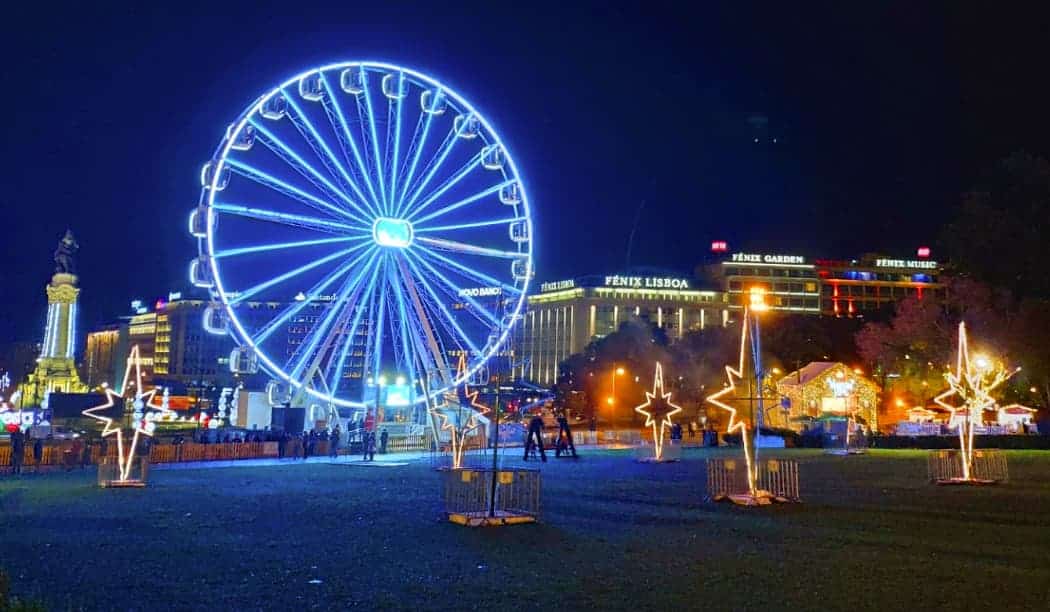 Christmas Market at Campo Pequeno
The Christmas Market at Campo Pequeno usually takes place during the first few days of December where you can find jewellery, toys, books and delicious food.
Rossio Square Christmas market
Rossio doesn't just host the Christmas market in December, but also small markets throughout the year. You can expect both craft and food stalls and huts selling mulled wine.
Natalis
The Natalis (website is in Portuguese) market usually takes place in the first week of December at Feira Internacional de Lisboa, Edifício FIL, Rua do Bojador, Parque das Nações. It's a great Christmas event for families and includes a Santa Market, Sustainability Market, Play Market, Chocolate Market and Gastronomy Space.
Enjoy the Lisbon market scene all year round
I am a person who loves eating and trying out as many local specialties as possible and the Lisbon market scene definitely fulfils my craving for sampling new dishes without having to sit in a restaurant or café.
I like nothing more than getting my hands on the best deals of used items or local art, so that's why my absolute favourite Lisbon market is Feira da Ladra.
So choose whatever takes your fancy, one thing I can guarantee is that you will definitely not go home with an empty stomach or empty hands from these Lisbon markets.
Did you find a bargain at any of these Lisbon markets? Did we miss any of your favourites? Let us know in the comments below.
Whether you are visiting Lisbon or live here, keep up to date with all the best tips and advice from us at bePortugal. Sign up for our newsletter here.