When in Portugal, you will be asked this question: "Super Bock or Sagres?"
These are the two Portuguese beers you will find in every restaurant, café, and supermarkets in Portugal.
Top things you always wanted to know about Portuguese beer
Here you will find out about our favourites brews and why there are two main competitors and what they mean to the Portuguese.
What is the national beer of Portugal?
Whilst Super Bock and Sagres have some differences in flavour, they are surprisingly similar products and are both loved by the Portuguese as part of their national pride (along with Football of course).
Super Bock beer sells slightly cheaper than Sagres beer, and has consistently shown to be the more popular option, with the highest sales in the Portuguese beer industry.
How old is Portuguese beer making?
Portuguese beer has a long history, beginning in the 3rd century BC when the Romans introduced their ancient brewing style. Since then, beer has been a part of Portuguese culture.
Who owns Super Bock and Sagres?
In the 20th century, Portugal was ruled under a dictatorship and two brewing companies were owned by the state: Unicer – Bebidas de Portugal, S.A. (producing Super Bock) and Sociedade Central de Cervejas, S.A. (producing Sagres). Foreign companies were banned from operating inside Portugal, which allowed these two main Portuguese beer companies to form a duopoly in the Portuguese beer market.
Since the dictatorship fell in 1974, both companies have been privatised and the beer market has been opened to allow foreign companies and craft breweries to operate and distribute within Portugal. Portugal is now seeing a slow shift away from the age-old question "Super Bock or Sagres?" as more craft breweries are opening and becoming increasingly popular.
What is Super Bock?
Super Bock lager is a refreshing pilsner beer, which has been produced since 1927.
Super Bock also produces other drinks, including:
Super Bock Abadia (a red beer created using an old recipe);
Super Bock Stout; and
Super Bock Green (a 2% alcohol drink mixing beer with lemon juice).
And some of their non-alcoholic drinks (which are surprisingly good):
Super Bock Sem Alcool Pilsner (a Pilsner without alcohol);
Super Bock Sem Alcool Preta (an authentic stout without alcohol); and
Super Bock 0.0%.
The Super Bock mini is not a low alcohol beer, it's just a smaller bottle so it doesn't get warm in the sun before you drink it all.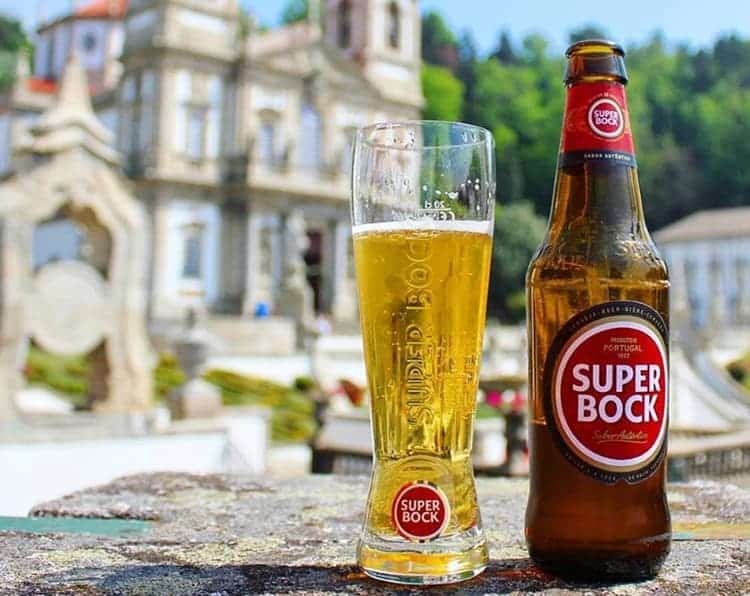 What is Sagres?
The original Sagres beer is a lager first released in 1940, and is designed for the warm weather of Portugal.
Other drinks produced by Sagres include:
Sagres Preta (a Munich-style dark beer)
Sagres Radler (a collection of beers mixed with soft-drinks)
Bohemia Cerveja (a collection of beers designed to accompany meals)
Sagres Cascade (a refreshing Pilsner beer)
Sagres Alcoholic free beer
What is the alcohol content in Portuguese beer?
Whilst IPAs are a popular choice of beer in the UK, typically containing an alcohol content of 6.5% to 9%, the preferred choice here is a Portuguese lager with a more moderate alcohol content.
The classic Sagres beer has 5% alcohol by volume, and Super Bock beer has 5.2%. This is comparable with popular beers or Portuguese drinks from the US such as Coors (4.2%), Budweiser (5%) and Millers (5%), and lager from the UK such as Carling lager (4%).
How to order a beer in Portuguese
Each country has its own unique way of ordering a beer ("cerveja" in Portuguese); here are some phrases that will be useful when having a beer in Portugal. Just be sure to add "por favor" (please) at the end.
"uma imperial"
This refers to the size of a beer poured from the tap, and is the standard size for a beer in Portugal (20cl). Usually a bar of restaurant will only stock one of either Super Bock or Sagres, so there is no need to state which beer you prefer.
"um fino"
The north of Portugal use this word to for a 20cl beer, rather than "uma imperial".
"um lambreta"
Slightly smaller than an "imperial" at 15cl.
"uma caneca"
A larger 50cl beer from the tap.
"uma garrafa de Sagres"
This translates to "a bottle of Sagres". Some venues will only supply bottles, while others will have options to purchase a glass of beer from a bottle or from the tap.
When you get your beer, you can say "Saúde!" which means "Cheers and good health!"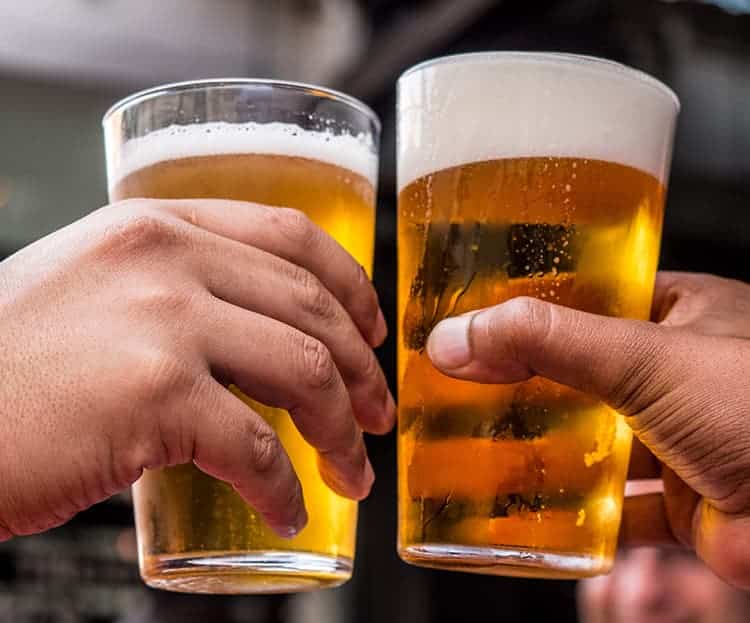 How much is a beer in Portugal?
As the cost of living in Portugal is quite low, so are the prices of beer. Of course it depends where you go as most touristy locations will charge a little more but in a typical café or restaurant ("Tasca") you can buy an "imperial" for around €1.
The average price per pint is €1.92.
Portuguese food that that pairs well with beer
You will find many exciting traditional foods to compliment your beer in Portugal. Here are some of the best Portuguese foods to pair with a beer:
Tremoços
A variety of salty, pickled lupini beans that were introduced to the Portuguese from the Moors in the 8th century. Tremoços commonly compliment beer as a snack, and can be found in most tascas (traditional Portuguese restaurants). You just bite into them and squeeze out the bean from the skin. I wouldn't recommend eating the skins, they are tough and are usually discarded in a second bowl on the table. A healthy alternative to crisps for sure.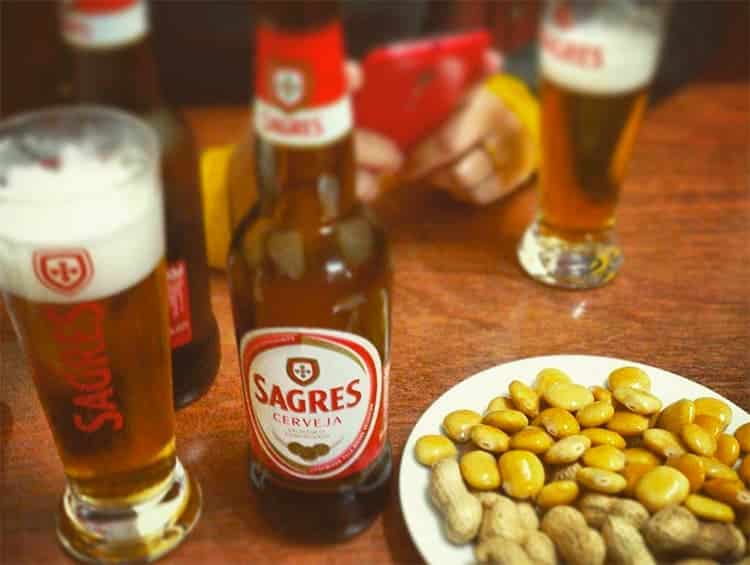 Francesinha
Originating in Porto, this is a massive sandwich willed with ham, steak, sausage, melted cheese, and spicy tomato sauce. Chips are usually served on the side. A very filling meal with a few beers for those who want something substantial.
Bifana
A delicious pork sandwich with mustard, perfect to pair with a refreshing Portuguese beer.
Seafood
Given its location along the Atlantic coast, Portuguese restaurants will always have a fish or seafood option on the menu. One popular traditional item is the "pastel de bacalhau" (codfish and potato cake), a savoury delight which will be perfectly complimented with a Portuguese beer.
Petiscos
The Portuguese version of tapas. These are small plates of the main dishes which can be ordered to accompany a few beers at many Portuguese restaurants.
Click here to learn more about typical Portuguese food.
Never miss any top advice from us at bePortugal by signing up for our FREE newsletter today.
Alternatives to Super Bock and Sagres
Craft breweries and retailers are popping up everywhere around Portugal, particularly in Lisbon and in Porto, and are providing some sought-after variety in the Portuguese beer scene.
Where to get a good Portuguese beer
In Lisbon, try the centrally-located Outro Lado (formerly Lisbeer) – a trendy bar with a varied menu of over 200 imported IPAs, stouts and lagers which is sure to have the perfect beer for you.
When in Porto, see the acclaimed Colossus Craft Brewery, and enjoy their popular IPA beer "Wonderlust".
If you're travelling to Madeira or the Azores, you will see less of Super Bock and Sagres, as these Portuguese islands have their own locally brewed beers.
Coral is the beer enjoyed in Madeira; a refreshing lager similar to the popular beers in Portugal.
When in Azores, you can taste the local beer called Especial.
So what will it be? Super Bock or Sagres?
They both supply Portugal with a drinkable, light-bodied pale lager to match the warm climate.
I know, it's hard to decide. In fact, even with a blind taste test, I couldn't tell the difference. Can you?
Do you have any more questions about Portuguese beer? Let us know in the comments below.