Thinking about visiting Portugal in July? It's one of the busiest months of the year, and with good reason. Read on for the best information on what Portugal has to offer in July.

Why visit Portugal in July?
There's more going on in July than we could ever talk about in one article. For instance, July is the height of Portugal's summer festival season. Festivities in July cater to foodies and music fans alike, as well as vacationers who want to experience authentic Portuguese culture and traditions.
And if you want to get back to nature, Portugal is a perfect choice. There's no better month than July for hiking in the northern region of the country, or catching waves at one of the fantastic surf camps along Portugal's coast.
Plus, with such nice summer weather, the beaches all over Portugal will be ready for your arrival. Portugal enjoys more than 300 days of sunshine per year, and you'll rarely see a rainy day in July.
Looking for a more urban holiday? Cities like Lisbon and Porto throw their arms wide open, offering rooftop bars, sunset cruises, and a spirited nightlife.
Planning to visit Portugal?
Make the best of your trip with our tips.
Best things to do in Portugal in July

See the Tall Ship Races in Lisbon
The Tall Ship Races return to Lisbon on July 2 this year, bringing high seas excitement to the city. Visitors can come aboard these gorgeous tall ships from around the world — and adventurous young adults can sign up to work as crew members!
Lisbon was the very first port of call for The Tall Ships Races, back in 1956. The last time the Tall Ships were here was 2016, so seeing them this year should be on every vacation itinerary. Check them out at the Lisbon Cruise Terminal from July 2 to 5, and enjoy a jaunt around the city center before or after.

Visit some of the best beaches in Europe
There are so many great beaches in Portugal, and July is a fantastic time to visit. With 352 Blue Flag beaches named in Portugal in 2019, you'll never run out of vacation choices.
The Algarve beaches are, of course, some of the most popular. But don't overlook Alentejo beaches, Silver Coast beaches, or beaches near Porto or Lisbon!
To get a complete guide, check out our article on the best beaches in Portugal.

Go windsurfing on the Atlantic
If you're more interested in the waves than the beach, try your hand at windsurfing. With more than 1,000 miles of coastline, Portugal is a perfect place to windsurf – or just sit back and watch the action, if you prefer a beach towel to an adrenaline rush.
Try the Algarve in the south of Portugal or, if you're extra adventurous, Nazaré to the north. Waves are smaller at the beginning of summer, and grow as the season progresses. And there are plenty of surf camps in Portugal, if you're looking to learn.
While you'll love the sunny skies, you'll still probably want a wetsuit, no matter what. The coastal waters don't get warmer than maybe 70 degrees F in summertime.

Celebrate Portugal's sardine season
July and August are the height of sardine season. Portugal celebrates with feasts and festivals everywhere in the country, from Lisbon's city center to tiny, out-of-the-way villages dotting the coast.
You'll see grilled whole sardines on just about every restaurant menu, often served with buttery boiled potatoes. These sardinhas assadas are a delicious, traditional dish, best enjoyed on a sunny patio with a glass of white wine or a cold beer.

Go hiking in Serra da Estrela
With its highest peak at more than 6,500 feet high, the Serra da Estrela mountain range is a wonderful place for a hike. The Serra da Estrela Nature Park draws tons of summer vacationers, offering hiking routes of various lengths and difficulties.
While hiking in Serra da Estrela is a lovely summertime activity, keep in mind that the mountains are high enough to get very cold, nasty weather in winter. It's the only part of Portugal that regularly sees snow!

Experience the Festa dos Tabuleiros
While this event doesn't happen again until July 2023, it's definitely worth a mention. The Festa dos Tabuleiros (Festival of the Trays) takes place every four years in Tomar.
This festival is the continuation of a 13th-century religious celebration. Its highlight is a parade in which girls carry tabuleiros on their heads: giant trays carrying 30 stacked pieces of bread, decorated with flowers, and topped with a crown. Unique and lots of fun, it attracts visitors from around the world.
Portugal in July is all about music festivals
We've already mentioned music festivals. But you should prepare yourself for some of the biggest festivals in Europe. Headliners at Portugal's annual music fests range from A$AP Rocky to Incubus. Here are three of the biggest and best festivals happening in Portugal in July.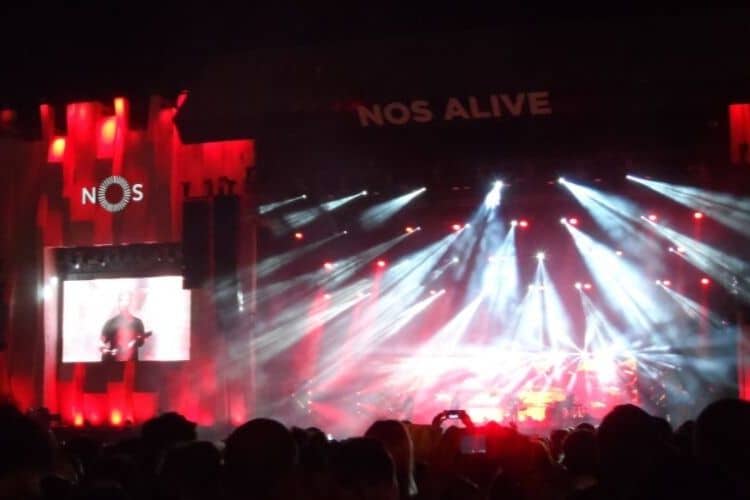 NOS Alive
When: July 8, 9, 10, and 11, 2020
Where: Algés, Oeiras
It's a big year for NOS Alive. Their headliners for 2020 include Kendrick Lamar, Taylor Swift, Billie Eilish, and The Strokes, confirming this festival as a "something for everyone" event. Debuting as Optimus Alive! in 2007, NOS Alive has earned a spot as an annual favorite among festival-goers. It's held in Algés, a suburb near the Tagus River between Oeiras and Lisbon, so this music and arts festival is a super-quick train ride from central Lisbon.
In addition to its outstanding musical lineup, NOS Alive also offers a comedy stage, clubbing stage, and even a cute Fado café where you can hear the traditional music of Portugal.
Learn more about NOS Alive here.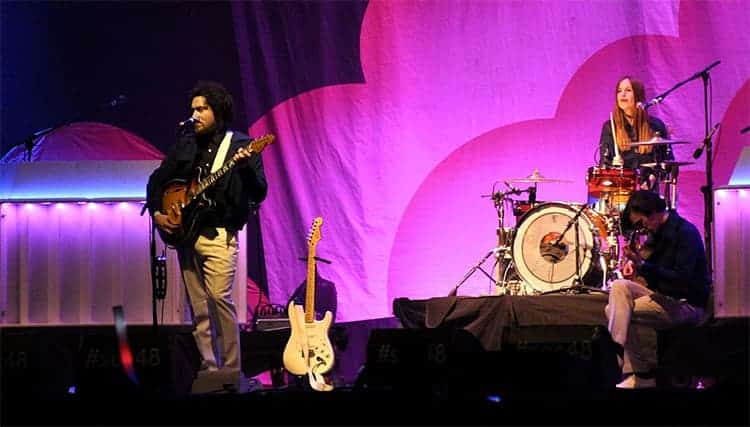 Super Bock Super Rock
When: July 16, 17, and 18, 2020
Where: Meco Beach, Sesimbra
Since its premiere in 1994, the annual Super Bock Super Rock music festival has become one of the biggest festivals in Portugal, and a must-see for rock and metal fans. Its performers go far beyond those genres, however. For instance, last year featured Janelle Monae, Christine and the Queens, and Charlotte Gainsbourg in the lineup. The festival has changed locations a few times, but for 2020 you can catch it at Meco Beach near Sesimbra.
Learn more about Super Bock Super Rock here.

MEO Marés Vivas
When: July 17, 18, and 19, 2020
Where: Vila Nova de Gaia, near Porto
MEO Marés Vivas lights up Portugal's northern lands, bringing multiple genres to the stage in July, including Liam Payne and Snow Patrol. This is a great option for a fun few days outside Portugal's main cities.
Learn more about MEO Marés Vivas here.
Book your hotel with Booking.com
With Booking.com you can book the best hotels in Portugal for the cheapest price. Get instant confirmation, pay 0 booking fees and even cancel your booking for free at most hotels. 
Booking.com -
Find the best prices and prepare your trip to Portugal today
FAQ
How crowded is Portugal in July?
Portugal gets pretty crowded in July. It's one of the two busiest seasons of the year for tourism (along with August), with streets and beaches around the country filled with vacationers. It's still a great time to visit, thanks to beautiful weather and a very popular music festival season.
What is the weather like in Portugal in July?
The weather in Portugal in July is nearly perfect – sunny, hot (but not too hot), and often refreshingly breezy in the afternoons. High temperatures in Portugal in July average 73 degrees F in Lisbon – so are usually warmer to the south and a bit cooler to the north.
When is the best time of year to go to Portugal?
The best time to go to Portugal depends on you! Summer is hot, dry, and perfect for beach vacations. Spring and fall are still very summery but tourist season is largely over, offering a bit more breathing room. Winter is atmospheric, cool, and often rainy – but with almost no vacationers.
What are the hottest months in Portugal?
The hottest months in Portugal are, in order of high temperatures, August, July, and September. Early to mid August will be the very hottest time of the year, with highs averaging about 81 degrees F and temperatures rarely going below 65 degrees F in the evening.