Olá todos! (Hello all!) Are you planning to visit Portugal? Or relocating to live in Portugal?
Here's what you need to know about the weather in mainland Portugal and the islands of the Azores and Madeira.
Climate and Weather Conditions in Portugal
Portugal is known for having lots of warm sunshine throughout the year and a mellow winter.
Portugal is in southwest of Europe, a place commonly referred to as the Iberian Peninsula. It is a country with sublime climatic conditions like Spanish coastal towns off the Atlantic Ocean.
The weather in Portugal is characterised by very hot summer months, warm spring and autumn months and wet winter months. This is due to the Mediterranean climate enjoyed in Portugal which makes it one of the warmest European countries and a fantastic destination for anyone looking to enjoy a mild winter.
In the summer, there are many dry days with lots of sunshine of around 10 to 12 hours daily. The temperature also becomes increasingly hot and sometimes reaches an unbearable level in the month of August (the hottest month).
In autumn, the sunshine begins to reduce and the heat becomes less extreme and you can expect some rain towards the end of the autumn season.
In the winter the temperatures drop as low as 8°C (46°F) and the sunshine is only around between four and six hours per day. Also, there is a lot of rain in the winter months.
Does it snow in Portugal in the winter? Find out here.
In spring, the temperatures are gradually warming up again, you begin to get more sunshine and some more rain.
The annual average temperature in mainland Portugal varies from 8°C to 12°C (46°F to 54°F) in the North and 16°C to 18°C (61°F to 64°F) in the south.

Weather in the Algarve
The Algarve enjoys over 300 days of sunshine with very clear blue skies. It gets very hot and dry through the summer months with very long days of sunlight. During winter, the days are much shorter, with five to six hours of sunlight and the temperatures are between 9°C (48°F) and 16°C (61°F), and you can expect some rain too.
In autumn and spring, it is relatively warmer with a daily average temperature of 20°C (68°F).
For a more detailed look at the weather in the Algarve, you should read: Algarve Weather and Things To Do for the Whole Year
This is generally what the weather in the south of Portugal looks like.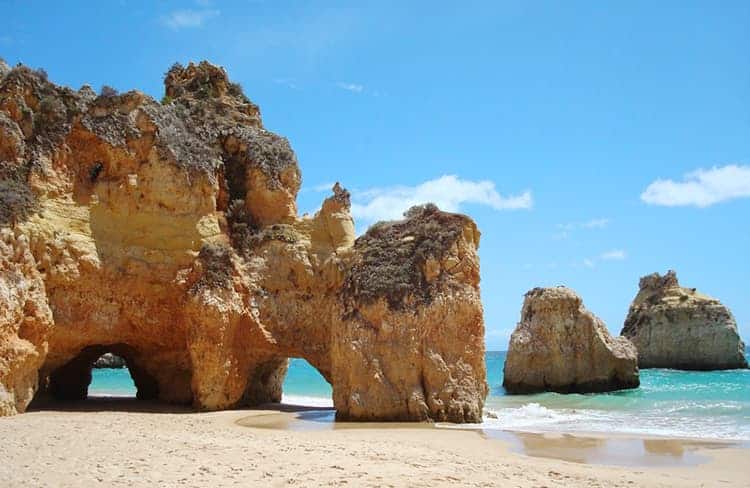 Weather in Lisbon
As like most parts of Portugal, December and January are the wettest months in Lisbon, with an average of 10 rainy days per month. The summer months are very hot with temperatures sometimes exceeding 30°C (86°F). In the spring and autumn, the weather is warm, and you can expect some rain.
What is the weather like in Lisbon right now?
Don't forget to subscribe to our newsletter for all the latest news and tips from us about travelling to Portugal.
Weather in the north of Portugal
In northern Portugal, conditions are generally cooler and wetter than other regions of Portugal. During winter you can expect between 15 to 18 rainy days per month and temperatures as low as 5°C (41°F). It is also humid in towns close to the coast. In the spring and autumn months, it is still rainy and the weather is a bit warmer. Then in summer, it gets very hot especially in July and August.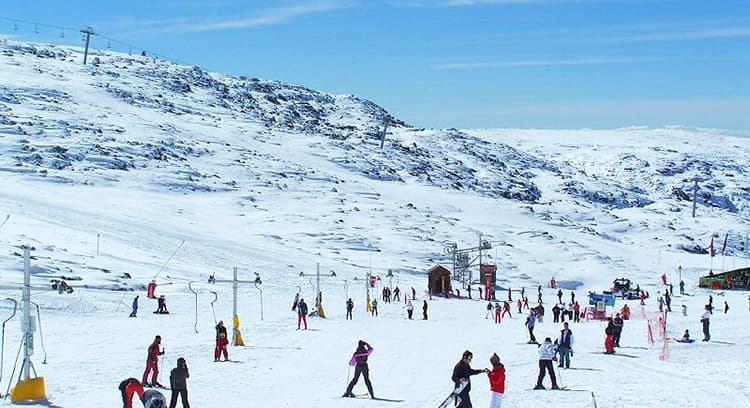 Serra da Estrela is beautiful all year round, for more about what to do there, look at: Top 10 Things to Do When You Visit Serra da Estrela
Weather in Madeira
Madeira is one the archipelagos in Portugal and has a pleasant sub-tropical climate year-round. There is a lot of sunshine and very little rainfall throughout the year. Due to the topography of the island, you can find different climates on the island.
The southern and western parts are usually warmer than the northern part of the islands. In summer you can expect very hot and dry weather conditions, and in winter, there is some rain with an average daily temperature of 14°C (57°F).
What is the weather like in Madeira right now?
Weather in the Azores
The Azores is the other archipelago in Portugal and it is in the mid-Atlantic. It is characterised by lots of greenery and unpredictable weather (it can be cloudy, rainy and sunny all in the same day). Generally, the climate is mild and cool for many months and summer temperatures rarely get extremely hot with daily averages of 24°C (75°F).
However, the amount of sunshine in the Azores is not high when compared to mainland Portugal and you can expect more rain, especially in autumn and winter.
This is what is the weather is like in the Azores right now:
What's the best time to visit Portugal?
The best time to visit Portugal according to most tourists is between March to May and September to October. During these months, the weather in Portugal is relatively warm albeit with some probability of rain. It is common for people to visit in these months because they want to avoid the extreme heat and crowds in summer.
If you would like to sunbathe, swim and get a tan, then visiting Portugal in July or August might be more appealing to you.
Check out the Best beaches in Portugal right here.
Finally, the current trend of Portugal's weather shows that we are not escaping global warming as the average temperatures are clearly on the rise.
Did you find this article about weather in Portugal useful? If you have any questions, please put them in the comments below.

Disclaimer: Our posts might contain affiliate links, which means we earn advertising fees if you make a purchase. There's no extra cost to you, it just helps us keep the website going.