Feeling energetic? Looking for a hiking holiday in Portugal?
Here we will tell you all about hiking in Portugal, the best places to go and the best time to go.
Go hiking in Portugal
Most tourists visit Portugal for its extraordinary scenery, luscious castles, golden beaches, and outstanding architecture, but it also offers great hiking trails throughout the country which makes for a nice walking holiday trip in Portugal.
Best time of the year to hike in Portugal
The weather in Portugal is mostly pleasant throughout the year but for hiking and walking vacations, the best time would be in the spring and autumn months.
Although there is a possibility of some rain in spring and autumn, the temperatures are quite friendly for outdoor activities like hiking and camping in Portugal.
In the summer the temperature gets very hot and can shoot up to 40°C (104°F) especially in the south of Portugal, making long distance walking very uncomfortable.
Where are the best places to hike in Portugal?
The Algarve
The Algarve is a hotspot for sunbathing, surfing, swimming and so many beach related activities, however, there are also numerous carefully mapped out hiking trails spread throughout the region.
They offer panoramic views, pristine natural beauty and another side of the Algarve which is more or less touristic, but makes for a great walking vacation in the southernmost part of Portugal.
One perfect hiking route in the Algarve is the Via Algarviana route which passes through 11 municipalities in the Algarve starting from Alcoutim and ending at Cabo de São Vicente. This trail is about 300 km (186 miles) and goes from east to west passing through numerous villages with unspoiled nature and breathtaking views.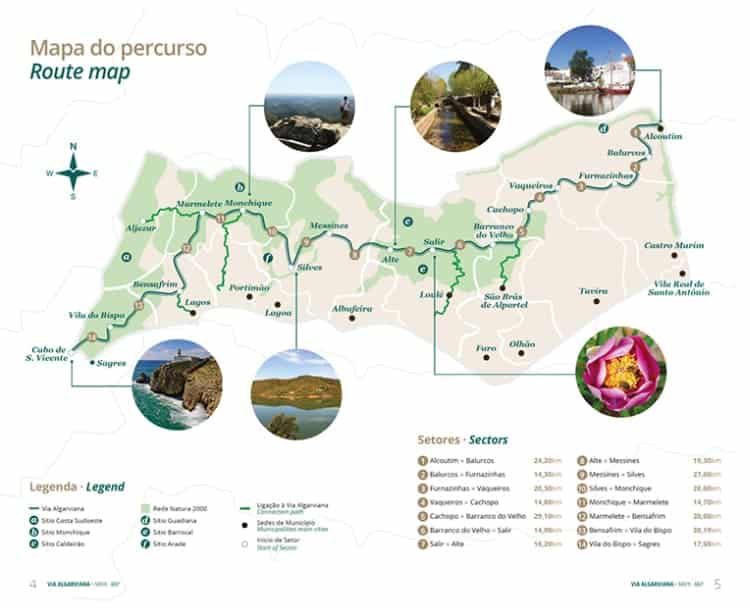 Sintra
If you are visiting Lisbon and do not want to go too far from the capital city for a hiking adventure, then Sintra is the perfect place to do just that!
A popular trail in Sintra is the hiking path that goes from Sintra all the way to Cabo da Roca – the westernmost point of continental Europe.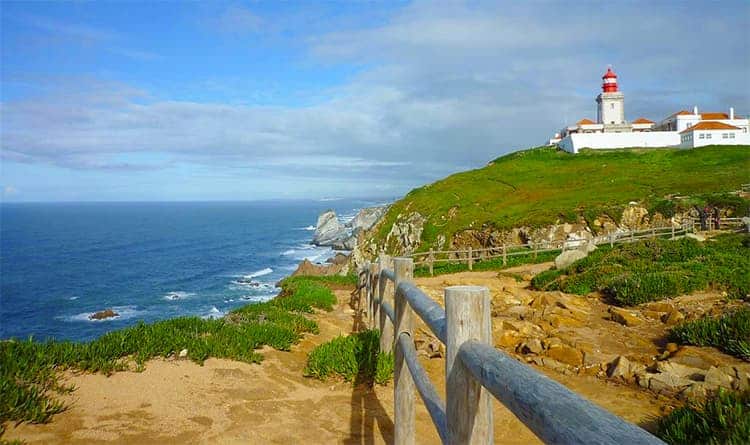 Another trail in Sintra is the Santa Maria trail which passes through the Moorish and the Pena Palace. The trails in Sintra are very scenic and take you through the coastline, cliffs, beautiful gardens and so many historic monuments. Walking trails in Sintra are excellent for moderate to challenging hikes.
Madeira
There is no better way to explore the scenic and mountainous islands of Madeira than hiking through its captivating landscape. It is a perfect destination for avid hikers as there are over 100 hiking trails spread throughout the island.
The Vereda do Areeiro route is probably the best pick of all as the trails connect the highest peaks in Madeira Pico do Arieiro and Pico Ruivo.
Although the difficulties of trails in these parts are probably one of the hardest in Portugal, the breathtaking views and scenery make it truly memorable.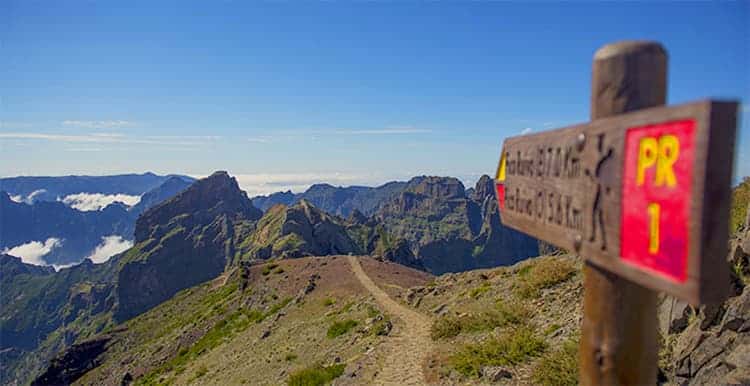 Alentejo
On mainland Portugal, a hiking tour of Alentejo offers one of the best hiking experiences.
It is the largest region in Portugal in terms of land mass, so there is no shortage of walking trails. They are excellent for moderate walking and offer great scenery.
The trails go through vineyards, cliffs, beaches and plenty of villages with very hospitable locals. One popular trail is the Transalentejo – a network of 11 trails.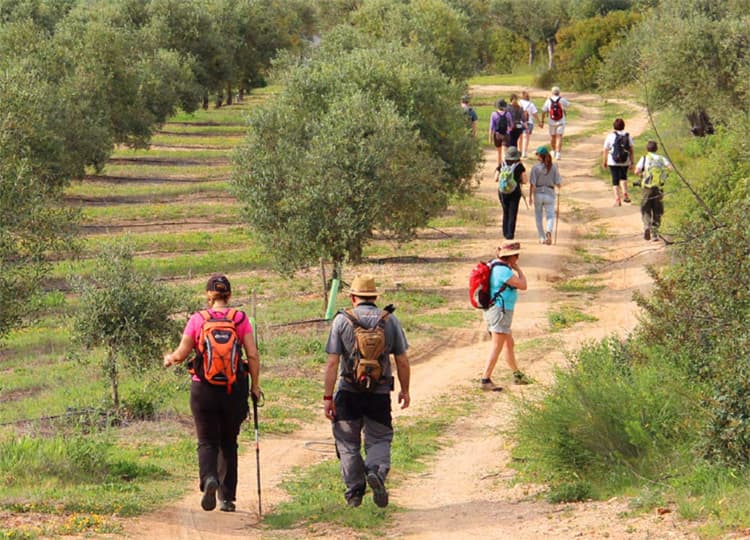 The Azores
The Azores is easily one of the most amazing places to go hiking in Portugal. The footpaths go through stunningly beautiful landscapes and lush green valleys which are very pleasing to the eyes.
You will a variety of mapped out trails on all the seven islands that make up the archipelago which gives an insight into the culture and history of the islands while enjoying exotic views.
São Miguel has perhaps the best trails in the Azores, most of which go through sumptuous landscapes such as cliffs, mountain and lava flows ("fajãs").
Pico island is also a great hiking destination in the Azores with popular trails like Vinhas da Criação Velha which passes through old vineyards. It is also a world heritage site in Portugal.
To find an extensive list of trails in the Azores you can visit Azores Trails. Here you will the difficulty level, maps and other useful information to guide you.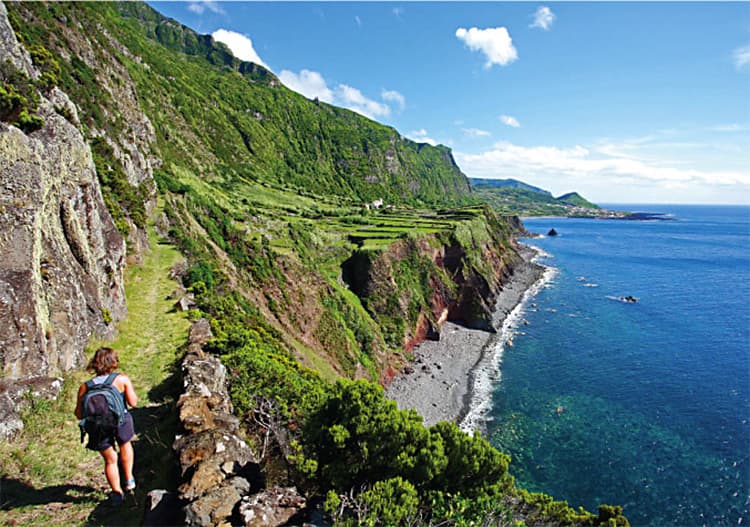 What are the National parks like to hike in?
Hiking in the national parks is also an interesting activity to do when you visit Portugal.
There is one major national park in Portugal which is surprising in itself. The Peneda-Gerês National Park is in the northern region near Porto and it is mostly mountainous. Trails in the park feature lots of flora, some of which are very rare species, deep wooded valleys, lakes and waterfalls.
Some major points of interest include the Lindoso Castle, Leonte waterfall and Cava da Velha Bridge.
You should know that public transport to the Peneda-Gerês National Park is not the best, so you'll need to arrange your own transport.
There are also a few camping sites in the national park.
For more information on hiking and walking tracks in the park, visit Natural PT.
What about a pilgrimage on The Camino Portugués route?
The Camino Portugués route to Santiago, which heads north following the Atlantic coast of Portugal and Spain, was used by Queen Isabel of Portugal (1271 – 1336) to make at least one pilgrimage to Santiago de Compostela.  Most pilgrims start in Porto, but many also walk from Lisbon to Santiago which is about 620 km (385 miles).
Can you hike with a bike in Portugal?
Yes, it's possible to hike with a bike but not on all the hiking trails. You will find a variety of cycling trails that offer diverse experiences both on the mainland and the islands in Portugal.
Where can I buy hiking gear in Portugal?
If you're looking for boots, backpacks, camping equipment etc. check out these great stores in Portugal:
Lisbon
At Merrell (website is in Portuguese) and Yupik (website is in Portuguese) in Lisbon, you can buy hiking boots and gear for outdoor activities.
Also in Lisbon, Free Spirit Campers, rents out camping equipment.
Porto
Try the Camping Shop and Decathlon (website is in Portuguese) for the best hiking equipment.
The Algarve
There are two Decathlon stores in the Algarve, one in Faro and one in Portimão (websites are in Portuguese) where you can get hiking boots and camping equipment.
Experience great hiking in Portugal
In conclusion, Portugal offers perfect opportunities for hiking whether you are a beginner or an avid hiker.
You will be spoilt with so many trails in different parts of the country each offering wonderful memories for a hiking vacation. The Portuguese trails await you!
Have you hiked in Portugal before and would like to share your experiences? Leave a comment below to let us know.
Want to know more about holidays in Portugal? Be sure to subscribe to our newsletter so you don't miss a thing.