This guide will tell you about the best central Portugal beaches, where they are, and what Portugal's Silver Coast is like.

Your guide to central Portugal beaches: 2020 update
Often overlooked when considering the best beaches of Portugal, our central coastline, otherwise known as the Silver Coast, is a surfer's dream. The exact boundaries of the Costa da Prata (Silver Coast) are open to debate among those who live here, but all agree Portugal's central coast beaches are some of the most gorgeous anywhere.
Want to know more about the best beaches throughout Portugal? Check out our full article on Portugal beaches here.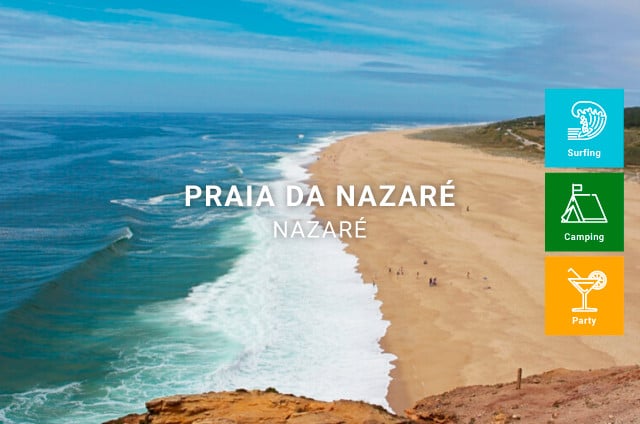 Praia da Nazaré
Nazaré is among the top beaches in this region, and while the beach is mainly a hotspot for surfing adrenaline junkies and seafood lovers, families are also accommodated here with the availability of plenty of facilities.
The landscape of this beach is really special, backed by sand dunes and pine trees. The town of Nazaré also has a famously good selection of seafood eateries along this beach serving the much-loved seafood rice. Praia da Nazaré is a local favorite as well as a tourist hotspot, so it draws a whole variety of crowds to it. In summer time it draws crowds of people because of its something-for-everyone nature.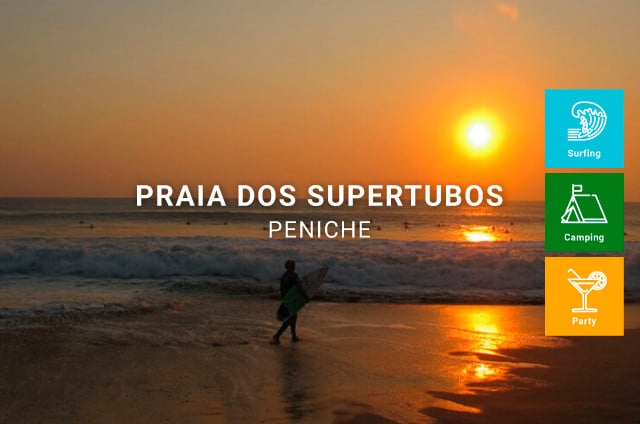 Praia dos Supertubos, Peniche
Despite being a little windy, Praia dos Supertubos draws surfers and sunbathers alike. There are actually three beach bars with loungers and food service. This makes it an attractive place in summertime. You might want to go to the beach on a particularly hot day – so the wind doesn't bother you.
Book your hotel with Booking.com
With Booking.com you can book the best hotels in Portugal for the cheapest price. Get instant confirmation, pay 0 booking fees and even cancel your booking for free at most hotels. 
Booking.com -
Find the best prices and prepare your trip to Portugal today
This beach isn't for the fainthearted surfers, as it is home to some of the biggest waves in Portugal. With less of a family feel, the beach draws a younger and sportier crowd.
At just an hour drive from Lisbon, Peniche is the perfect place to go for a day trip from Lisbon.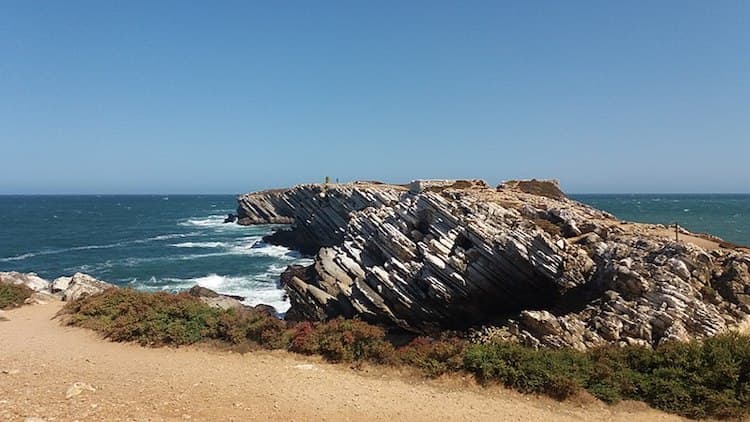 Baleal, Peniche
Peniche is one of the most well-known areas for surfing in Portugal and has a reputation across Europe for having excellent surf. Baleal beach itself is very clean and well maintained so it's a wonderful choice for families and obviously surfers too. Windsurfing is a common activity here at Baleal beach.
The beach is a prime spot for summer vacations, as they even have tennis courts, swimming pools and a disco at the beachside, meaning they cater for everyone!
The beach is under an hour from Lisbon by car.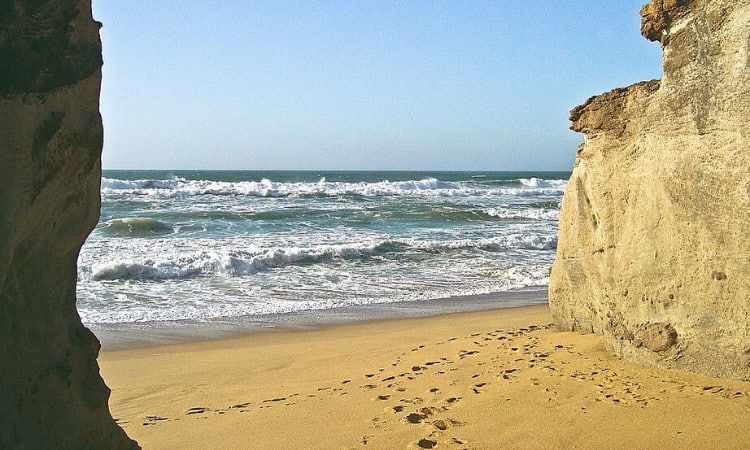 Praia das Amoeiras, Aveiro
This beach has a natural and wild aesthetic. There's a steep cliff edge of rock that lines the back of the beach making for a dramatic looking landscape.
Aveiro is an adorable village with a long legacy as a fishing town, so this part of Portugal is a great place to tuck in to some seafood. It makes for a pretty sight to watch the small fishing boats coming in to the shore.
Aveiro can be reached in an hour from Lisbon.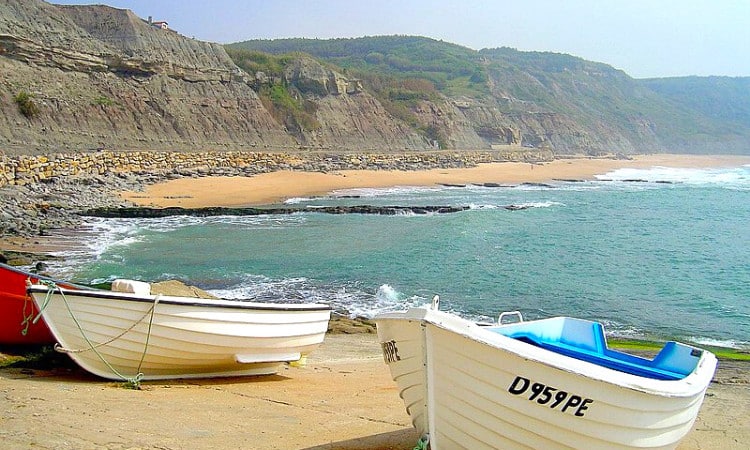 Praia de Porto das Barcas, Peniche
A big stretch of sandy beach, the beach of Porto das Barcas was once a very popular beach for tourists, surfers and young people. In the last couple of years things have calmed down a bit.
The back of the beach is lined by high cliffs and has an old fishing port with photogenic, old, white-washed hotel buildings. A local artist has created some sculptures from stones at the end of this beach.
At about 15 km away from Peniche, this beach can also be reached in around an hour from Lisbon.
Planning to visit Portugal?
Make the best of your trip with our tips.
FAQ
Are there any beaches in Portugal?
Yes, there are tons of beaches in Portugal! You could go to a different Blue Flag beach in Portugal nearly every day of the year. In 2019, a total of 352 Blue Flag beaches were named in Portugal. Portugal's coastal beaches received 317 Blue Flags, and 35 inland beaches earned the designation.
What are the best sandy beaches in Portugal?
The best sandy beach in Portugal is probably Praia de Benagil, in the Algarve. It's located near Carvoeiro, and is one of the most photographed beaches in the country. Another beautiful option is Costa de Caparica – long, sandy, and not far from Lisbon.
What is the best beach town in Portugal?
The best beach town in Portugal depends on your interests! If you're a surfer, the best spots will be Nazaré or Ericeira. If you want to explore beaches around the Algarve, choose a central area like Lagos or Vilamoura. And if you're looking for easy access and family-friendly fun, try Cascais or any of the beach towns near Lisbon.
Does Portugal have sandy beaches?
Yes, Portugal has beautiful, sandy beaches. The most popular area for beach vacations is the Algarve, in southern Portugal, but vacationers love the sandy beaches in the Lisbon region, the Alentejo region, Portugal's central coast, and its northern coast, too.