Located in the Lisbon area, Algés is a village by the river that has a bit of everything: from large green spaces to historical buildings and summer music festivals.
Learn how to get there, what to do, and the pros and cons of living there.
Where is Algés in Portugal
Algés is located within the boundaries of the Oeiras council, which belongs to the Lisbon District (Distrito de Lisboa). To give you a better idea, Algés is right after Belém and it is very quick and easy to get there from Lisbon's city centre.
You don't believe it?
What if we tell you that Algés is less than 12 km away from Lisbon?
You can reach the village in less than 20 minutes by car and in about 40 minutes if you use public transport (but it can take less, depending on your destination).
How to get to Algés from Lisbon
By train
You can get to Algés by train from Cais do Sodré in the centre of Lisbon. That's the quickest option. The journey lasts 11 minutes and a single ticket costs €1.65.
By bus
The best way to get to Algés from Lisbon by bus is to hop on bus number 750, which takes you directly to the village.
The journey lasts about 1 hour and you can catch the bus at Oriente.
You can check the timetable here. A single ticket costs €2.00.
If you need extra help on Lisbon's public transport, we've got you covered.
By car
The quickest way to get to Algés is definitely by car and if you do not have one with you, you can always rent one from these companies:
Depending on the company you choose, the daily rates start at €150.
The distance by car from Lisbon to Algés is about 12 km and may last less than 20 minutes (if you avoid the rush hour).
So, what's the best way?
It all depends on your personal circumstances. However, the quickest and the easiest way is to catch a train at Cais do Sodré.
It is also the cheapest way to travel from one place to the other (cheaper than the bus, actually, even though that is also a great way to get to Algés).
Living in Algés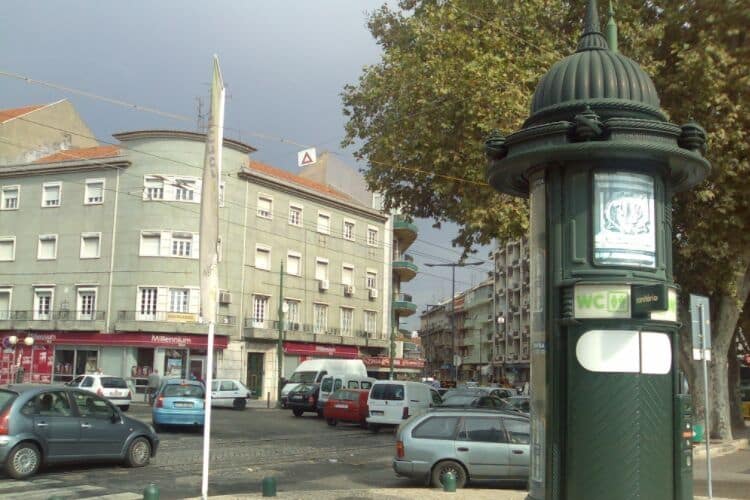 Cost of living in Algés
The cost of living in Lisbon is a bit high these days since real estate speculation seems to get higher and higher. That is one of the reasons why Algés may be a good solution.
The same applies to Carcavelos near Algés – another great option for those who don't want to spend too much on rent. Monthly rent starts at €800 for a one-bedroom flat and goes up to as much as €3,000 in some cases.
In case you are looking to buy a flat or a house, know that prices can vary between €190.000 and more than 1 million euros.
However, if we are talking about "everyday needs", such as supermarket expenses or medications, the prices may be much lower than you expect.
You might also be interested in Oeiras Guide: Discover This Great City To Live (Just 20 Minutes From Lisbon).
How to rent or buy a home in Algés
We strongly advise that you consult a lawyer or a real estate agent, to help you with the process, which can be a bit bureaucratic. These are the best online platforms in Portugal where you can find a property to rent or to buy:
Pros and cons
You can easily see your quality of life increase if you live in a place like Algés. Apart from being very close to the river Tagus, the truth is that you are close to everything.
Plus, if you happen to work in Lisbon, it is best to live on the outskirts than in the capital itself since it can get a bit chaotic.
However, renting or buying a house/flat can get very expensive nowadays and it is more expensive the closer you get to the riverside.
Nevertheless, we think that there are more pros than cons of living in Algés, especially because you are a few minutes away from Lisbon's centre and from the local beaches.
Places to live near Algés
There are quite a few places that also deserve your attention if you're planning on living in Algés or nearby, such as Belém, Cascais, Estoril and Carcavelos.
Algés Beach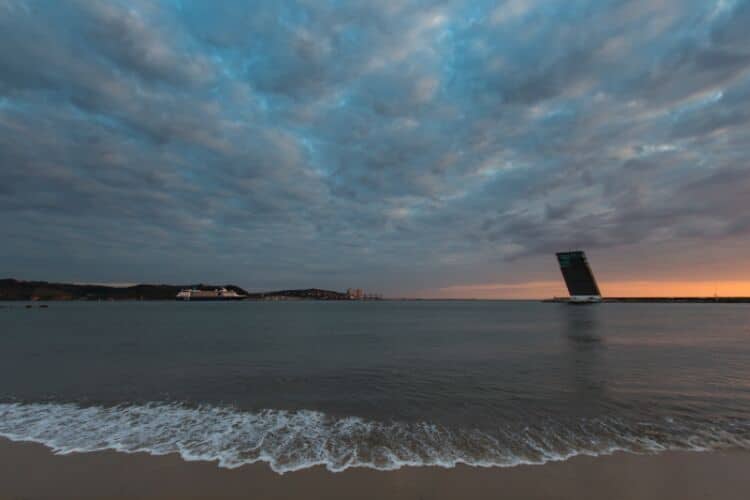 Even though we are talking about a village by the river, there is, in fact, a beach in the area, called Praia de Algés (the Algés Beach in English). That is the closest beach to Lisbon there is and it is quite big, considering that it is located in the river mouth.
Is Algés good for families?
It is a tiny beach, which is only 230 meters long and it is not as much visited as other nearby beaches. Even though the Algés Beach is not watched by lifeguards, you can often see people swimming in the Tagus river.
However, we would not advise families with children to go to that beach since it is not guarded and, therefore, not crowded. So, in case of an emergency, whether on the beach or in the sea, no one would be able to rescue you.
Is Algés a good place for surfing?
Well, not really. For that you should head to Carcavelos or other Portuguese surf camps.
The Algés Beach is a very narrow beach bathed by the river, bounded by 2 spurs, with no waves.
Is Algés worth visiting?
Absolutely!
The Algés Beach is very unique because it situated by the city and by the river.
It also has wide walking areas, in case you want to take a stroll.
Other beaches nearby
If you want to go to a guarded beach nearby, the following are worth checking out:
If you want to learn about other beaches in Lisbon, we also have a guide for you.
Find out more about summer holidays in Lisbon, subscribe to our newsletter.
NOS Alive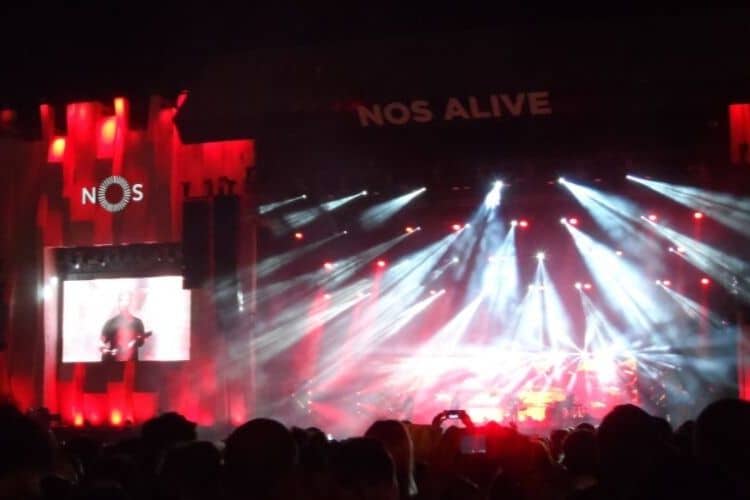 Algés is also known for receiving one of the most important music festivals in Europe: NOS Alive.
The festival happens every year in July. Over 3 days thousands of people gather together to listen to the best rock and alternative music you can hear.
About NOS Festival
It is a music festival that is popular not only with Portuguese fans but also with thousands of Europeans (and people from other parts of the world) since it is considered one of the cheapest festivals around.
NOS Alive began in 2007 and continues until now. It takes place in Passeio Marítimo de Algés, right on the riverfront and it is one of the most successful Portuguese festivals – always headlined by top national and international bands and artists.
When does NOS Festival happen
The days may vary, but the festival always happens around the same time in July.
Line-up
There are 7 stages at NOS Alive and you will find the complete line-up for the 2019 edition here.
Tickets
There are a lot of options to choose from: apart from obtaining entry to the festival, you can also get access to the campsite or even buy a transport and festival entry combo ticket.
The following are the main tickets you can find:
Day Ticket: €60,98;
3 Day Ticket: €139,77.
Don't go and buy them straight away because, depending on your country of residence, you might be able to compare the prices at various outlets.
Here are the main ones:
You might also be interested in 9 Awesome Music Festivals in Portugal for Summer 2019.
Visiting Algés
What to do in Algés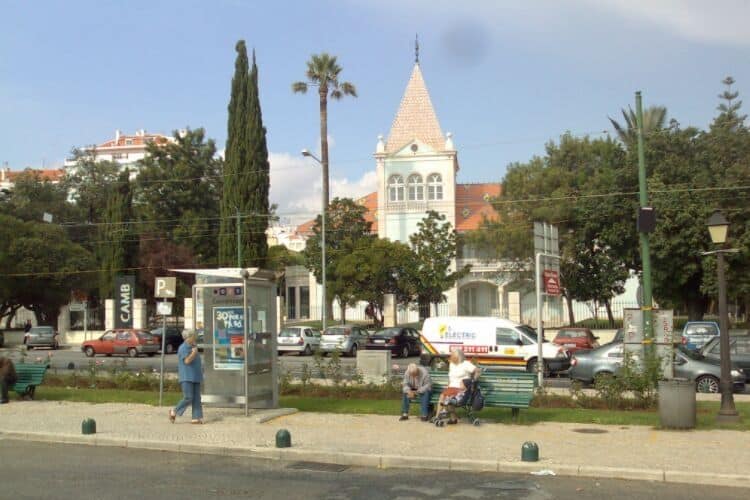 Apart from attending that awesome festival, there are other amazing things you can do in the area:
Is Algés a nice place to visit?
You can make the most of the bay area and enjoy a nice walk or a bicycle ride on the long sidewalks. You can visit on your own or with family and friends, but the truth is you will always find things to do (if not directly in Algés, most likely nearby – have you ever heard of Jeronimos Monastery?).
Is it nice for a family trip?
Of course. As you might already know, Algés is a very quiet area and it is close to everything. You can either spend a day visiting Lisbon or an afternoon lying on the beach. If you use public transport, you can get to any place within minutes, which is convenient, especially if you are visiting with children.
Best hotels
Since Algés is not a big place, there aren't many accommodation options. However, there are a few we would like to mention: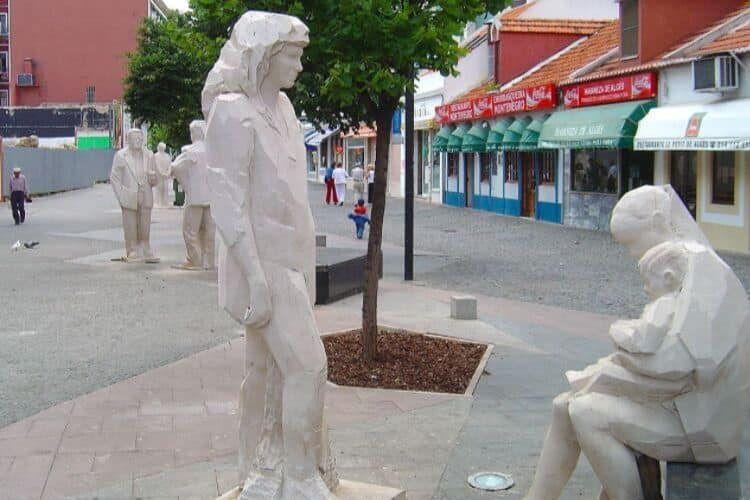 Best restaurants in Algés
When you are in Portugal, you know you must try every possible dish. Typical Portuguese food is the best over there. You can find great places in Algés and the surrounding areas to have a delicious meal:
From typical Portuguese food to Italian and even vegetarian options, you can find everything around. Especially, if you go straight to Lisbon. Here, new restaurants seem to pop up out of nowhere.
If you are in Algés, don't forget to visit Pastéis de Belém, an ancient bakery where you can enjoy the famous Portuguese pastries, and also one of the most delicious ones (you can even grab some for later!).