Lisbon is a city that offers breath-taking panoramic views from its numerous summits.
What better way would you rather catch a sunset or enjoy splendid views of the city than sipping your favourite Portuguese liquor on one of Lisbon's chic rooftop bars?
The best rooftop bars in Lisbon
Rooftop bars in Lisbon range from very elegant rooftop terrace bars on top of hotels to trendy chic bars on garages and redesigned old spaces. Some boast open-air pools while others are perfectly designed to treat you to a lovely experience in the capital city.
Here's our pick of the very best.
PARK Rooftop Bar Lisbon
Situated in the bustling neighbourhood of Barrio Alto on the sixth-floor of a garage, it must be said that the PARK Rooftop Bar can be a tricky place to find. It's a great place to unwind, enjoy cocktails, see the sunset and get a 180° view of the city, downtown Lisbon and the 25 April bridge ("Ponte 25 de Abril").
PARK bar also has a great ambience and it's nicely designed with comfortable wooden chairs and flower beds which gives it a garden feel. The bar also has house DJs who play varied types of music like Brazilian funk and commercial American hip hop music. The atmosphere here during the day is usually mellow, but becomes very vibrant at night.
Address: Calçada do Combro 58.
Opening hours: Tuesday to Saturday, 1 pm to 2 am.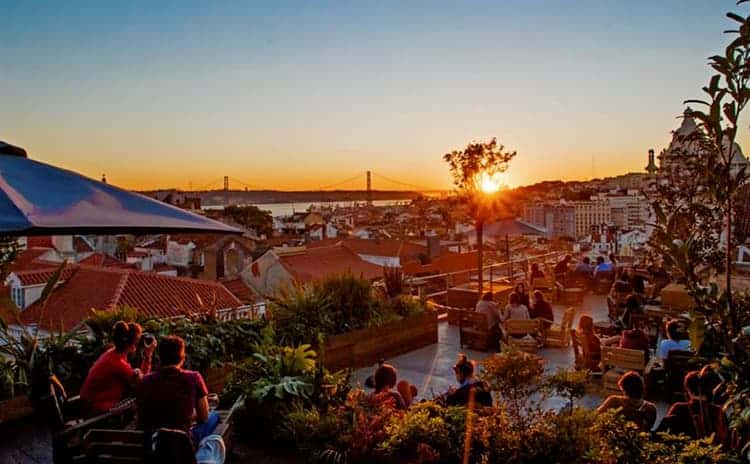 Topo Bar (Martim Moniz)
Another very cool rooftop terrace bar in Lisbon where you can have a great time and enjoy splendid views is Topo. It's in the heart of central Lisbon in the Martim Moniz neighbourhood.
You will get excellent views of the historical buildings in the city and the São Jorge Castle. It is a great place to hang out for a leisurely catch up over a cocktail at the end of your day and catch the sunset. They also offer snacks and light meals like sandwiches and hamburgers. Generally, I think the prices of drinks and cocktails are a bit higher at Topo Bar but it's a very cool place to go.
Address: 6th floor, Sala I, Commercial Center Martim Moniz, Praca Martim Moniz.
Opening hours: Tuesday to Thursday, 12:30 pm to midnight. Friday and Saturday, 12:30 pm to 2 am. Sunday, 12:30 pm to midnight.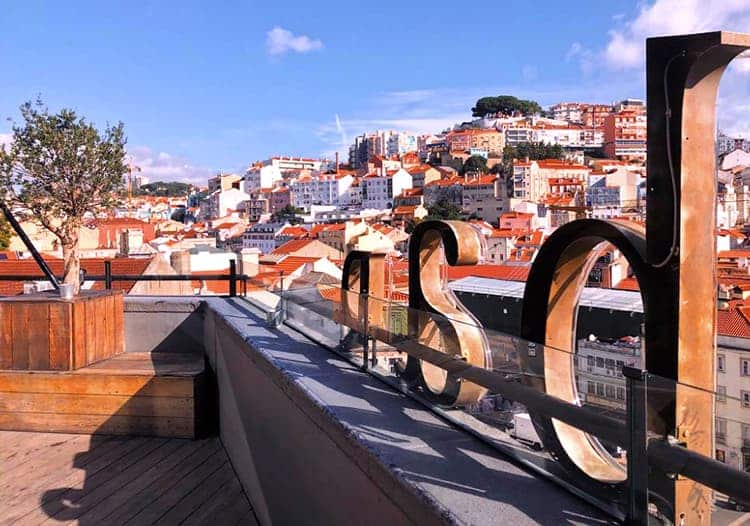 Mundial Rooftop Bar
Located on the ninth floor of Hotel Mundial is the trendy and cosy Mundial Rooftop Bar. It offers panoramic 360° views of the city, stunning views of the castle and the Tagus River.
Mundial Rooftop Bar is popular amongst the Lisbon locals for relaxing and catching up while watching the sunset. You can also enjoy some light snacks like Portuguese tapas and salads and they have great cocktails. The Mundial Rooftop Bar is one of the best spots to hang out in the summer as they host some of the best summer parties in the city.
Address: Hotel Mundial, Praça Martim Moniz 2.
Opening hours: Monday to Sunday, 4 pm to 11 pm.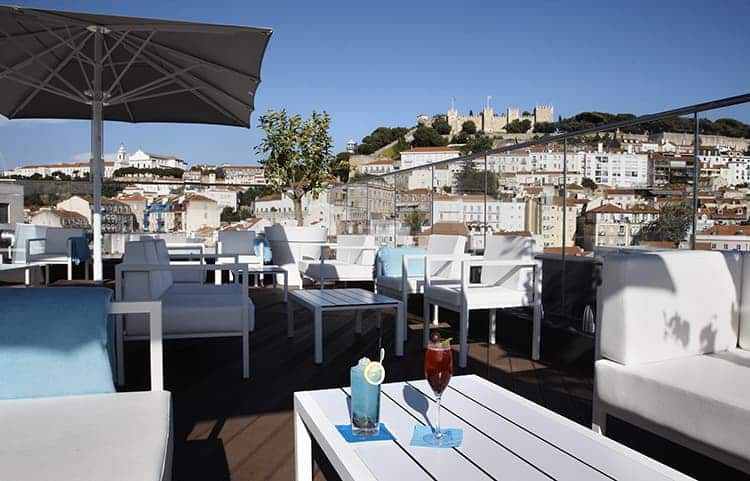 Silk Club
Silk Club is a bar within a Japanese restaurant seated at the top of one of the buildings in Chiado. At the bar, you will get great views of the 25 April bridge ("Ponte de 25 Abril") and the Lisbon skyline.
It is imperative that you dress very well to get in here. Also, you should know the drinks and cocktails are a bit on the expensive side at the Silk Club, but the views are magnificent. If you are also interested in clubbing, you can wait until midnight when the bar transforms into a nightclub atmosphere.
Address: Rua da Misericórdia 14 Espaço Chiado Building.
Opening hours: Tuesday to Wednesday, 7 pm to 1 am. Thursday to Friday, 7 pm to 4 am. Saturday, 7 pm to midnight.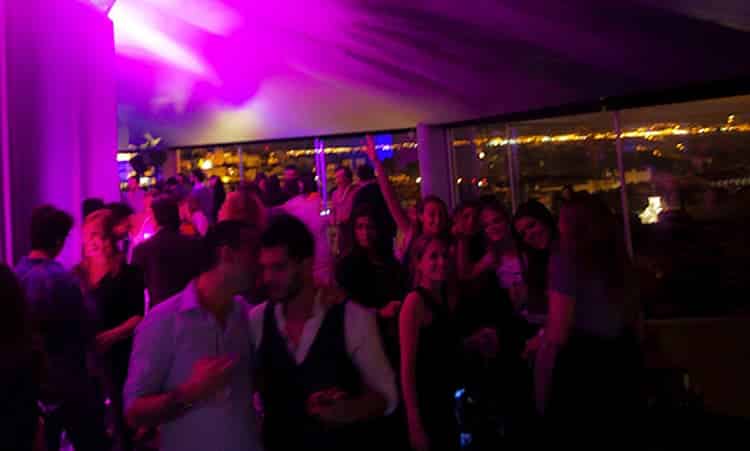 LX Factory – Rio Maravilha
Situated in the artsy LX Factory area, Rio Maravilha is one of the rooftop terrace bars in Lisbon with the best close-up views of the 25 April bridge ("Ponte de 25 Abril") and the Tagus River. It's a decent place to have a relaxed drink and some good food although, it can be a bit difficult to find.
Address: Rua Rodrigues de Faria 103.
Opening hours: Tuesday to Thursday, 12:30 pm to 2: am. Friday to Saturday, 12:30pm to 3 am. Sunday, 12:30 pm to midnight.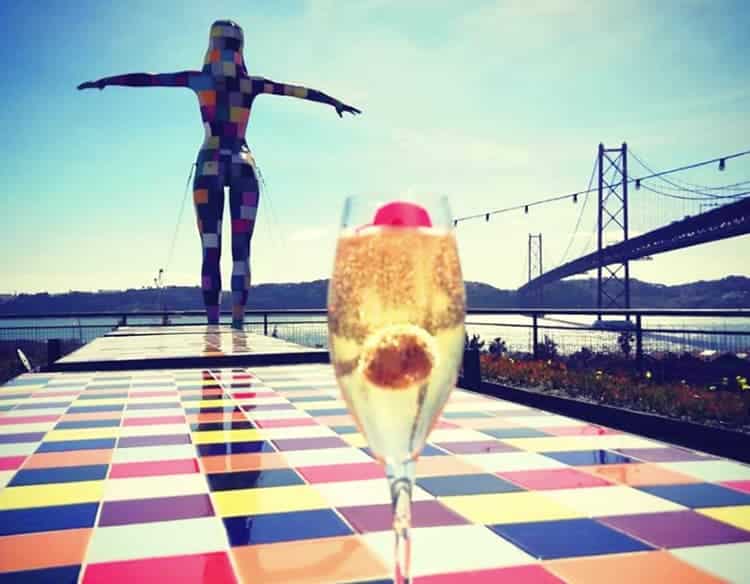 Memmo Alfama Terrace
Located at the top of Memmo Alfama Hotel, Memmo Alfama Terrace offers the best views of the River Tagus and a wide variety of Portuguese wine and lovely cocktails as well as some Portuguese tapas. It is a very well put together bar which offers a relaxed atmosphere and quality service. It's a perfect place to cool off and hang out with friends while taking in the views.
Address: Travessa Das Mercieeras 27.
Opening hours: Daily from 6 pm to 11 pm.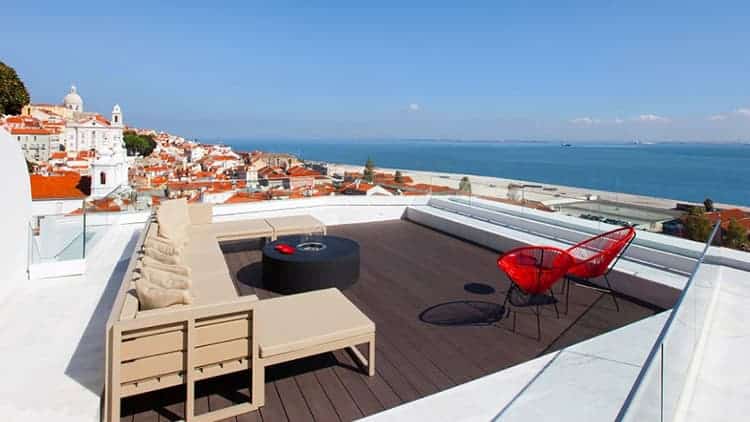 Sky Bar Tivoli
This is one of the go-to rooftop bars in Lisbon. Sky Bar is situated on the ninth floor of the Tivoli Hotel. At the Sky Bar, you will have a stunning view of the city and the castle whilst being treated to live music or enjoying a nice mix from DJs playing lovely international music.
They offer a wide variety of drinks and cocktails and light meals. It is equally an ideal terrace bar in Lisbon to catch the sunset and have a nice outdoor time with friends.
Address: Avenida da Liberdade 185.
Opening hours: Daily from 4 pm to midnight.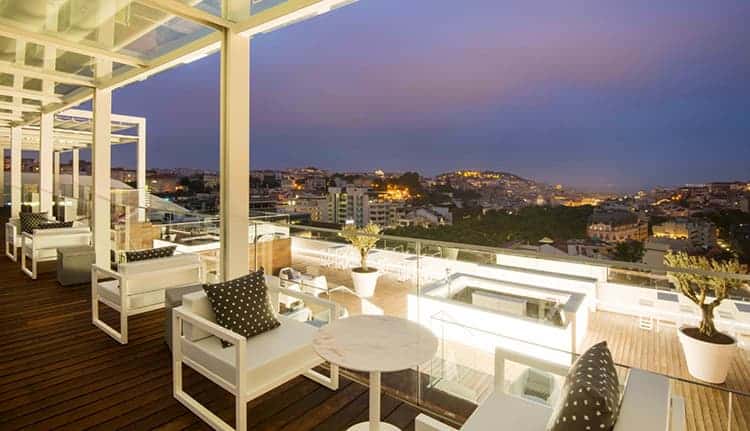 Topo Bar Chiado
This is the second Topo bar on this list and it is just as lovely as the first one which is in Martim Moniz. Topo Bar Chiado offers fantastic views and a chilled atmosphere.
It is a great spot in the city centre to grab a wine or a cocktail. There is also a restaurant on the higher level where you can enjoy nice dishes and light meals or even brunch during the day. The background music at this bar is also usually very enjoyable. It can be a difficult place to find though.
Address: Terraços do Carmo.
Opening hours: Monday to Thursday and Sunday, 11 am to 2 am. Friday and Saturday, midday to 2 am.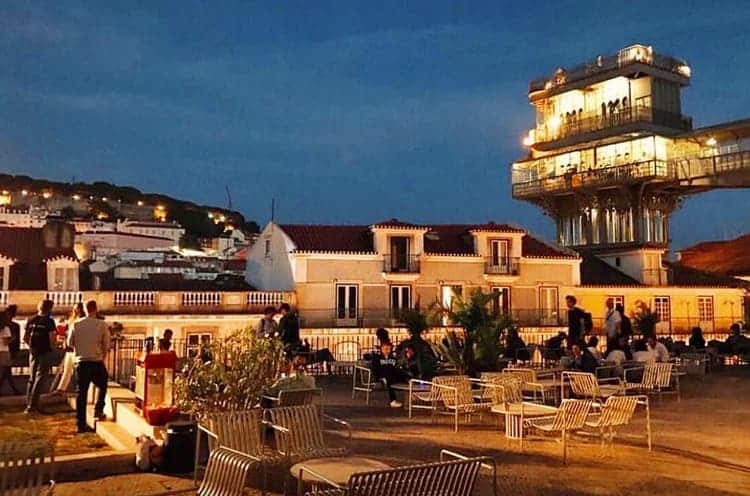 Upscale Bar
Perhaps one of the more exclusive rooftop bars in Lisbon, Upscale Bar is poised at the top of the EPIC SANA Hotel in Lisbon with stunning views of the city and the Tagus river.
The outstanding feature of the Upscale Bar is the outdoor swimming pool (open between May and September). This makes it the perfect rooftop bar to go in the summer. Also, on offer at the Upscale Bar is a wide variety of cocktails and non-alcoholic drinks as well as tapas, crunchy snacks and salads.
It's the perfect place to retire to after a long exhaustive day in the summer and enjoy the sunset.
Address: Avenida Eng. Duarte Pacheco 15.
Opening hours: May to September daily from 9 am to midnight.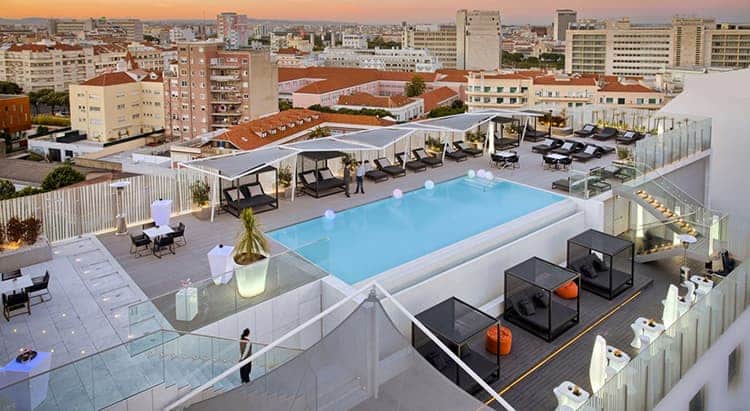 Ferroviário Terrace Bar
This is a spacious rooftop bar with an amazing view of Tagus River. Ferroviário is located close to the Santa Apolónia train and Metro station.
This space has a great ambience to it coupled with a nice tropical design style of the terrace. It's a nice place to chill with friends and have drinks while enjoying the views and scenery of the surrounding area. You can also enjoy occasional live music and DJ performances here. It is another ideal rooftop bar in Lisbon for summer nights.
Address: Rua de Santa Apolónia 59.
Opening hours: Friday, 6 pm to 3 am. Saturday, 4 pm to 3 am. Sunday, 4 pm to midnight.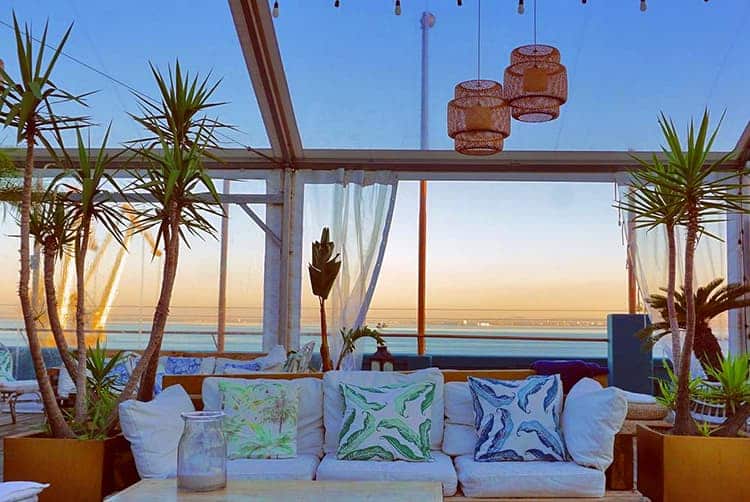 There you have it, the best of the best rooftop bars in Lisbon. Be sure to visit one or two on your visit to Lisbon especially if you visit during the summer months, there's no better place to be than to be partying high above the city streets.
Which rooftop bar in Lisbon is your favourite? Let us know in the comments below.

Disclaimer: Our posts might contain affiliate links, which means we earn advertising fees if you make a purchase. There's no extra cost to you, it just helps us keep the website going.