There is no shortage of luxury hotels in Lisbon. When travelling abroad, choosing a place to stay is one of the first and most important priorities for an enjoyable and stress-free stay.
If you have a medium to high budget, then Lisbon has plenty of different accommodation choices from luxury stays in the city centre, by the airport or beachfront.
Here we've compiled a list of the best hotels in Lisbon in terms of luxury hotels, hotels near Lisbon airport, at the beach or in the city centre.
Most Luxury Hotels in Lisbon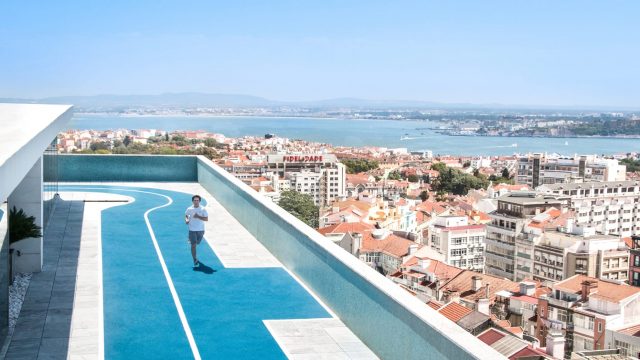 Pestana Palace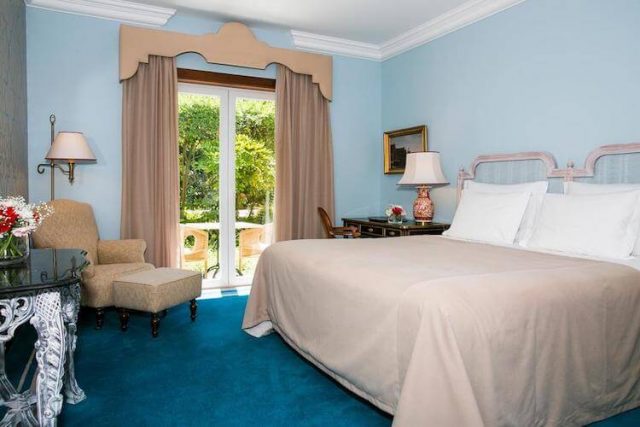 This is a luxurious and elegant hotel with wonderful views of the Tagus River in Lisbon.
The Pestana Palace is a privileged member of the 'Leading Hotels of the World' group and is even listed as a Portuguese National Landmark.
It has a luscious private park grounds that surround the hotel with a variety of subtropical plants and trees that result in a spectacular panoramic view over Portugal's capital city.
Check their availability here. (from €198/night).
To get weekly information about Portugal, subscribe to our newsletter.
InterContinental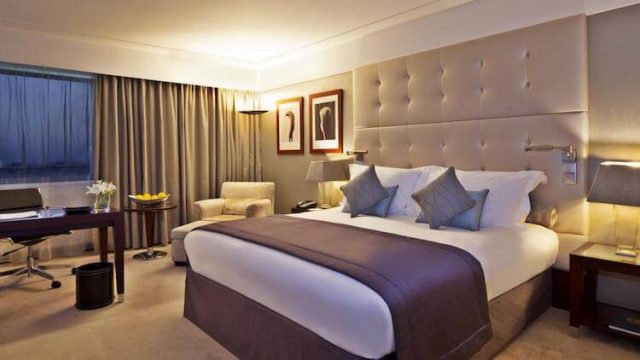 Located perfectly in central Lisbon, the InterContinental Lisbon is a luxury 5-star hotel overlooking the famous Park Eduardo VII.
The hotel features chic and spacious guestrooms, many of which have panoramic views overlooking the park's green areas.
It is just 500 meters from Marques de Pombal Square and metro station and 700 meters from the Avenida da Liberdade's boutiques.
Check their availability here. (from €180/night).
FourSeasons Hotel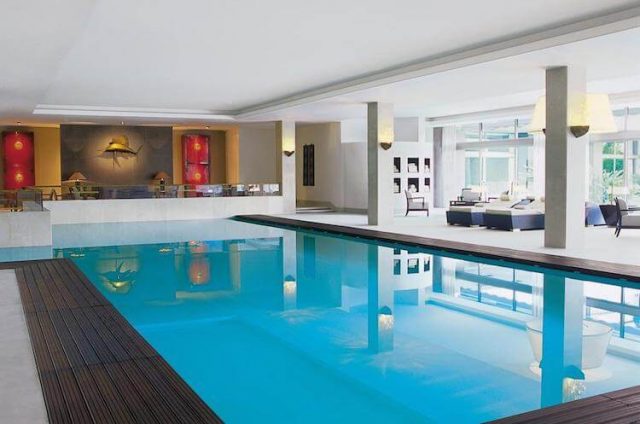 Another of Lisbon's most luxury hotels is the FourSeasons Hotel Ritz, located next to Park Eduardo VII. The 5-star hotel features a fitness centre on the 11th floor with an outdoor running track overlooking the city, and also an on-site spa.
The rooms are very luxurious and spacious, with elegant décor combined with classic elements. Some rooms have large balconies overlooking the city, and all private bathrooms offer complimentary L'Occitane toiletries.
Check their availability here. (from €624/night).
PortoBay Liberdade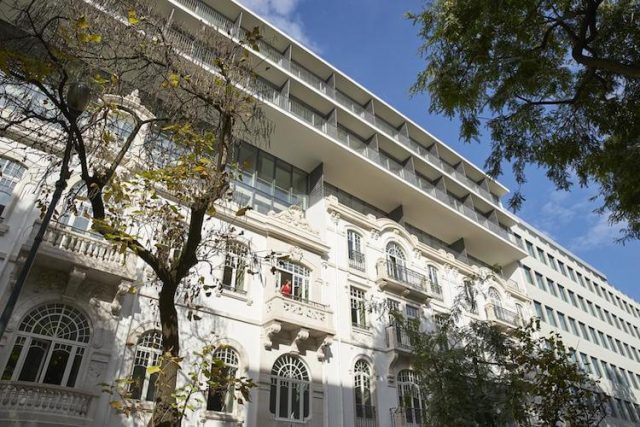 Situated in the heart of Lisbon, PortoBay Liberdade is a 5-star hotel that replicates resort-style features in an urban setting.
It was designed by the architect Frederico Valsassina and preserves many of the original early 20th-century facades. This creates an aura of history and contemporary decor.
The boutique hotel also features an indoor swimming pool and WiFI in all areas. Each room includes a seating area, desk, minibar, a flat-screen cable TV and a private bathroom with free Rituals toiletries.
A pillow menu is also available for guests comfort.
Check their availability here. (from €181/night).
Pousada de Lisboa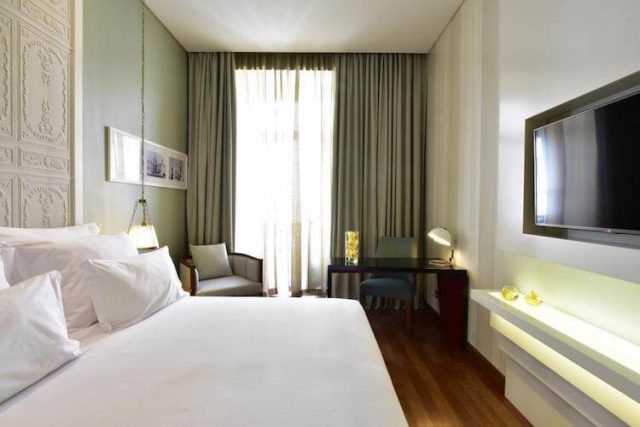 With one of the best locations in Lisbon, Pousada de Lisboa is one of the "Small Luxury Hotels of the World", offering guests an elegant stay with free Wifi, classical-style rooms, and an à la carte restaurant.
Each room has a view over the Terreiro do Paço Square and Áurea Street and comes with its own elegant private bathroom.
They are all fully equipped with a flat-screen TV, air conditioning, telephone, safety deposit box, soundproofing and minibar.
Check their availability here. (from €287/night).
Eating out in Lisbon? Read all about Lisbon restaurants with our ultimate guide here.
Book your hotel with Booking.com
With Booking.com you can book the best hotels in Portugal for the cheapest price. Get instant confirmation, pay 0 booking fees and even cancel your booking for free at most hotels. 
Booking.com -
Find the best prices and prepare your trip to Portugal today
Nearest and Best Airport Hotels in Lisbon
Star Inn Lisboa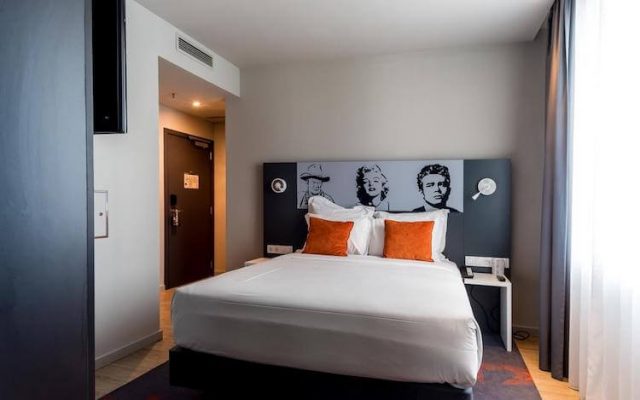 Located 2.6 km from Lisbon Casino in Lisbon,
Lisbon features a restaurant, bar and free WiFi throughout the hotel.
There is also the convenience of private indoor and outdoor parking available on-site, along with a charging station for electrical vehicles.
Check their availability
here
. (from €155/night).
TRYP Lisboa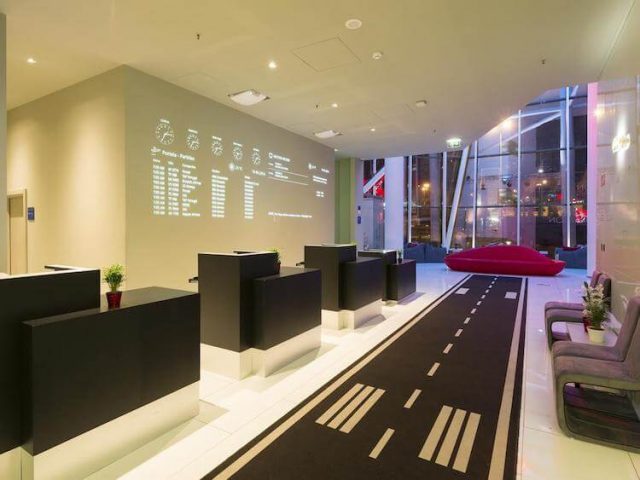 This renovated hotel in the heart of
's Nações district is surrounded by trendy restaurants and modern architecture.
It offers free Wi-Fi, a brand new restaurant and renovated
.
Check their availability
here
. (from €137/night).
Tivoli Oriente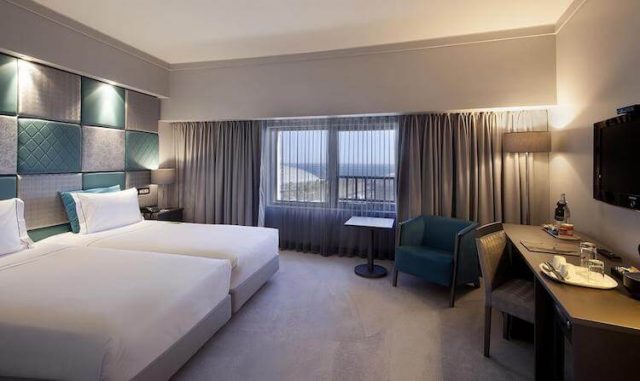 Tivoli Oriente Lisboa Hotel is a contemporary hotel within Lisbon's iconic Parque das Nações district, overlooking the Tagus River.
It features an indoor pool with a hot tub, relaxation facilities and a refurbished fitness centre.
Check their availability
here
. (from €151/night).
NH Campo Grande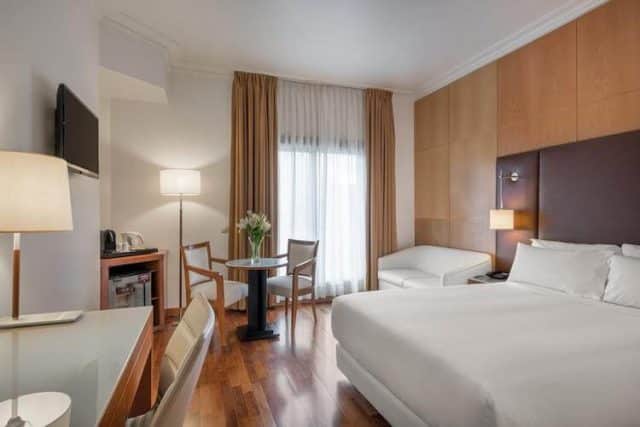 This modern hotel features a sauna, modern rooms, and a bar, all just across the street from Entrecampos Metro Station. It serves a breakfast buffet which includes fresh juice, preserves and gourmet coffee.
Check their availability here. (from €120/night).
Get to know more about getting around Lisbon with this public transport guide here!
Hotels in Lisbon by the beach
Farol Hotel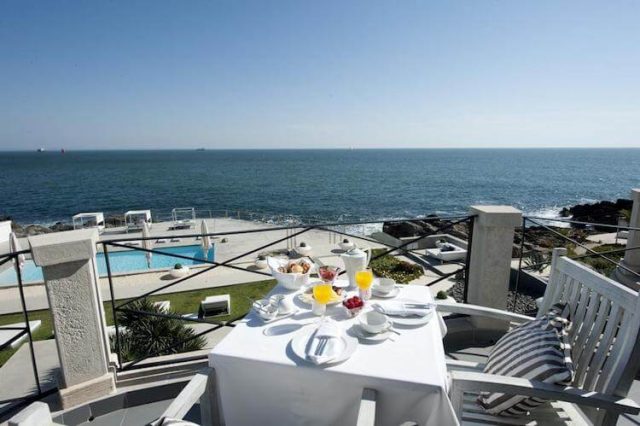 Just a short walk from the beach, this charming boutique hotel is located in Praia da Barra.  It is a popular beach destination along the coast of Aveiro because of its relaxing scenic landscape. Most rooms at Hotel Farol feature a balcony and Ocean views.
Check their availability
here
. (from €90/night).
Fortaleza Guincho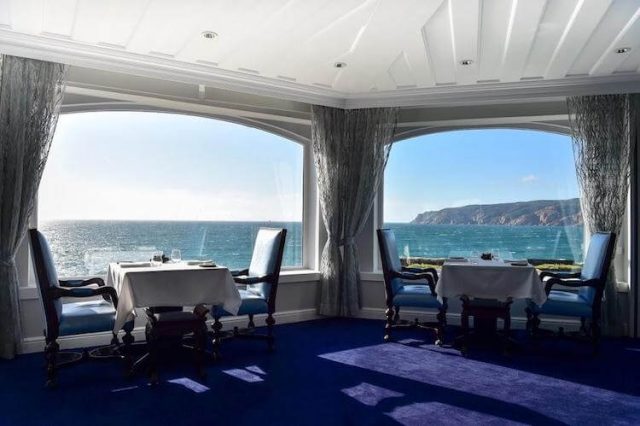 Built on the site of a 17th-century fortress, this luxury hotel boasts not just unique architecture but also a
award-winning gourmet restaurant and sweeping . It overlooks the Portuguese surfers' paradise, Guincho Beach, just 20-minutes from central Lisbon.
Check their availability
here
. (from €222/night).
Palácio Estoril Hotel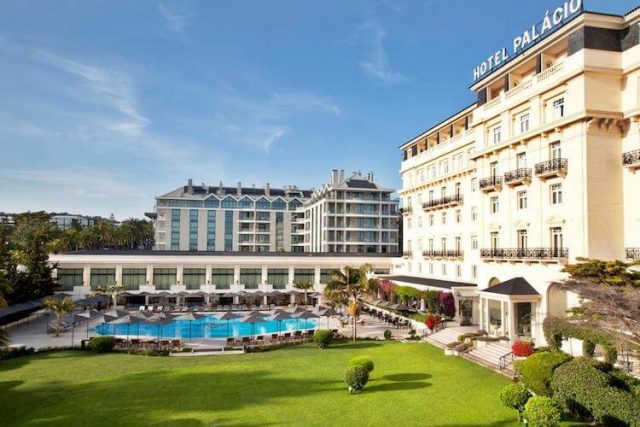 The 5-star Palácio Estoril offers opulent interiors set in lush gardens with a golf course. It is located 200 metres from the Congress Estoril Center and from the Atlantic Ocean. The hotel features four dining outlets and an Asian-inspired spa.
Check their availability
here
. (from €294/night).
Grande Real Villa Italia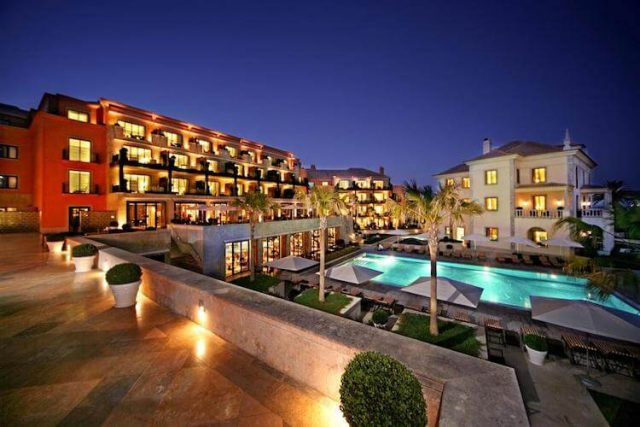 Former residence of the exiled Italian kings, the
Itália Hotel & Spa sits in the perfect location beside the Atlantic Ocean in Cascais. It features a thalasso spa with face and body treatments, an equipped gym and nearby golf courses.
Check their availability
here
. (from €260/night).
Hotel Cascais Miragem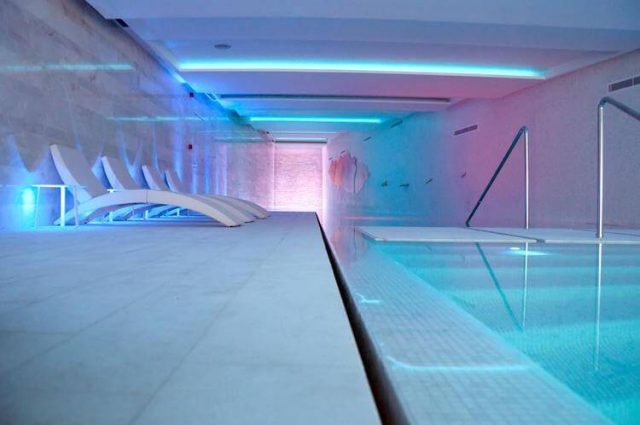 This boutique hotel is known for its stunning outdoor infinity pool overlooking the Atlantic Ocean. The 5-star hotel also features a Spa, a Health Club, restaurants and free WiFi in all areas. There is also a new area available exclusively for all guests, the Miragem Water Lounge.
Check their availability here. (from €226/night).
Want to visit the best beaches in Lisbon? Read all about them here!
Hotels in Lisbon's City Centre
Valverde Hotel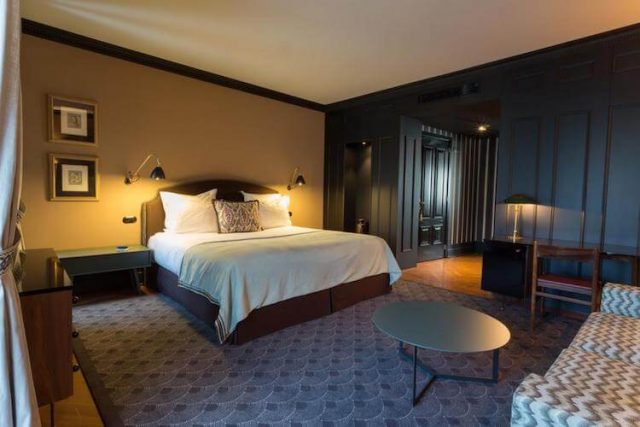 Situated in the middle of Lisbon's "high street", the Avenida da Liberdade, the 5-star Valverde boutique hotel features an outdoor patio and small swimming pool. The bedrooms feature strong-coloured walls contrasting light-coloured fabrics. They all offer sophisticated and functional furniture plus objects from the 1950s.
Check their availability
here
. (from €267/night).
Altis Avenida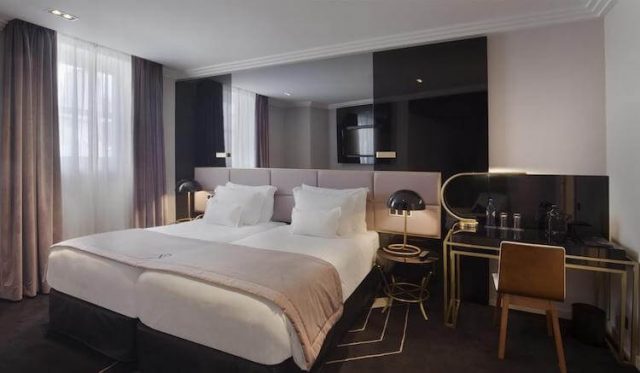 The 5-star
Hotel is a luxury hotel in the middle of downtown Lisbon. It is within a 5-minute walk from the shopping triangle, Rua Augusta Street, Chiado and Liberdade Avenue. No need for public transport if staying here!
Check their availability
here
. (from €201/night).
FonteCruz Lisboa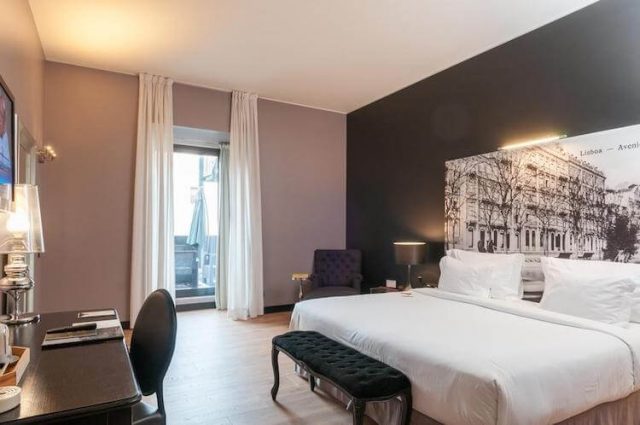 The 5-star hotel is part of the Autograph Collection and features a contemporary décor with art pieces matching vintage details. It is a trendy hotel, centrally located in Lisbon's Liberdade Avenue, renowned for its prestigious boutiques and restaurants.
Check their availability
here
. (from €242/night).
Tivoli Avenida Liberdade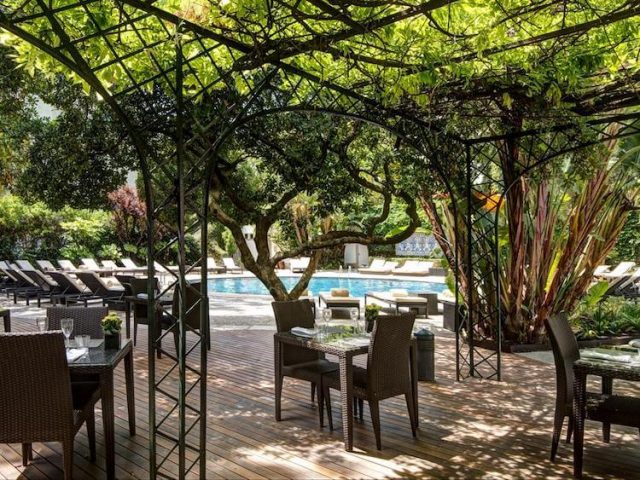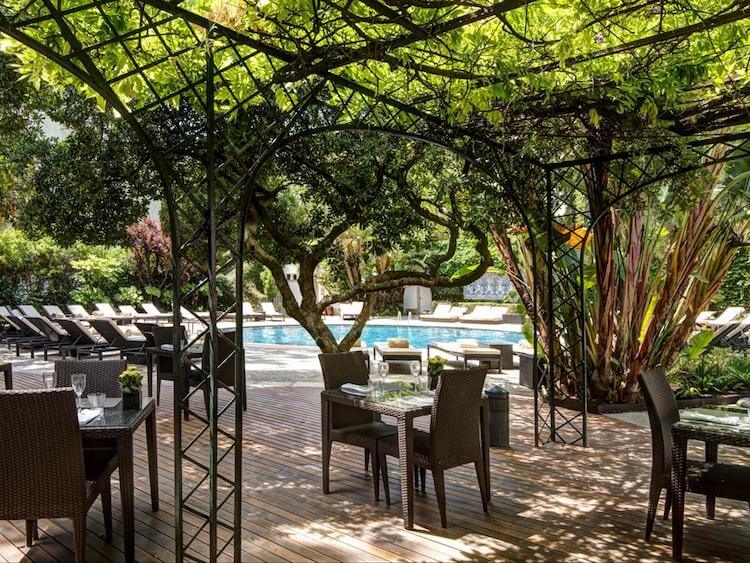 Residing in an old 1930s building on the Avenida da Liberdade in Lisbon, this 5-star luxury hotel boasts a rooftop bar with panoramic Lisbon views. Inside you will find two restaurants, the Anantara Spa, and tastefully decorated modern rooms.
Check their availability
here
. (from €395/night).
Epic Sana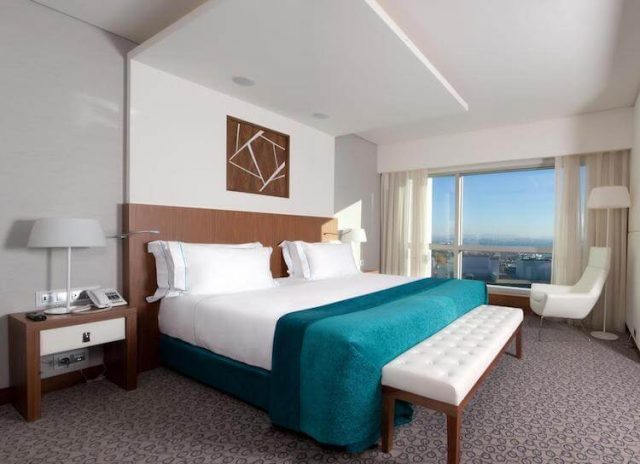 Epic Sana is located in Lisbon's upscale area of Amoreiras. It is a newly built hotel featuring a rooftop infinity pool. Everyday buffet breakfast is served with the choice of eating in the restaurant or having it delivered to your room. The hotel features a dining restaurant and Upscale bar all just 700 metres from the Marques de Pombal Square.
Check their availability here. (from €143/night).
Unsure what to do while in Lisbon? Read all about the Portugal capital city here!
Book your Hotel in Lisbon
There are plenty of options for hotels in Lisbon, but be sure to book your accommodation in advance. These hotels in Lisbon sell out fast!