Are you looking to escape the Portuguese heat this summer? Then why not cool down by watching the latest blockbuster in one of the many Cinemas in Portugal?
In the home-streaming era, we might have become a little too used to watching movies on our laptops. However, it's time we revisit the magical experience of watching movies on the big screen with unbeatable surround sound.
So, get excited because we're going to the movies! Find out everything you need to know about visiting one of the many great Cinemas in Portugal.
What are cinemas in Portugal like?
If you're anything like me, watching a movie at the cinema is a completely incomparable experience. There's just something so nostalgic about the smell of fresh popcorn and sipping on an unnecessarily large fizzy drink!
One of the great things is that they too respect this cinema tradition. Some cinemas here even offer unlimited popcorn and drink refills. Yes, you read that right. Unlimited refills!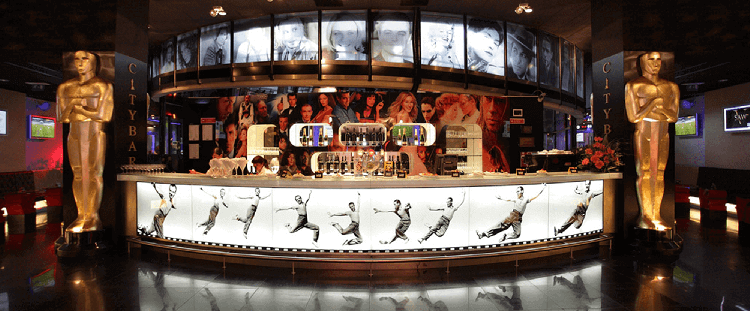 Another fascinating discovery is that I've also found the popcorn in the cinemas here usually come sweet. Back in my home country of Australia, you'd only ever find salty popcorn available. Having an entire box of freshly cooked, caramelised popcorn is basically my idea of heaven! (Don't fear though, there's still salty popcorn options available for those unwilling to adapt.)
Are movies dubbed in English or Portuguese?
One of the first things I wanted to know when moving here was whether I'd be lost in translation if the movies were dubbed in Portuguese.
I was ecstatic to hear that the movies are in fact, almost always presented in their original language! This means that movies released in English globally will also retain the English audio.
To accommodate for the local Portuguese, you'll find that they show films here with Portuguese subtitles. As an expat still learning Portuguese, it's a bonus because you can practice your Portuguese at the same time. Think of it as the best type of education!
It's important to mention that films aimed for children are almost always dubbed in Portuguese. Logically, this makes a lot of sense considering kids still have yet to fully grasp English. Hence, it's a lot easier for them to understand the film if it's dubbed in their native language.
Are there cinemas in Portugal for expats?
Short answer – not really. However, don't let that discourage you!
If you're feeling a little shy, the friendly staff will usually be able to speak English anyway. Most cinemas will have screens available at the lobby where you can order your tickets. Alternatively, most will also have an online booking system where you can order tickets with just a few simple clicks.
Cinemas can usually be found in each area's large shopping centres. You know where you usually go to buy groceries at the supermarkets or go shopping for clothes? Well, most likely there'll be a cinema complex located on the top floor (also conveniently right next to a food court.)
Find out more about guides for expats, subscribe to our newsletter.
What are the main cinemas in Portugal?
Like every other country, there are a few recognisable chains that own most of the cinemas in Portugal. These popular cinemas will mainly showcase the latest blockbuster releases. Here you'll find the main cinema brands to look out for:
Cinemas NOS

The leading importer of films in Portugal, Cinemas NOS has 30 theaters with a total of 214 cinema rooms. They were the pioneers in digitising the film industry here and introducing digital 3D movie theatres in Portugal. They cater for most of the main regions in the country with cinemas available in Coimbra, Lisbon, Braga, Faro, Porto, Torres Vedras and Madeira to name a few.
In 2013, they inaugurated the first IMAX cinemas. You can find their IMAX cinemas in NOS Colombo, Lisbon and NOS MarShopping in Matosinhos, Porto. In 2016, they went on to introduce the exciting 4DX cinemas. 4DX cinemas combine environmental effects such as chair movement, wind and rain whilst you watch a movie. Sounds pretty awesome, right? These can be found in NOS Almada Forum and NOS Gaia Shopping Centre in Vila Nova de Gaia.
Cineplace Cinemas
The second-biggest movie chain is Cineplace Cinemas, with 14 Cinemas in Portugal and a total of 85 rooms. Entering the market in 2013, the company took over the majority of its cinemas from the Castello Lopes Cinemas chain. You can find cinemas in Aveiro, Braga, Albufeira, Portimão, Guarda, Leiria, Lisbon, Porto, Setúbal, Azores and Madeira. 
Cineplace Cinemas boast their incredible XPlace movie theatre in Braga, which offers 12 stadium movie theatres with high definition sound and large-screen imaging. They also offer Cineplace Blue Diamond, a VIP space where you can watch movies on a reclining chaise lounge chair and access an exclusive gourmet menu.
Cinema City
Boasting 6 theaters, Cinema City has a total of 46 movie theatre rooms. The majority of its cinemas are located in Lisbon – in Alfragide, Beloura, Campo Pequeno and Alvalade. You will also find two outside of the Lisbon area – with one located in Setúbal and another in Leiria.
Cinema City has 3D movie theatres available as well as VIP areas in its movie theatres. The VIP areas include super comfortable, reclining leather armchairs and a buffet available 20 minutes before the movie starts!
Castello Lopes Cinemas
Previously, Castello Lopes Cinemas were the second-largest chain in Portugal and up until 2013 had closed all of its theatres. However, within recent years, they've started reopening some of their cinemas with 6 currently operating in Portugal. You can find their cinemas in Barreiro, Sintra, Guimarães, Torres Novas and Santarém. They also have 3D movie theatres available in some of their locations.
Castello Lopes Cinemas have fantastic promotions at their cinemas. These include free movie sessions on the first Sunday of each month at 11 AM. These are mainly aimed at kids and usually show family-friendly movies. You can also purchase a combined movie and meal ticket where you receive a meal at a partnering restaurant for just 9€ at Forum Sintra!
UCI Cinemas
An international cinema brand, UCI Cinemas can be found all across Europe. They have 3 theaters found in El Corte Ingles in Lisbon, Dolce Vita Tejo in Amadora and ArrabidaShopping in Gaia, Porto. You'll be able to watch 3D movies at their Amadora cinema.
UCI Cinemas also offer seasonal promotions that include unlimited popcorn and drinks, as well as discounted tickets for families of 4 visiting the cinema together.
The best alternative cinemas in Portugal
For those that love watching indie and arthouse films or those looking for an outdoor cinema, you'll find a great range of alternative ones. The best part is you'll find most of these cinemas in historical or beautifully preserved buildings.
Here's a guide to some of the best alternative Cinemas in Portugal!
Lisbon
Cinema São Jorge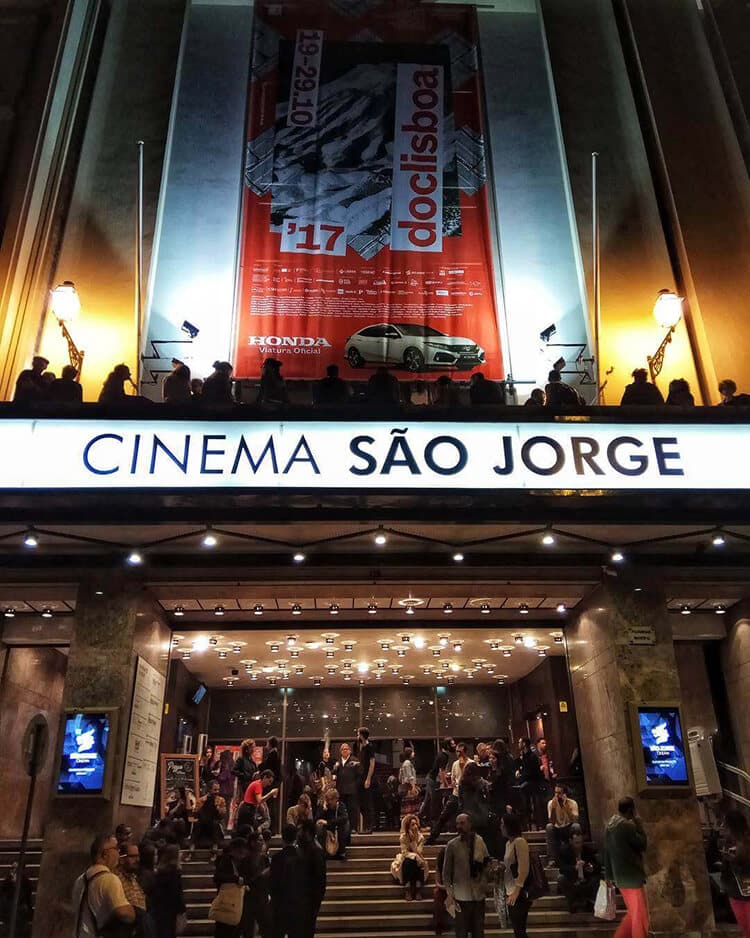 One of the most prestigious ones, Cinema São Jorge is a cultural institution that first opened in 1950. It has 3 theatres, 2 of which are used for movies and 1 used for shows and concerts.

An architectural landmark, it has established itself as one of the most emblematic cinemas in Portugal. Most recently, you'll also find it is the home to several film festivals. Held throughout the year, the cinemas have hosted everything from the Italian Film Festival to Lisbon Motorcycle Film Fest.

Address: Avenida da Liberdade 175, Lisbon, Portugal
Medeia Monumental Cinema
Some of the most illustrious directors like David Cronenberg and Bernardo Bertolucci have paid a visit to Lisbon's Monumental Cinema. Located right near Saldanha, its four cinemas are considered some of the most remarkable and beautiful cinemas in Lisbon.
The cinema takes great pride in curating some of the best cinematography in the world. Above all, it regularly programs critically acclaimed movies with a great selection of new and old classics.
Address: Edifício Monumental, Av. Praia da Vitória 72, 1050-183 Lisboa
Cinemateca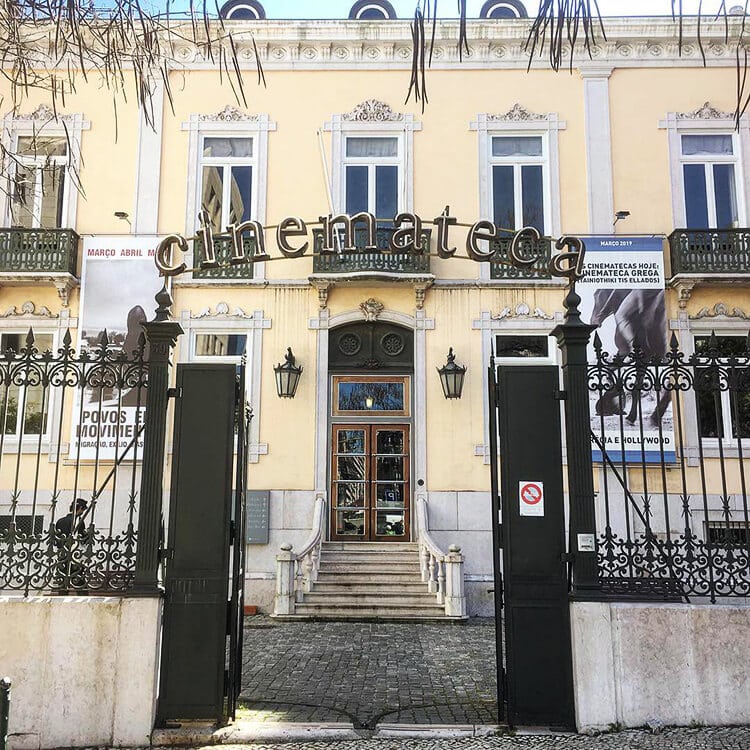 Right near Cinema São Jorge, you'll also find Cinemateca, an absolute must-visit for all film lovers. It's really not enough to call this just a cinema. Rather, it's a cinema museum home to an incredible collection of over 70,000 film artefacts. 
There's a fantastic program of films shown here, with up to 6 high-quality movies a day. For true lovers of independent and arthouse films, you really won't be disappointed with the carefully curated program available. Make sure you also visit the cafe and amazing book shop on the top floor. 
Address: Rua Barata Salgueiro 39, Marquês de Pombal, 1250, Lisbon 1269-059, Portugal
CineSociety – Open Air Cinema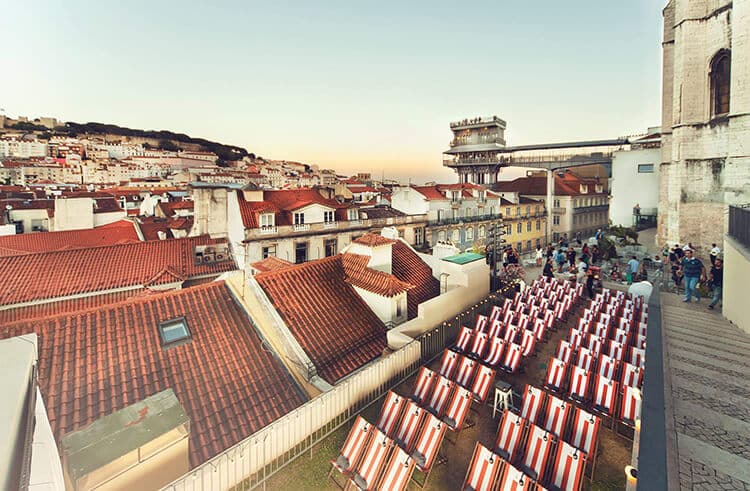 Hanging out with friends on deck chairs while you sit in one of Lisbon's most iconic spots sounds amazing right? CineSociety – Open Air Cinema is the perfect experience for those Lisbon summer nights. With a great program of old and new cult classics, the outdoor cinema can be found in two stunning locations. The first is at Topo Chiado Bar which has great views overlooking Lisbon. The second has equally amazing views, this time overlooking Cascais at the top of Hotel Baía. 

While you relax and watch a great film, you don't just have to settle for popcorn either. Both venues serve great cocktails and Portuguese tapas available too! 
Address:
Topo Chiado – Terracos do Carmo, Lisbon 1200-092, Portugal
Hotel Baía – Passeio de Dom Luís I, 2754-509 Cascais

Porto

Cinema Trindade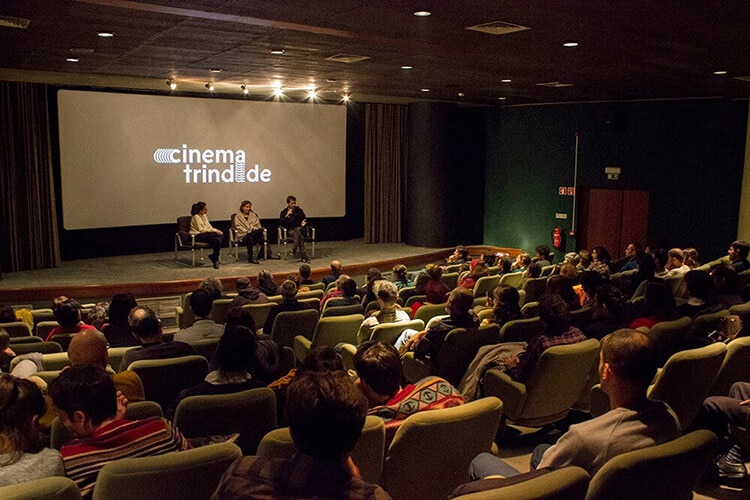 A historical cinema in Porto, Cinema Trindade first opened in 1913 but closed several times over the last 100 years. Finally, it reopened for the 4th time in 2017 at a time when Porto has since experienced a cultural renaissance. 
Cinema Trindade has 2 cinemas and only exhibits four sessions per day. Make sure you check the program as they show a wide variety of carefully curated films. The cinema often organizes themed weeks where they will focus on a country and show important movies from that country. 
Address: Rua do Almada 412, 4000-235 Porto
Passos Manuel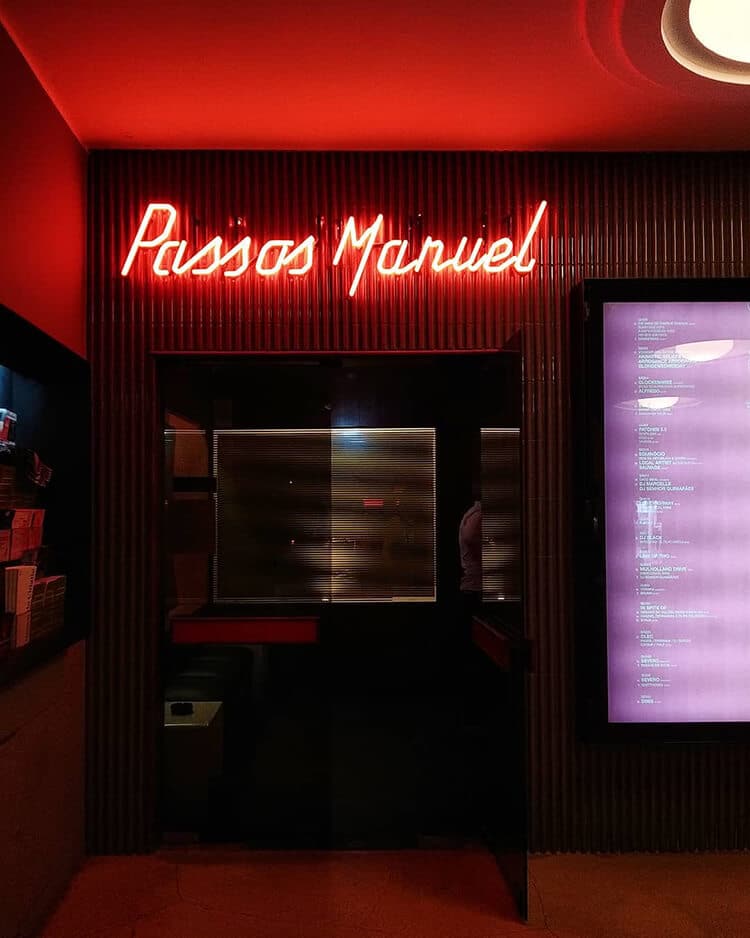 It's hard not to love Passos Manuel, a cultural institution in Porto's art scene. From the Art Nouveau furniture to the VIP cabins behind the bar, every spot of this venue is special. 
It only has one cinema room, which means its cinema program is a little more irregular than others listed here. However, do make sure you check the program for when a screening is being held. You definitely wouldn't want to miss a chance seeing something here!
Address: Rua de Passos Manuel nº 137, Porto, Portugal
Cinemas in Portugal: your next night out
Most of the cinemas listed here constantly change their programs to schedule new releases. Make sure you check movie times before visiting so you can plan your visit. You'll also want to make sure you're aware of discounted nights or promotions on offer, which cinemas regularly run too.
So, if you're looking for a great date night or simply want to grab the latest Marvel blockbuster, I hope you're inspired to visit one of these great Cinemas in Portugal soon!