Portugal is a country that is rich in history and religious places, full of beach towns, home to numerous palaces and castles, and much, much more. If you're planning a visit to this wonderful country at the westernmost point of Europe then never fear, there is no shortage of attractions to see.
Here we've compiled a list of the 20 top attractions in Portugal including everything from sacred monuments to Queen's castles, beach resorts, nature attractions, cities, and more.
Sacred and Religious Attractions in Portugal
1. Sanctuary of Fátima
The Shrine of Fátima is a place of pilgrimage, which celebrates the memory of its founding event, the apparitions of Our Lady to the three little Shepherds. Located in central Portugal, the national shrine has become the fourth biggest pilgrimage site in the world.
If you'd like to learn more about one of the worlds most important pilgrimage sites, check it out here.
If you want to go on a full-day tour to Fátima, departing from Lisbon, click here.
2. Mosteiro dos Jerónimos
The Jerónimos Monastery (also known as Hieronymites Monastery) is the former monastery of the Order of Saint Jerome, located in Belém near the Tagus river. The monastery is one of the most prominent examples of the Portuguese late Gothic Manueline style of architecture in Lisbon. It was classified as a UNESCO World Heritage Site in 1983.
For all the best tips on the Jerónimos Monastery, you should check Jerónimos Monastery in Lisbon: Stunning the World Since 1501.
If you want to buy tickets to enter the monastery, click here.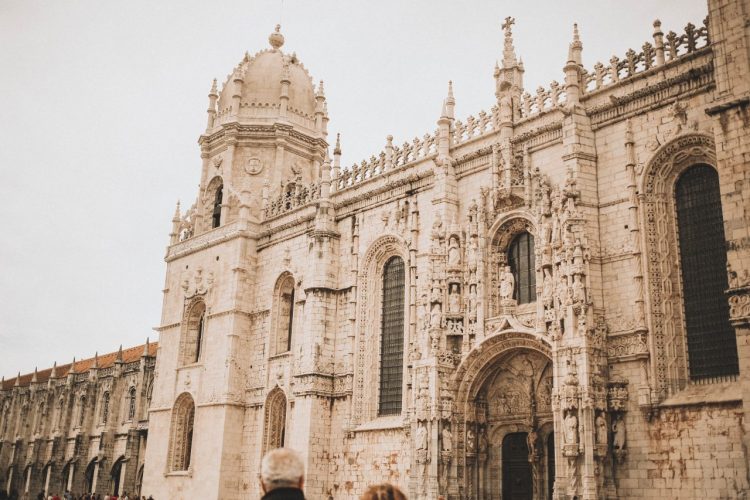 3. Capela dos Ossos in Évora
The Capela dos Ossos or "Chapel of Bones" is one of the most famous monuments in Évora. It is a small chapel with walls entirely decorated with human skulls and bones.
If you want to visit this landmark and Évora on a one-day tour, click here.
Palaces and Castles in Portugal
4. Castelo de São Jorge
Located on Lisbon's highest Hill is the Castle of São Jorge, one of the city's most iconic landmarks. Inside the castle walls, there are eleven towers, a small museum, bar and restaurant. The tickets cost €8.50 and the opening times are 9 am to 6 pm.
Get a ticket to visit the castle without waiting in line here.
5. Sintra
Sintra in Portugal is one of the most popular destinations for tourists because of its magical charm and numerous palaces and castles in the Sintra mountains. The Palácio Nacional da Pena and Quinta da Regaleira are just two of the most enchanting palaces to visit while there.
Visit Sintra and Quinta da Regaleira on a 5-hour trip here.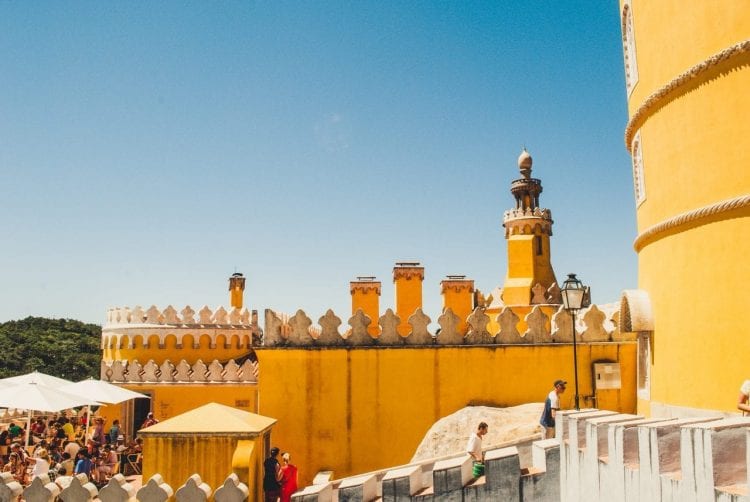 Discover more about Sintra with this complete guide!
Best Beach Resorts in Portugal
6. Cascais
Cascais is a seaside town located 40-minutes from Lisbon's center. It is known for its luxury resorts, pristine beaches, casino, and history of the royal residents. Today its beaches are often filled towel-to-towel on hot summer days.
Visit Cascais and Lisbon on a hop-on hop-off tour bus here!
Learn more about visiting Cascais with our guide to the perfect day out here!
7. Óbidos
Óbidos in Portugal is a small medieval town around one hour's drive from Lisbon. It is a great destination for a day-trip from Portugal's capital. The main attractions in Óbidos are the city walls, the traditional sweet liquor "Ginjinha d'Obidos", the Porta da Vila, and the narrow cobblestone streets.
Buy tickets to visit Óbidos here.
8. Estoril
Estoril in Portugal is a glamorous seaside town located between Lisbon and Cascais. It is home to the glitzy Casino Estoril, a championship golf course, and buzzing nightlife.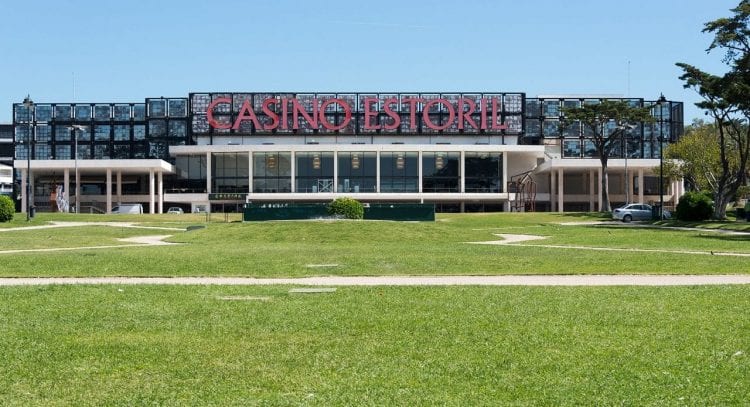 9. Monte Gordo
Monte Gordo is a modern beach town situated on the eastern coast of the Algarve. It is home to a stunning sandy beach, a range of restaurants, and a calm atmosphere.
10. Albufeira
Albufeira is one of the Algarve's most lively cities. It offers guests a fantastic climate, an extensive range of activities, attractions and accommodation as well as the infamous "strip" for an exciting evening on the town.
Check over 50 activities that you can do in Albufeira by clicking this link!
11. Nazaré
Nazaré in Portugal is one of the best beach resorts in the country, known for its big wave beaches and ancient fishing traditions. It is beautifully located between a moon-shaped sandy beach and giant rock formation on the other – well worth the visit!
Learn more about what Nazare has to offer, with our ultimate guide here!
Best Natural Attractions in Portugal
12. Cabo da Roca
Often referred to as the "edge of the world", Cabo da Roca is the westernmost point of mainland Europe. It can be reached by bus from either Sintra or Cascais. It is very windy but offers great views of the thundering waves against the rocky cliff faces.
13. Benagil
Benagil is a small fishing village located along the southern coast of the Algarve in Portugal. It is well known for an incredibly picturesque sea cave that can be explored by foot or by boat. The town itself is just a small fishing village but there are local Portuguese restaurants around to dine in after visiting the caves.
Visit Benagil here!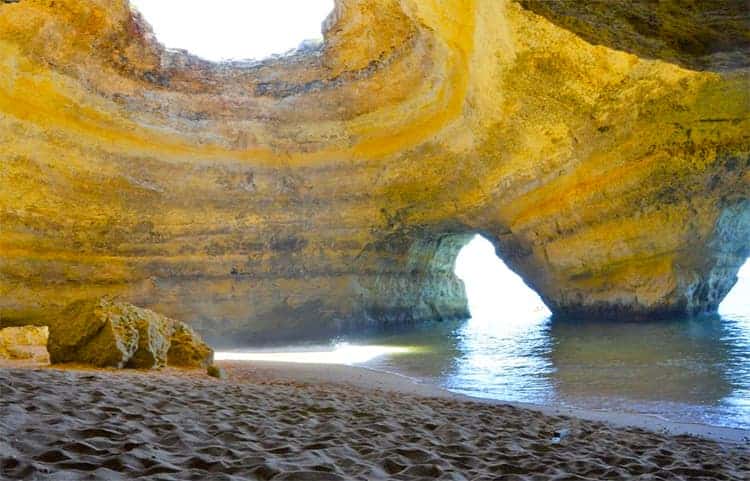 Best Lisbon Attractions
14. Oceanário de Lisboa
The Lisbon Oceanarium opened in 1998 as the centerpiece for the World Expo. It is located in Parque das Nações and is the largest indoor aquarium in Europe, home to 450 different species. This is one of Lisbon's biggest attractions, with approximately 1 million annual visitors!
Get your ticket right here!
15. Tram 28
The number 28 tram in Lisbon is arguably the most iconic way to tour Portugal's capital city. The trams date back to the 1930s and are still an integral part of the city's public transport network.
Tram 28 connects Martim Moniz with Campo Ourique and passes through the popular tourist districts of Graça, Alfama, Baixa, and Estrela. The rattling yellow tram journey is a must-do to discover all the narrow streets of Lisbon.
Discover more about what to do in Lisbon here!
Best districts in Portugal
16. Alfama
Alfama is one of the oldest districts in Lisbon, characterized by its narrow cobbled streets, old houses, and very steep hills leading up to the Castle of São Jorge. The neighborhood is also the city's traditional Fado music quarter, said to be the inspiration for the unique genre.
Get on a Tuk Tuk guided tour and explore Alfama!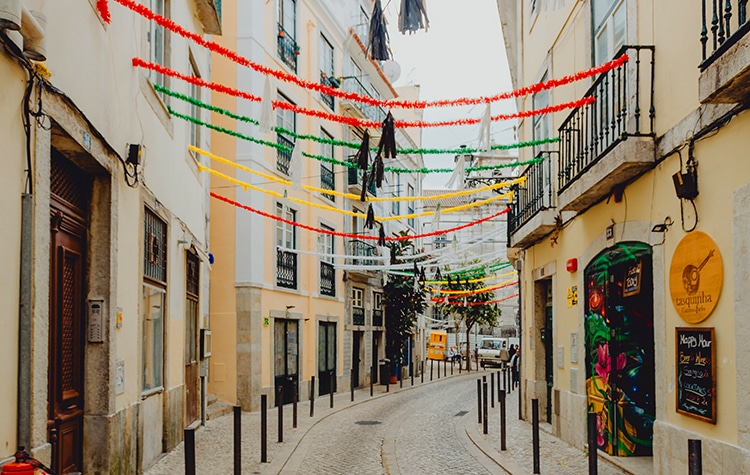 17. Cais da Ribeira
Cais da Ribeira is the riverfront promenade in Porto; the perfect location for panoramic views of the city. Here you can take in views of the pastel houses, the Douro river, listen to street musicians, and eat traditional Portuguese in one of the old taverns.
Best Beach Attractions in Portugal
18. Praia da Rocha
Praia da Rocha, in Portimão, is one of the most popular beach destinations in the Algarve. The beaches are characterized by their golden sand, huge clifftops and crystal clear waters extending over the southern coast.
19. Praia do Carvoeiro
Another beautiful beach with extraordinary rock formations, Praia do Carvoeiro is a small beach within a bay, set amongst the picturesque village of Carvoeiro where you can see little white houses and colorful fishing boats on the beach.
20. Praia do Baleal
One hour north-east of Lisbon is Baleal, a surf town nearby Peniche. Praia do Baleal covers an extended coastline of golden beaches with good conditions for swimming and other water activities like surfing and windsurfing.
Discover more of Portugal's best beaches here!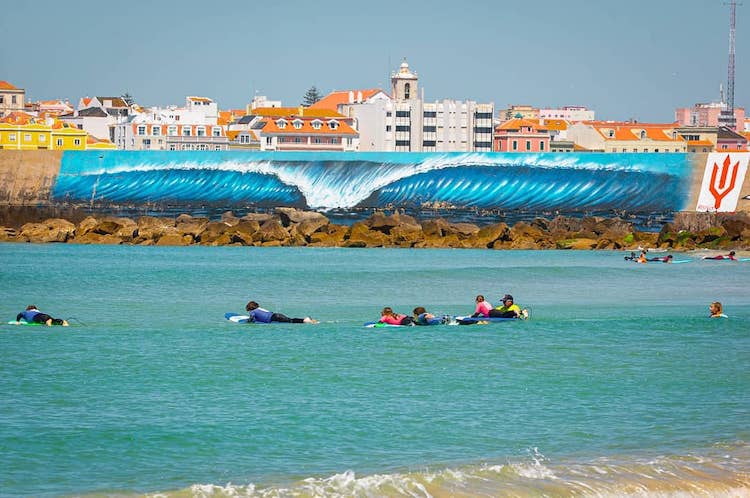 If you're visiting Portugal, there is no excuse not to add at least one of these top attractions to your to-do list. For whatever your fancy – beaches, nature, history – this country has something for everyone to enjoy!