Is Monte Gordo a good beach resort in the Algarve? What are the best Monte Gordo's hotels? Where can I find the top restaurants?
Find answers to all of these questions right here.
Plan your holidays in Monto Gordo, in the Algarve
When the weather starts to heat up, you can be sure that those in Monte Gordo are hard at work preparing for what promises to be another busy season.
Monte Gordo has transitioned from a sleepy fishing village to bustling resort town. With little more than 3.000 permanent habitats, this resort town changes completely in the summer.
Where is Monte Gordo?
Located on one of the most beautiful beaches in the eastern Algarve, Monte Gordo is close to the border of Spain. The nearest "big city" is Vila Real de Santo António, which is a mere 5km away.
If you're travellingcoming from Faro Airport, know that the city is 60km distance, and if you rent a car it will take you more or less 45 minutes to get there.
The distance to the border of Spain is around 17 km (or 22 minutes by car).
Who goes on holidays to Monte Gordo?
The atmosphere during the summer is fun-filled and nationally diverse, as people from all over Europe and beyond have discovered this little Portuguese treasure.
It's very common to find yourself in the long avenues of Monte Gordo hearing:
Spanish
English
French
And of course, Portuguese
What does Monte Gordo look like?
If it is history or architecture that you're on the hunt for, Monte Gordo is probably best left for another trip. This place is all about soaking up that beach life, eating good Algarve food, and enjoying a laidback vacationer's pace of living.
The beach goes on for miles, the water is crystal clear, and there is no shortage of great places to eat, shop, and have fun. Compared to other places of this calibre, Monte Gordo still offers pretty good value for money and can be enjoyed quite fully without breaking the bank.
Things to do in Monte Gordo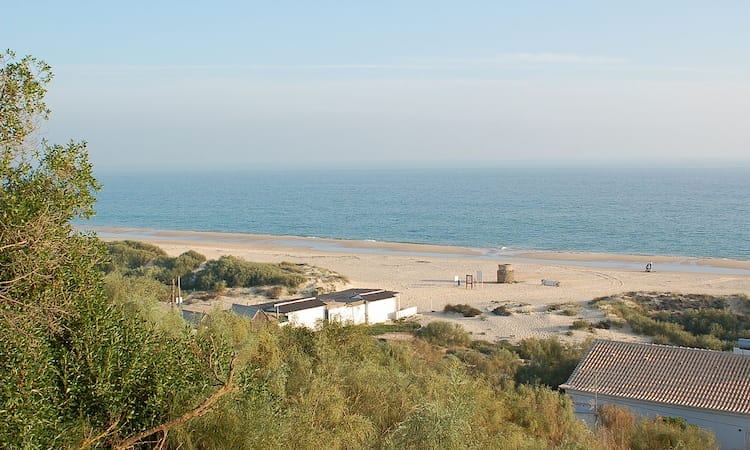 Beach.
Beach.
And of course, Beach.
Ok, there's more to Monte Gordo than its' beautiful beach.
Although many holidaymakers end up spending pretty much the entirety of their vacation lounging around on Monte Gordo's beautiful beaches.
Monte Gordo Casino
There is also a casino (Solverde Casino) and shopping in town where you can try your luck and a wider breadth of activities available in the surrounding area.
See also our selection of the top 7 casinos in Portugal.
Visit the historic town of Tavira
For example, you can hop on a train and be in the historic town of Tavira after a short ride.
Castle of Castro Marim
To the north, you'll find the castles of Castro Marim.
One day trip to Vila Real de Santo António
And you can also do 1-day journey to the pretty city of Vila Real de Santo António which opens out onto the Guadiana River and the Spanish border.
Hire a bike
You can also hire a bike and spend the day leisurely cycling along miles of quiet paths and roads.
Boat tour in Ria Formosa Nature Park
Enjoy a relaxing boat tour of the Ria Formosa Nature Park.
Whether you're looking for total relaxation or something a bit more adventurous, pack your sunscreen and rest assured that Monto Gordo will do you no wrong.
You might be interested in reading about the Golf Holidays in Portugal
Hotels in Monte Gordo?
There are different options for accommodation in Monte Gordo. Below we suggest some of the best-reviewed ones.
Hotel Alba
About 450 metres from Monte Gordo's famed beach, Hotel Alba offers rooms and apartments that can accommodate single travellers or large families.
Amenities
Their rooms are comfortable and well equipped, with a TV and a spacious balcony. Guests of the hotel will also be able to relax on the sun terrace, and the outdoor pool is great for keeping the kids busy.
Prices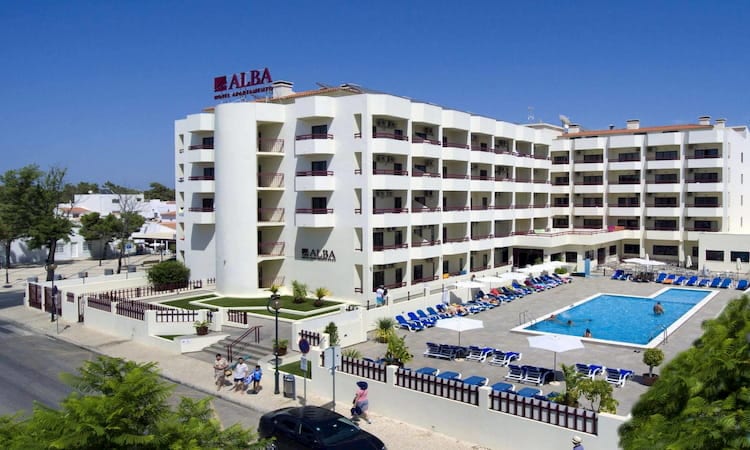 In the high season, prices range from 133€ in July to 183€ in August for a double bedroom (for 2pax).
Prices are obviously lower in lower season months. For instance, at the beginning of October, you can find the same room for the price of 52€ night.
Hotel Alcazar Monte Gordo
For those looking for a bit of added luxury during their trip to Monte Gordo, this 4-star hotel is just minutes from the beach.
Amenities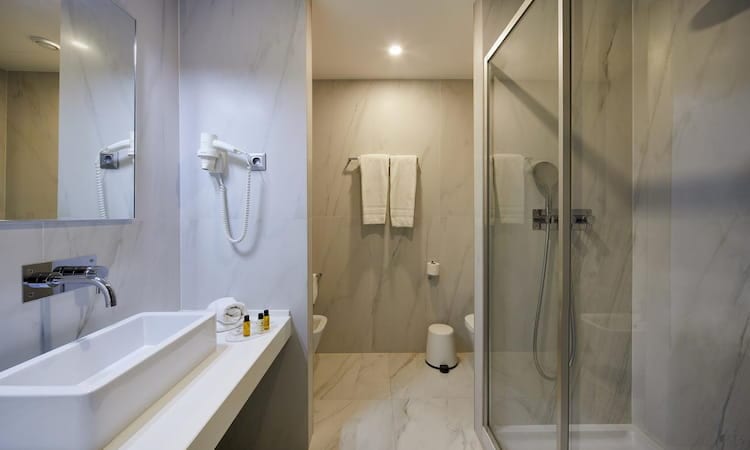 It boasts a beautiful spa, two outdoor pools and a modern fitness centre. Rooms are spacious and there are even themed rooms, inspired by various cosmopolitan cities such as Dubai and Paris.
You can use booking to search for all accommodations available in Monte Gordo
Hotel Baía de Monte Gordo
Hotel Baía is sleek, modern, and offers great value for your money. With a beautiful solarium and nearby golfing facilities, the hotel is also less than 300 metres away from Monte Gordo Casino.
Amenities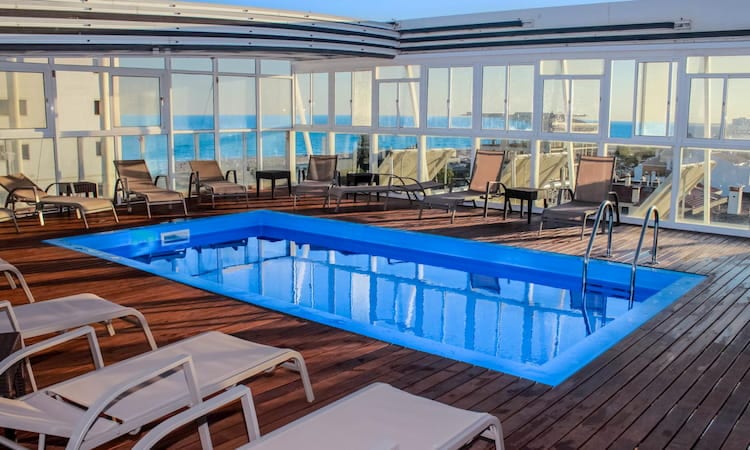 Guests can enjoy relaxing on private balconies and each room at the Hotel Baía De Monte Gordo is equipped with air conditioning and satellite TV channels.
Prices
Similar to Hotel Alba, prices for a room in Hotel Baía de Monte de Gordo are higher in high season months, such as July and August. For instance, you can find a double standard bedroom from 130€, per night, in July. Prices increase to 144€, per night, in August.
Hotel Alba vs Baía de Monte Gordo vs Alcazar
The three above mentioned hotels are good for families and for having relaxing and comfortable holidays.
At each of them, you can enjoy the air conditioner, a great breakfast, and the most important part, a small walk to the beach.
We know that any option will, end the end, be good for you.
But, the most important thing is to find an accommodation that suits you and your family. So just search and filter for the features you value the most in the booking platform.
Restaurants in Monte Gordo
While the number of restaurants in Monte Gordo isn't huge, you can surely find some great restaurants in the city or close by (5 minutes by car).
Restaurante Pezinhos N'Areia
This is one of the best places where you can treat yourself. This gorgeous restaurant (TripAdvisor link) started as a small beach hut over 30 years ago and today offers some of the best fresh fish and seafood in Monte Gordo.
Excellent food and view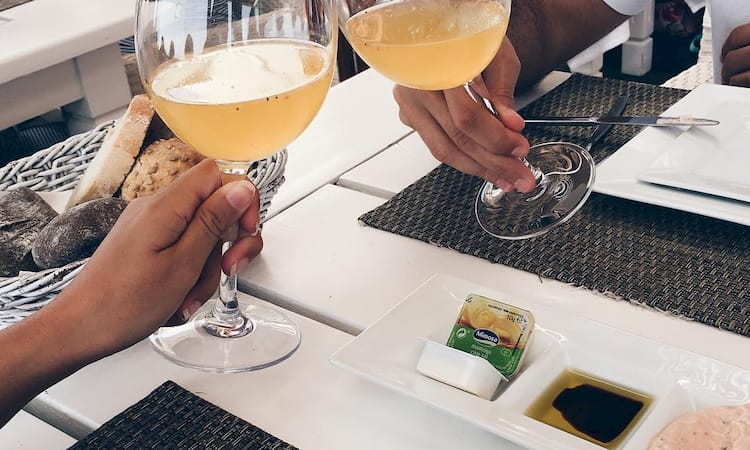 Combining excellent food and beautiful views, this place has made the organic transition from small family setup to the established local institution where you be sure that quality and level of service are always top of mind.
From prawn ceviche to stuffed crab.
I'd suggest listening to the recommendations of the trusted staff at this local gem.
I couldn't find the exact opening hours, but you can book it directly your place on the TripAdvisor platform or through the phone number: +351 281 51 31 95
Restaurante Vale do Douro
For equally fresh local flavours done with a bit less flourish, the restaurant Vale do Douro is a great place to sample a wide selection of Portuguese cuisine while in Monte Gordo.
Opening hours:
12:00 PM – 3:00 PM;
6:30 PM – 10:00 PM;
Note the schedule may change during low season.
If you need to call them, you can dial +351 281 544 080
Tasting menu
They do a nice tasting menu, the service is always on point and at €11-50 for 3 courses with bread and wine, this place is pretty hard to beat in terms of value. At peak times they do get quite busy, so don't be surprised if you have a short wait, you're not likely to regret sticking around.
Other Restaurants in Monte Gordo and Around
Three other restaurants to consider in Monte Gordo according to Tripadvisor reviews:
Best café – Puro Café
Every beach town needs a great café, and this is our pick for where to kick back and relax in Monte Gordo.
They have great coffee in addition to a wide selection of toasts, sandwiches and small tapas plates, as well as other beverages.
Here you can sit outside and enjoy the charming atmosphere of the town's main square while appreciating the friendly service that is always courteous and efficient.
Supermarkets in Monte Gordo
To simply put it, you won't have much choice.
You have three main supermarkets:
Minipreço
SPAR
Intermarché
If you need something especially (like a cellphone, headphones, batteries, a wider variety of food, etc) we advise you to go to the nearest hypermarket, like Continent in Tavira.
Best time to go to Monte Gordo?
Monte Gordo is all about the summertime, and during high season (from July through to August), hotels are full, restaurants are busy and there is a great atmosphere around the town.
May and September are less crowded months
If you're looking for beach weather but aren't so into the bustling vibes, weather is suitable for spending time on the beach from May until the end of September.
See more information about Algarve weather.
From September to May you can find bargains
The further outside the summer season you go, the more likely you are to find bargains, but be aware that the town will really feel much quieter.
How to get to Monte Gordo
As with other destinations in the Algarve, it is best to fly into the main international airport in Faro, which is centrally located along the southern coastline.
From here, you'll head about 60 km to the east in order to reach the city.
See here more information about Portugal airports.
Private transfer to Monte Gordo
Although it is not necessary to rent a car in order to enjoy this destination, it is a good idea to plan some of the kind of airport pick up in advance, as ordering a taxi from the airport upon arrival is likely to end up costing you.
There are many companies operating in Faro airport that do transfers:
In both options, you can book it in advance and search for an option that suits you. For instance, you can find, in Hoppa, bus transfers (round-trip) for £54 in July, for two and private car Transfer from £84.
Rent a car from Faro
That being said, if renting a car is within your budget, it can make the trip from the airport much easier and will give you further opportunity to explore the surrounding area at your own pace.
To see all options to reach Monte Gordo, check out Rome2Rio itineraries suggestions.
All in all, Monte Gordo is a great place for a beautiful beach vacation and is accessible to all types of travellers and budgets. The people are friendly, the food is fresh, and you'll find plenty of outdoor activities to easily fill a week-long vacation.
If you not sure if Monte Gordo is the place for you, I suggest you see more advice about spending holidays in the Algarve.