Have you always wanted to go on a tram ride? If yes, then you will have the opportunity to tick this off your list in Lisbon.
There are several tram routes in Lisbon but the one with the most allure to tourists is tram 28.
What is tram 28?
Tram 28 is by far the most popular tram route in Lisbon. It is a good way to explore the capital city as it passes through some of the most typical neighbourhoods in Lisbon and several significant landmarks.
The ride on this famous vintage yellow rickety wooden tram starts from the multicultural neighbourhood of Martim Moniz and then through the labyrinth streets of Alfama to the buzzing Baixa district then to Estrela and finally stops at Campo Ourique.
In this article, you will find out all there is to know about tram 28. The main attractions on this route, the fare, safety tips as well as alternative ways to explore this route.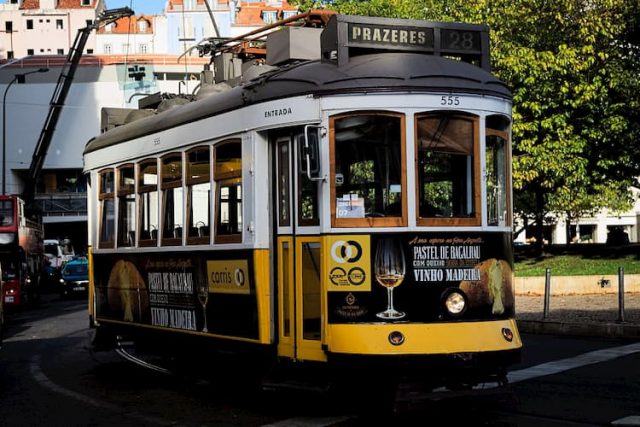 How much money does the ticket cost?
A one-way ride on tram 28 costs €3.00 and it can be purchased from the driver. However, this is costly if you intend to stop at various stops and do some sightseeing.
Alternatively, it is advisable to get a daily pass which is valid for 24 hours which can be used on the trams, metro and even the buses. This pass costs €6.40 and can only be purchased at the metro station.
Another way to avoid paying the costly fare for the tram is to get a Lisbon Card. It is a travel card designed for tourist to travel the city with ease and access the best museums and landmarks in Lisbon at discounted rates. You can purchase it here.
For example, a Lisbon card valid for one day costs €20. It allows you free rides on the bus, tram, metro, elevators and funiculars.
See also Lisboa Card: Your Flexible Sightseeing Pass To Lisbon
Where is the starting point and how to get there?
The starting point for Tram 28 is Martim Moniz. You can access Martim Moniz via the metro (underground transportation) on the green line or by bus as it is a central transit stop near the city centre.
To get more travel tips and places to visit in Portugal subscribe to our newsletter.
What to See Along the Tram 28 route
There are plenty of landscapes along this journey that are worth seeing. Here are some of our favourite stops.
Praça Martim Moniz
This is the starting point of the Tram 28. It is also the most culturally diverse neighbourhood in Lisbon and home to many stalls and shops that sell cooking ingredients from China, Pakistan, Africa and India.
The square in Martim Moniz is also a nice place to relax and have a feel of the environment. Alternatively, you can also get a drink at Topo Martim Moniz, one of the better Lisbon terrace bars. At Topo, you will get great views of the city and the castle.
Largo Portas do Sol

For me, this is easily one of the best Miradouros (viewpoint) in Lisbon. Here, you will get panoramic views of Alfama (Lisbon's oldest neighbourhood) and the Tagus river. Also, close by is the São Vicente de Fora Church and the National Pantheon.
Largo Portas do Sol is also a place where you must take a picture when you visit the capital city because of the stunning views.
Sé Cathedral
This is the oldest church and the foremost religious building in Lisbon. It was built in the 12th century and so features predominantly a Romanesque style. Here, you can visit the ruins of the cloisters where you will see some Roman, Arabic and Medieval remains.
The tram stops right in front of the church, so it is a place you can easily see if you decide to go on the tram 28 route.
Rua Conceição
Situated on the south side of the Baixa district, Rua Conceição leads to Praça do Comércio via the Rua Augusta Arch on one side while the other side leads to Praça da Figueira. If you are coming from Martim Moniz, Praça do Comércio will be to your right while Praça da Figueira will be to your left.
Also, in this neighbourhood is the Museum of Design and Fashion (currently closed for rehabilitation) as well as many restaurants and shops.
Largo do Chiado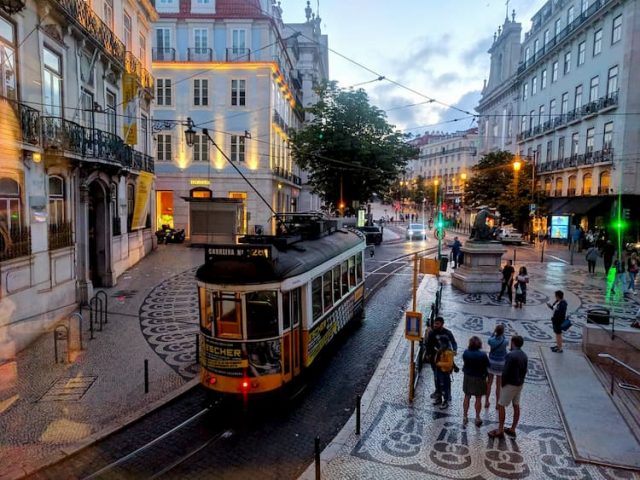 At Chiado, the first thing you will probably see is the statue of Fernando Pessoa which is in front of A Brasileira, a bar where you can relax and have a drink.
Also, if you're interested in shopping this is the place to stop. Most famous brands in Lisbon have stores in this area.
Another thing you can do here is to visit yet another church or a couple of churches. However, the one you must see is Igreja da encarnação especially the interior as the main altar features an incredible sculpture work.
Praça Luís de Camões
Situated in the Barrio Alto neighbourhood, the square is always buzzing with different activities. Within the square, there is a kiosk where you can get a coffee or drink. Also nearby is the Manteigaria bakery where you can get the famous egg tarts (Pastel de Nata) in Lisbon.
From here, there are a variety of bars and restaurants you can stop to eat or drink or go to Jardim do Príncipe Real to relax. Alternatively, you can head towards Cais do Sodré, which is by the riverside or to the famous pink street.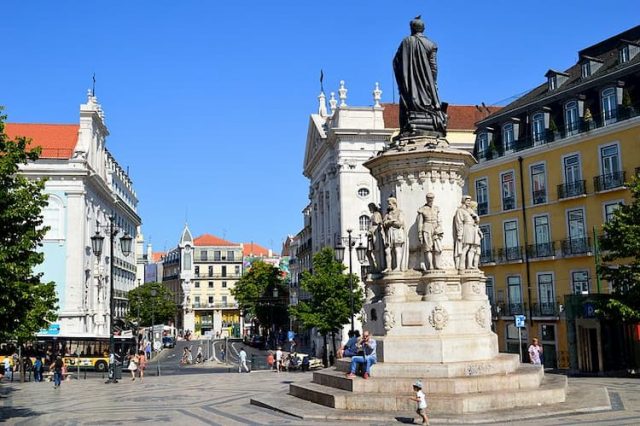 Rua da Bica de Duarte Belo
Sandwiched in between Santa Catarina and Praça Luís de Camões you will find Bica. It is a narrow street usually filled with many people either trying to get a picture or trying to get on the little tram which connects Bairro Alto to the Cais do Sodré neighbourhood. Most people usually stop here just for the pictures because of the views.
However, you should know that this street itself is filled with many bars which come alive at night. If you fancy a drink after a long day of sightseeing, you should head there.
Santa Catarina
Not too far from Praça Luís de Camões is Santa Catarina. This is a popular place to catch the sunset in Lisbon. It is also a nice viewpoint in the capital city with gorgeous views over the Tagus River and the iconic bridge.
São Bento / Calçada da Estrela
Just before the tram heads up the hill, you can stop here to see the Portuguese Parliament (Assembleia da República). It is a giant building which forms a good backdrop for pictures.
Estrela
After going up the hill with the tram you will arrive at Estrela. Here you can see the Basilica da Estrela which will be to your left. For a fee of €4.00, you will be able to climb the stairs to go to the top of the church where you will get amazing views of Lisbon.
Also, at Estrela, you will find Jardim da Estrela a botanical garden which is opposite the church. It is a good place to unwind and grab a drink in a calm green area.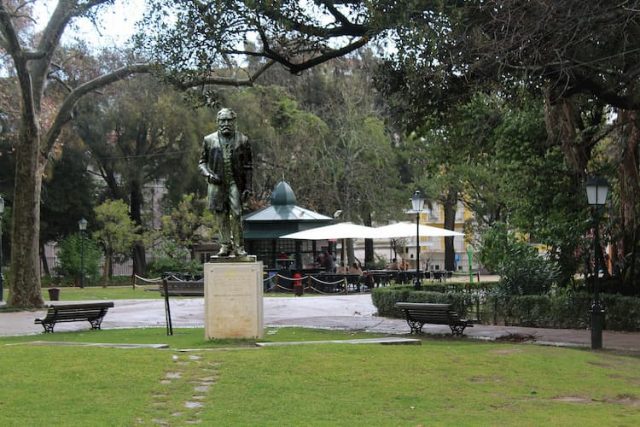 In my opinion, there is nothing much to see beyond Estrela, but if you would like to get to the end of the route you will see the Campo de Ourique Market which is like a mini version of the Time Out Market, close to the Cais do Sodré Station.
This might also interest you: Lisbon Souvenirs, 10 Unique Things to Buy in Portugal's Capital
How long does it take to ride on Tram 28?
This depends on the traffic, but usually, it takes about 45 minutes to ride from the beginning to the end of the route. If the traffic is bad, it can take about one hour.
What is the best time to enjoy the ride?
I must say it is quite difficult to predict the best time to enjoy the ride because it seems to be fully packed all the time. But I would suggest going in the morning probably before 10 am or late in the day around 7 pm.
Are there pickpockets?
Unfortunately, the answer is yes. It is common to find pickpockets on this tram route because it is usually packed with tourists. So, please always secure your bags, fanny packs or purses.
Tips for riding Tram 28
Board at Campo Ourique if you can. You will get a seat and the tram will be less crowded.
Ride the tram early in the day to avoid the crowds.
Beware of pickpockets.
Hold on tight while onboard, the brakes of the tram could be sharp at times.
Avoid paying on the tram. Buy a daily pass from any Metro station in Lisbon or get the Lisbon card.
Is it worth it?
Overall, it is worth it. However, tram 28 has become too popular and is usually overcrowded these days. Also, there are always long queues at the major tram stops on this route. So, you will need to be very patient and wait a while before getting on the tram.
If you want to avoid this, if you're travelling in a group you can explore the route with a tuk-tuk. A tuk-tuk ride usually costs between €20 to €30. Alternatively, you can take the hills tram tour too. This is quite expensive and costs about €20 per person for a hop on hop off ticket which is valid for 24 hours.
Also, if you are only keen on riding a tram in Lisbon, you can ride the Tram 15 or Tram 24 routes, which are less crowded and goes through some typical Portuguese neighbourhood.
That's all about the illustrious Tram 28 in Lisbon. Hopefully, this helps you plan your visit to Lisbon.
The amazing city of Lisbon awaits you!