Quinta Da Regaleira is a beautiful palace that sits in a World Heritage protected landscape. It is located at the end of the historical centre of the town of Sintra where thousands of tourists flock to the palace every year to admire its unique architecture.
The 19th-century gothic mansion brings Gothic, Egyptian, Moorish and Renaissance features and is surrounded by some of the most beautiful gardens of Sintra.
Along with attractive fountains, stunning underground tunnels, and a series of hidden passages and caves; this eccentrically decorated palace is one of the most astonishing monuments of the Serra de Sintra and is definitely one you can not miss!
So why visit Quinta Da Regaleira?
Well, visiting Quinta da Regaleira, or visiting Sintra in general, is like entering a fairytale. It is pretty much the most fairytale-town you'll ever visit and is surely one you can not miss when visiting Portugal.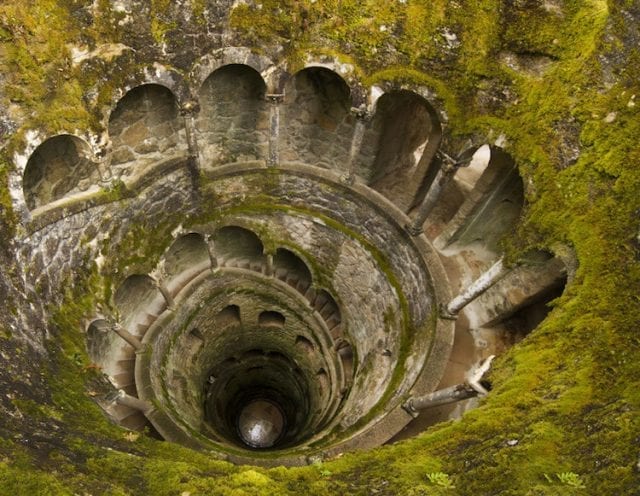 At the Quinta da Regaleira, one of its most fascinating features is what lies beneath the ground – a pair of wells spiralling deep within the earth.
The Initiation Well or Inverted Tower (as they call it) is one of the main attractions in Sintra. It deepens 27 metres below land and is accessed by a spiral staircase.
There are several theories of meaning to this monument. Some say that it represents that initiation rite of masonry, or it symbolises the circles of Dante's Inferno, whilst others think it refers to Earth as the womb.
This would have to be the most stunning well you will ever see, a mysterious place that you thought only existed in fairytales.
The well was never used as an ordinary well and, in fact, it was not built to serve as a water resource at all. It was actually built for secret ceremonial purposes and has many tunnels that connect it to other monuments and caves around the park.
Yep!
Right at the very bottom, you will find tunnels with stone walls that connect to other sights, such as the Portal of the Guardians, the Cascade Lake, the Imperfect and the Pit Cave in the East.
Quinta da Regaleira is a breathtaking place to visit. The palace looks just as beautiful on the outside as it is on the inside with its gothic style split over five floors.
Its architecture hides shapes and symbols that relate to the alchemy, Masonry, the Knights Templar and the Rosicrucians.
Another one of its main attractions is the enchanting gardens. The Regaleira gardens are styled to represent the ancient secret order, with hidden tunnels and concealed symbolism.
It is full of exotic plants and flowers along with several pathways that will lead you to mysterious places.
Planning an exciting day in Sintra? We've written a perfect guide on how to spend your day here.
When was Quinta da Regaleira built?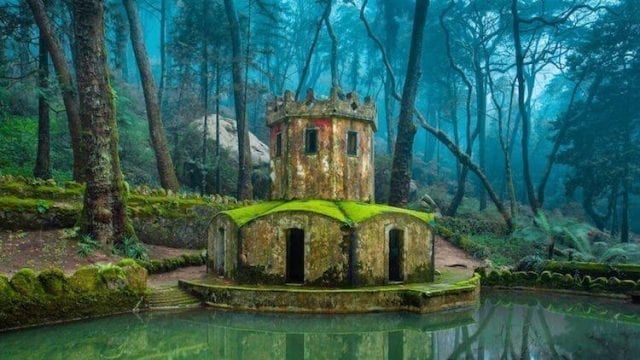 This decorative 20th-century residence has a lot of history and was built between 1898 and 1913.
The palace was constructed over 6 years in the year of 1904 by the wealthy Portuguese businessman Carvalho Monteiro, which gave rise to the residence's local name of "Palace of the Monteiro Millionaire".
After the death of Carvalho Monteiro, the palace was then purchased by Waldemar d'Orey. It stayed within the family until 1987, when it was bought by Japanese business for private functions.
From there, the local government of Sintra reclaimed this important national monument in 1997 and opened it to the public in 1998.
Would you like to discover more about the best places to visit in Lisbon? Subscribe to our newsletter?
How do you get to Quinta da Regaleira?
It is a great destination where you can discover the historical wonders of this beautiful town. You can spend a few days sightseeing and visiting some of the most iconic places in Sintra.
It is extremely popular due to the Romantic architectural monuments that were created during the 19th century. Apart from the Quinta da Regaleira, other iconic places to visit are the Pena National Palace and the Castle of the Moors.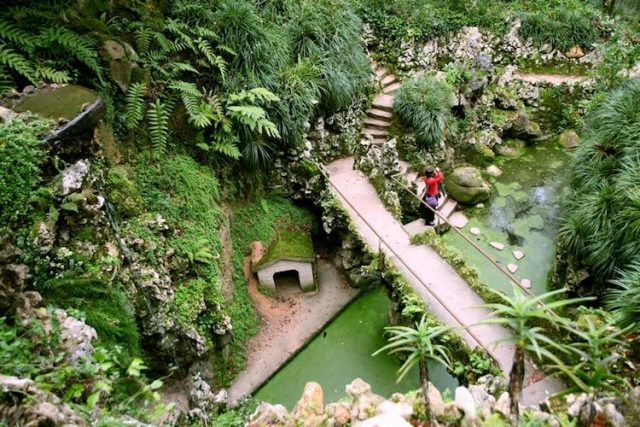 Going to Quinta da Regaleira by train:
Quinta da Regaleira is 24 km to the west of Lisbon, and the recommended and easiest form of travel is by train. Lisbon is connected to Sintra by two train services, and these convenient and inexpensive rail services make it very easy to get to.
There are frequent trains that run seven days a week and two rail routes between Lisbon to Sintra. One of them is Rossio Station which is typically used by most visitors as it departs from the historic centre of Lisbon. The journey time from Rossio station to Sintra usually takes 40 minutes.
The other service is Oriente Station which is generally used by visitors travelling from the airport, the Sete Rios bus station or Oriente station. The Oriente to Sintra route usually takes 47 minutes.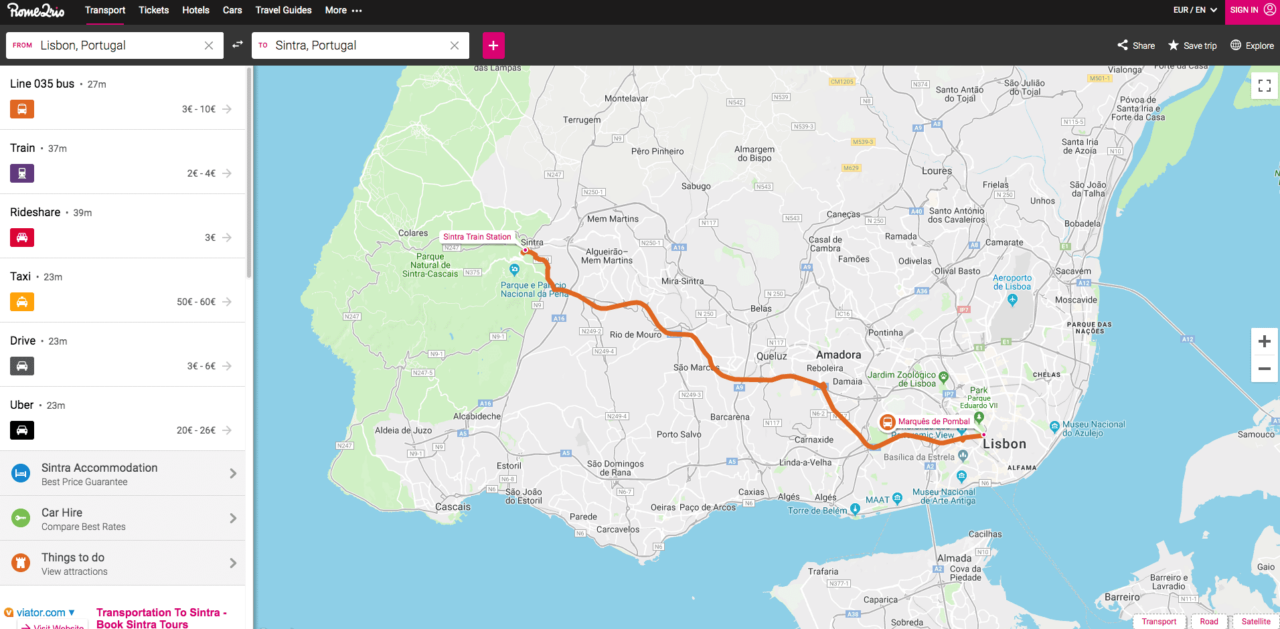 Both train services are operated by Comboios de Portugal (CP) and are important commuter routes so there are multiple hourly departures that even continue late into the night.
Quinta da Regaleira can be easily reached on foot from Sintra station. The walk takes approximately 15 minutes (just under 2km), so it is quite easy to get there.
Due to the popularity of Sintra, my advice would be to start your trip as early in the day as possible so you don't miss out as tickets and seats cannot be pre-booked.
A single ticket from Lisbon to Sintra costs €2.25/€1.15 (adult/child), with the return fare of €4.50. You can find the pricing here at Rome2Rio.
Going to Quinta da Regaleira by bus:
If you don't want to catch the train, there is an option to catch a bus that departs from Marquês de Pombal and takes you straight to Sintra station.
The buses operate every day and the journey takes approximately 27 minutes, but the downside is that the services depart every four hours.
You can find more information on the Vimeca Transportes website.
Or, going to Quinta da Regaleira by car:
The quickest way to get from Lisbon to Quinta da Regaleira is to travel by car. If you drive or catch a taxi, the trip will only take 25 minutes but will also cost more money.
The route from Lisbon to Sintra follows the IC19 highway, west of Lisbon, and can get very busy during rush hours as people commute in and out of Lisbon. If you're taking the car, just note that the roads of Sintra are very narrow, and car parking is very limited.
Curious about what would be like to live in Sintra? Here's what it's like.
What are the prices of the Quinta da Regaleira tickets?
The Quinta da Regaleira is open between 9:30 am and 8 pm during the summer season, and 9:30 pm to 6 pm during the winter season, with the last admission 1 hour before closing time.
Where can you purchase the Quinta da Regaleira tickets?
The entrance fee for adults cost €8, for children and seniors €5 each, and €22 for a family of four. You can purchase the tickets upon arrival. This admission fee includes the entrance to the house and the grounds.
Discover the secrets of Quinta da Regaleira with this tour from Get Your Guide: Sintra and Quinta da Regaleira 5-Hour Tour from Lisbon.
Duration 5 hours
Skip the line
Printed or mobile voucher accepted
Instant confirmation
Live guide
English, Portuguese
Pick-up service
Pick-up in Lisbon, Estoril and Cascais: from the hotel, apartment, cruise terminal, train station or airport
Easy cancellation
Cancel up to 24 hours in advance for a full refund
Are there guided tours in Quinta da Regaleira?
Yes! There are good guided tours that are available to you. The cost of a tour is €12 per person and includes the entrance fee.
You can contact the reservation services for more information about the available dates and times of the guided tours at [email protected]. It is better to book in advance.
A normal visit lasts 1.5 hours, with most of the time spent in the gardens.
When is the best time to visit Quinta da Regaleira?
To properly enjoy the palace you would need at least half a day. Otherwise, you would easily miss the little details that aren't as noticeable, such as the secret tunnel which leads to a cave behind a man-made lake.
The best time of the year to visit Sintra is during Spring and early Autumn. At this time of the year, the days are a lot brighter and warmer but avoids the extreme heat of summer and a large number of tourists.
Sintra can get extremely busy during this busy season (July – August) with loads of tourists arriving between 10 am and 4 pm.
If you are planning to visit the Sintra region during the summer and want to avoid the crowd, try to go there early or later in the day. Weekends tend to be busier than weekdays but, don't worry, all of the main sights of Sintra are open every day during the high season.
Sintra has a slightly different climate to Lisbon and Cascais due to its high elevation and the cool winds that blow in from the Atlantic Ocean.
It is only 15 km away from Lisbon but is always 2-5 degrees cooler which is much more noticeable during the summer.
The summer sun in Sintra is just as intense as Lisbon however the temperature is slightly cooler with a constant refreshing breeze.
Is it a good place to visit with your kids?
Of course, it is! You can take the time to really explore this unique kind of art with your kids. You can safely let the kids off the leash and let them explore this amazing place with its magical grottos and caves.
The kids would love it as it is a heaven for hide and seek. So, book your trip, pack your bags and visit the Quinta da Regaleira with your family. If you like adventure, as it will definitely be one of your highlights during your visit to Portugal.