Whether you live in Portugal, you are retired in Portugal or you are considering moving to Portugal, if you are planning to import a car to Portugal, there are some things you need to know.
We thought it would help you if we elaborated a guide on how to import a car to Portugal. Keep reading to learn more about documents needed, certificates, taxes and more.
Why would you consider importing a car to Portugal?
You might think that, since the cost of living in Portugal is low, you could simply buy a car and get on with it. Well, it's not quite as easy as it seems.
Prices of cars in Portugal
Car prices in Portugal are ridiculously high when compared to other countries and with the cost of living in the country. This is due to factors, such as:
High taxes;
Transportation cost (it's a long way down to Portugal from France, Germany or Italy, for example).
Therefore, price is certainly one factor to have in mind.
Most of the times, the exact same car (new or used) will cost you more in Portugal when compared to other countries.
Convenience
Now imagine you have a car in your home country, in perfect condition, and you want it in Portugal.
Maybe you're coming from France, the UK or Germany, which are not so far away from Portugal.
Maybe that specific car was a really good deal or a car that you just love (for whatever reason).
Why bother trying to sell it in your own country, while you can just have an amazing road trip to Portugal legalize it here?
Well, in that case, importing a car to Portugal it ends up being a great idea. Why? You will find out shortly.
Fundamental tips to importing a car to Portugal
As we already said, it is important for us that you know you can trust us and the information we put out there for you.
Keeping that in mind, we thought we could state the things that are most important when importing a car, as well as some important concepts and important steps along the way.
In the meanwhile we suggest you see also: 20 interesting facts about Portugal
The process of importing a car is not the same for everyone
The first thing we need you to know is that there are some benefits (or extra steps) to importing  a car to Portugal, depending where you from and your legal status.
Let's start with taxes.
1. Paying (or not) Taxes – ISV and VAT
We will be writing about some taxes you will have to pay along the way. These are VAT and ISV( Imposto Sobre Veículos).
There are two groups of people that DO NOT have to pay these taxes when importing their car to Portugal:
Portuguese citizens that emigrated and lived in another country (not because of some company relocation or student exchange program, but as normal emigrants) for more than 6 months have the right not to pay these two taxes.
Imagine this is your situation and you bought a car in the country you were living, and now you are thinking about coming back to Portugal, the exception is for you.
Do you know what is what's legal in Portugal? See this guide to avoid fines.
Taxes while importing a car as an expat from the EU
People from a country outside Portugal that wish to officially live in Portugal as Portuguese residents.
If you have a car in your own country and you wish to import it, just know that this exception is also for you.
But there are some requirements:
You must be 18 or older;
The car must be in your name for at least 6 months before moving to Portugal;
You must have lived in the country the car is from for at least 6 months.
And these are the documents you need:
Proof of residency (a paper from the city hall or equivalent from the country you have been living in);
The car's documentation (all you have on the car that identifies your car and you as the owner);
Proof that you have been living in the said country (receipts from supermarkets, restaurants, house payments, etc.)
If you want to know more about living in Portugal, subscribe to our newsletter to get helpful tips from our team of locals & expats.
2. Importing a car to Portugal from outside the EU
As you will shortly see, there are some steps you need to follow in order to import a car to Portugal. However, in case you are importing it from outside the EU there may be some additional steps.
It can vary from country to country, but the minimum you will have to do is to fill at least one customs form of exportation.
Then, in Portugal, you will have to fill an online form of importation – Documento Administrativo Único – using the "STADA Importação" platform of the Autoridade Tributária e Aduaneira.
Probably, you will have to pay VAT (unless you are one of the exceptions) and a Customs fee and the process may be a bit more complicated.
As we said, it depends on the country, therefore, inform yourself before making the purchase.
Requirements for all when importing a car to Portugal
There are some things that will keep popping up as you go along further into the process.
These are some of the most important:
Certificate of Conformity
This is a document issued by the manufacturer, stating the technical and physical characteristics of the car and proving the car meets all the legal requirements.
You can get it from the manufacturer, the car dealership or, by hiring a company that will do it for you.
It could take up until 15 days to get it, and it can cost up to 250€.
In order to get it, you will need the car's identification number that is unique to every single car in the world.
Transaction declaration
This is proof that you actually bought the car from a private citizen or from a dealership.
IMT form Model 9
You will need this document in order to get your car approved in the inspection. You can download it here
Transportation guide
As the name implies, it is the papers you get from the transportation company you hired to bring your car to Portugal.
You don't need to worry about this if you bring the car yourself to Portugal.
Here are some of the best routes to drive to Portugal.
Step by step guide to import a car to Portugal
Now that we have covered the basics, let's see what are the things you need to have in consideration, what to do, where to go and more.
1. Get your "Import a car to Portugal" file
This may seem silly, but it is really important you have all your documents and your car's documents in one place in order to avoid losing time searching for them.
2. Access to "Portal das Finanças"
There are some things you will have to do online, on the Finanças' platform.
Therefore, we recommend you register online and ask for your password. It's easy and you only need a few minutes, but it can take some days to arrive.
To register in the Finanças Portal you need to get a Portuguese fiscal number first, the NIF number.
3. Certificate of Conformity (COC) and its homologation
In case you already bought your car, be sure to have the COC. Otherwise, you should get it as soon as possible.
After you have your COC, go to the IMT and get it homologated. This means that your car and its technical characteristics really match the technical characteristics stated in the COC.
You will get the homologation after some days and the process is free of charge.
4. IMT model 9 form
Print at least 3 copies of the IMT model 9 form and fill at least one. It will come in handy.
5. Fill out the DAV
DAV – Declaração Aduaneira de Veículos (Customs declaration of vehicles) is an online form you must fill on the Portal das Finanças.
On the left side of the main menu, you'll be able to find all the steps you need to take in order to do it correctly.
6. Pay the DUC
DUC – Documento Único de Cobrança – is like a bill that you get from the Customs, stating what you have to pay for getting the DAV.
The DUC may be issued on the spot or it may take some days, so in that case, keep checking the site every day.
You have up until 20 days after the car has entered Portugal to fill out the DAV and pay the DUC.
Another thing to keep in mind is Travel Insurance to Portugal. See why it's important and the costs.
7. Inspection
The first thing you should do with your car once you have it in Portugal is to make an appointment by an inspection center and get your car inspected.
The car inspection is done once per year (unless it's a new car), and it's mandatory to ensure your vehicle has the proper conditions to circulate safety.
It costs 78,44€ (spring of 2019).
You can make an appointment here.
This will also be one of the final steps for you to be able to get your car a Portuguese license number.
You can drive the car with any foreign license plate
You can drive the car yourself if it has any foreign license plate, but in case it doesn't, you have to arrange for transportation.
Don't forget!
Take all the car documents you have with you.
8. Taxes to Import a car to Portugal
After your car gets approved in the inspection, it's time to pay the taxes (unless you are exempt). We are talking about VAT and ISV.
The easiest way for you to pay them is by going to the Finanças local office and pay them.
It can take some days for the payment to be approved, and the value is variable.
Try and simulate your values here.

Once your payment is approved, that means you have your Portuguese license number.
It's time to move on.
9. Get your Portuguese car document, the "Documento Único Automóvel"
After your taxes are paid and you got your license number, go to the IMT (English site under development). There, submit the Model 9 form we talked about, the papers you have got from the inspection center and the proof that you have paid your taxes.
Also submit the rest of the car's documentation (COC, registration from the country of origin and so on) because the document you will get presents all the information.
You have 60 days to submit the documentation and ask for the Documento Único (after you get your license number) and it will cost you about 75€.
10. Register your car
After submitting your documents to the IMT, it is time for you to register your car at any Conservatory.
You can find the nearest here.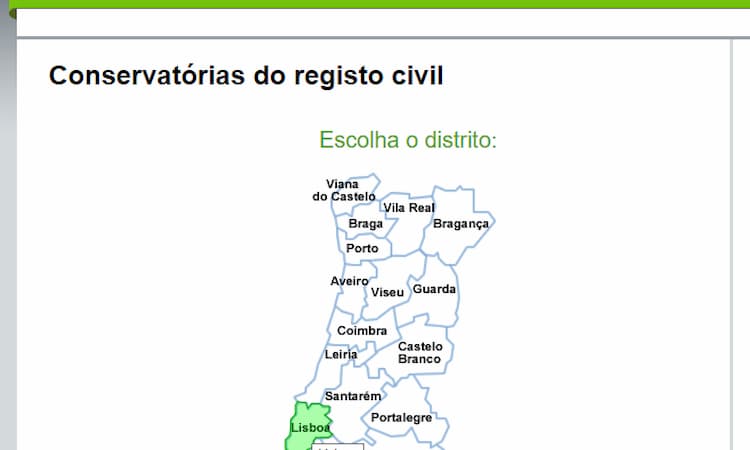 As we said above, you have 60 days to do all you need to do in order to get your Documento Único.
After you register your car, it's a matter of weeks until you get your Documento Único.
The registration will cost you 55€.
We also recommend you see our guide about moving to Portugal, and see the requirements, documents and firsts steps you need to take.
11. Pay yet one more tax
You have up until 90 days to pay the last tax you need to pay in this process. We are talking about the IUC – Imposto Único de Circulação. It is basically the tax you pay in order for you to circulate on Portuguese roads.
Find out how much you will pay by simulating here.
12. License plates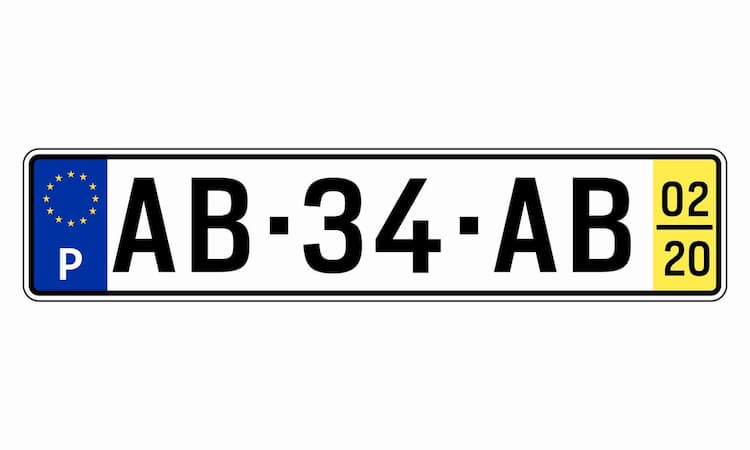 Now that you have all you need, is time to get your license number on the license plates.
This is the last step in this guide for importing a car to Portugal.
Just go to any local shop and have them made for you.
It can cost you between 15-20€ and then, all you have to do is put them on.
You can hire someone to import your car to Portugal for you
We reckon that there is a bit of going up and downstream in order to get things done in this process.
In any case, if you are not willing to do these things yourself, there are some companies that will work it out for you. You'll just have to pay them.
Depending on your availability, it may be an option.
[et_bloom_inline optin_id="optin_5″]
Don't forget…
In order to legally drive on Portuguese roads, you must have insurance.
Find the one that fits you the best.
So, here's how to import a car to Portugal
As you can see, there are some things you need to do in order to properly import your car to Portugal.
We hope that this guide will help you do it faster and make your life easier.
But, if at this point you decided that it's to hard to bring your vehicle to Portugal, you can just decide to buy one here.
In the meanwhile we suggest you take a look at the best options to rent a car in Portugal.