Food is on the table, but it is not alone.
We tend to always talk about Portuguese food and forget other typical things this wonderful country has to offer: Drinks.
We have some customary drinks in Portugal that are worth talking about. Some are very traditional and differ from region to region.
Check out some of the best drinks to try out in this ultimate guide to Portuguese drinks.
Top 10 Portuguese alcoholic drinks
Let's start from the beginning by telling you a bit more about the best Portuguese drinks out there.
1. Portuguese Beer
Beer is like a common language everywhere you go, and Portugal is no exception to this rule. There are several brands we can point out. Some are more old and traditional and others, which developed more recently, are even considered craft beer.
The most popular brands are Super Bock and Sagres and, curiously, the regions where they are most consumed are the same as their origin. Super Bock is from the north of Portugal and Sagres is from the South.
Can you taste the difference? Find out more about Portuguese beer right here.

2. Portuguese Wine
Portugal has one of the most luxurious wine production industries in the world. The climatic conditions and the land quality are exquisite and perfect for the production of many top-quality grapes' varieties (either of white or red wine).
The style of Portuguese wines depend on the region they are produced in. The better ones come from Alentejo and Ribatejo (in the south of Portugal) and Douro and Trás-os-Montes (in the north).
Become a connoisseur of Portuguese wines buy reading our article: Portuguese Wine.
3. Port Wine
This is one of the most famous Portuguese drinks ever. It is so well known and drank all over the country and even abroad – especially in the UK since their citizens appreciate this type of wine so much.
Port Wine is made from distilled grape spirits exclusively made in the Douro Valley (north of Portugal). It is mostly a red wine, but very different from the traditional ones since Port Wine is sweet and often served as a dessert wine. The most famous brands are:
If you like Port Wine, you should read: Port Wine to know where to get the best.
4. Licor Beirão
For the ones who enjoy strong alcoholic drinks, Licor Beirão is the right one for you. The recipe is an absolute secret that no one knows about and this sweet liqueur dates back to the 19th century. What we know, though, is that Licor Beirão is made from distilling seeds and herbs.
Its taste is very particular and different from everything you have ever drank, believe us. It is much enjoyed in cocktails and the most famous is "Caipirão", where you add ice and lime juice to enjoy a sweet fresh drink in the summer.
5. Ginjinha
Ginjinha (or just "ginja") is one of the most well-known Portuguese drinks out there. It is produced in the southern regions of Portugal, mainly in Óbidos (from where the tradition began) and can be placed on the "liquors" shelve of your bar.
That is also why it is known as "Ginja de Óbidos" or "Ginjinha de Óbidos", where the tradition is still strong. It is mainly made from cherries and served in small glasses (similar to the ones used for shots) or in small cups made of chocolate. A taste of sweetness at the end of the night you will certainly enjoy.
6. Portuguese Sangria
A winner on its own. Portuguese Sangria is sweet and acidic at the same time and has so many recipes that we don't even know where to start! Portuguese Sangria can me made from red or white wine or from a kind of sparkling wine (also known as "espumante", a champagne style wine that is less strong and more bubbly).
Portuguese Sangria goes well with so many dishes and it really depends on your taste. It can consist of your favourite wine with a mix of fruits, cinnamon and juices (such as 7-Up, very famous in these Portuguese drinks).
Portuguese Sangria is so appreciated that we want to give you a quick Portuguese Sangria drink recipe below (made of red wine, the most traditional one in Portugal).
For 8 portions, you will need:
2 oranges (one whole and another for juice)
1 pear
1 apple
8 strawberries
1 lemon (juiced)
3 soup spoons of brown sugar
1 cup of old Aguardente (a strong Portuguese alcohol – see below)
1 cup of Port Wine
2 cinnamon sticks
6 mint leaves
750 ml (26 fluid ounces) of red wine
500 ml (18 fluid ounces) of soda water
Step 1: Slice the fruit and mix with the brown sugar, aguardente, Port Wine and the mint leaves in a big bowl;
Step 2: Pour the lemon and the orange juice on the mixture and let it rest for an hour;
Step 3: Put everything in a jug and then add the wine and the soda on top;
Step 4: Finally, add the cinnamon sticks and ice to your taste. Enjoy!
Want tips about living in Portugal? Don't miss out by signing up for our newsletter today.
7. Portuguese Gin
The Portuguese make a lot of gin and Big Boss and Sharish (websites are in Portuguese) are some popular brands we can point out when speaking of this dry Portuguese drink. In Portugal, is is very usual to mix gin with Schweppes, resulting in a tonic gin very much appreciated and served in most bars.
8. Aguardente
This one is for the strongest Portuguese drinks out there (seriously, we mean it). It is very dry and leaves an extremely hot sensation in your throat.
A couple of the most popular brands are Macieira and Aveleda Adega Velha and taste similar to cognac, but stronger (with between 35% to 56% alcohol by volume). There are a lot of people who mix it with coffee at the end of a meal – this mixing is also known as "cheirinho".
9. Almond liqueur
Most commonly known as "amêndoa amarga" or "amarguinha". The most popular brands comes from the Algarve, where the best production takes place. It is often served as a digestif at the end of a meal and a great alternative to Port Wine, for example. In summer it is nice to drink it with a little lemon juice and ice.
10. Moscatel
The last Portuguese drink we want to present you is Moscatel, made from a certain type of grapes, much more older than the ones used in wine, for example. They are called "Moscatel grapes" and are sweeter than the traditional ones. It is mixed with Aguardente to deliver a sweet and dry drink most commonly consumed at the end of a meal.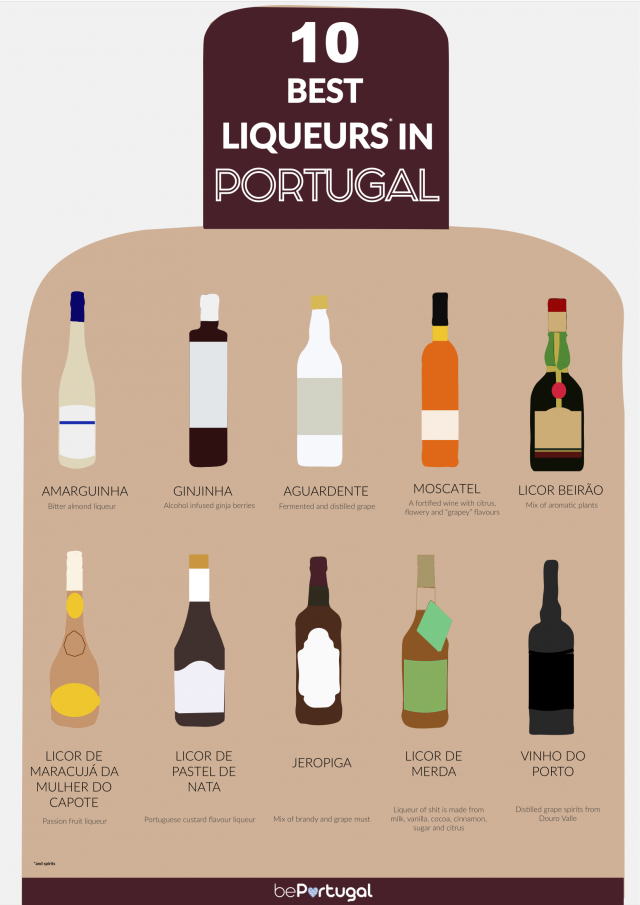 What is the legal drinking age in Portugal?
Since 2015, the legal drinking age in Portugal is over 18 years. It is prohibited for stores of any kind (or restaurants and bars) to sell alcoholic drinks to people under 18. In extreme cases, you can be arrested if you are drinking alcohol and are under the legal drinking age in Portugal.
Top non-alcoholic Portuguese drinks
Below, you can find a list of some very popular non-alcoholic drinks very much appreciated in Portugal and that you can find pretty much everywhere.
Portuguese coffee
Some of the best known brands of good Portuguese coffee are:
If you want to know more about Portuguese coffee, check out this article.
Portuguese juice
Compal (website is in Portuguese) is the most famous brand of Portuguese juices around here. They have the most amazing flavours.
Some can be very pulpy or liquid, depending on the flavour you order. For example, peach nectar is thick and pulpy, but mango not so much but they are all delicious.
Mineral water
Mineral water or sparkling water ("áqua com gás") is a very popular drink in Portugal especially on a hot day.
The most popular brands are Água das Pedras and Frize (websites are in Portuguese) who have sparkling water with flavours such as lemon and strawberry. You can also order a plain mineral water with a slice of lemon or lime and, of course, ice!
Buying Portuguese drinks as souvenirs
What can you buy at the airport to bring back home?
As in most airports, you can buy whatever the duty-free store is selling and you will find most of the Portuguese drinks we mentioned above in the airports in Lisbon, Port and Faro.
And how much alcohol is the limit in your luggage and carry-on?
You don't need to worry about the limit you can bring along as carry-on luggage, since the duty-free stores in the airports will determine it for you and seal the bag for your cabin luggage. If it is for sale, then you can buy it and carry it with you.
As far as your suitcase that you are checking in is concerned, in the EU there is no limit as long as it is for personal use. More details can be found on the Europa website.
If you are travelling to the US, the TSA states that alcoholic drinks with more than 24% but not more than 70% alcohol (per volume) are limited in checked in bags to 5 litres (1.3 gallons) per passenger and must be in unopened retail packaging. Alcoholic beverages with 24% alcohol or less are not subject to limitations in checked bags.
Do you have a favourite Portuguese drink? Let us know below.
Main photo credit: Maria Eklind