So many countries, so many customs and traditions.
When you are travelling around Portugal, you will probably end up learning about its traditions whether you want to or not. It's a part of the country's culture, it's a part of the people's way of life.
Today we'll explore a few of them for you.
Portuguese traditions make the culture
Today we'll reveal some Portuguese traditions. We'll take a look at some myths, legends and things you should know about this country.
All the traditions are connected with the history of its country. Portugal, as any other country in the world, has a long, difficult, but extremely colourful story. You may find them unusual or sometimes morbid, but they are also very important traditions to the Portuguese people.
Let's have a look at a few now.
Colourful tiles ("azulejos") everywhere!
The most vivid example of how colourful a Portuguese tradition can be are the beautiful coloured tiles that create a fairy tale-like atmosphere as if you are royals living in a palace, but you are just visitors walking along the streets.
Aren't they marvellous? But what is their origin?
Why has it become a Portuguese tradition to decorate the streets and homes with these tiles?
To answer these questions, we have to go back to the eighth century, when Portugal was not the Portugal you know today but a part of al-Andalus, an Islamic country. Among the many wonderful things the Moors brought were these "polished stones", interestingly, no tile work has survived from the period when the Moors inhabited the peninsula.
The tiles present today were from the Christian reconquest in the 15th century which you can see practically everywhere: on the floor, walls, and ceilings.
The tradition of decorating buildings with glazed, coloured tiles was revived in the 15th century when one of the Portuguese kings, Manuel I of Portugal, was deeply impressed by this art form whilst in Spain. He appreciated art and loved everything good-looking so, when he saw the Alhambra palace in Granada, Spain, he was so impressed by the decorations, he decided to redecorate most rooms of the Palace of Sintra with tiles especially made for him in Seville.
And according to the Islamic law, there were no human figures, only geometric forms. Later these motifs were replaced by European ones with Gothic and Renaissance elements.
Some changes appeared not only in motifs but also in colours. Originally "azulejos" were just simple structures cut into geometric shapes in neutral tones but later, some more colours were added. The most popular, as we see today, was blue and white.
Why blue and white?
These two hues represent Portugal's maritime history and its role during the Age of Discoveries (15th to 18th centuries) and was considered very fashionable at the time.
Also, in the second half of the 17th century, blue and white tiles were brought from Delft in the Netherlands. The Dutch tile masters created large panels with historical scenes to attract Portuguese clients.
Later, such 'azulejos' became more affordable as they were designed by academically-trained Portuguese artists. They subsequently became extremely fashionable among the entire population.
Today, it is difficult to find a city or a village in Portugal without 'azulejos', they are everywhere. We think this painted, ceramic tile-work creates a special atmosphere that makes you want to remain wondering through the fascinating Portuguese streets.
If you are interested and want to learn more about the history of 'azulejo' and its evolution in Portugal, you should visit the National Azulejo Museum in Lisbon.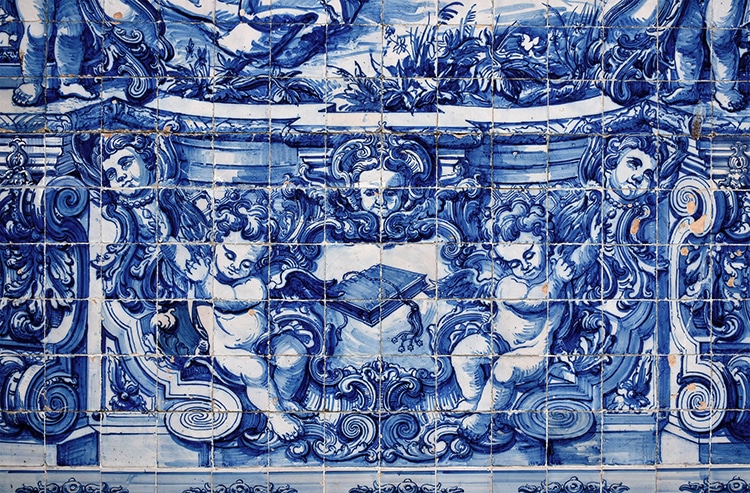 Ceramic swallows
Continuing on the topic of ceramics, we can't miss mentioning the swallows that are found in many Portuguese homes and souvenir stores.
So, what is their story?
Once upon a time, Rafael Bordallo Pinheiro, a famous Portuguese handcrafter, was thinking of creating something simple, but sweet and charming about Portugal, something that would be associated with home, comfort and love. So, he looked around for some inspiration and saw tiny, black birds flying up and down the trees near his home.
These little birds reminded him of some stories from his childhood which were connected to Portuguese sailors who used to have tattoos of swallows on their arms. The sailors viewed the birds as a symbol of good luck. They knew that swallows would always return home and that idea was very significant for them. It was also believed that if they drowned at sea, the swallow would carry their soul to heaven.
Moreover, it is proven that swallows keep a single partner during their entire life and therefore people associate these small trinkets with faithfulness and loyalty.
So, in 1896, Rafael Bordallo Pinheiro registered the patent of his ceramic swallows. At the time, he probably didn't realise that these tiny birds would become so popular and would be considered a traditional symbol of Portugal.
Today, one can find a flock of these swallows everywhere: in the gift shops, on the walls of the buildings in the streets and also in the homes of the locals. It is still a Portuguese tradition to give this bird as a present to just-married and young couples.
The popular ceramic swallows are really symbolic and a sweet souvenir which you can buy, not only in Portugal, but also in some online shops.
The famous rooster of Portugal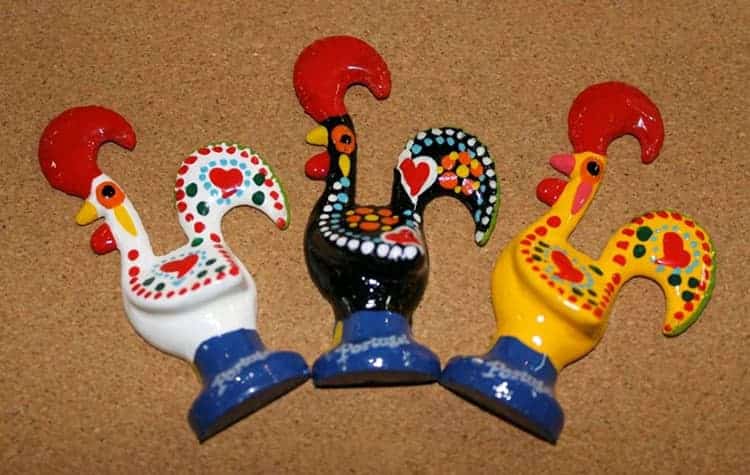 Another significant bird in the Portuguese culture is the Barcelos Rooster ("O Galo de Barcelos").
The Barcelos Rooster is an unofficial symbol of Portugal which is usually represented by a ceramic or metal figurine of a painted, stylised rooster. You can find it in many forms in every local Portuguese souvenir shop and specialty gift shops. The Barcelos Rooster is always brightly coloured and is said to be the embodiment of the Portuguese tradition: To love life.
This rooster is said to bring happiness and good luck to the receiver.
The following legend proves it. Let's see where it all started.
In the 15th century, a Galician pilgrim was passing through Barcelos, near Braga, Portugal, on a pilgrimage to Santiago de Compostela in Galicia, Spain, to complete a promise. As he was a stranger just walking around, the citizens accused him of something terrible that happened in the city.
The pilgrim was a good man, and innocent in his ways. He tried to explain that it was a mistake but nobody listened to him and he was condemned to hang. To avoid this terrible fate, the pilgrim begged to see the judge who had passed the sentence.
The judge happened to be eating his dinner when the pilgrim arrived. Affirming his innocence, the Galician pointed to a roasted cock on top of the banquet table and exclaimed:"It is as certain that I am innocent as it is certain that this rooster will crow when they hang me."
The judge then put aside his plate as he decided not to eat the rooster.
When the time for judgment came and the innocent man was brought to the gallows, the cooked bird stood up on the table and crowed!
The judge realised the mistake he had made and rushed to save the pilgrim. The ropes were not so tight and the pilgrim was easily saved.
The story of this legend is sometimes different, but, no matter what version of the legend you hear, the Barcelos Rooster is hard to miss while you are visiting Portugal as this symbol of good luck and hope is emblazoned on many household items and souvenirs.
Another legend from Portugal
Pedro and Inês's love story
"For never was a story of more woe than this of Juliet and her Romeo." – William Shakespeare.
Shakespeare was partly right. The story of Romeo and Juliet is really a sad one but it's not the only one. There are a number of similar love stories from all over the world and Portugal's Pedro and Inês's love story is among them and did you know that it's older than Romeo and Juliet?
It's a story full of love, mystery, jealousy and also murder. It's a story of Pedro I of Portugal and Inês de Castro, a lady-in-waiting to his wife, Constance.
They fell in love and, neither the disapproval of the king nor the machinations of Pedro's wife, could keep the two of them apart.
During a five-year period after Inês's arrival, Constance of Castile died and Pedro refused to take a wife other than Inês.
Desperate by this action, King Alfonso IV, Pedro's father, ordered Inês's death and she was killed in the Monastery of Santa Clara-a-Velha in Coimbra in front of her small child. When Pedro heard what had happened, he became furious and planned to start a war with his father.
But, two years later, King Alfonso IV died and Pedro became king. As king, Pedro wanted his beloved Inês to be the queen.
Legend has it that Pedro ordered Inês' body to be disinterred. Her dead body was dressed in royal finery and propped up in the throne room where his vassals were ordered to pledge their obedience and loyalty to the corpse he called his wife and queen.
In the monastery in Alcobaça, Portugal, there are two ornate tombs lying opposite each other on each side of the transept. Each marble tomb is beautifully sculpted with scenes from the lives of these two beloved royals and includes the inscription: "Até ao Fim do Mundo" (until the end of the world).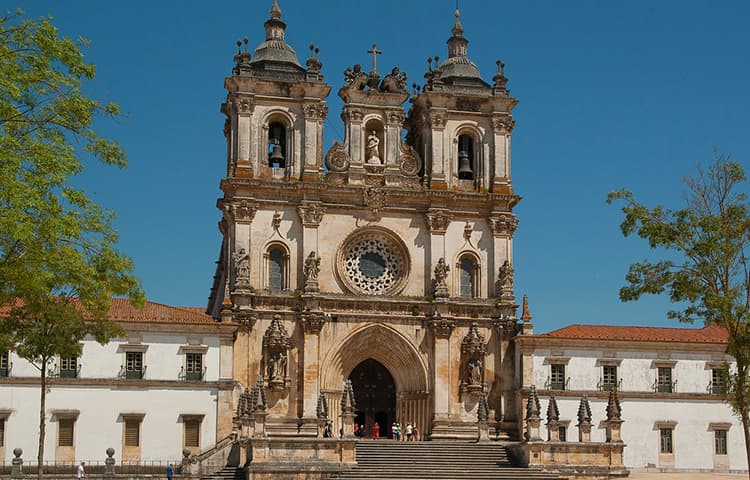 Five more things you should know about Portuguese traditions
The Portuguese are family oriented (as proven by the classic symbol of the swallow). Loyalty to the family comes before any other social relationship or business. Sundays are family days when everyone visits their parents and grandparents.
Portugal has been a Catholic country for many years. There are a number of sacred sites worth visiting, among them is the Sanctuary of Our Lady of Fátima (with the Chapel of the Apparitions, the Sacred Heart statue and the Basilica of Our Lady of the Rosary), the Alcobaça Monastery where the tombs of Pedro I and Inês de Castro are located and the Cathedral of Braga which is a Roman Catholic church.
Portugal is known for its architecture and heritage which is spread all over the country. That's why they say that Portugal is a haven for visitors travelling by car. Some of the sights are protected and united under some associations like The Historic Villages Program of Portugal. In these villages you might find a medieval fortress or buildings which date back to Roman times.
There is a café culture in Portugal. Drinking coffee is a sacred ritual and you should never, ever hurry anybody who is drinking an espresso. It is not all about coffee; it is all about life and people's attitude to the special moments.
Carnivals and festivals, national and local, religious and musical – there are festivals for any taste in Portugal. If your dream is to visit the Brazilian Carnival, so you should see a Portuguese one first. All year round you can find something interesting happening. For example: Carnival in February, Easter celebrations like Holy Week ("Semana Santa"), the international sand sculpture festival in March and so on. Attending a national festival is an awesome way to experience Portugal's culture and traditions.
Portuguese traditions are very old and very unique
All in all, Portugal is a wealthy country: so many customs, so many traditions that date back to ancient times. Not surprising, as it is the oldest country in Europe. It has a lot to offer even to the most discerning visitor.
Did you find the traditions in Portugal you were looking for? Do you have any experiences to share? Feel free to leave a comment below.
We publish new content every day so be sure to subscribe to our newsletter to get notified of the latest tips for your visit or move to Portugal.