Today, we will be talking about one of the many (forgotten) paradises of Portugal: Alentejo. We will mainly approach the reasons why you should consider living in Alentejo, some of the best things to see, to do and to taste in Alentejo.
Where is Alentejo?
You are now probably asking yourself "Ok, but what is Alentejo?".
Alentejo is a region of Portugal that we consider to be very special. As you will see very soon, all about Alentejo is, in a way, unique.
It is a region that extends from the south-center of Portugal (beneath Lisbon) down until the Algarve region and has some unique social, cultural and historical characteristics.
What's it like living in Alentejo?
Depending on the region you live in Portugal, you may find that your daily routine may vary. The land, the weather, the people, the food, transportation, access, and many other factors have a great influence in our day-to-day life.
Living in Alentejo is no different. There are a lot of things that make Alentejo very special. Some people really love Alentejo, while others will not consider spending more than a week in the region.
These are some of the things we think really make Alentejo a special (and different) place in Portugal:
Weather;
Nature;
Food;
The cultural and historical sites.
How's the weather like in Alentejo?
If you are considering living in Alentejo, we sure hope you really like hot weather.
As you might know by now, Portuguese people are very proud of their weather. "The sun shines more than 300 days a year in Portugal", they say. We suppose that in Alentejo, the number must be even higher.
In the winter, the temperatures are quite normal considering the country's average. However, when the summer begins, it's a whole other story.
Weather in summer can be very warm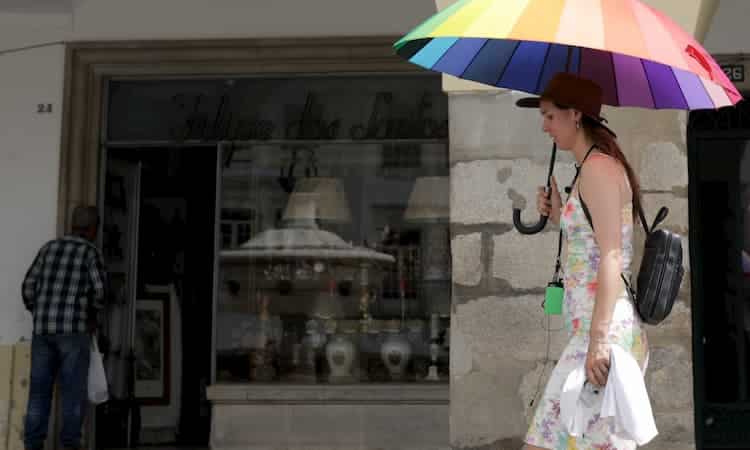 Temperatures could easily get over 40-45  degrees Celcius (104°F – 113°F) in some zones in Alentejo, and most of the times the summer is very dry.
But do not fear! If you are living in Alentejo, most probably your house is built counting with these extreme temperatures. This means they allow you to enjoy a nice and fresh day inside.
The nature in Alentejo
We admit that living in Alentejo may not be for everyone. If you are one of those people who really likes the concrete jungle, then you should consider living in Lisbon, living in Porto or other bigger cities.
But, if on the other hand, you really enjoy being in complete peace, in the middle of nature, with not much going on, and having all the time in the world for your own thoughts, living in Alentejo may be a great option.
As said, the winters are mild and the summers may get somehow extreme. But nature compensates for it all.
The magic begins in the spring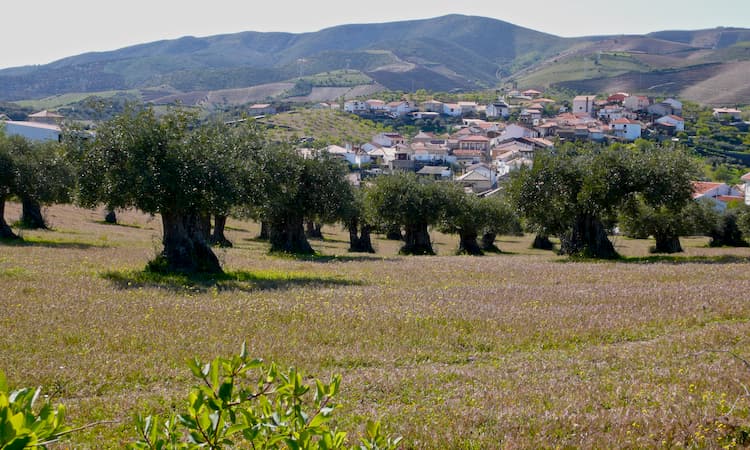 In the spring, everything is green and beautiful. The trees begin to blossom and the birds begin to make themselves heard. Even in the bigger cities, like Évora or Beja, it is possible to enjoy the beauty that Alentejo has to offer.
In the summer the fields get yellow
In the summer, although almost all seems dry, there are many older people that gather under the shadow of a tree and wait for the heatwave to pass. The immense olive tree fields and the hills are breathtaking. Here and there, some white, typical Alentejan houses.
If you ever visit Portugal, give Alentejo a try at least.
If none of this sounds appealing, we have one more card up our sleeve: The Alentejan and Vicentin Coasts.
The Alentejan Coast and The Vicentin Coast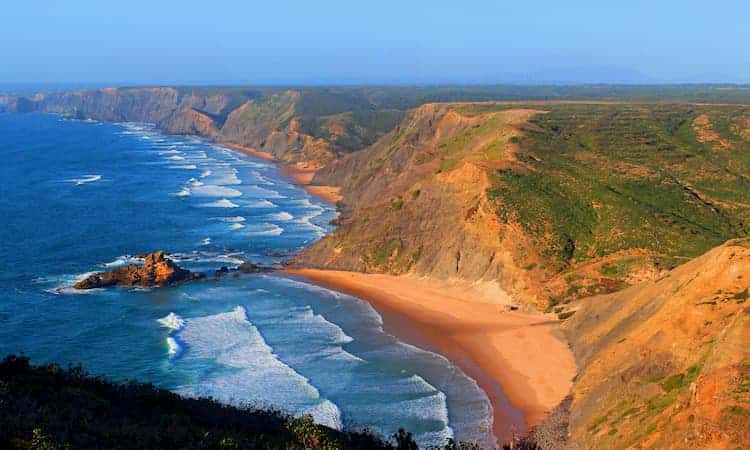 If you are in Lisbon and decide you would like to go on an adventure and explore some of the most beautiful and hidden beaches in Portugal, this one is for you.
There are amazing beaches in Alentejo
Imagine taking the bus from Lisbon and finding yourself, 4 hours later, on the beach of Zambujeira do Mar or the beach of Furnas in Vila Nova de Mil Fontes.
If you are feeling even more adventurous, you could hike the many trails between numerous beaches, while enjoying the good weather and the spectacular nature that surrounds you.
You'll thank us later.
Food in Alentejo
Everywhere in Portugal, no matter the region, you will always eat great food. The gastronomy in Portugal is simply amazing and it has great variety and much to offer.
In Alentejo, one might say the food is even more special. You will find some dishes that are unique and delicious.
Here's a short list of 5 dishes you will eat frequently if you will be living in Alentejo:
"Ensopado de Borrego"
"Migas alentejanas"
"Sopa de Cação"
"Fidalgos" (Desert)
"Pão de Rala" (Desert)
Whenever you are in Alentejo, do yourself a favor and ask for one of the above-mentioned dishes. You will not regret it.
See here the complete list of the Alentejo food you should try.
Alentejo wines
Besides the food, there is one more thing that everyone has tasted at least once in their life that comes from Alentejo: the wines.
Even if you are not a wine fan, tasting a good "Vinho Alentejano" is simply a must. We can recommend "Herdade dos Grous"  (from 10€ in supermarket) and "Borba" (from 6€ in supermarket) as two excellent choices.
The list of main cities in Alentejo
Below you'll find the list of the major cities in the Alentejo region according to the number of habitants each city has.
Évora – 49 252 habitants;
Santarém – 29 929 habitants;
Beja – 23 400 habitants;
Elvas – 17 625 habitants;
Samora Correia – 17 123 habitants;
Portalegre – 15 374 habitants;
Sines – 14 038 habitants;
Montemor-o-Novo – 12 000 habitants;
Almeirim – 11 700 habitants;
Vendas Novas – 11 123 habitants;
Cartaxo – 10 700 habitants;
Vila Nova de Santo André – 10 647 habitants;
Rio Maior – 8 000 habitants;
Moura – 8 000 habitants;
Ponte de Sôr – 7 750 habitants;
Estremoz – 7 483 habitants;
Reguengos de Monsaraz – 7 261 habitants;
Alcácer do Sal – 6 700 habitants;
Santiago do Cacém – 6 403 habitants;
Serpa – 5 000 habitants;
Aljustrel – 4 600 habitants;
Borba – 4 537 habitants.
Data retrieved from wikipedia.
Cultural and Historical Cities
As we said before, living in Alentejo allows you to be part of a region full of culture and history.
Évora in Alentejo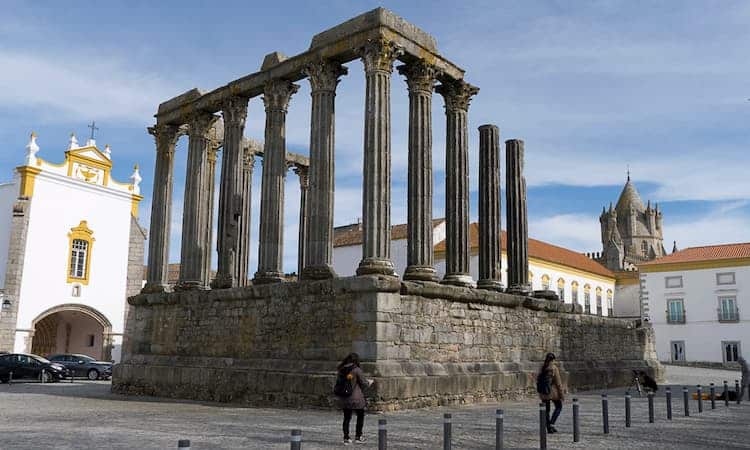 The city of Évora is considered to be Cultural World Heritage by UNESCO. Wherever you go, you will always be able to see and hear part of Portugal's history and culture.
You have a lot of churches, temples, and monuments that will make you understand the reason behind the denomination.
It's also considered the "capital of Alentejo" as it has good infrastructures and "high number" of habitants:
49,252 habitants
An area of 1307.08 km²
It has one public university – University of Évora
Major public Hospital (Hospital Espírito Santo)
Don't forget to subscribe to our newsletter to receive articles like this one in your inbox.
Reguengos de Monsaraz
Another picturesque city you can visit is Reguengos de Monsaraz. It is yet another city of Alentejo that is surrounded by medieval walls, just as Évora.
Give yourself the chance to go on a walk by the city center. You will love it, certainly.
Alqueva Dam
If you happen to visit Alentejo, think about visiting the Alqueva Dam. It is one of the biggest in the Iberic Peninsula and it is really impressive.
Would you like to visit Alentejo? Check what the best things to do and time to visit it.
What about prices and the cost of living in Alentejo?
Concerning the cost of living Alentejo, we would say that it depends on your choices.
Food costs about the same as in the rest of the country.
It is the housing that can make a bigger difference.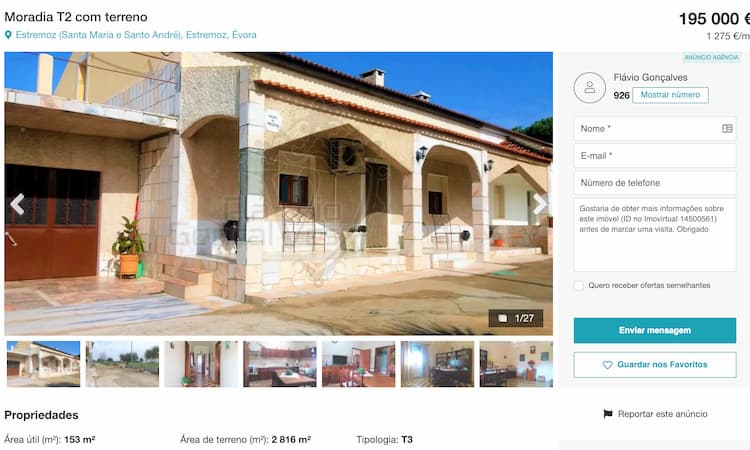 Depending on whether you wish to live in the center of a major city in the region, like Évora or Beja, or you wish to have a more peaceful life in the middle of nature, in a small town, the prices can vary.
For instance, in smaller inland towns you can find houses 2x times cheaper than in Évora or Beja.
If you want to know the best websites to search for properties in Alentejo, check out our article about buying property in Portugal.
Living in the Alentejo Coast vs inland
Another factor that can influence prices is whether you chose to live in the middle of Alentejo or on the shores/coast. As you may expect, the nearer you are to the ocean, the more you will pay.
Just as an example, you may pay about 140.000€ for a 3 bedroom apartment in Évora, but one apartment with one bedroom costs 200.000€ in Grândola, near Setúbal, much nearer to the ocean. You can certainly spot the difference, right?
See also our guide to the visit and living in the Silver Coast in Portugal.
What are the disadvantages about living in Alentejo?
There is no catch.
Living in Alentejo can be an amazing experience. However, there are some negative points.
As we discussed, the weather may be a problem for some.
Besides the weather, we believe that the fact that the region is so enormous, all cities seem very far away from each other. That means that, sometimes, you may feel isolated, mostly if you want to go shopping, meet friends, going to cinema or to a bigger hospital.
Some cities (and villages) in Alentejo are considerably isolated and hard to reach. On the other hand, there are good highways throughout the country that allow to access major cities such as Évora, Beja, Grândola presents and that's a good point when considering services and accesses.
It might also be interesting to see our article about: Car Rentals in Portugal and or guide about transportation in Portugal.
Is it worth it Living in Alentejo?
Living in Alentejo can be as good as you want it to be. It all depends on you and on your choices and priorities.
By living in Alentejo you will feel part of a region of its own life, culture, and history. You will be an "Alentejano". If the fact that you may have to travel sometimes in order to get access to some public services or to go shopping at big shopping malls presents no problem, then consider it. Everything else around you will make it worth it.
If, on the other hand, you feel like leaving Alentejo for your retirement days and enjoy the busy life of the bigger cities, for now, that's also an option. But in the meantime, be sure to at least visit Alentejo.
Did you find this information useful? Maybe you should consider reading also about the best Portuguese cities.