On a trip away to Portugal, there might be people hoping you'll bring them back a souvenir. This article should help you make the decision of which souvenirs to bring back to loved ones, or to treasure for yourself at home.
There are of course a vast array of trinkets that you can buy as souvenirs, some more emblematic of Portugal than others. We will suggest some of the most unique and authentic keepsakes you can buy from a trip in Lisbon.
Typical souvenirs from Portugal to take home
There are a plethora of shops in most major Portuguese cities that sell some very typical souvenirs of the country to tourists. These could range from a yellow Lisbon tram fridge magnet to beautiful hand-painted and glazed tiles ("azulejos"), that look like they come from a professional online photo maker".
There are lots of ceramics, and replicas of the beloved sardines which also make for lovely traditional gifts. Some of the most typical things to buy in Portugal and take home as souvenirs are the tinned sardines themselves, which are delicious and travel very well as they are tightly sealed and don't take up much space in a suitcase.
If you want to take home a little piece of your holiday you might also consider buying some of the traditional Portuguese Port wine, or a special bottle of local wine.
Unique Portuguese souvenirs to take home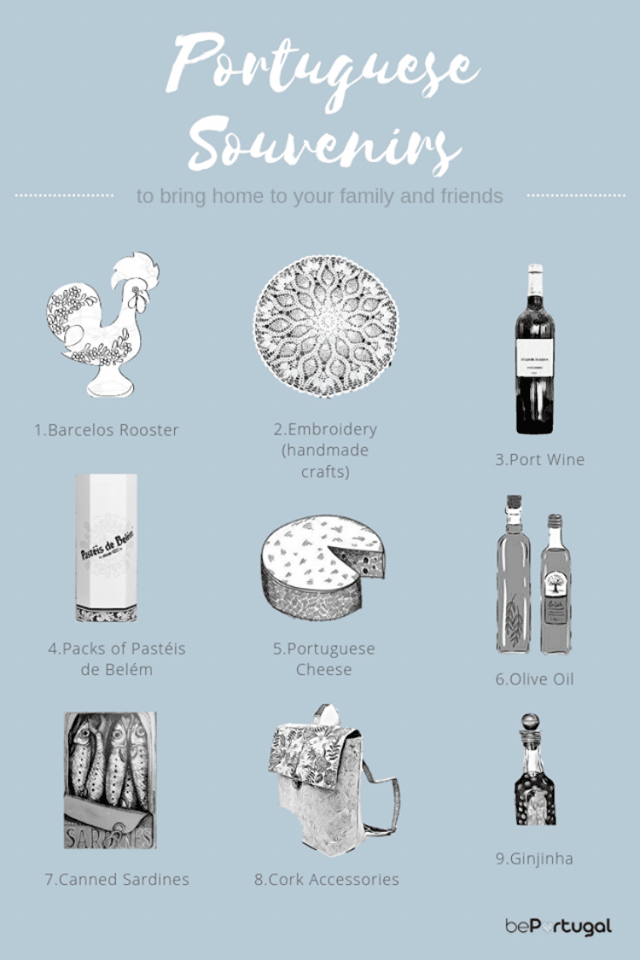 From the wide range of souvenirs that are out there, we would like to show you the most emblematic Portuguese trinkets and keepsakes. Underneath you will find 13 Portugal souvenirs that will make sure you never forget your trip away, long after having gotten back from holiday.
Portuguese food
Tinned sardines
Part of the fabric of Portuguese culinary tradition, are tinned sardines. There are a whole host of shops in Lisbon that have them stacked high up to the ceilings, beautifully wrapped with old designs printed on the paper wraps. This makes them a pretty and also tasty gift to bring home to friends post-holidays.
One of the best places in Lisbon to buy canned sardines is at Conserveira de Lisboa, located in downtown Lisbon.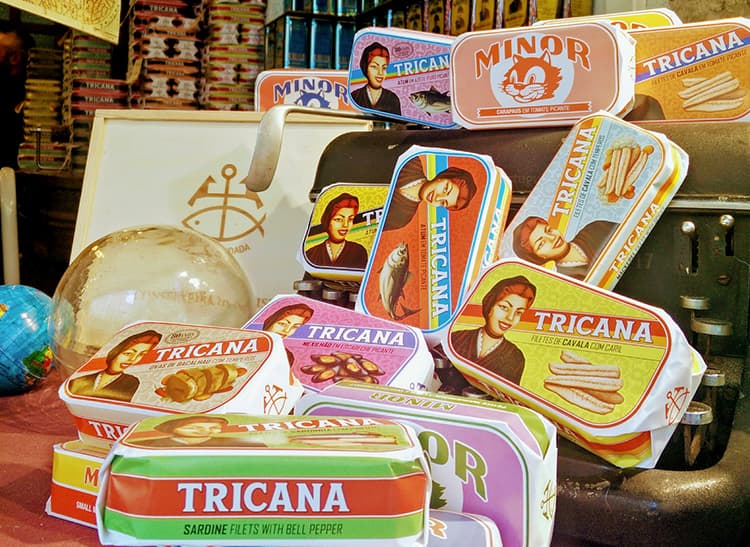 Packets of pastéis de Belém
A little six-pack box of pastéis de nata is a real delight for any family and friends back home to taste the real deal of Portuguese breakfasts. You'll have to grab these right before leaving mind, as they wouldn't taste so great after more than 24 hours. The most famous place to buy pastéis de Belém in Lisbon is the original Pastéis de Belém kitchen and restaurant in the Belém neighbourhood.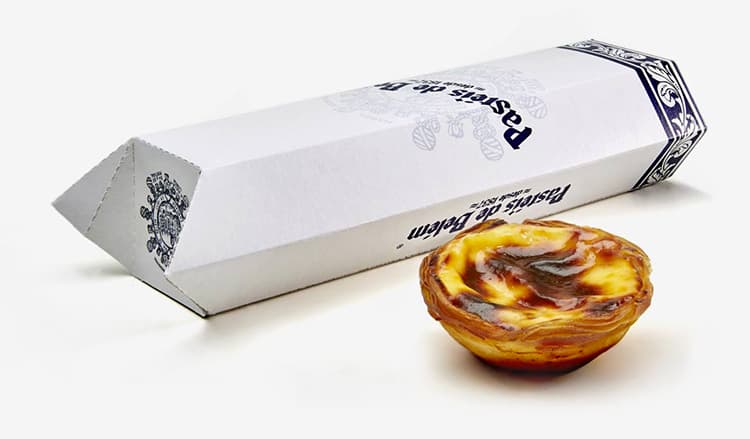 Portuguese cheese
The cheeses of Portugal are really delicious and unique to this part of Europe. Even just from Portugal's neighbor, Spain, the cheeses are vastly different. It's common to get great sheep's milk cheese in Portugal, as well as goat cheese and cow's milk cheese. Downtown in Lisbon there is an excellent place to get local products including fantastic Portuguese cheeses called  Queijaria Nacional.  There are also local and regional Portuguese cheeses available in supermarkets all around the country.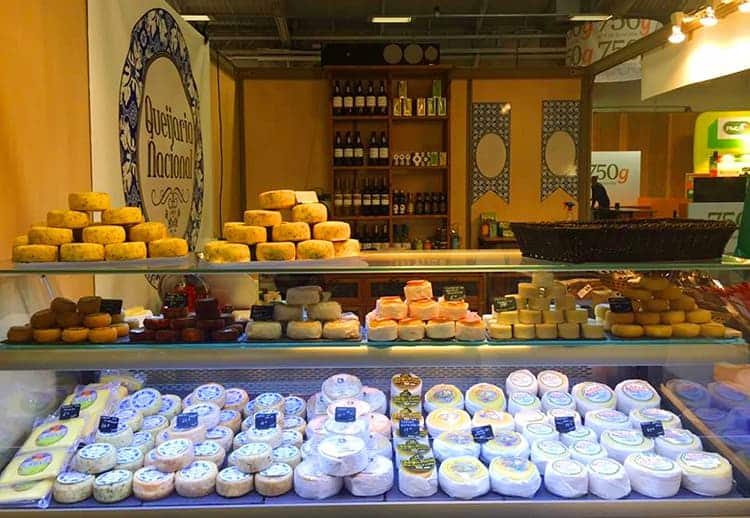 Port wine
Port wine, the famous wine from the Douro valley in Porto the product that probably what Portugal as a country is most famous for, on a global scale. The wine is fortified and therefore sweet, and can be found mostly in the red grape variety. There is also plenty of white port made, which is usually mixed with tonic water and drunk as an aperitif.
A decent bottle of port wine could cost you between €10 and €30 while a vintage bottle of Port wine can be as expensive as €100.
One of the great places to find quality Port wine is the Napoleão Wine Shops & Gourmet store. Again, the port wine is in fact available at most supermarkets across the whole country ( especially in Porto).
If you would like to more about Port wine, check out: Port Wine, Your Traveling Guide to Portugal's Finest Wines
Portuguese wine
Portugal has a long legacy of great wine making. Whether you prefer wines from the Douro valley, Alentejo, or Setúbal, a bottle of Portuguese wine always makes for a fine gift.
You should check these stores in Lisbon if you want to purchase some high-quality Portuguese wines as a Portugal souvenir:
Once again as Portugal is a winemaking country, good wine can be found nearly everywhere, even in the supermarkets.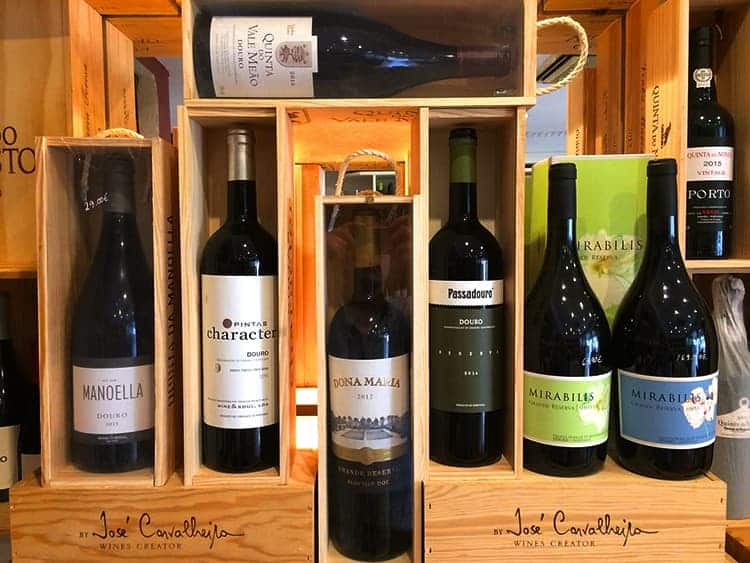 Ginjinha
The sour cherry liqueur is a great after-dinner treat in Portugal. You'll find little old ladies selling ginjinha out of their windows in the old town of Alfama in Lisbon.
This can be a great way to refresh yourself and break up the countless steps you have to climb in the hills of Lisbon. The liqueur is very inexpensive and found in most liquor stores and supermarkets in Portugal.
To buy a Portugal souvenir bottle of ginjinha in Lisbon, A Ginjinha Espinheira is a great place to start. It is the oldest Ginjinha maker in the city.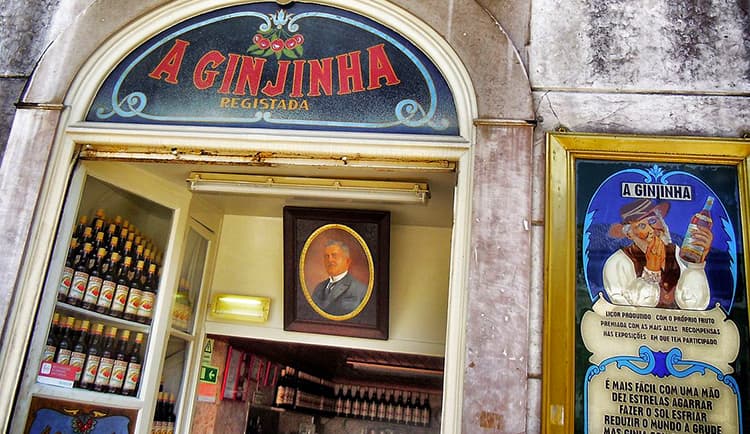 Olive oil
Another Portugal souvenir you can take back home with you from Portugal is a bottle of traditional Portuguese olive oil. The olive oil in Portugal is considered one of the best in the world and comes in seven different varieties. Bottles of olive oil are widely available throughout the country, inexpensive and of a very good quality.
Portuguese olive oil is a great gift for friends, and is also a wonderful thing to use at home for cooking after holidays, to keep the memory of Portuguese food living on. Olistori is the best shop to buy any kind of olive oil you want in Lisbon.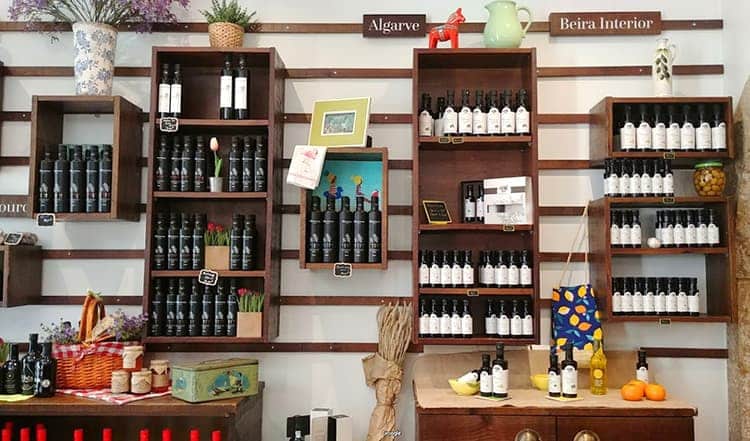 Handmade crafts
Embroidery
The Portuguese have made beautiful embroidery for centuries. It's a great gift to take home too as you'll have no worries like you might have had with wine or food, about breaking open in your luggage and soiling any of your belongings.
In Madeira, the typical offering is lace, which though it may be very beautiful, is very pricey. Embroidery is a cheaper option and can come in the form of shirts, scarves, pillow cases and aprons. In Lisbon, shops near Rossio will sell embroidered items.
A Vida Portuguesa in Lisbon and Porto is a good place to buy these beautiful handmade linens. You can also get something nice at Paris em Lisboa.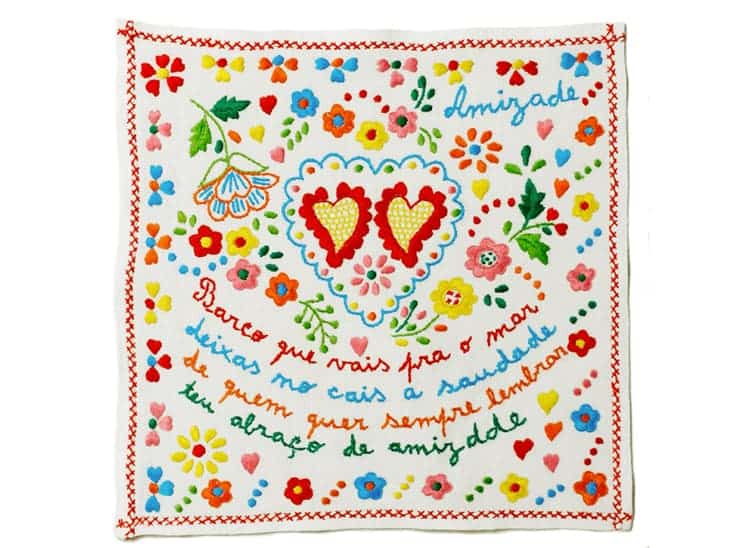 Jewelry
For a gift that's a little more special, the jewelry in Portugal might be a great option. In particular, Portugal is known for its gold filigree jewelry. This type of gold can be formed into pendants, necklaces, bracelets and rings.
Sometimes the jewelry is adorned with religious symbols such as hearts of Viana. Although these gifts could be more on the costly end of the spectrum they are small in size and will save space in your luggage.
Cork accessories
If you travel through the Portuguese countryside, you'll see endless cork trees in the fields. Portugal happens to be one of the biggest producer of cork in the world, so it's common to find various cork products up and down the whole country.
Cork can be made into wallets, small bags, coin purses, tablet or phone pouches. There are plenty of shops in Lisbon and Porto that sell cork goods, of varying quality. Some popular places to get authentic cork in Lisbon are Pelcor and Cork & Co.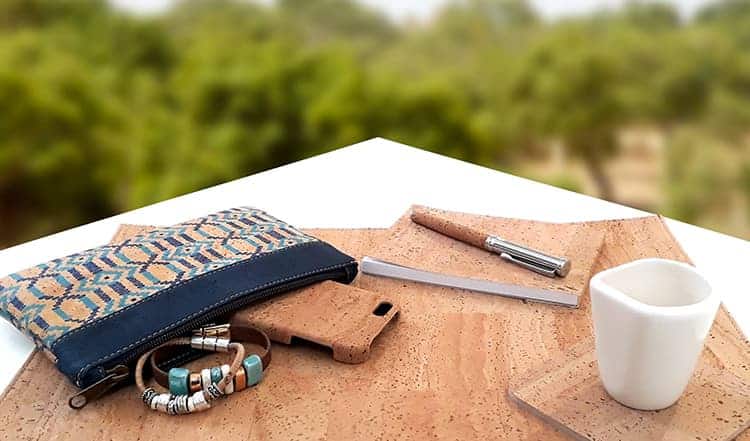 Pottery
Pottery and ceramics are an ancient craft in Portugal and it has to be said that some of the nicest ceramics in Europe can be found in Portugal. Choosing to buy earthenware in Portugal also makes for fantastic Portugal souvenirs as there is an extensive collection of inexpensive and wonderful ceramic production all over the country.
To buy decently priced and quality pottery souvenirs in Lisbon you should go to Fábrica Sant'Anna.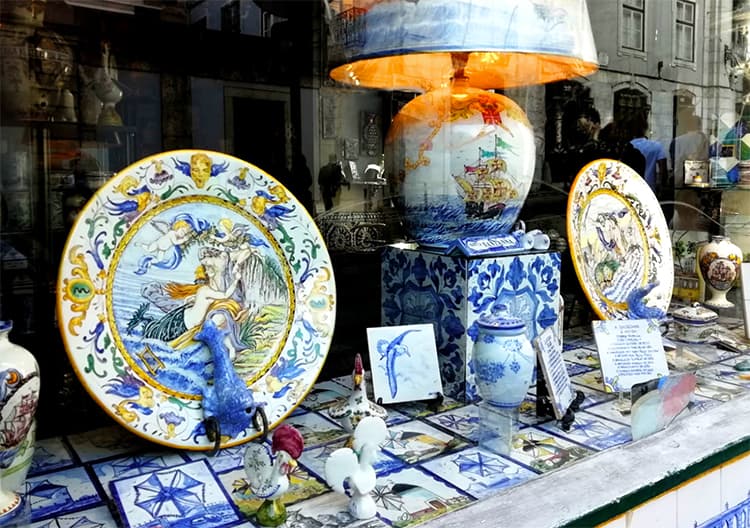 Azulejos
A highly emblematic trope of Lisbon's cityscape is the hand painted tiles that can be seen all over the city.
Painted tiles or azulejos in Portuguese have been part of the culture since the 16th century. Ever since then, the Portuguese have used azulejos to decorate and beautify all kinds of structures in the country. It is an unmissable feature on churches, palaces, museums and ancient buildings in the capital city.
Taking a tile or two home is an inexpensive way of remembering this beautiful architectural feature of Portugal. They also look beautiful hung on the wall at home.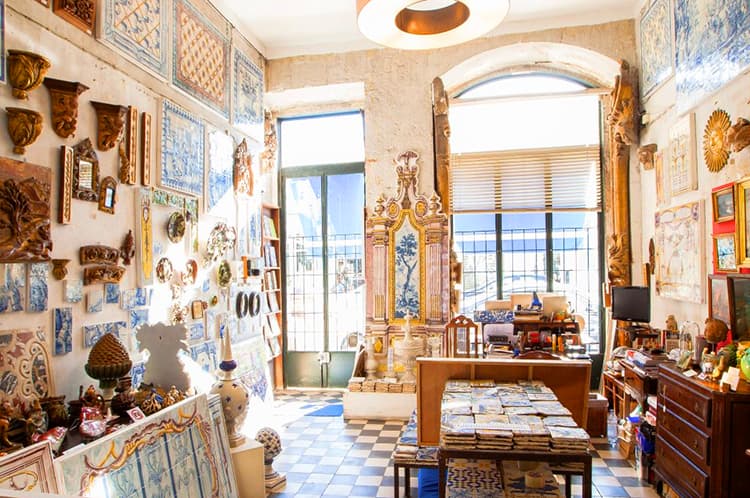 Barcelos rooster
The Barcelos rooster (o galo de Barcelos) in a small replica form, is one of the most common souvenirs in Portugal and it's found in almost any gift or souvenir shop in Portugal.
You'll see ceramic roosters, usually brightly colored, or rooster prints on shirts and towels. There are also plenty of Barcelos roosters turned into fridge magnets.
If you would like to know the story of the rooster of Barcelos, have a look at our article: Portuguese Traditions That Might Surprise You.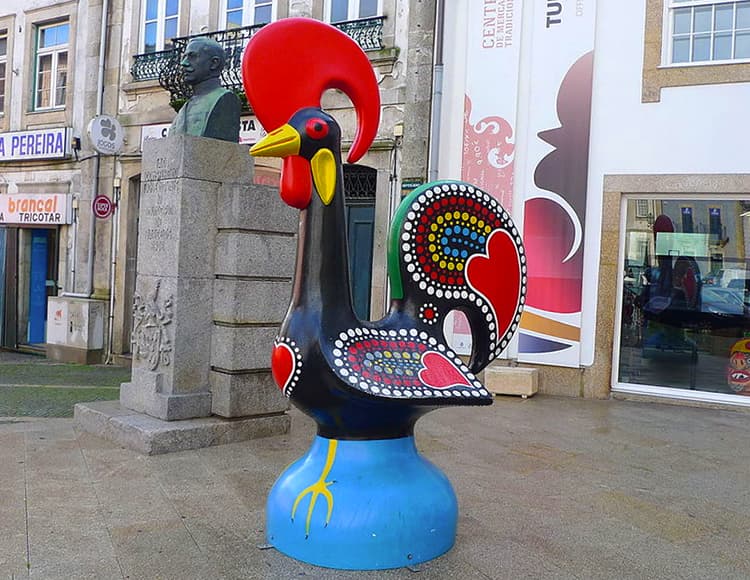 What about buying souvenirs in the airports?
If you happen to run out of time in the city, you can still always pick up souvenirs at the airport. Although they might be more expensive, nearly everything on this list can be found at most of the Portugal airports.
FAQ
What are the best Portugal souvenirs?
The best Portugal souvenirs are probably cork items and hand painted ceramic tiles.
Does Portugal have good souvenirs?
Portugal has a vast array of souvenirs that make for great gifts for friends and family.
Can I buy souvenirs at the airport in Portugal?
You can still find a lot of great Portugal souvenirs at the airport.
What are good souvenirs from Portugal?
Good souvenirs from Portugal include tinned seafood and Portuguese wine. Also look for cork accessories (from cork trees grown in Portugal) and handmade ceramic tiles. You could also opt for anything featuring sardines or the Rooster of Barcelos, a traditional symbol of Portugal.
What should I buy in Portugal?
While visiting Portugal, you should buy a bottle of port wine (Portugal is the world's top port wine producer). Handmade ceramics and pottery, colorful azulejos (tiles), shoes, and embroidered linens are also all beautifully produced in Portugal. We recommend buying any of these in Portugal.
What is Portugal famous for?
Portugal is probably most famous for footballer Cristiano Ronaldo, followed closely by our beautiful beaches. Portugal is also famous for Port wine, and specialty foods like tinned sardines or pasteis de nata (small custard tarts). And finally, Portugal is famous for fado music and ancient explorers like Vasco da Gama.
What kind of jewelry is Portugal known for?
Portugal is famous for beautiful gold filigree jewelry. First found in northern Portugal during the Middle Ages, gold filigree jewelry is still produced in Portugal today. To buy Portuguese jewelry or learn more, visit the Museu do Ouro, just outside of Braga in Travassos.