Enjoying the region's delicious cuisine is truly one of the best parts when visiting Central Portugal.
Despite its reliance on the Atlantic for its infamous seafood, Portuguese cuisine also benefits from a lot of Mediterranean influences and liberal use of locally produced olive oil and herbs.
The flavours are fresh, vibrant, and often unexpected.
Food from Central Portugal
The Portuguese cuisine has a lot more to offer than just sardines and the typical pastel de nata (although those are great too!). If you're visiting Portugal take the opportunity to get a bit adventurous and try the cuisine of central Portugal.
Trust the local recommendations, and really have some fun trying out the best that Portugal has to offer.
Travel with us through the different tastes and flavours of Central Portugal.
1. Pastel de Molho da Covilhã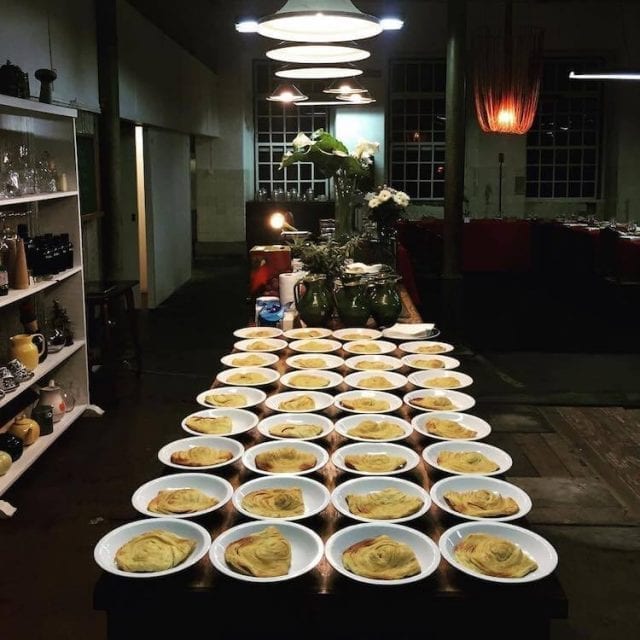 If the notion of a meat pie is as appealing to you as it is to me, then you're in luck. In the Beira Baixa, be on the lookout for Pastel de Molho da Covilhã, a filo pastry stuffed with ground meat braised in onions and bay leaves.
In some places, you will even find this delicious pastry served with a broth infused with saffron, vinegar and parsley. If pastry and broth sound weird to you, it is worth knowing this dish's history.
Thought to have been invented in the 1920s by busy factory workers who were short on time, these pastries were made by the dozens and kept for weeks without spoiling.
When it was time to eat, you simply added one to the broth, the pastry broke apart and you had yourself in a hearty, satisfying meal.
The Taberna A Laranjinha in Covilhã is famous for this local speciality.
2. Coelho à Caçador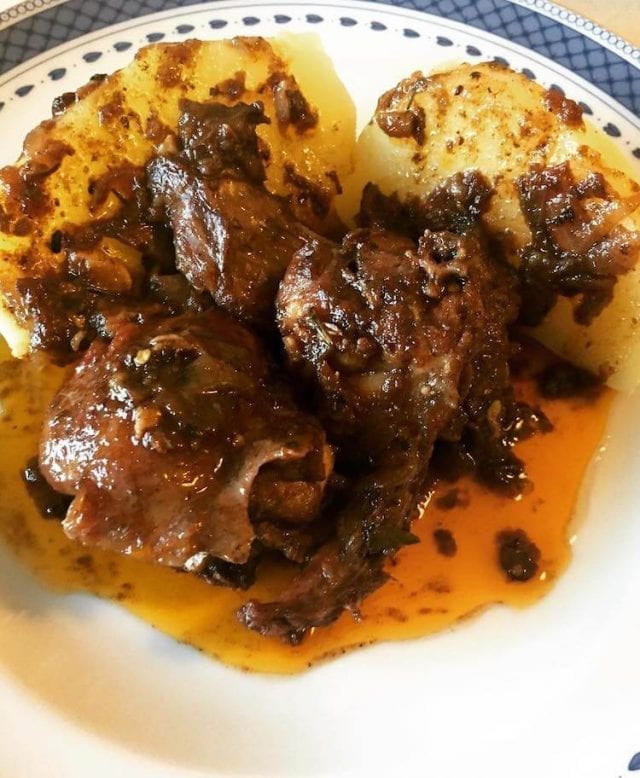 This part of the country is also a haven for hunters, so eating in central Portugal means you're never far away from a chance to try a delicious dish of the local game.
A popular local choice is Coelho à Caçador, succulent rabbit stew that begs for a fresh loaf of bread for dipping. This is a rich and deeply comforting pot of goodness.
This is an absolute pit stop:  Taberna 2 à Esquina in Alcácer do Sal.
Even if you're not a foodie you'll love these: Alentejo Food: The Dishes you Absolutely Must Try in Alentejo.
3. Trutas de Escabeche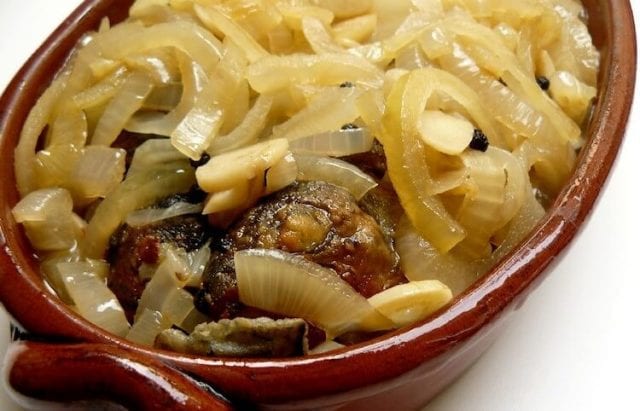 Trutas de Escabeche, or pickled trout, is another delight of Portuguese cuisine.
This dish is given a special treatment using the pickling sauce of escabeche, popular in both Portugal and Spain.
Following the method of this local dish, the fish is marinated and cooked in an acidic mixture including vinegar and often coloured with paprika or saffron.
After that, it is fried and then layered with onions and sauce in an oven proof dish to roast. Traditionally, it is served cold with boiled potatoes and is absolutely delicious.
If you're anywhere near Sabugal, then the Trutalcoa Vivarium restaurant is a must.
4. Cherovia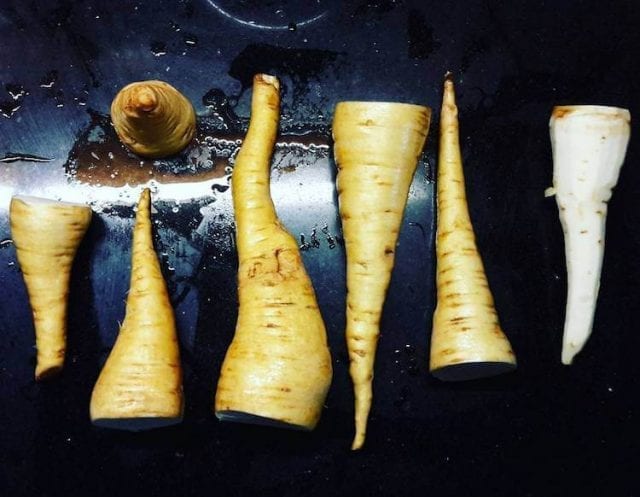 This unique local vegetable is a type of parsnip that grows readily in Portugal. It is typically prepared with a gentle boiling in salted water and is then thinly sliced and coated with an egg and flour pulp before hitting the fryer.
Much beloved by the locals who grew up eating it, in the fall, the city of Covilhã comes together and dedicates an entire festival to the Cherovia.
With three days dedicated to a vegetable, you will have plenty of opportunities to sample all the creative ways the region's cooks have come up with to prepare it.
You can taste it at Restaurante Dona Herminia in Fundão. It doesn't get more typical than this.
To find out more about Portugal and where to go? Subscribe to our newsletter for all the latest insider tips and advice.
5. Caldeirada de Peixe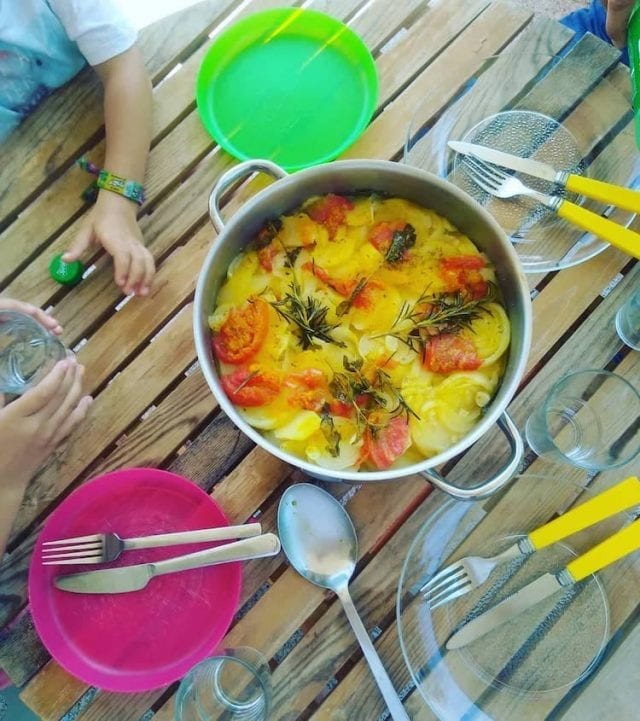 The gastronomy of Aveiro is rich and varied, very well known for its sweets but also for fish dishes, such as the caldeirada (a fish stew), made with potatoes and fish typical from the riverine areas.
The Caldeirada à Ria de Aveiro gained fame due to the ingredients and the seasonings, where they add ginger powder and pork.
Visit Restaurante Estibordo in Aveiro to try this expertly prepared dish.
6. Maranhos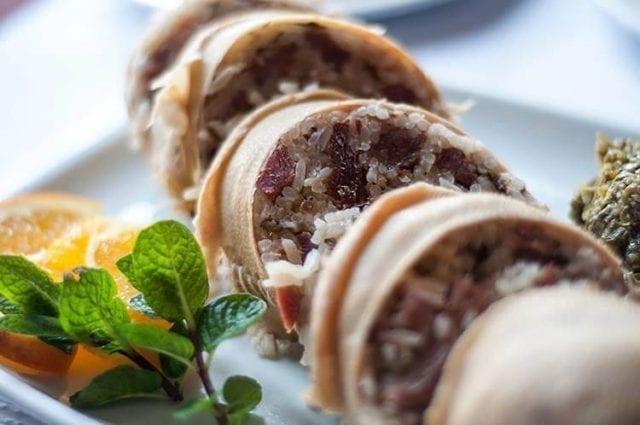 Beira Baixa is famous for its chorizo, morcilla and hams and the Maranhos takes the podium as one of the most popular delicacies in this region gastronomy.
This is a speciality is more typical in Sertã and it consists of a goat's stomach filled with a combination of meats (usually lamb or kid), rice and ham.
You can have it in Ponte Romana in Sertã.
7. Serra da Estrela Cheese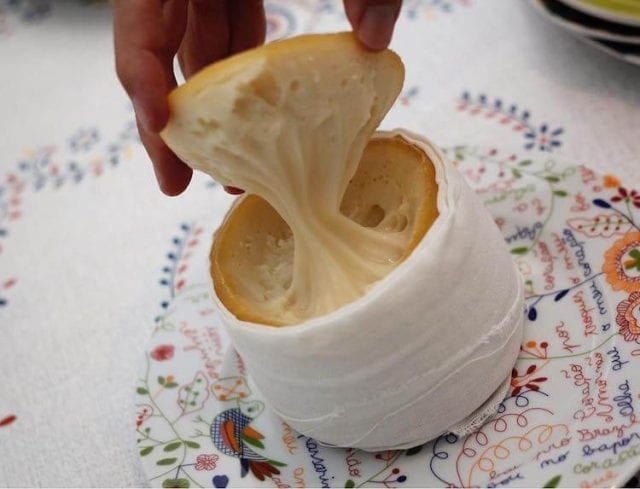 Originally from the mountainous regions of Serra da Estrela, this cheese is made from sheep's milk.
This is a very smelly but very delicious cheese, sweet and slightly sour. The traditional way of eating the Serra da Estrela cheese is in slices, thus preventing the peeling of the cheese from being wasted.
You can buy it in any Portuguese supermarket, the price per kilo is usually between 25 to 30 euros. You can also try it in many Portuguese restaurants as an appetizer, not just in Central Portugal.
If you want to have a real cheese experience, you can buy it directly from a producer, I suggest Queijaria Casa da Ínsua in Penalva do Castelo.
If you like the food of central Portugal you will definitely appreciate Algarve Food: 10 Dishes You Must Try In The Algarve.
8. Leitão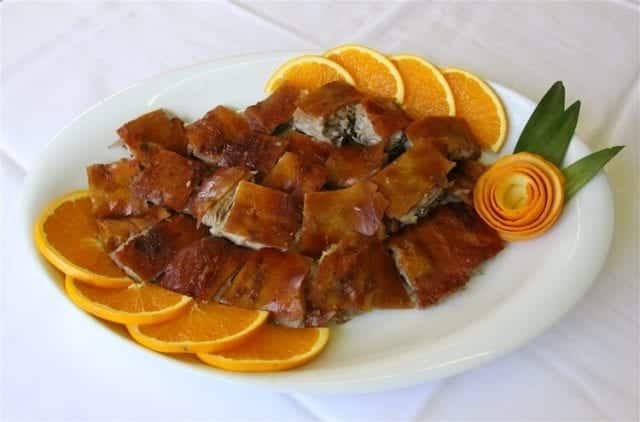 If pulled pork is something for you to get excited about, then you absolutely must try the Portuguese answer to this classic BBQ dish.
When it comes to pork in Portugal, it's all about leitão.
Leitão is roast suckling pig or piglet, and it is everything that it sounds like it should be, crispy, fatty, and as tasty as it gets.
Try it at Convento Do Leitão Restaurante in Tomar, where people make the trip from Lisbon simply in search for the best leitão.
9. Sopa da Pedra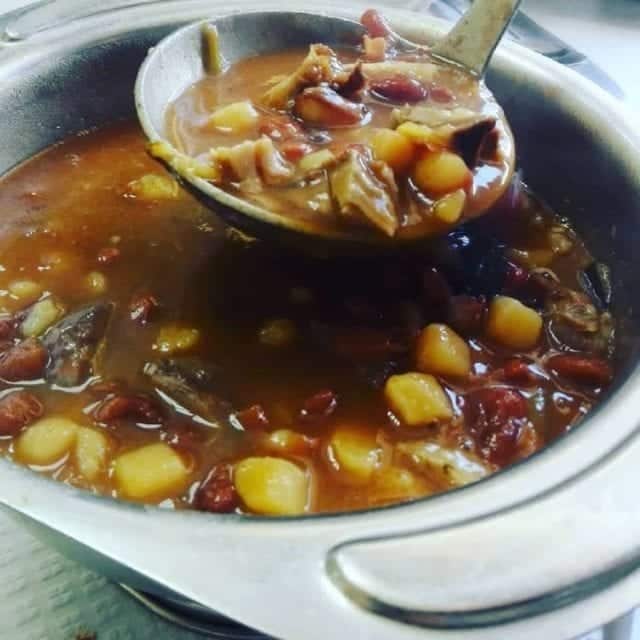 The soup of the stone is a traditional soup of the Portuguese cuisine, originating from Almeirim, in Santarém. It is a consistent and rich soup, made from meat, sausages, beans, cabbage, potatoes and carrots.
Traditionally, the cook places a well-washed stone on the bottom of the pan and after eating the soup, the stone is stored for the next time it is made.
Try this house speciality at Toucinho in Almeirim.
10. Ovos Moles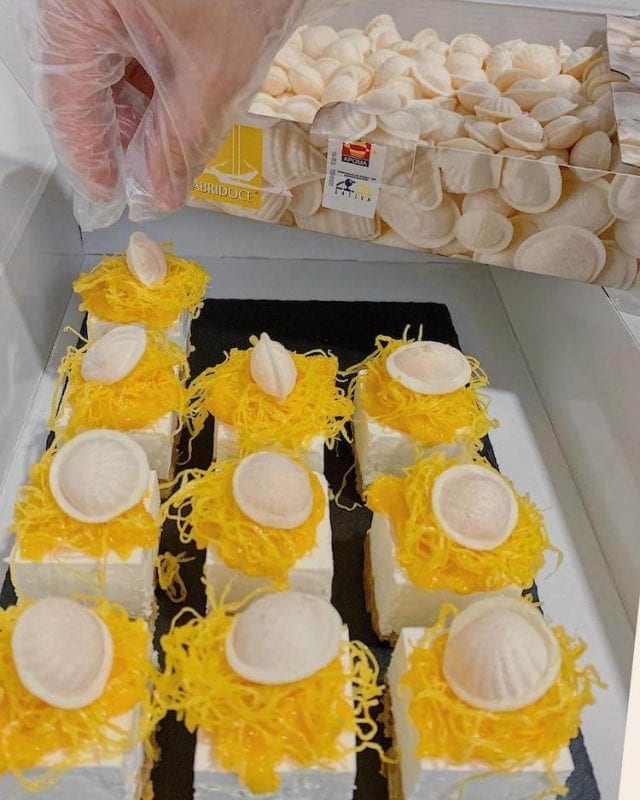 I've left the sweets for the end. The ovos moles are a sweet local delicacy from Aveiro. They're made of egg yolks, sugar and water.
This delicate pastry has an intense and sweet flavour which is truly unique, the inside is enveloped in a host (just like the ones served during a church service) shaped like shells or fish, honouring the maritime tradition of Aveiro.
There are plenty of reasons to visit Aveiro, but trying the Ovos Moles, the city's claim to culinary fame is just as good as any.
Try them at Confeitaria Peixinho in Aveiro, I'm sure you'll be glad you did.
Food Central Portugal
Portugal's central region is divided into eight sub-regions:
The typical food of Central Portugal reflects the landscape and that is why this region has some of the best cuisines in the country. Make sure you take some time to enjoy it!