Porto is one of the most visited cities nowadays. Tourism is boiling in the city, which makes the appearing of new hotels something quite normal.
Find out where the best luxury hotels in Porto are, how much they cost and if they are worth a visit.
Visit Porto Luxury Hotels: everything you need to know
Enjoy while we guide you through the best price checkers in town and also tell you more about the best hotels for honeymoons, families and couple's vacations.
What is the best season?
Depending on the type of vacation you have in mind – whether it is to discover the city of Porto or to spend some days by the beach – the best season to visit this northern city varies.
But don't go much further, because we must advise you that, nowadays, prices are higher than ever regardless of the season we're in.
If you are visiting the city and intend to get lost in its tiny streets than you probably should consider the Spring and Summer months.
This is by far the best time since the weather in Porto can be very unstable – there are more rainy days than sunny ones, especially during the Autumn and Winter.
That being said, Spring and Summer also are, logically, the best season to visit if you want to spend some days on the beach. But be prepared: the sea is freezing cold!
The best beaches you can find are in Matosinhos and Leça da Palmeira but do visit Aveiro beaches if you are looking for wider ones (just 30 minutes away from Porto).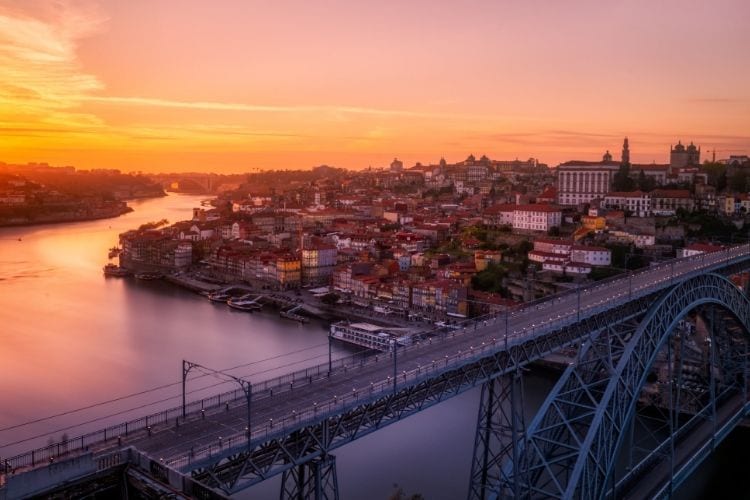 When do you find the best prices?
In general, the lowest prices are practiced during the low season, which is from October until April. But let's not forget about Christmas and New Year's Eve.
Even though it places itself in the low season period, the truth is that December can perfectly be a "higher" month since many people come to visit the city with all of its decorations and ice skating rinks.
You can get more tips on Porto and other Portuguese cities by subscribing to our newsletter.
Where to find offers
Before booking any of the luxury hotels Porto, make sure you first check the official site of each one of them. Normally, you can find there some great discounts, impossible to find in other sites. Nevertheless, you can find some great services below:
In order to find a great deal, you do need to look deep in the Web since prices are always changing. Other well-known sites for its pricing are Booking and Hotels.com.
Top 5 Luxury Hotels Porto
Let's go straight to the point and explain to you why the following are the best luxury hotels in Porto.
1. Infante Sagres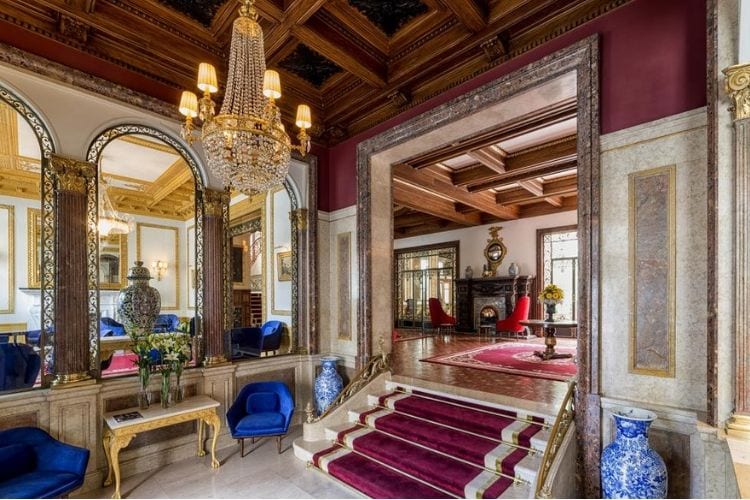 Right in the heart of Porto, you can find this historic building built in 1945 that is one of the city's greatest treasures. Don't think this is an antique and badly preserved hotel, because that is really not the case.
Infante Sagres is just a minute away from Avenida dos Aliados and it is a member of the Small Luxury Hotels of the World, which certifies its status.
Did you know that U2 already stayed here?
Well, that is a fact indeed. Being right in the center of the city makes its location privileged not only for being close to the best places of Porto Nightlife but also for some great restaurants.
Very close to this hotel you can find Nogueira's, Munchie and Vogue Café (in the same building, actually).
Price: rooms start at €295.
Address: Praça D. Filipa De Lencastre 62, União de Freguesias do Centro, 4050-259 Porto, Portugal.
2. Maison Albar Hotels Le Monumental Palace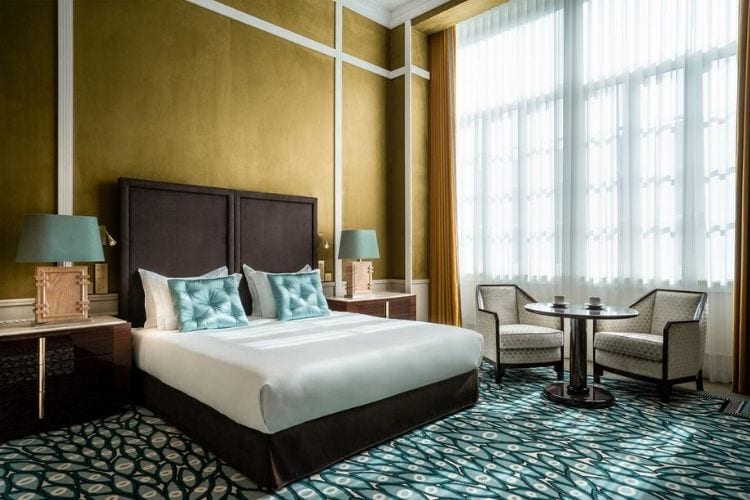 This is the most recent hotel in town. Le Monumental Palace is a 5-star hotel located at Avenida dos Aliados – as central as it can be. The building in which it opened was recently renovated, maintaining its classic facade, which confers to this hotel a unique look.
This luxury hotel is very close to Galerias de Paris, the center of Porto's nightlife. You also have great restaurants nearby and you don't need to choose public transport means to get there since everything is so close by foot. Some great spots can be found at Rua da Picaria, such as Boa-Bao, Muti and Mundo.
Price: rooms start at €304.
Address: 151 Avenida dos Aliados, União de Freguesias do Centro, 4000-196 Porto, Portugal.
Book your hotel with Booking.com
With Booking.com you can book the best hotels in Portugal for the cheapest price. Get instant confirmation, pay 0 booking fees and even cancel your booking for free at most hotels. 
Booking.com -
Find the best prices and prepare your trip to Portugal today
3. InterContinental Porto – Palácio das Cardosas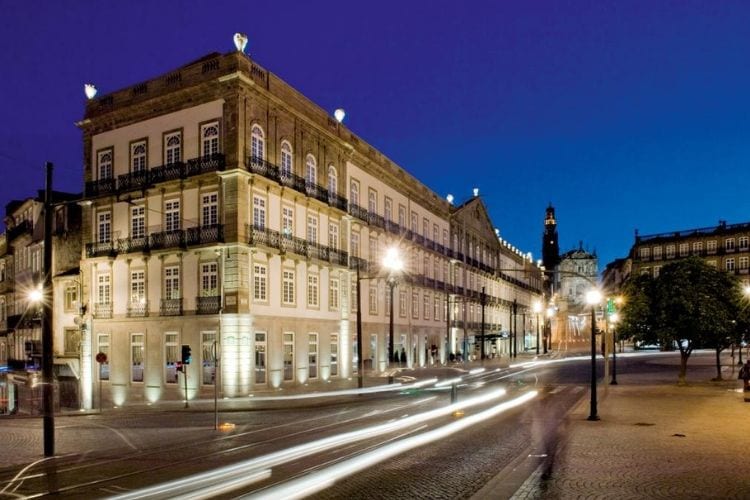 When we speak of the best luxury hotels Porto, we need to name this one, which belongs to a famous hotel chain. InterContinental Porto is another great example of the many wonders architecture has to offer since this hotel was built in a building of the 18th Century.
This 5-star hotel can also be found at the end of Avenida dos Aliados and offers amazing views over Porto's historic center. It is located very close to every touristic attraction in the city, mainly Torre dos Clérigos, one of the many monuments in Porto you need to visit. If you want to grab a bite, the hotel's restaurant Astória is one of the best to do so.
Price: rooms start at €439.
Address: Praça da Liberdade, 25, União de Freguesias do Centro, 4000-322 Porto, Portugal.
4. Pestana Porto – A Brasileira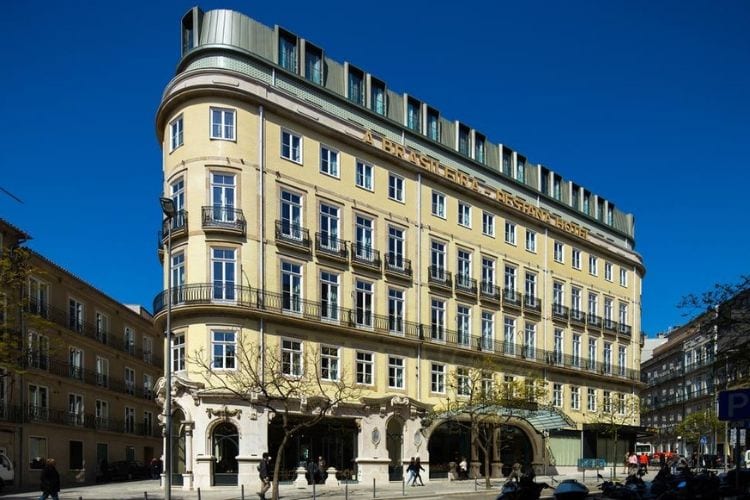 Classical Porto's architecture at its finest. This is another recent hotel built in a renovated iconic building in the city, formerly known as Café A Brasileira, a name adopted by this hotel group. Pestana Porto – A Brasileira kept every characteristic aspect of the building and still made room for the classic café close to the entrance.
This 5-star hotel is located in Sá da Bandeira, less than 4 minutes away from Avenida dos Aliados (by foot). This classical building holds a great amount of history and is close to great restaurants as well, such as Café Santiago (for the best francesinhas in town), Abadia and La Ricotta.
Price: rooms start at €213.
Address: 91 Rua de Sá da Bandeira, União de Freguesias do Centro, 4000-427 Porto, Portugal.
5. Torel Avantgarde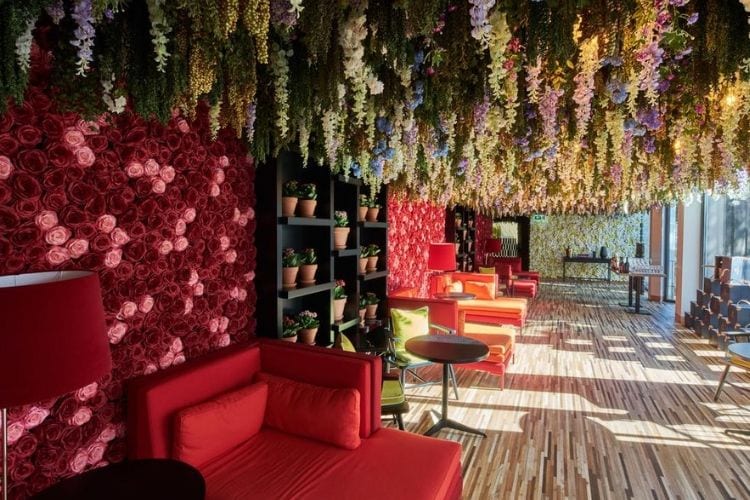 The most Instagrammable hotel of this list – but you got that already from the image above, right?
Torel Avantgarde also has 5 stars and is less than 750 m away from Torre dos Clérigos. The rooms have breathtaking views over the river Douro, which is one of the reasons why this is one of the best luxury hotels Porto.
There, you can find a fitness center, a swimming pool, large garden areas and a panoramic view of the river. You also don't need to drive a car or hop on a bus to have dinner since there are great options nearby, such as Papavinhos, A Tasquinha and Brick Clérigos.
Price: rooms start at €354.
Address: 336 Rua da Restauração, União de Freguesias do Centro, 4050-506 Porto, Portugal.
If you want to know what the best luxury hotels in Lisbon are, click here.
What about other Luxury Hotels Porto?
As we said at the beginning of this article, there are a lot of hotels in Porto, which makes it harder to choose the best one to stay in. We have listed some options below.
Hotels on the beach
Small and cosy: perfect for families
For couples in honeymoon (but not only)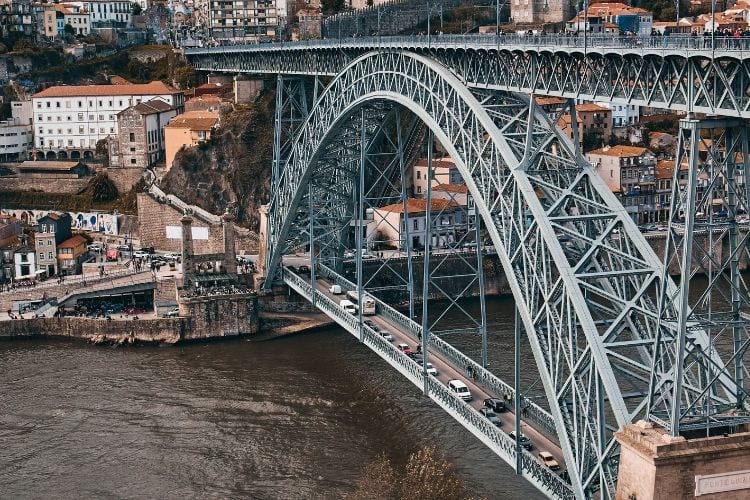 When to book a luxury hotel in Porto?
Even if these hotels have more expensive prices, especially when compared to others, they are often fully booked, so you need to plan your stay some months ahead.
On average, you need 2 to 3 months in advance before booking a stay at one of the luxury hotels you told you about in this article.
This is also the right amount of time you need to find better deals. If you book very close to the date of your arrival, you might get a little frightened by the prices asked.
How many days do you need to visit Porto?
Well, this is an amazing city we are speaking of, with tons of free things to do and other amazing places to visit. If you only plan to enjoy the city and not include the beach areas, you will probably need between 3 to 5 days, depending on your itinerary.
The thing is: Porto's downtown is quite quick to see, even if we encompass all the important monuments. Gaia is also on the other side of the bridge and, besides holding Port's wine cellars (which you can visit), it also offers a great view over Porto.
What to do in Porto
We have gathered a list of the greatest things you can do when in Porto. And trust me, this is a local speaking, so some of the following suggestions do not appear on Google:
By this time, I am sure of what you are thinking of: you either want to meet other cities near Porto or even move here! The cost of living may be lower than what you are used to.