Explore the sandy beaches, colorful houses, picturesque canals and fantastic cuisine Aveiro offers. A city popularly referred to as the Portuguese Venice.
A Little Bit About Aveiro
Located in the center region of Portugal, Aveiro features beautiful canals, a magnificent cathedral with its tower so high it seems to touch the sky and an incredible salt mine that looks like a table of melted gold under the sun.
It's also home to the famous university of Aveiro whose scientific success is widely recognized in Europe and in the world.
Aveiro is also famous for its long, white and super fancy beaches that could challenge the ones in California.
To know more about Aveiro, see our article on visit Aveiro.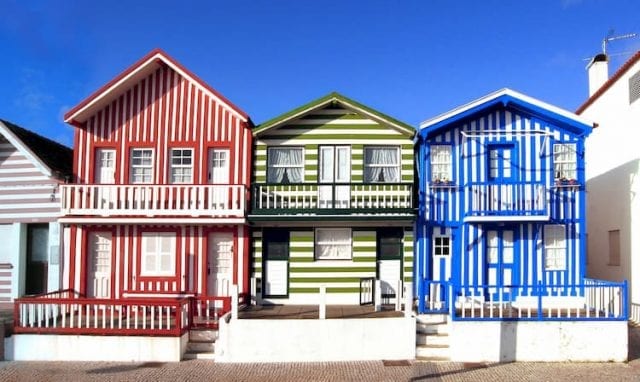 Where exactly is Aveiro located?
It is located on the west coast of Portugal in the middle of a very pretty lagoon called Ria de Aveiro crossed by long and calm canals.
The Aveiro Beaches
Averio boasts of some unique beaches, some of which are very popular and seduce tourists from America, Asia and other parts of the world.
The Top Five Aveiro Beaches
Here are the top five Aveiro beaches. These are beaches you cannot miss if you decide to visit Aveiro.
Praia da Costa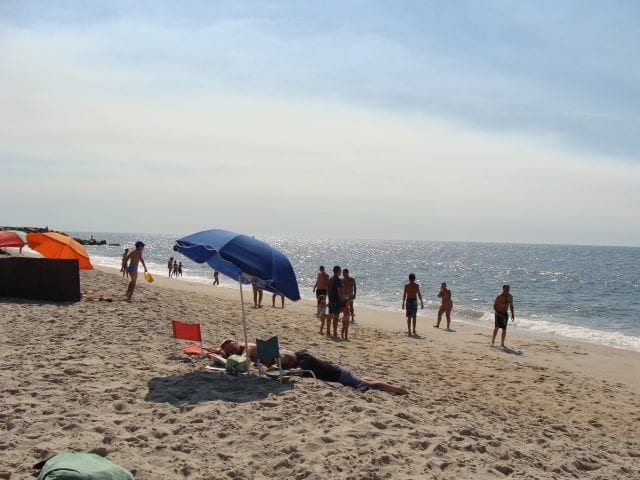 Your Aveiro beach tour should start from Praia da Costa. Why? The reason is simple: it is the most iconic of the beaches in Aveiro.
It is incredibly famous for its colorful "Palheiros", little buildings painted with super colorful stripes. These buildings were once used by fishermen but nowadays it's the perfect spot to take photos for the gram and capture beautiful pictures.
Costa beach is truly memorable. Especially at sunset, when the sandy, long and white beaches become the color of the sky. It creates incredible scenery and leaves unforgettable moments.
If you happen to go to Lisbon, there are also many beaches you can explore. Find them here.
Nova do Prado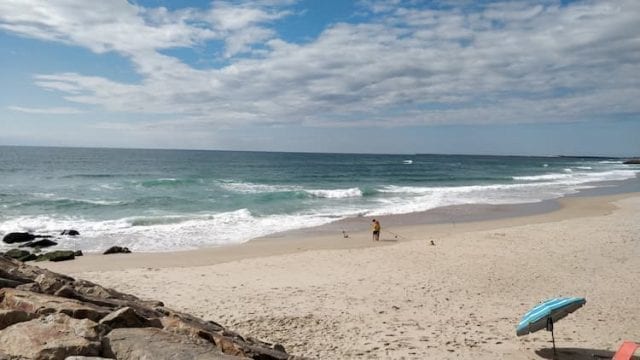 The next Aveiro Beach you must see is Nova do Prado, it's quite like Praia do Costa as it is also long and sandy.
The bathing facility at Nova do Prado was created in 1 808, so it is been a while since Nova do Prado has been welcoming tourist from all around the world.
Thanks to the wind that constantly flows over the beach, Nova do Prado is the ideal place for a sport like windsurfing. If you are into that, I strongly recommend giving this beautiful beach a shot. You won't regret it.
Praia da Barra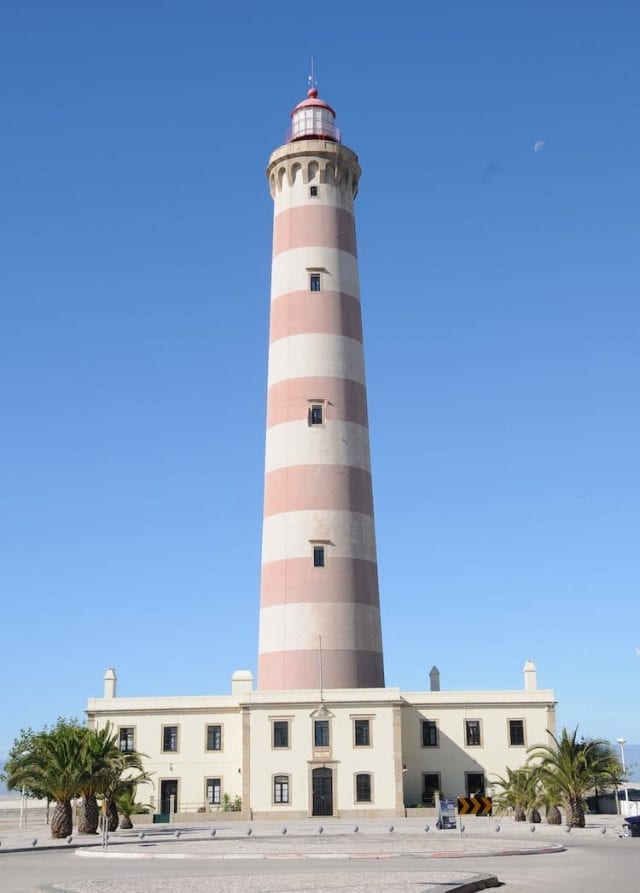 An Aveiro beach tour without going to Praia da Barra is incomplete. This is a very romantic place with beautiful scenery near the mouth of the Aveiro river. If you are lucky, you might also get to see fishing boats leaving from there to go into the ocean.
The Lighthouse of Barra can also be spotted from the beach, and when you are tired of sunbathing you can walk on the promenade near the mouth of the Aveiro river.
You may also be interested in day trips from Porto.
Praia de São Jacinto
If you like a wilder and natural beach, Praia de São Jacinto is the right place for you. It is also a perfect spot for sport like surf or windsurfs.
Praia da Vagueira
Another good spot that should be on an Aveiro beach tour is the famous Praia da Vagueira. It is a long, large, sandy beach where you can still see some fishermen trying to catch some fish, giving your stay on the beach a unique touch of vintage.
However, you should also know that this beach is usually jam-packed in the summer season as lots of people go there to enjoy the sea and the sun.
For beginner surfers, Praia da Vagueira is also recommended as it is not particularly dangerous.
Curious about more beaches? See our article on the best river beaches in Portugal.
Getting to the Aveiro beaches by bus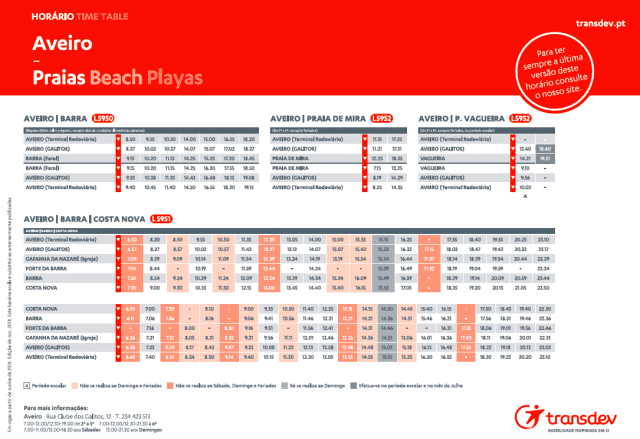 If you don't have a car, don't worry. If you want to go to the beach all you have to do is go to the Rossio Square area. From there you can get the Transdev bus (L5951) which will take you to Barra or Costa Nova.
The roundtrip will cost you €4.80 and it will take you around 40 minutes to get there.
Aveiro Beach Hotels
There is a huge variety of nice hotels near the beach. I bet you want to know more about them, after having seen how many heavenly beaches Aveiro offers.
Hotel Aveiro Palace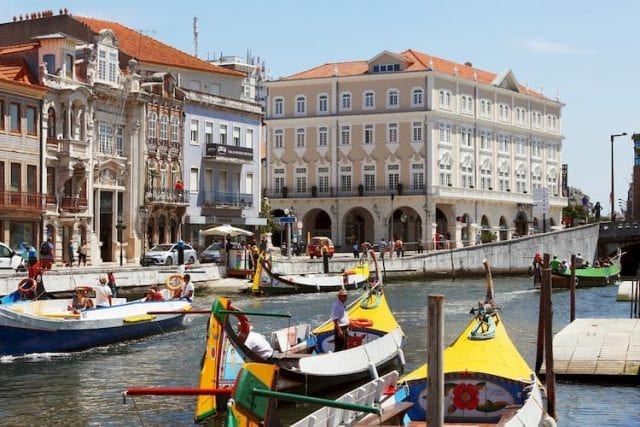 This is probably by far one of the most famous hotels in Aveiro. Located in the center of Aveiro, in front of the central canal, Hotel Aveiro Palace offers special views of the calm waters and the traditional barcos moliceiros.
It was founded in 1937, but it has recently been renovated and now offers unique, soundproofed, fancily furnished rooms. The average price per night is €73. Book a room here
Hotel Farol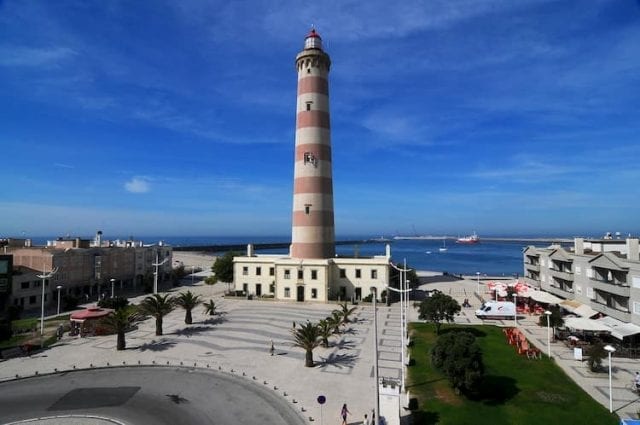 This stunning hotel is just a five minutes' walk to Praia da Barra, one of the top five Aveiro beaches. It offers an incredible view of the ocean from the balconies of most of its rooms.
The good news is that is not very expensive: even in the summer, for a five day holiday, you are not going to spend more than €672.90. It's €111 per night plus fees. Book here.
Casa Típica da Costa Nova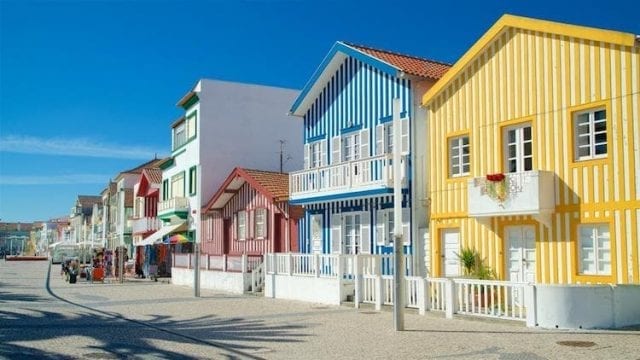 The Casa Típica da Costa Nova is a very good deal. It is practically located on the beach, so you don't even need to walk that much to reach your place under the sun, and there are lots of fancy restaurants and bars nearby.
It is also a super cheap option. If you want to book this place for September, you are not likely to spend no more than €240 for 4 people. Book it here.
Aveiro city lodge
For budget travelers who want to stay close to the Aveiro beach without spending too much, this is the perfect place to stay.
Located near the center of Aveiro, it is an incredible option for people that plan their holidays on a low budget. The average price per night is €57. Book here
Interested in some insider Portugal travel tips? See our Top 20 Portugal travel tips.
Things to do in Aveiro
If you book a holiday in Aveiro, you will have so many things to choose from that It will be difficult to decide. However, here are some of the popular things to do in Aveiro;
Learn how to surf. There are a few surfing schools that offer beginner courses for first timers
Alternatively, you can take a joyride on a bike in the brand-new Via Ecológica Ciclável to see some breathtaking landscapes of the city
For a more historical perspective, you can walk in the city and have a look at the Aveiro Museum which houses an astonishing collection of painting, jewelry, and sculptures.
You must not also miss out on tasting the typical Ovos Moles, a super sweet pastry filled with egg-based cream.
Finally, you must do a cruise in Ria de Aveiro, the central canal in the city.
What are you waiting for? Grab your bags and swimsuits, the city of Aveiro and its beaches awaits you. It is an intriguing destination within Portugal. A Venice with Portuguese charm!
Stay in touch and subscribe to our free newsletter today!