Are you planning a visit to Portugal?
Then you are going to love Portuguese food.
Although perhaps not as well-known on the global stage as its neighbour to the east, typical Portuguese food is garnering an increasingly robust reputation of its own.
Find out what you should dishes you should try and where you can eat when you visit Portugal.
Portuguese Food: Eat Your Way Through Portugal
One of the most important things you will learn about the Portuguese is their passion for food.
When visiting, you'll quickly notice that typical Portuguese food is enjoyed with gusto and once you start eating, you'll see why.
Take a look at the 13 foods you must try when you visit Portugal.
Staples include bread, cheese, pork, fish and wine. And you'll also see plenty of spicy grilled chicken, olives and olive oil, and enough sweet pastries to keep you sampling for weeks.
Probably not the best place to start a diet, typical Portuguese food is rich, hearty, and meant to be enjoyed free from the constraints of a calorie-restricted eating regime.
Top 13 must-try Portuguese foods
1 – Bacalhau à brás
Salted cod is the darling of typical Portuguese food, and you're sure to find more iterations of this beloved staple than you'll manage to try. "Brás" style is among the most popular though, and with good reason.
The shredded cod is sautéed in a pan along with plenty of onions and straw fried potatoes. This dish is finished up with beaten eggs that cook as they join the pan and topped with parsley and black olives. Typical Portuguese food at its best.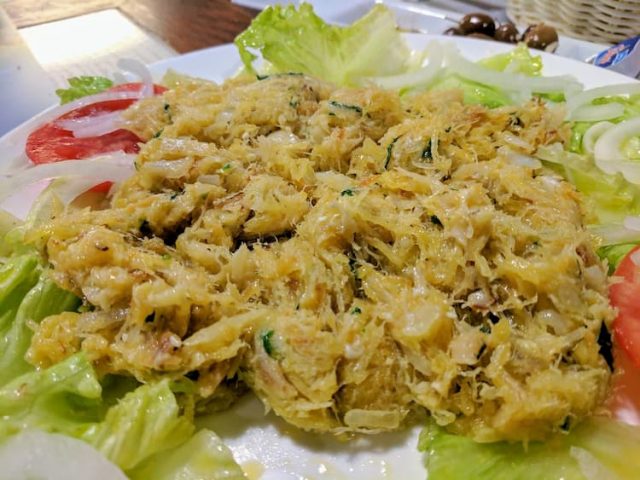 2 – Cozido à Portuguesa
A meat-lovers dream come true, this hearty stew is a good example of how typical Portuguese food makes use of all the meat an animal can provide.
Although it varies by region, this stick-to-your-ribs dish usually includes beef, pork, chicken and a variety of pork derivatives such as blood sausages and smoked pork parts. But don't worry, there are also some vegetables thrown in for balance and added flavour.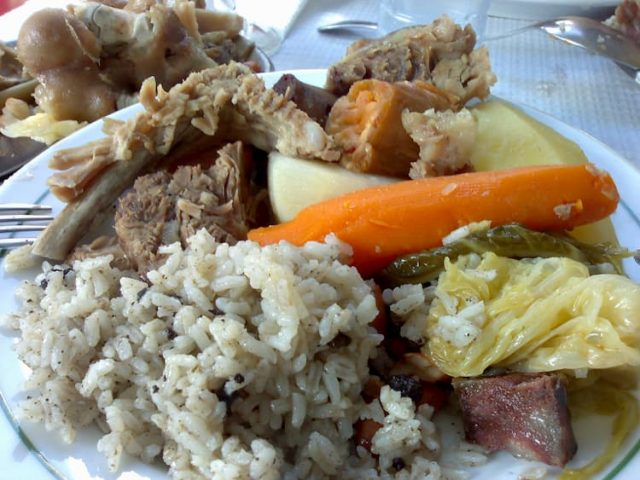 3 – Caldo Verde
When it comes to typical Portuguese food, "caldo verde" is the answer in the soup category. Simple and comforting, you're likely to find this basic combination of onions, potatoes, kale, garlic and olive oil featured heavily on lunch menus across the country.
It is typically accompanied by cornbread.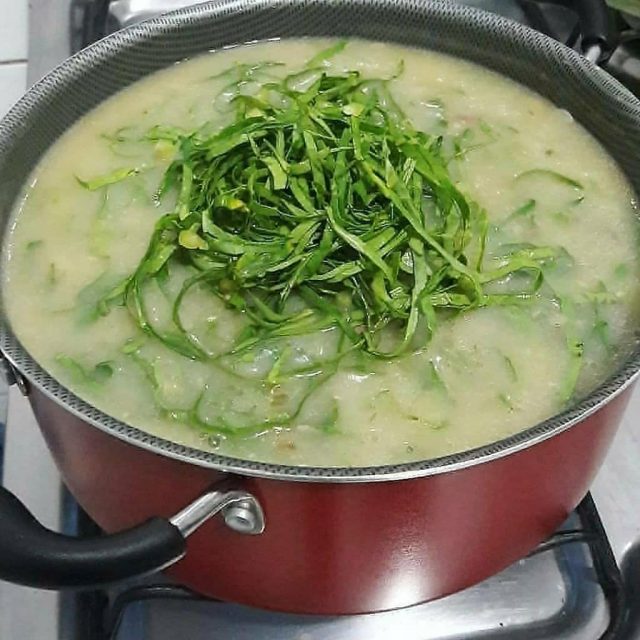 4 – Açorda Alentejana
For rustic comfort food, look no further. With a base of mashed bread, olive oil, coriander, salt, and eggs, you'll often see this offspring of soup and stew served with cod fish or shrimp.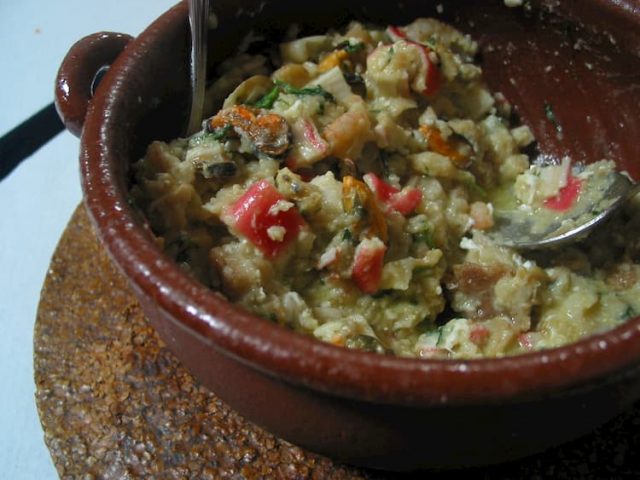 5 – Feijoada à transmontana
A bean stew that has the staying power to keep you going all day, this typical Portuguese food usually consists of large broad beans and a variety of pig parts.
Another example of how Portuguese cuisine makes use of all parts of an animal, be sure to ask twice about what's in this one if you're squeamish.
6 – Francesinha
This elevated sandwich reigns supreme in Porto, with many restaurants offering their own take on this typical Portuguese food classic.
A culinary icon, this dish often starts with rich layers of ham, sausage, cheese, roast meat and other local delicacies. That being said, you'll see lots of creative, and delicious, variations.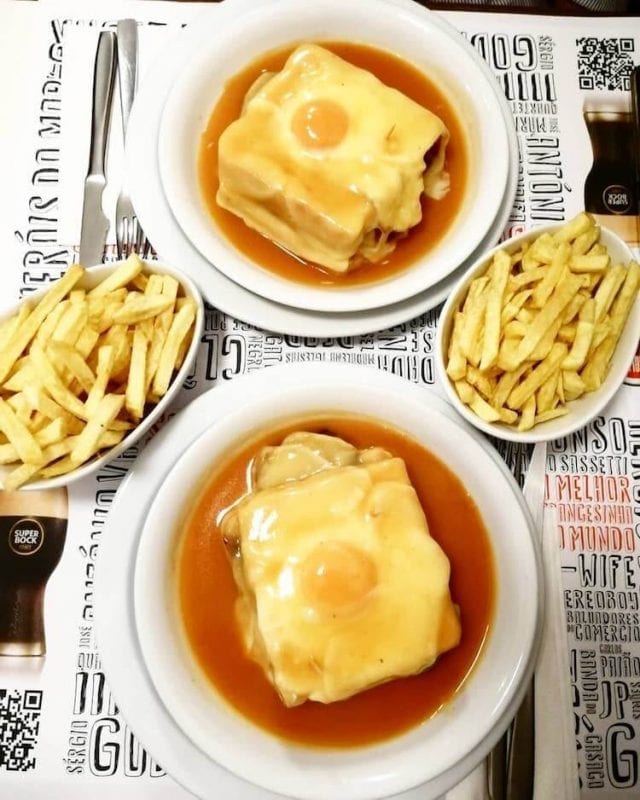 7 – Carne de porco à alentejana
The ideal solution if you can't decide whether or not you want seafood or meat, this decadent dish is prepared with clams, pork, and potatoes, which are diced into cubes and then fried.
8 – Polvo à lagareiro
If you love octopus, you'll be glad to learn that the Portuguese have perfected the art of making it both flavourful and tender. In this dish, the octopus is first boiled then baked in the oven with potatoes. Finished with a healthy dose of olive oil, this is a real treat when it comes to typical Portuguese food.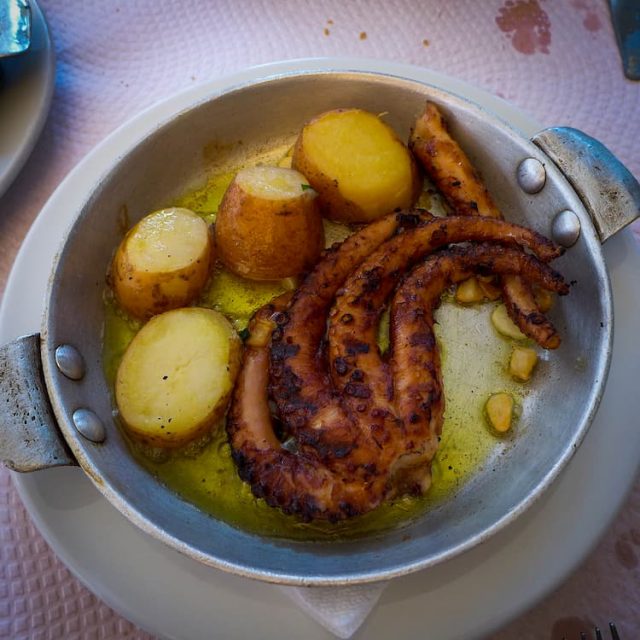 9 – Sardinhas grelhadas
This dish is mandatory during the summer months and is associated with the Popular Saints celebrations that take place in Lisbon throughout June.
They keep it simple and serve it as street food on a slice of bread, to soak up all the flavourful juices. This is a tradition worth trying out for yourself.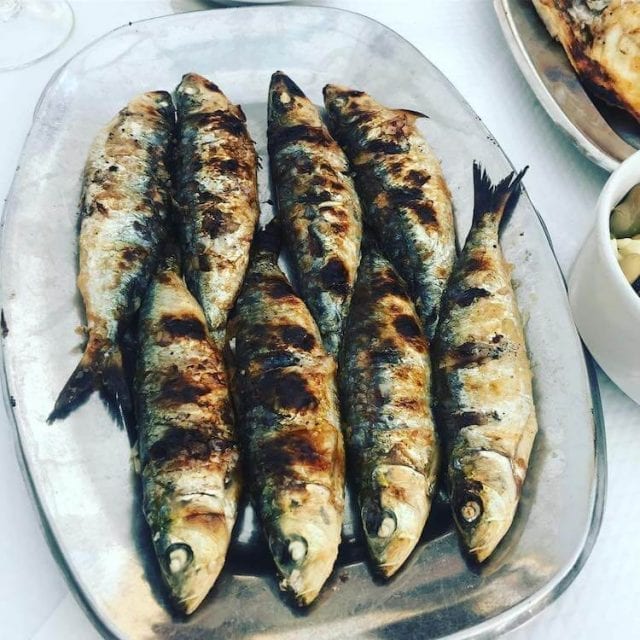 10 – Arroz de marisco
This delicious seafood rice will vary depending which region you're in, but you can always look forward to some combination of shrimps, clams, lobster, mussels, and even monkfish.
11 – Pastel de nata
On the sweeter side of things, the famous pastel de nata might be the most well known of all typical Portuguese food. A heavenly, ultra-creamy, egg-based custard tart, these treats are sinfully delicious and on offer throughout the country.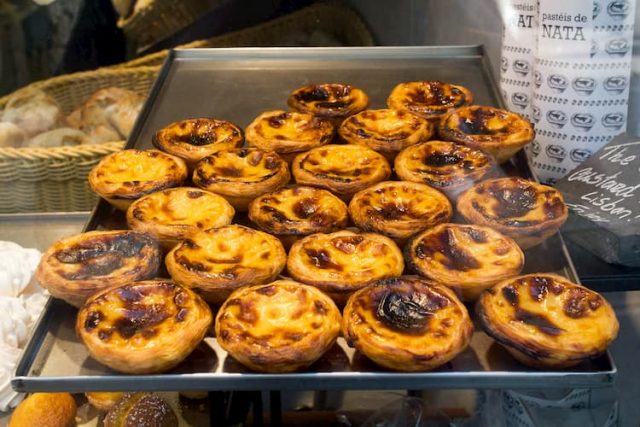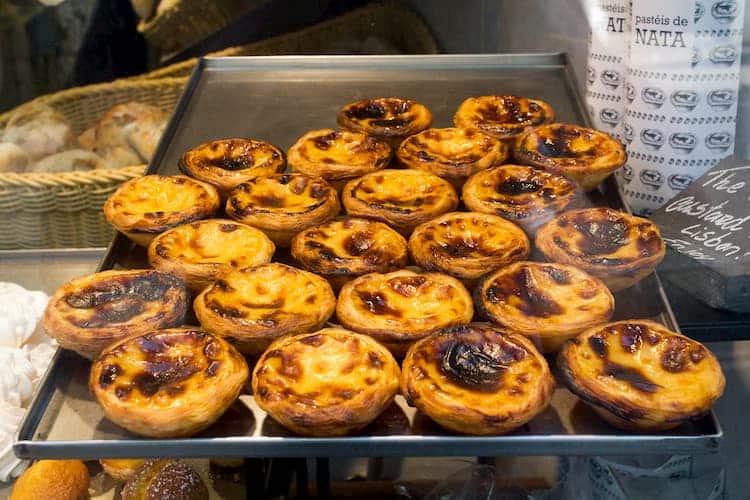 12 – Queijadas – these cheesecake-like sweets are most famously associated with Sintra but are readily available elsewhere. They are small, tart-like and made from cheese or curd, eggs, milk, and sugar.
13 – Bola de berlim – The Portuguese answer to the doughnut. These ones, of course, feature an egg custard. The crème pâtissière, which fills the centre, is made with a generous amount of egg yolks resulting in a rich and luscious filling.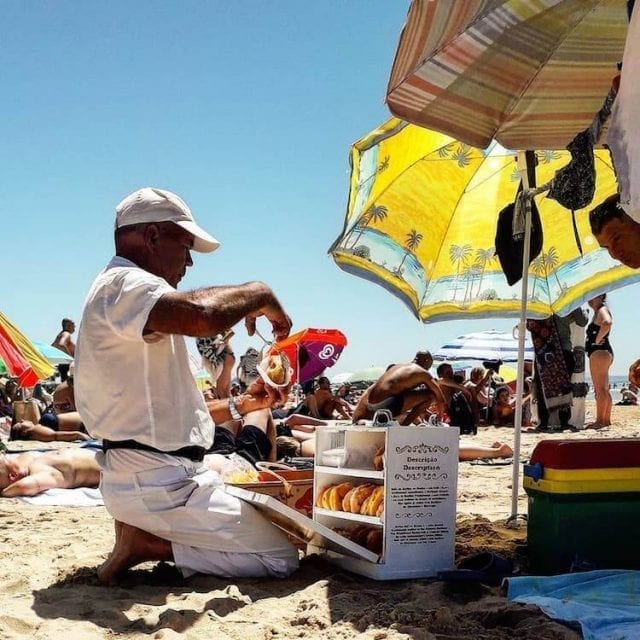 Best Portuguese restaurants in Lisbon
Lisbon is the ideal place to try typical Portuguese food with a modern twist. There is now a huge range of options on offer in the country's capital, but traditions do live on. Home of the legendary pastel de nata and sardinhas grelhadas, you'll be sure to have a unique experience with typical Portuguese food strolling Lisbon's hilly streets.
If you're in Alfama, this is the place you want to go for typical Portuguese food at a good price. This is a local eatery offering very simple but tasty dishes (including fresh fish). The house wine or a jug of sangria are both perfect to go with your meal.
Address: Rua do Vigário 18, Alfama, Lisbon.
Close to Martim Moniz Square, Tasca Zé dos Cornos is a boisterous, informal, and very affordable place to try typical Portuguese food. Do as the locals and opt for the special or grills, the place is known for great pork ribs and cod fish. Washed down with a bottle of the house wine, this is typical Portuguese food in a typical Portuguese Tasca.
Address: Beco dos Surradores 3, Mouraria, Lisbon.
If you're willing to venture a bit outside the main tourist area, you're in for a treat at this local favourite. Pork cheek, veal, octopus and cozido à Portuguesa (boiled potatoes, cabbage and meats) are among the most popular dishes. There's no English menu but the waiter will take the time to explain it to you.
Where to try Portuguese food in Porto
Further to the north, Porto has its own typical Portuguese food traditions and many a memorable meal can be found at a very reasonable price.
One of the most traditional restaurants in Porto is hidden in Bonfim. This place has been around for over 30 years and they are experts when it comes to showing off just how delicious typical Portuguese food can be. You enter through a narrow hallway, from where you can take a sneak peek at the delicious desserts displayed on the fridge.
Address: Rua do Heroísmo 215, Porto.
Known for their famous and massive parma ham sandwiches, which you can buy for €1,50, Tasca da Badalhoca is one of the most beloved tascas in Porto. For those of you looking for a more substantial meal please try the rojões, pork made in a special stew sauce, fígado de cebolada, liver with onion, or even their "fingerlicious" roasted pork loin.
Address: R. Dr. Alberto de Macedo 437, 4100-206 Porto
Its humble exterior might be easy to miss, but if you're looking to try a local speciality, this place won't disappoint. There is only one choice on the menu: francesinha (described above). This is a popular choice among locals for a reason and will give you a chance to try a typical Portuguese dish that had been perfected over time.
Address: Rua Santa Catarina 1147, Porto.
Ready to try the most delicious Portuguese dishes?
All in all, typical Portuguese food is all about making the most of local ingredients by creating rich dishes from simple ingredients. If you approach it with an open mind and an appreciation for the traditional methods from which it has emerged, you really can't go wrong.
Have you tried Portuguese cuisine? Do you have any favourite restaurants? We would love it if you shared them with us. Leave a comment below.
Don't miss a thing from bePortugal. Subscribe to our newsletter today.
If you liked this you might also like: 
The 15 best cafes to eat brunch in Lisbon