Portugal was recently voted as Europe's Leading Destination at the 2019 World Travel Awards and while Lisbon continues to be the most popular city for tourists, it's Porto that's emerged with the biggest tourism growth.
In the last year alone, Porto recorded a whopping 7.9 million overnight stays – up 5% from the previous year.
With its charming cultural history and picturesque river views, it's hard not to see why Porto is fast becoming the destination of choice.
Whether you're flying in for a weekend getaway or an extended stay, we've found the best hotels in Porto Portugal to suit every budget!
Hotels in Porto Portugal
We know when you're visiting a new city it's not always clear where you should stay. You'll be happy to hear that Porto has many neighborhoods all equally as charming as each other!
When choosing which hotels in Porto you should book, consider what sights you want to visit as well as what budget you're traveling on.
Make sure you check out our Porto Guide to be inspired by things to see and do!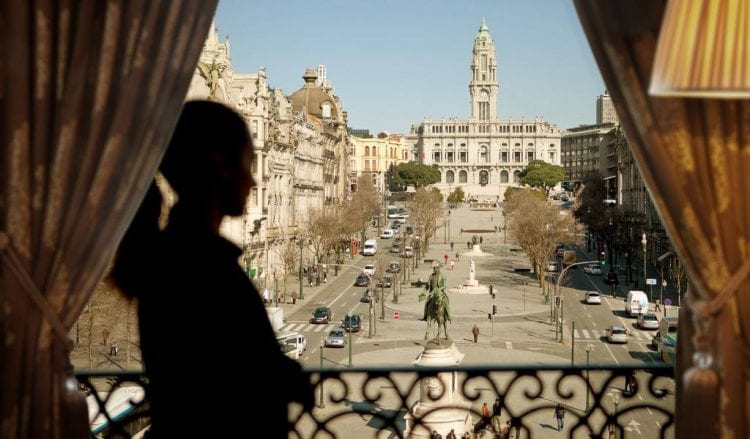 If you want to stay close to all the action then we'd certainly recommend staying in the historical center of Porto.
Base yourself in neighborhoods like Baixa and Ribeira for an ideal location to explore the city and for a proper taste of the Porto Nightlife.
Given its size, it's also the most practical location if you want to explore the Porto downtown by foot.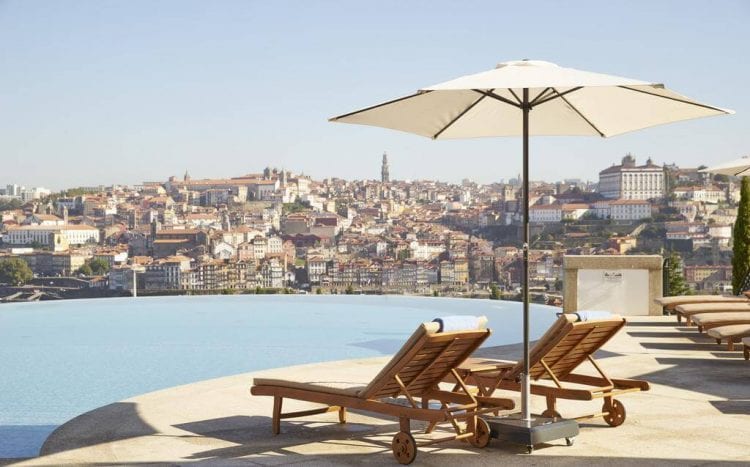 For those that prefer to stay away from the downtown, Foz do Douro and Vila Nova de Gaia are certainly where you want to stay.
Foz do Douro is an upscale neighborhood by the sea, a relaxing area with great access to the beaches of the coast. Likewise, Vila Nova de Gaia provides stunning viewpoints overlooking Porto and the Douro River.
It's just far away enough to give you a break from the center but still within proximity of everything you'd want to see.
No matter where you choose to stay though, you'll be glad to hear that Porto's public transport system is fantastic.
A lot of the metropolitan area is catered by metro, trams, trains and buses to make sure you're still well connected to all the main sights.
What are the 5 best Hotels in Porto Portugal?
Still unsure which area to stay? We've compiled a list of the absolute best hotels in Porto for you.
Each of these hotels is highly recommended for their unbeatable location, which also makes the perfect start to see all the monuments in Porto!
1. Torel 1884 Suites & Apartments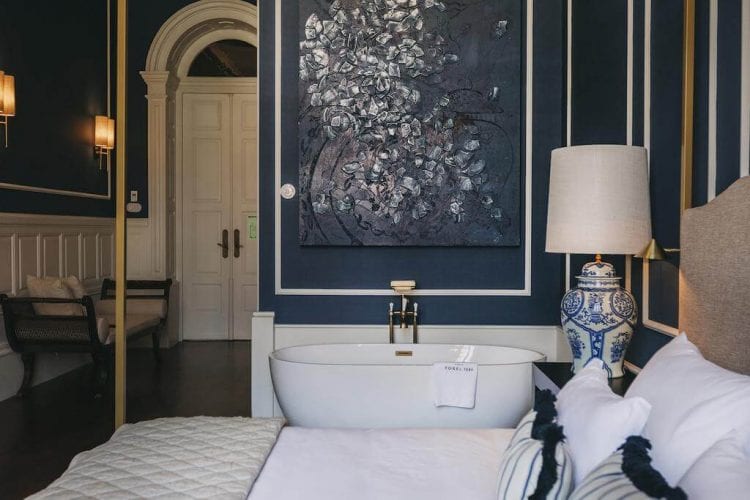 Torel 1884 Suites & Apartments shines above all other Hotels in Porto for its unbeatable location.
The hotel is within walking distance from sights such as the Ferreira Borges Market, Ribeira Square, D. Luís I Bridge and the River Douro.
Visitors who've stayed here also rave about its elegant interiors with unique, individually designed rooms. With high ceilings and even private balconies for some of the rooms, each room definitely feels like it's straight out of Vogue Living!
Price: Rooms start at €150.
Address:  Rua de Mouzinho da Silveira 228, União de Freguesias do Centro, 4050-417 Porto, Portugal
2. Pestana Porto – A Brasileira
Pestana Porto – A Brasileira is a brand new 5-star hotel located in downtown Porto. The hotel is built in the famous A Brasileira Café, the first institution to serve coffee in a cup in the early 20th century.
The hotel has done a magnificent job of preserving the original architectural features of the 115-year-old building.
Spectacularly, rooms are also equipped with modern equipment with LCD TV's, Wi-Fi and USB chargers all available.
The hotel's highlights are its stunning vertical garden and rooms with stunning views overlooking Porto's rooftops!
Price: Rooms start at €189.
Address: R. de Sá da Bandeira 91, 4000-427 Porto, Portugal
3. NH Collection Porto Batalha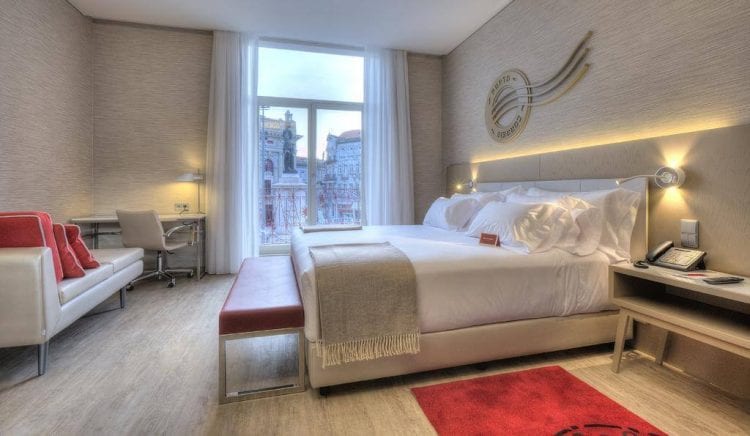 The sophisticated NH Collection Porto Batalha is set in a 300-year-old palace located in the very heart of Porto.
Retaining its age-old splendor that once hosted Porto's most lavish balls, this hotel captures the grandeur and guarantees a truly magnificent stay in Porto.
Each room features plenty of natural light, oversized mattresses and pillows for the perfect rest and high-grade technology built-in for your stay.
An indoor swimming pool and wellness center also means you have the perfect reprieve from a full day of sightseeing!
Price: Rooms start at €149.
Address: Praça da Batalha 62, União de Freguesias do Centro, 4000-101 Porto, Portugal
4. Porto A.S. 1829 Hotel 
The charming Porto A.S 1829 Hotel has brought new life to Europe's oldest stationery shop, which first opened its doors in 1829.
Entering the boutique hotel is like taking a trip back in time to the 19th century. The rooms have been given a tasteful modern upgrade with plenty of space, panoramic views over Porto and plenty of vintage design pieces.
The unique hotel has charmed guests around the world, with most praising the hotel's excellent staff and hospitality as above and beyond.
Price: The rooms start from €108.
Address: 45-55, Largo São Domingos, 4050-097 Porto, Portugal
5. The Artist Porto Hotel & Bistro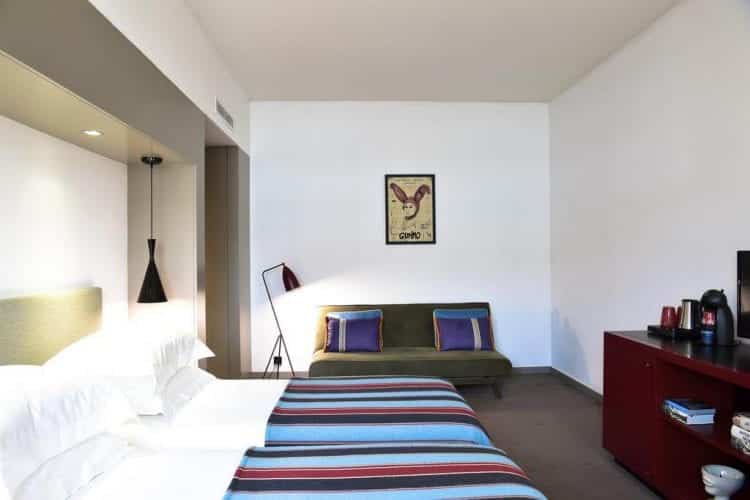 Inspired by art and the taste for beauty, The Artist Porto Hotel & Bistro is a contemporary hotel that offers a truly creative atmosphere for its guests.
More than just a great night of sleep, this hotel puts art at its forefront with tastefully designed rooms and exquisite furnishings.
A truly personable stay is guaranteed with the hotel staff made up of students at the Porto School of Hotel Management.
Above all, this partnership has catapulted the hotel as one of the best in the city, renowned for its impeccable customer service!
Price: Rooms start at €118.
Address: R. da Firmeza 49, 4000-191 Porto, Portugal
What are the 5 best Porto luxury hotels?
Are you looking for a little extra indulgence? Here are the 5 best luxury hotels in Porto to make you feel like royalty!
1. Maison Albar Hotels Le Monumental Palace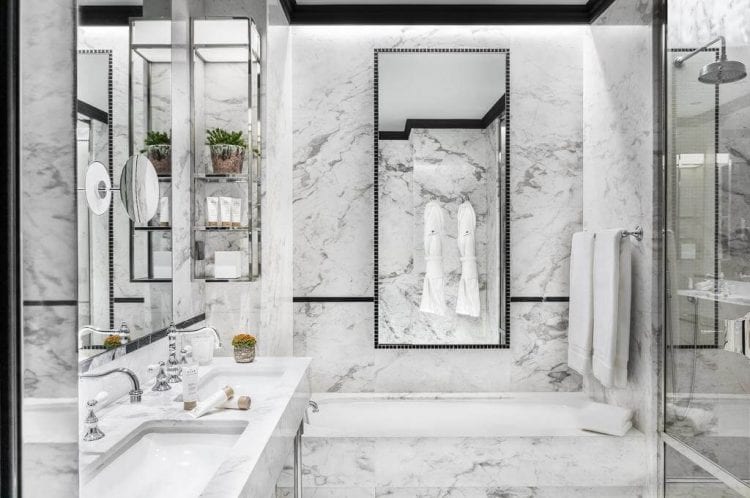 There's a reason 'monumental' and 'palace' feature in this hotel's name. If you're looking for a luxurious 5-star hotel to stay, you really need to look no further than Maison Albar Hotels Le Monumental Palace.
Located in a renovated historic building from 1923, this hotel embraces the excessive with bespoke graphical motifs, marble bathrooms, and even a hotel library and fireplace!
Its fabulous rooms feature high ceilings, spacious bathrooms, a coffee machine, and each room even has a seating area!
With a hotel spa, indoor pool and wellness center all available too, this is a pure luxury in the heart of Porto.
Price: Rooms start at €220.
Address: Av. dos Aliados 151, 4000-067 Porto
2. Yeatman Hotel Porto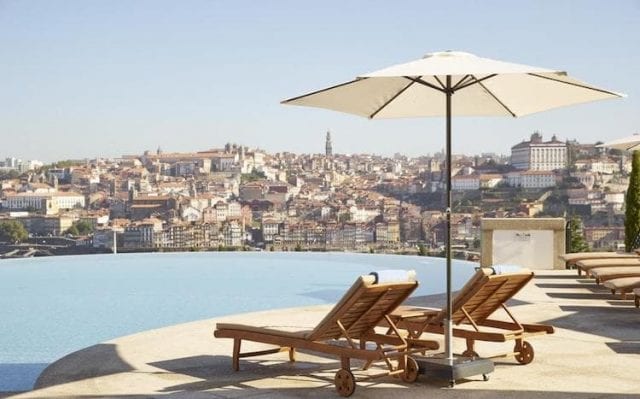 The Yeatman Hotel offers consistently stunning views of Porto in all of its rooms and spacious terrace.
It's renowned for one of the best panoramic views of the city from its jaw-dropping outdoor pool. Opulence in every form, this wine hotel offers spacious rooms with stylish furnishings, a luxury spa and a state-of-the-art gym.
Of course, The Yeatman is also most recognized for its world famous Portuguese wines, which can all be sampled in its own in-house 2 star Michelin restaurant.
Price: Rooms start from €355.
Address: Rua do Choupelo, 4400-088 Vila Nova de Gaia, Portugal
3. Infante Sagres – Luxury Historic Hotel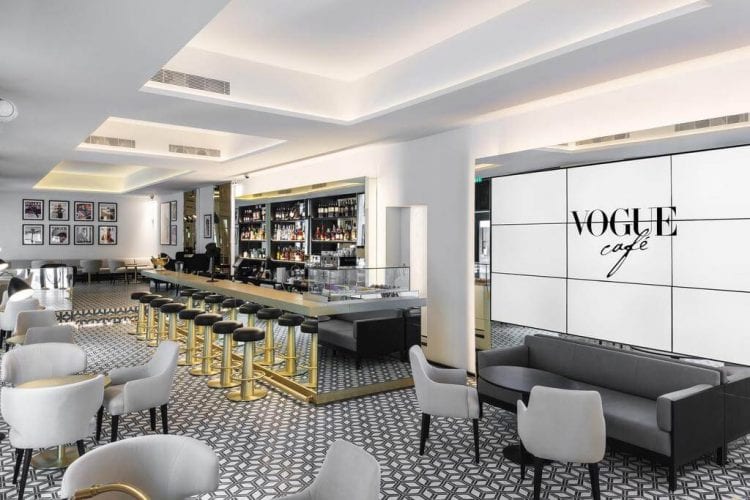 Situated in Porto's UNESCO heritage city center, Hotel Infante Sagres reflects its historical setting with elegant neo-baroque touches combined with contemporary sophistication.
Reopened in 2018 after extensive restoration and renovation, walking through the hotel you'll certainly find a wealth of ornate detail throughout.
The hotel is the legendary meeting place for the city's elite with its very own Vogue cafe, plunge pool, and fabulous sun loungers.
Price: Rooms start from €201.
Address: Praça D. Filipa de Lencastre 62, 4050-259 Porto, Portugal
4. InterContinental Porto – Palácio das Cardosas 
The Intercontinental Porto is set in a renovated 18th-century palace with luxurious furnishings to reflect it's grand setting.
It's stylish rooms feature high ceilings, marble bathrooms which include a separate bathtub and walk-in shower and balconies with stunning views over Porto.
The hotel is a favorite for travelers as it's located in one of the best locations in Porto.
It's close to São Bento metro station, the iconic Clérigos Tower and the UNESCO World Heritage Ribeira area.
Price: Rooms start from €251.
Address: Praça da Liberdade 25, 4000-322 Porto, Portugal
5. Torel Avantgarde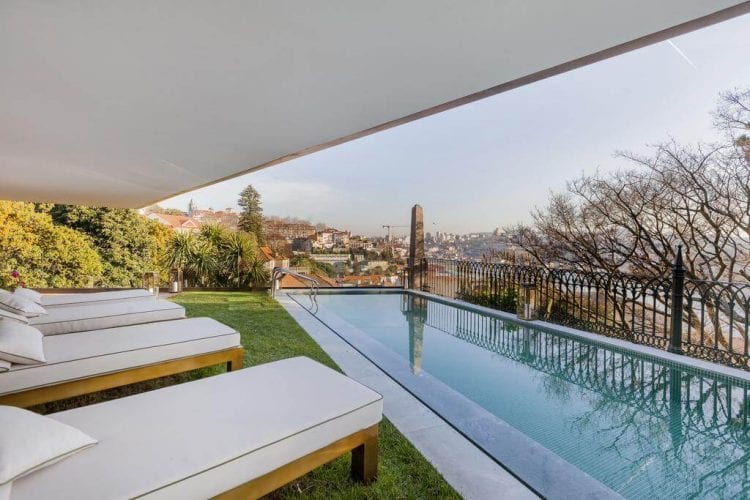 A stunning floral lobby and tasteful design focus rank Torel Avantgarde as one of the best luxury hotels in Porto.
All rooms are furnished with truly unique art pieces, giving this hotel so much character, much loved by its guests.
The hotel features an outdoor swimming pool, beautiful terraces and breathtaking panoramic views of Porto. For those eco-conscious travelers, it also features a beautiful garden that provides the produce used by the hotel restaurant!
Price: Rooms start from €244.
Address: Rua da Restauração 336, 4050-501 Porto, Portugal
What are the 5 best cheap hotels in Porto?
A great hotel stay doesn't always mean you have to break the bank. If you're traveling on a budget, we've also got the top 5 best value for money hotels in Porto just for you!
1. Zero Box Lodge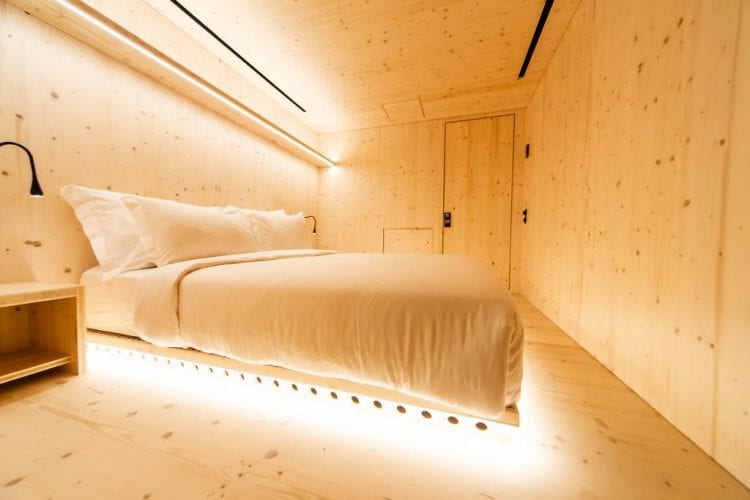 Walking into Zero Box Lodge you'd be easily mistaken for thinking you were walking into a fancy art gallery or upscale boutique hotel.
This hotel has turned everything we know about hotels on its head, even replacing rooms with boxes!
The check-in takes as long as opening a beer – which you also get for free with your room key! A super trendy atmosphere, fabulous cocktail bar and relaxed rooftop earn this conceptual hotel the top spot of our best value hotels.
Price: Rooms start at €69.
Address: R. do Ateneu Comercial do Porto 13, 4000-380 Porto, Portugal
2. Moov Hotel Porto Centro
Situated in a refurbished Art Deco cinema, Moov Hotel Porto features modern decor with cinematic photography decorated throughout.
Located close to the metro with great connections to Porto Airport, it's ideally located for travelers visiting Porto.
Most importantly, the hotel offers modern rooms with a desk and private bathroom and features an inner courtyard to relax with a coffee after a long day!
Price: Rooms start at €70.
Address: Praça da Batalha 32, 4000-101 Porto, Portugal
3. HF Tuela Porto Ala Sul 
Situated just 10 minutes walk from the Douro River, HF Tuela Porto Ala Sul doesn't just provide an ideal location for travelers but also a great value hotel stay.
Ala Sul is the south wing of the HF Tuela Porto hotel, providing all the quality of services of the main hotel but at budget prices!
The warmly decorated rooms provide flat-screen TVs, soundproof windows and upgraded rooms feature balconies with city views!
Price: Rooms start at €76.
Address: R. Arquitecto Marques da Silva 154, 4150-483 Porto, Portugal
4. Eurostars Oporto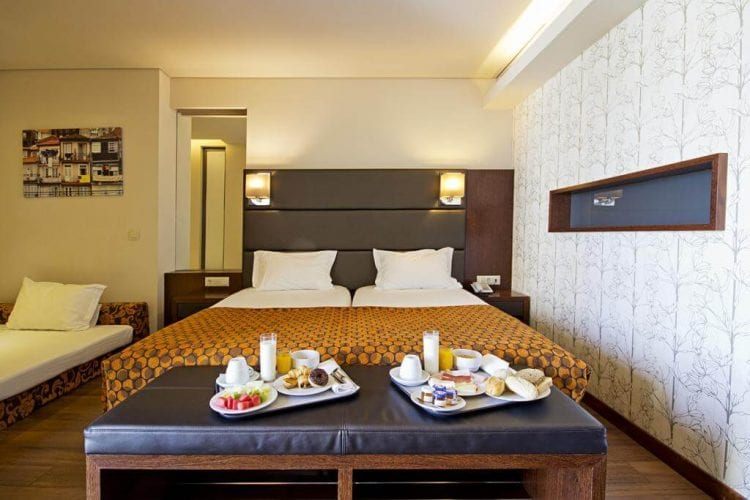 A modern design hotel, Eurostars Oporto is strategically located close to Hospital São João, the city universities and also nearby the Estádio do Dragão.
All rooms have contemporary furnishings with flatscreen TVs, a private balcony and a tiled en suite bathroom.
It's conveniently located near the metro station which also makes trips into the historical center super accessible!
Price: Rooms start at €69.
Address: R. Mte. Guilherme Camarinha 212, 4200-537 Porto, Portugal
5. Íbis Porto Centro 
Íbis Porto Centro combines great value accommodation with a modern design. All rooms at the hotel are designed with natural materials and also include an en suite bathroom.
Located in Porto's old town, the hotel is close to the city's most iconic monuments and Bolhão metro station. The hotel is rated highly as the perfect destination for travelers ready to go sightseeing.
Price: Rooms start at €80.
Address: Rua da Alegria 29, 4000-041 Porto, Portugal
The Best Hotels in Porto Portugal
Between choosing from old palaces, panoramic views of the city and quirky boutique hotels, we're sure that our guide has a hotel just for you!
All hotels listed have been praised for their fantastic service and outstanding hospitality.
Remember to return the warm greetings with a big smile and 'Olá!'. Now pack your bags and enjoy your holiday!