If you're in Porto or headed there, it will be very hard to miss the Torre dos Clérigos, the city's tallest bell tower, and I would dare say the most iconic landmark of Porto.
It stands at over 75m high, with 225 steps to reach the top and enjoy the panoramic city views.
Here we'll share all you need to know about the Torre dos Clérigos including its long history, when you can go, where to buy tickets, how to get there, and places to eat nearby.
Read on!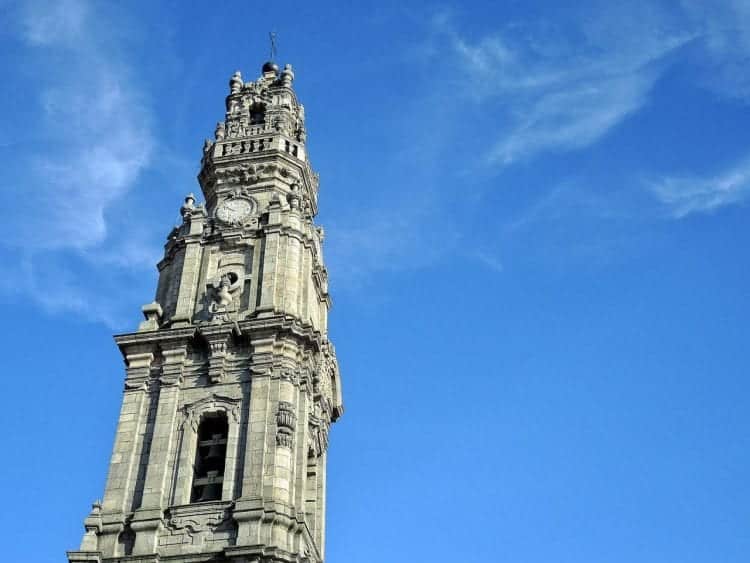 Torre dos Clérigos, Over 250 Years of History
The Torre dos Clérigos or "Clérigos Tower" is one of the most iconic architectural landmarks in Porto. Its structure is part of the adjoining Church built between 1732 and 1750.
In 1753, the Brotherhood of Clerics commissioned Italian architect Nicolau Nasoni for a bell tower. One year later works on the project began, and resulted in arguably the most beautiful Tower in Portugal, dominating the Porto city skyline.
The construction was finished almost 10 years later when the iron cross was placed on the top and the image of St. Paul in the niche above the door.
Nasoni used baroque style characteristics that define the Torre dos Clérigos's beauty today, with beautiful and delicate contours, domes and spires.
The architect left a strong imprint on the architecture in Porto, not just with this Tower. He also contributed to the design of the Porto Cathedral, the Church of Mercy, and the Clérigos Church.
Want to know more about Porto? Read our other guides about the Monuments in Porto, Weather in Porto, Shopping in Porto, and Property in Porto.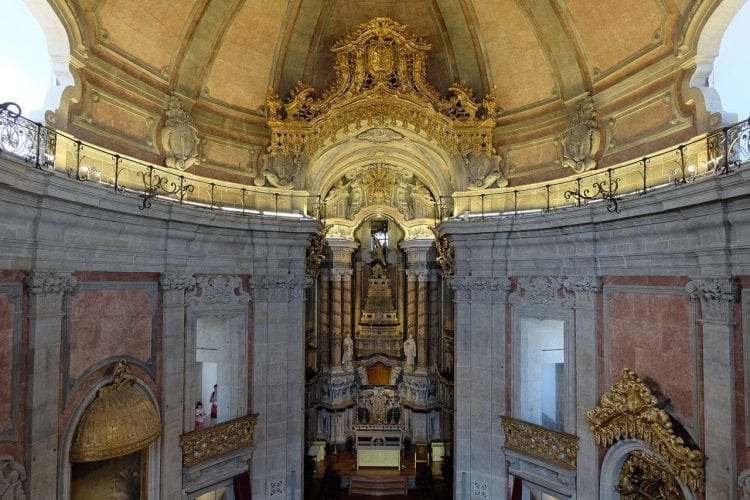 Buying Tickets for Torre dos Clérigos
You can pre-purchase tickets online to enter the Tower, which we highly recommend to avoid the long queues. The ticket is only €5 and when you get it with Get Your Guide, you don't even have to print your ticket.
Visitors can also opt for a guided tour, which takes you through the Clerics history, and Museum collections of religious art, paintings, sculptures, and more.
Since 2015, the Brotherhood of the Clerics has donated the revenue of ticket sales from entrance fees into the Brotherhood's Tower and Museum. All revenue raised, from the ticket sales, in any one weekend per month is donated to an institution, or to volunteer teams at hospitals.
To find out more about Portugal and where to go? Subscribe to our newsletter for all the latest insider tips and advice.
Price of the Torre dos Clérigos Museum
A day pass (9 am to 7 pm) with access to the Tower and Clérigos Museum costs €5 and is free for children aged 10 years or younger. A guided tour costs €6.50 and will also take you through the Church, Museum, and Tower. If you enjoy learning about history I highly recommend spending the extra euro and taking the guided tour.
The Torre dos Clérigos also has partnerships with several organisations such as the Porto Card, a tourist card, which allows cardholders 50% off ticket sales. This is great for visitors who want to see as many monuments in the city in a short time for a cheaper price.
Find the best ticket option for you on their website here.
Opening Hours
The Tower is open to the public every day from 9 am to 7 pm except on some public holidays where the hours differ.
24/12 (Christmas Eve) – 9am to 2pm
25/12 (Christmas Day) – 11am to 7pm
31/12 (New Year's Eve) – 9 am to 2 pm
01/01 (New Years Day) – 11 am to 7 pm
Torre dos Clérigos by Night
You can also experience the Torre dos Clérigos "by night", if you're more of a night owl. This can be an incredible way to see Porto's city lights during the evening. A night pass is subject to scheduling, to be announced soon, and costs €5 for access between 7 pm and 11 pm. There are no guided night tours.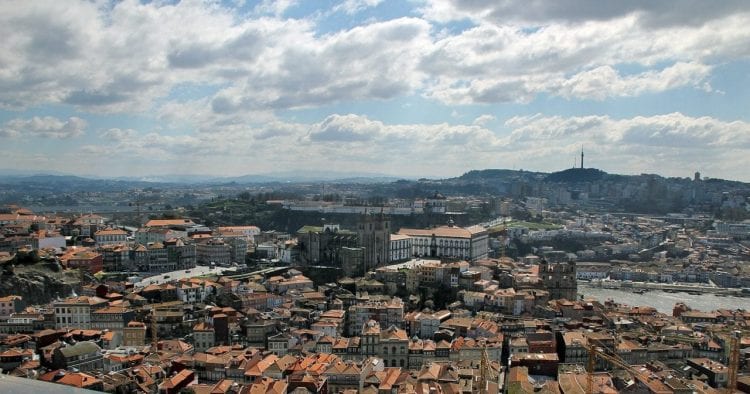 How to get to Torre dos Clérigos
The exact location of the Torre dos Clérigos is Rua de São Filipe de Nery, 4050. Nearby landmarks include the Livraria Lello, Praça da Liberdade, São Bento Railway Station, and the Porto Cathedral – all within walking distance of the Tower.
Alternatively take the metro (Aliados, line D), tram (Carmo, line 22), or bus (lines 6, 20, 35, 37, 52, and 78).
Tip: If you're looking for the best way to move around Porto, I recommend you buy the Porto Card. You'll be able to move around the city for only €13. Also, with this card, you'll have plenty of discounts on many of Porto's most emblematic monuments, including a 50% discount to get into the Clérigos Tower!
5 Restaurants Near Torre dos Clérigos
Walking up and down 225 stairs is bound to tire you out and get you hungry. Here are some of the best restaurants near the Torre dos Clérigos so you can eat without fuss after exploring the Tower.
Casa Costa – A delicious family run European and Portuguese restaurant that you must try. The meals are super cheap and deliciously memorable. Nothing beats a homemade mixed grill and Super Bock!
Base Porto – A relaxing garden cafe and bar, the perfect spot to unwind with a cocktail in the sunshine. Order a Mojito (or two) and get comfy in the lounge chairs on the grass.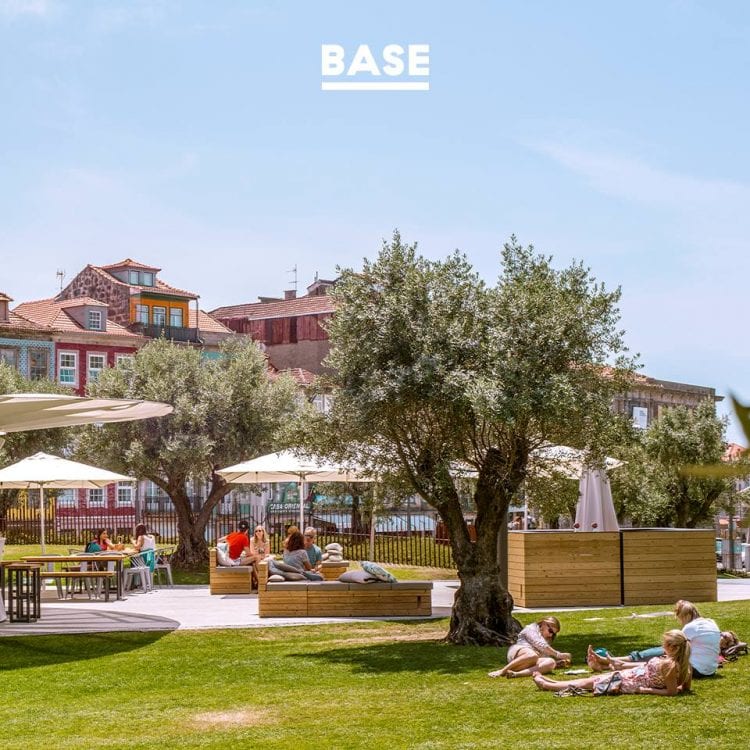 Brick Clérigos – A must-go in Porto! Serving Mediterranean/Portuguese style dishes, this restaurant combines healthy and modern food with traditional flavours. The prices are very reasonable and the food quality exceptional. Try the hearty sandwiches!
Petiscaria Santo António – A traditional Portuguese restaurant with inexpensive meals and friendly staff. They also offer craft beer and local wine. Try the codfish, it is one of the best places I've tried it!
Folias de Baco – A Portuguese tapas restaurant and wine bar, fantastic for those exploring the Torre dos Clérigos by night. They use local ingredients and serve handcrafted wine from their very own vineyard – a very authentic experience.
Enjoy gastronomy? Read all about Authentic Portuguese Cuisine here.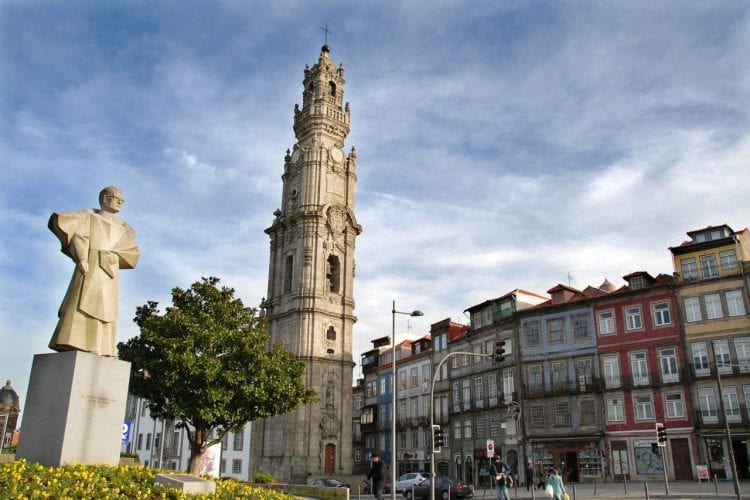 So that's all about the Torre dos Clérigos in Porto, Portugal! The Tower is an icon of Porto and simply unmissable when visiting the northern city. Read more about Visiting Porto for all our top tips!