It is easy to fixate on Lisbon or Porto when planning your trip to Portugal. However, there are many small cities in Portugal which are absolutely worth paying a visit to.
Are you looking to escape the crowds? Do you want to dive deeper into history, or simply have a more authentic Portuguese experience? Here are some of the best small cities in Portugal that absolutely won't disappoint.
1.  Lamego
If you're looking for an extra dose of Baroque flavor while visiting small cities in Portugal, don't miss Lamego.
Its north-central location means you'll be nestled within port wine country.  Certainly, this serves as the perfect fuel as you travel back in time exploring the town's beautifully preserved architecture.
You'd be well advised to climb the centuries-old Baroque staircase. As a matter of fact, these lead up to the remarkable Igreja de Nossa Senhora dos Remédios.
Here you will find a genuinely preserved granite sanctuary and a wonderfully ornate church that is Lamego's most significant claim to fame.
The town's devotion to Nossa Senhora dos Remédios is not only shown in the hilltop shrine. It is also exhibited in the well-attended processions which take place in August and September.
You can easily take a bus to Lamego for Régua. It makes a nice stop during a road trip in the north.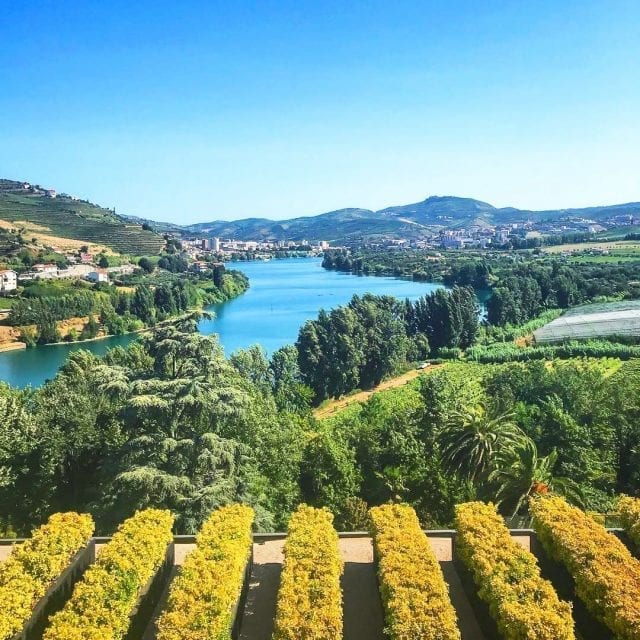 2. Guimarães
The historical city of Guimarães was a key player in the formation of the Portuguese nation and recently, it was awarded UNESCO World Heritage status. Its unusually well-preserved architecture and the historical events that have unfolded here are magical.
You can go on a true architectural journey during your visit. This small city in Portugal is full of examples that typify architectural developments from the Middle Ages to today. Evocative medieval archways mingle with Gothic chapels and small wooden houses.
The Guimarães Castle will struck you. It towers over the town and presents a unique combination of Romanesque and Gothic styles.
There is a train from Porto every hour and the city and surrounding area can easily keep you busy for a couple of days.
This is one of the best small cities in Portugal.
3. Castelo Rodrigo
Set on top of a hill, the charming town of Castelo Rodrigo is situated above a long plateau that reaches out eastwards to Spain and northwards to the valley of River Douro.
Best accessed by car, it is another must-see for anyone looking to better understand Portuguese history.
The pilgrims going to Santiago de Compostela used it as a route. It also features picturesque examples of little houses built directly into the city walls.
There's also enough medieval architecture to facilitate a nice afternoon playing make-believe and imaging the city's past glories.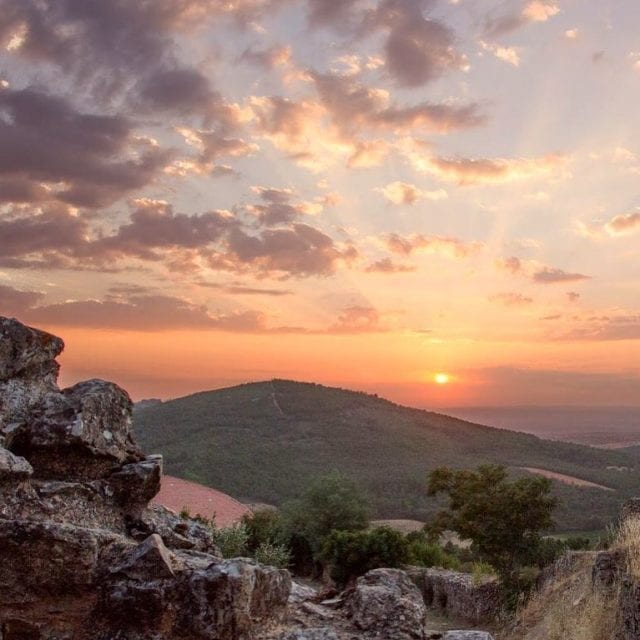 4. Óbidos
Óbidos has a well-earned reputation as one of Europe's most romantic villages. It is replete with colorful houses, whitewashed churches, and alluring gothic passageways.
Topped off with its intriguing 12th-century castle, it's also a great place to see how seriously the Portuguese take their festivals. You can even spend the night there.
July is all about the Medieval Fair. There, you can witness music, knights, and historic theatre performances that will take you back to the 1500s. It is also a magical place to experience during the Christmas season. Furthermore, it hosts a world-renowned chocolate festival every spring.
You can get to Óbidos easily and cheaply on a bus from Lisbon. It is certainly worth spending a few days here unlocking its medieval wonders.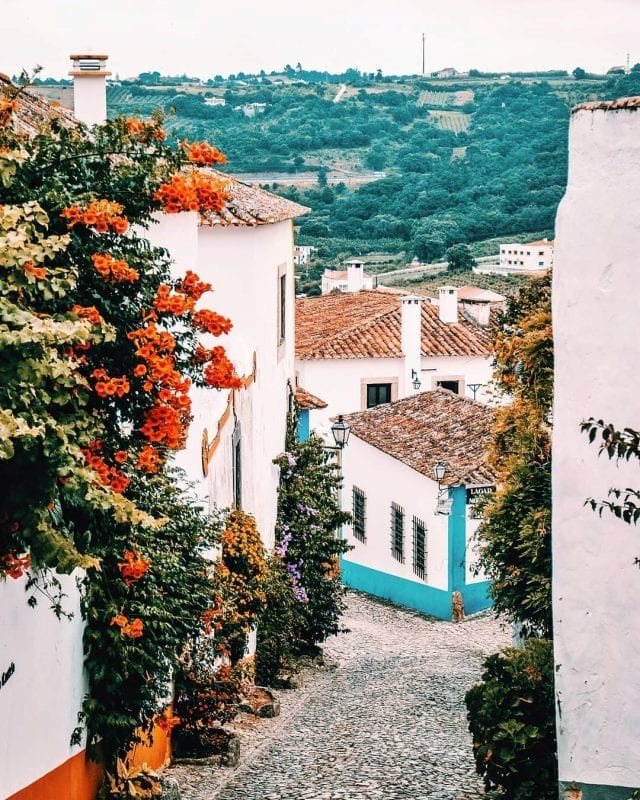 5. Cascais
An easy 40-minute train ride along the coast from Lisbon and you'll find yourself in Cascais.
A classy resort town with a thriving marina, Cascais feels completely different from the Portuguese capital. It can make a great seaside day trip.
You'll find no shortage of activities to keep you busy. You can check out the area's gorgeous beaches and rock formations while dining on the bountiful fresh seafood on offer.
6. Évora
Wrapped in the remarkably well-preserved remnants of the original medieval city walls, Évora is a member of the Most Ancient European Towns network.
It boasts palaces dating from the 14th to the 17th centuries. There, you can see the beautiful remains of the Roman Temple of Évora. Emperor Augustus was the inspiration for this temple.
Many winding lanes, bustling streets and a gorgeous city park make the city a magical place. It is also home to a large university which lends the place a youthful and lively feel.
Évora is easily accessed by bus or train from Lisbon and is worth visiting for a couple of days.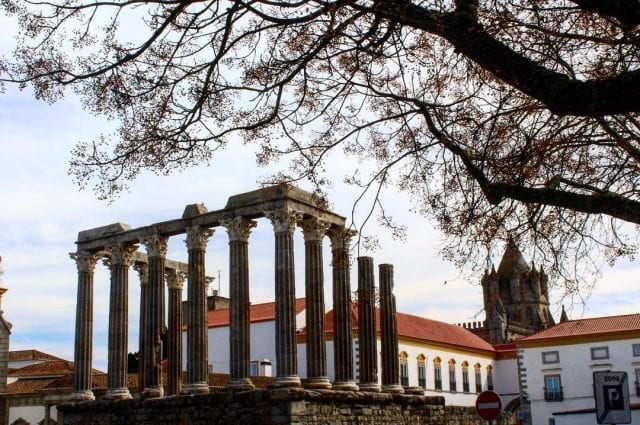 7. Monsanto
A unique village in central Portuguese, the streets of Monsanto are packed together tightly. The town surrounds itself with rocky cliffs and granite boulders.
The castle overlooks this stunning town. Also, it provides a panoramic view featuring the nearby mountains of the Serra de Estrela.
It is a wonderful place to learn about Portuguese traditions. Most of the city's souvenir shops sell handwoven baskets and the traditional ribboned drums.
Your best option for getting to Monsanto is by car. However, Rede Expressos also runs a few coaches from Relva. You can also take a taxi from there for a few more euros.
Get there directly from Lisbon but know that the Historical Villages Train service only runs on Saturdays.
8. Monsaraz
Another charming village is Alentejo, Monsaraz. It's full of whitewashed houses. These were built between the 16th and 17th century. They cluster around the village's main street, Rua Direita.
The lovely castle hosts annual festivities in honor of Nosso Senhor Jesus dos Passos (our Lord Jesus Christ).
It also offers great views across the Alqueva Dam. This is the largest artificial lake in Europe. On top of that, it's one of the greatest Portuguese constructions of the century. Not to mention the gorgeous surrounding olive groves.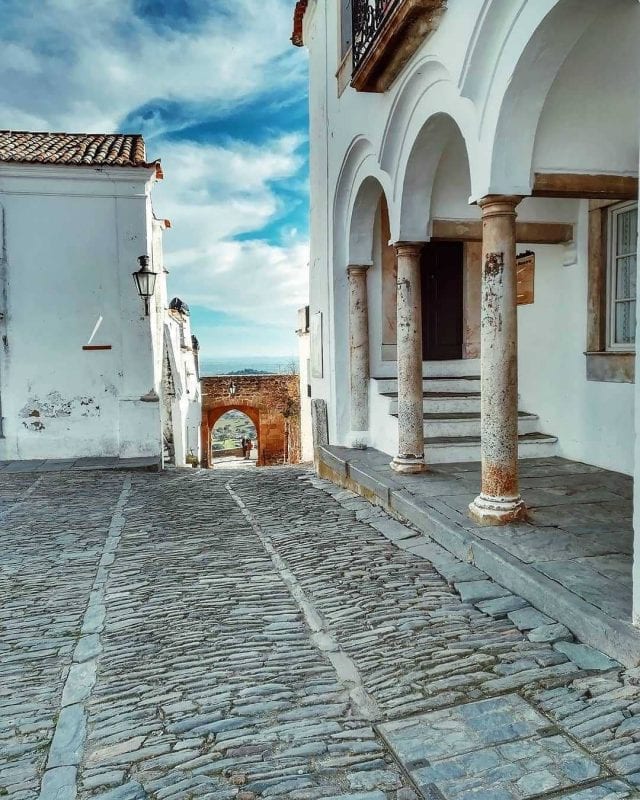 9. Ferragudo
Traveling south towards the Algarve, you can discover Ferragudo. Ferragudo is a wonderful place to feel the vibe of southern Portugal. Here, you can avoid dealing with the crowds. Some say they plague most of the surrounding area.
This laidback fishing village is still close to some of the Algarve's best beaches, but it offers a peaceful and quiet reprieve from the action.
It is also home to the medieval fort of São João de Arade and it makes for a great half-day or full day excursion from Praia da Rocha.
Then again, the tranquility is pretty addictive. Consequently, you might find yourself wanting to rent a holiday home in the village to enjoy it for a bit longer.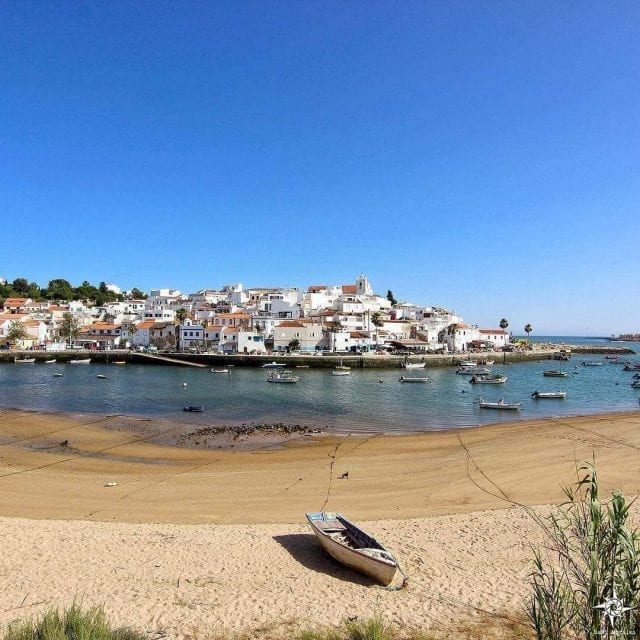 10. Tavira
Tavira is a magical place. As it is steeped in Moorish influence, it's home to many ancient churches and medieval ruins.
An old-school Algarve vibe is what makes this town memorable. Equally important, friendly locals populate this area, and they will make you feel like home.
Don't overlook the many small cities in Portugal that play an important role in giving the country its unique variety.