I've always believed the best way to find the real pulse of a city is once you immerse yourself in the city's nightlife.
When you head out for a night out in Porto, you'll quickly experience just how alive the nightlife is, with an electric scene and vibrant heartbeat heard throughout the city's many diverse bars, clubs and events.
What is Porto's nightlife like?
From the effortlessly hip people heading to the city's underground clubs, the fashionista crowd out at the latest bar openings and the old and young screaming together at football matches playing in the local bars. In Porto, there's something for everyone – it just depends on what adventure you're looking for!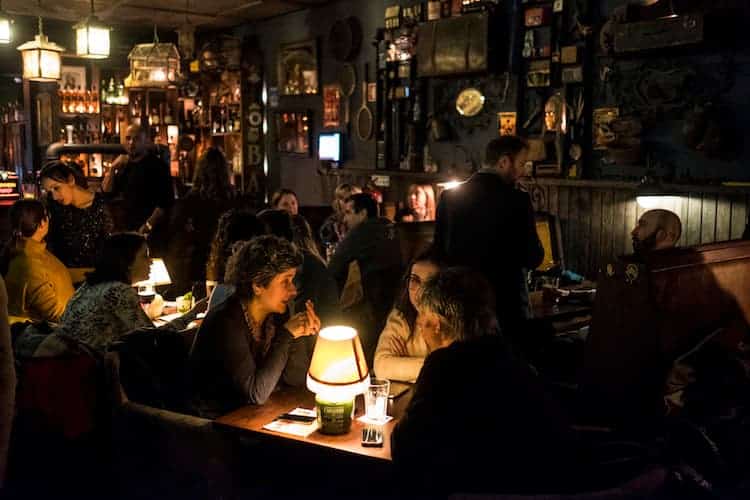 Going out in Porto
First things first, I have to point out straight away that the night in Porto starts very late compared to the rest of the world. So, you'll need to brace yourself for a long night ahead and make sure you keep the next morning free (a disco nap to prepare is never a bad idea).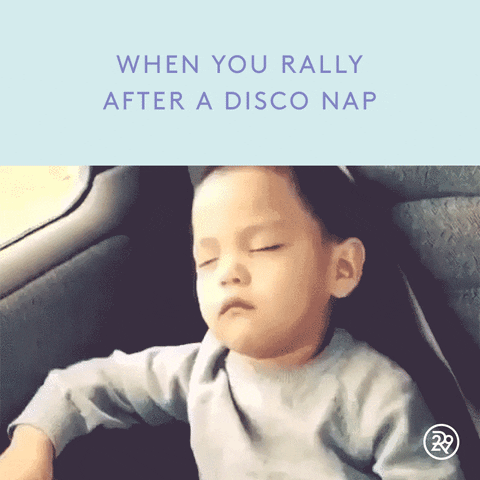 As the sun sets over the beautiful Douro River, Porto's nightlife comes alive and the buzz of the city is palpable as the city starts to take on a new life of its own.
When you walk through the city and experience a night out on any given weekend, the first thing you'll be amazed by is the sheer amount of people of all ages just standing in the street with a "fino" (beer in Porto slang – an essential difference you'll need to know).
Here's the reason why – Porto nightlife offers some of the cheapest alcohol in Europe with most bars charging only €2 for a beer and less than €5 for spirits. Entry in most clubs rarely exceeds the €10 mark and even then, most entries include at least 1 drink in the price.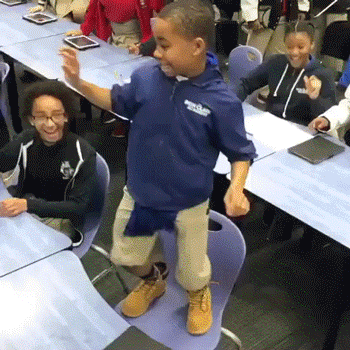 Because what better feeling is there than coming home from a night out and checking your bank account … has barely had any damage!


What to do in Porto if you want a night out?
If you want to experience the Porto's nightlife properly then, like all good travel advice, you just need to imitate what the locals do.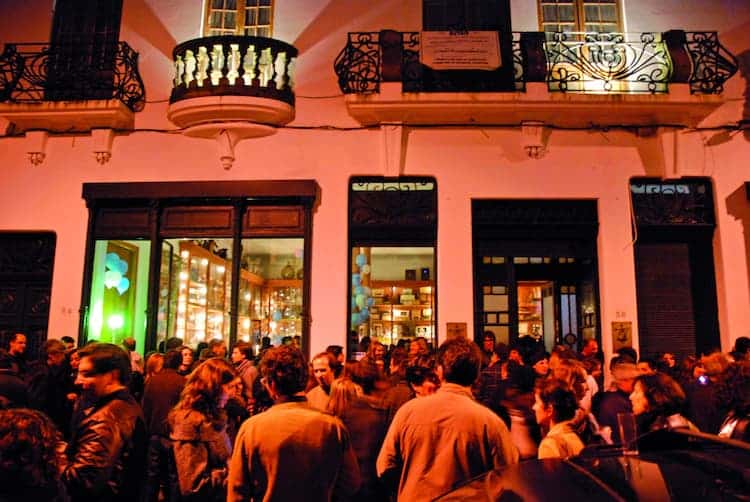 Step 1: Start your night in the most typically Portuguese way possible – eating a good meal. Find a delicious dinner around the Galerias de Paris Street. There are various restaurants in this area serving everything from the "cheap and cheerful" to the "fine dining" gastronomic experience. Check this out if you're in other areas of Porto.
Step 2: After putting away a great Portuguese meal, the next step is to literally take a step outside where you will be able to select from more than 20 bars available – all in front of you. Save the money you'd have spent on a taxi on a normal night out and put it towards your first drink as you'll find plentiful bars scattered around. All within walking distance.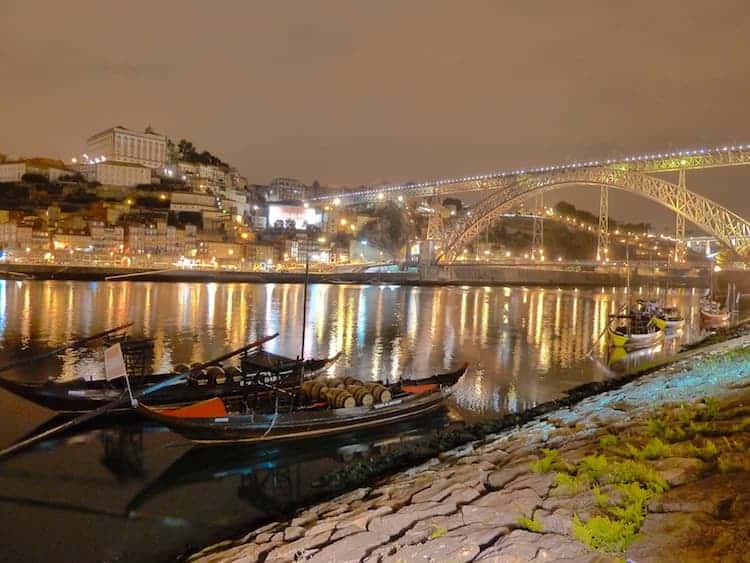 If you prefer to start your night at a restaurant or bar with a view, then my advice is to start instead at Bairro da Ribeira. Porto Nightlife in Ribeira is a huge hit with visitors because well, who could ever complain about enjoying a delicious Portuguese meal and glass of wine, all with a stunning backdrop of the Douro River?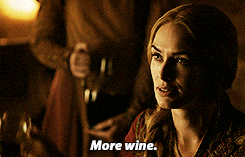 Step 3: After visiting a few bars during the night, it's time to follow the crowds of people kicking on and head to one of Porto's hot clubbing spots. Unless you want to see a locked door or empty dancefloor, never go to a club before midnight. In Porto, the clubs will only start taking off at around 2am.
Where are the best places to party in Porto?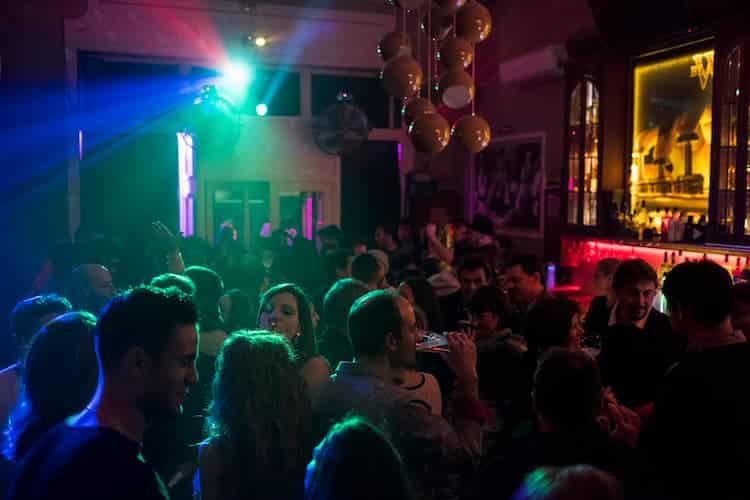 Back in the day, Ribeira and Foz were the two main districts where everyone would head out to but in recent years, Porto nightlife has sprawled across the rest of the city centre with various alternatives now available to choose from.
From the bars in the Galerias de Paris street to the clubs in the Industrial Area (Zona Industrial), I've compiled some of best places to party for you. Comment below and let me know if you agree or if I've missed any staples in the Porto nightlife!
Most Popular Bars in Porto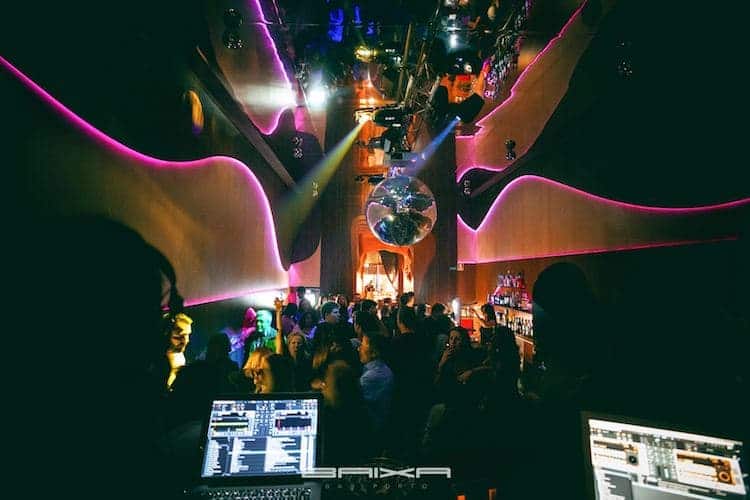 Baixa Bar
Baixa Bar's is an amazing spot in the heart of Porto's nightlife. Going to this bar is almost a rite of passage for those who are experiencing the night scene for the first time.
Address: Rua de Cândido dos Reis, 52 | Open: everyday from 6am to 4am
Piolho
Piolho is one of the most famous bars in Porto nightlife and it's the place in Porto which sells the most beers on tap.
Address: Praça de Parada Leitão 45 | Open: everyday except, Sunday from 7am-2am.
The Gin Club
This is the go-to bar for gin lovers! The gin menu is filled with different options so it might be hard to find your favourite gin combination, maybe you'll have to have more than 1.
Address: Rua de Cândido dos Reis 70 | Open: From Friday to Saturday, it's open at 7pm-4am, on Sundays is open from 9pm-2am.
Capela Incomum
Is probably that last thing you'd expect to find but definitely, proof that the Porto's night is full of surprises! This bar is located in an old Chapel! Yup, you read it and I wrote it… a bar in a chapel! Need to see it to believe it?
Address: Tv. do Carregal 77 | Open: Monday to Thursdays from 4pm-12am, Friday and Saturday from 4pm-2am.
Bonaparte Downtown
This is an old style pub which is known by many as a museum. It's located in Foz and it overlooks the river Douro! Ideal for a drink after a long day of sightseeing!
Address: Av. do Brasil 130 | Open: Sunday to Thursday from 5pm-2am, Friday and Saturday from 5pm-3am.
Sports Bars in Porto
If you are a sports fan and prefer drinking at a sports bar, then the next 2 are just right for you.
Adegas Sports Bar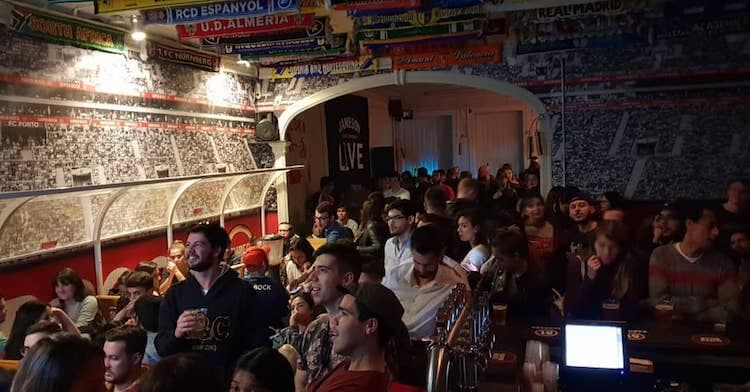 Is one of the local's favourite sports bar, with amazing burgers and almost 60 beers available from around the world, it's not hard to understand why sports fans love this place!
Address: Rua de José Falcão 180 | Open: Monday to Friday from 5pm-4am, Saturday from 2pm-4am and Sunday from 4pm-2am.
Porto Sports Bar
Is another very famous sports bar with 6 plasma TVs and a darts area.
Address: Praça D. Filipa de Lencastre 193 | Open: From 6pm-2am Monday to Friday and 6pm-4am Saturday and Sunday.
Top 5 Jazz Bars in Porto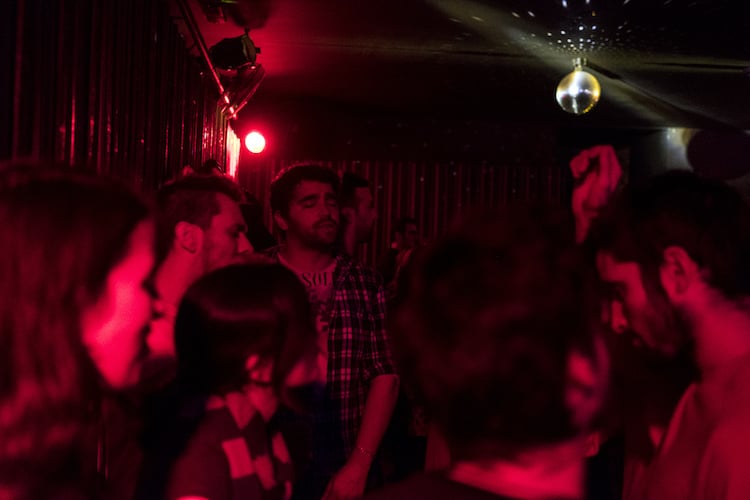 Porto cements itself as the cultural capital of Portugal with some incredible jazz bars serving you live music with your Super Bock!
Hotfive Jazz & Blues Club
This venue is more than just a Jazz Bar which has amazing live sessions of not only Jazz but also Blues, Soul, Funk and live tribute sessions.
Address: Largo do Actor Dias 51 | Open: Wednesday to Sunday from 10pm-3am.
Labirintho Bar
One of the most iconic bars in Porto, Labirintho Bar has been open for over 30 years!
Address: Rua de Nossa Sra de Fátima 334 | Open: from 10pm-4am every day of the week.
Jazz Story
A cool jazz bar which you can find in the heart of the old city of Porto. With live jazz sessions and an amazing atmosphere to grab a drink in.
Address: Rua Conde de Vizela 117 | Open: Every night between 9pm- 2 am, except Tuesdays.
Passos Manuel
Located in the old movie theatre of Coliseu do Porto, Passos Manuel currently hosts music shows and does movies screenings with an equally cool dance floor in its basement!
Address: Rua de Passos Manuel 137 | Open Wednesday and Thursday between 10pm-4am, Friday and Saturday between 10pm-5am
Porta Jazz
Not as much of a bar as it is a jazz concert hall. It has been home to over 700 international jazz concerts.
Address: Rua João das Regras 305 | Open: Every Saturday between 6:30pm-11: 45 pm.
Top 5 Clubs

 in Porto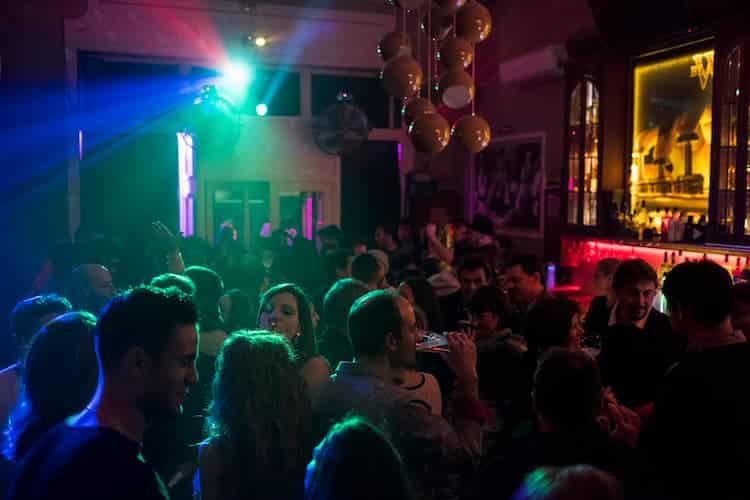 I mentioned before that the Porto Nightlife starts late but what I didn't tell you was that it also finishes late, with most people ending their nights, in the already packed cafes, to also have breakfast.
Get your body ready cause here's the best clubs to visit while in Porto!
Indústria Club
This is the oldest and most notorious club in Porto. Opened since 1986, this iconic club is home to some of the best national and international DJ's. It's located in Foz just by river Douro.
Address: Avenida do Brasil 843 | Open: Thursday to Saturday from 12am-6am.
Pride Bar
One of the most iconic LGBT+ clubs in the Porto night scene this venue is home to some of the best drag shows in town. Everyone is welcome at Pride Bar so check it out!
Address: Rua do Bonjardim 1121 | Open: every Friday and Saturday from 11:30pm-6am.
Disco 80's
Disco 80's is the place to go if you are in the mood for some 80s disco boogying!
Address: Rua da Restauração 39 | Open: Friday and Saturday from 11pm-6am.
Zoom Porto
Is another LGBT+ club located in the old town, in a former warehouse and is home to one of the most famous clubs in the Porto nightlife. It's known for its extravagant parties and hot gogo boys!
Address: Rua de Passos Manuel 40 | Open: Friday and Saturday from 12am-6am.
Plano B
An absolute Porto club scene institution with a chill room for those who just want to talk and drink and 2 dance floors where you can find both national and international DJs playing weekly.
Address: Rua de Cândido dos Reis 30 | Open: Thursday to Saturday from 10pm-6am.
Top 5 alternative bars and clubs in Porto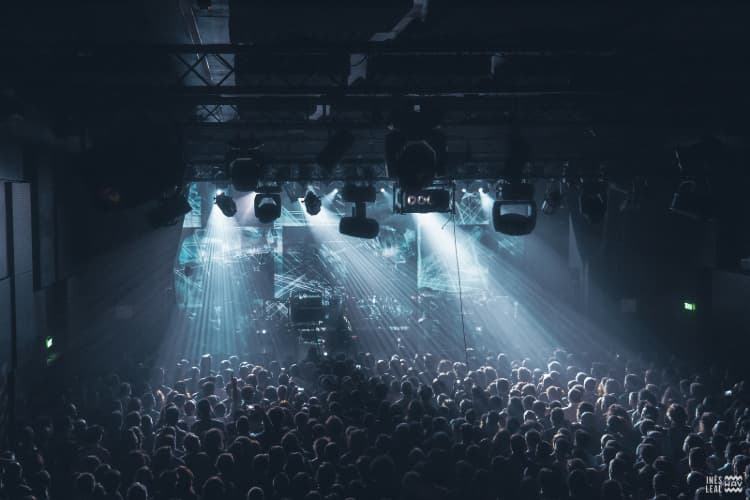 If my suggestions are still not to your liking, there's an alternative scene which has seen famous bands rise up through the club scene and explode in Portugal. Catch some great gigs in town with the top 5 alternative bars and clubs in the Porto.
Pherrugem
A rock, indie and alternative music bar. At Pherrugem, Thursdays are dedicated to rock and they're the most popular nights.
Address: Located in Rua das Oliveiras 83 | Open: Monday from 4pm-12am, Wednesday and Sunday from 4pm-1am and Thursday to Saturday from 4pm-2am.
Hard Club
Hard Club is located in Mercado Ferreira Borges which is a historic building dating back to 1888! They have 2 concert rooms, one with capacity for 1000 standing people and a second with capacity for 350 people. As this is more of a concert hall there's no open and close time. You should check the schedule for future events on their site.
Address: Mercado Ferreira Borges | Open: Monday to Sunday from 10:30am-12:00am
Maus Hábitos
Maus Hábitos is located on the 4th floor of a warehouse and it mixes art, alternative music and is a place that encourages and promotes all forms of cultural expression.
Address: Rua de Passos Manuel 178 – 4th floor | Open: Tuesday to Sunday from 12pm to 12am / 4am (depending on the programme).
Woodstock69 Rock Bar
A renowned rock bar in Porto near the main train station of Campanhã. Woodstock69 Rock Bar is famous for its live music nights.
Address: Rua de São Roque da Lameira 1212 | Open: Tuesday to Sunday from 5:30pm to 2am.
Candelabro's
Known and beloved for showing old (like 1910's old) movies projected on the wall behind the bar.
Address: Rua da Conceição 3 | Open: Monday from 1pm-2am, Tuesday to Friday from 10:30am-2am, Saturday 4pm-2am and Sunday from 4pm- 12am.
Tips for tourists and expats exploring Porto's nightlife
My best advice for those of you looking to experience Porto's nightlife for the first time is to start at the bars! There are always people around that are happy to help tourists. With luck, you might even make new friends who will show you their own favourite places.
Never ever scream the words "Benfica" or "Sporting" as 90% of the people from Porto live for F.C. do Porto (for those of you who were lost for a moment, we are talking about football teams here).
Always be aware of pickpockets as they will be around just like in every other city and be mindful of your own behaviour while out.

If you are thinking about going out clubbing, be mindful that in the Porto nightlife, people dress to impress and some clubs won't let you in if you have worn out trainers or an old t-shirt on.
Finally, remember that the best nights are always the ones where you let the night take you, so just head out and enjoy everything the Porto nightlife has available to offer!
Are you planning a trip to Porto? Share your questions with us.