Olá todos! (Hello all!) Here you'll be able to find everything you need to know about choosing the best time to visit Portugal.
Today, we will be writing about Portugal's climate and which areas are great to visit at different times of the year.
When is the best time to visit Portugal?
Portugal has a Mediterranean climate (on most of its territory), which means many warm months and mild winters. So, it would be great to find the best places to visit in Portugal at any time of the year.
But, the best time to visit Portugal, according to most tourists, is between the months of March and October.
Everyone has a personal preference and the activities you would like to do may determine the best time to visit Portugal for you. Here are a few tips to guide you to choose the best time to visit Portugal.
Visiting in Spring
Spring in Portugal wakes up in late February. There is more sunshine, the weather starts becoming warmer and tourists gradually begin to trickle into Portugal. When you visit in the spring, you can enjoy great outdoor moments, see less crowds of people and the hotel prices are much cheaper. It is an ideal travel time if you're on a budget.
Visiting in Summer
Temperatures reach the highest in the summer especially in the months of July and August. The month of June sees a lot of festivals and parties all over the country. It is always a bubbly and lively atmosphere in most cities. This is the peak tourist season in Portugal, which makes it the most expensive time to visit as the prices of flights and accommodation soars.
If you would like to visit during the summer, we would recommend planning and booking accommodation and flights months in advance before the summer season begins.
Visiting in Autumn
Autumn can be a lovely time to visit. It is probably the best time to visit Portugal as the number of tourists begins to reduce and the weather conditions are perfect for sightseeing, day trips, swimming and many more interesting activities. It is basically a chilled atmosphere everywhere.
Also, prices of accommodation and flights are lower. So, this is a good time to travel on a budget, without missing out on any experiences within the country.
You may also be interested in: Weather in Portugal.
Visiting in Winter
Winter sees the start of rain and colder temperatures. You can visit Portugal in winter if you like a mild winter as it does not get extremely cold. It is well worth the experience to visit Lisbon and Porto in the magical Christmas season.
Budget-wise, you could also get good deals on hotels and flights.
If you are interested in skiing, the north east of Portugal would be a good place to visit during the winter months. It is probably the least attractive season for tourists as it is wet and somewhat dull.
Find out more about what winter is really like in Portugal here.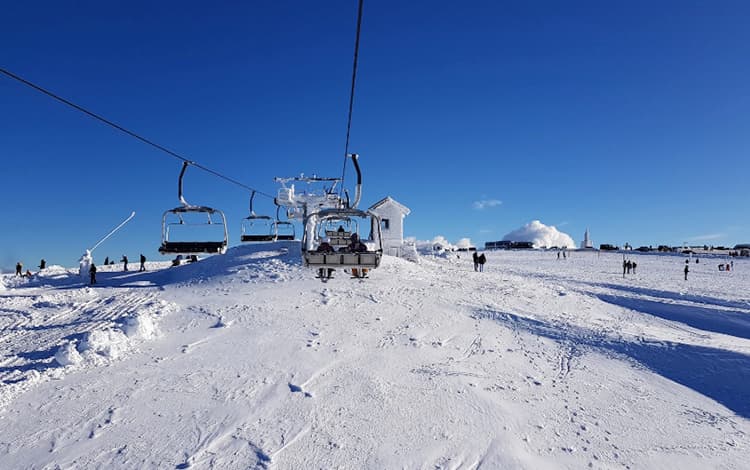 Best time to visit Lisbon
The best time to visit the capital city of Lisbon is either between April to May or from the end of September to October. These periods are usually the best time to visit because of two major reasons: there are fewer crowds and generally the prices of flights and accommodation are cheaper.
You can enjoy great outdoor activities without too many queues. Also, the weather during these months is quite good and you may get to experience a summer-like weather.
You can still enjoy the beaches near Lisbon from late September to October without too much traffic or people. If you like to enjoy parties and festivals, then you should plan to visit in the month June when there are so many events to enjoy!
Best time to visit the Algarve
The Algarve region is known for its fantastic beaches. It is a popular destination for beach-lovers and surfers. Because of this, there are a huge number of tourists especially in the summer months (June to mid-September).
To avoid huge crowds of tourists and very hot weather in the Algarve, it would be ideal to visit during the spring around March to April. It may be a bit too cold to swim, but you can definitely enjoy the scenic and serene environment of the beaches.
If you would like to swim in warm waters and see fewer crowds, the perfect time to visit the Algarve is at the end of September through to October.
Also, there are great summer parties for nightlife enthusiasts especially along the Albufeira Strip and in downtown Lagos. A guaranteed, unforgettable party experience!
Find out more about the weather in the Algarve here.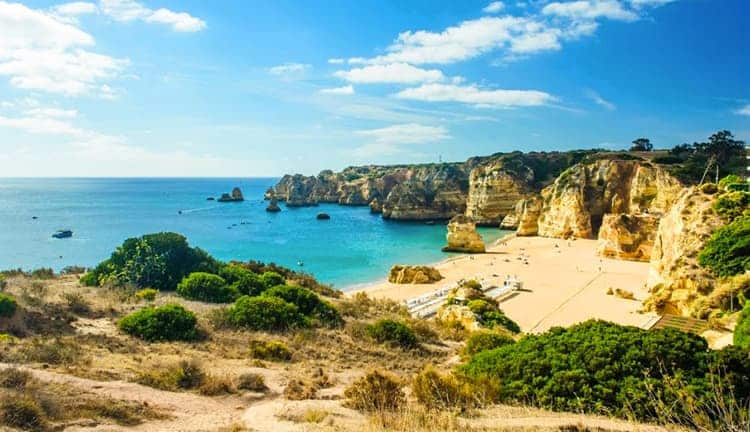 Best time to surf in Portugal
Portugal has a huge variety of waves and swell sizes and as a result, it makes an ideal surfing place for surfers of every ability. Over the last few years, Portugal has continually attracted more surfers. There are many beaches all over Portugal to catch incredible waves.
For expert surfers, the best time to surf in Portugal is winter as the waves are the strongest. For learners or newbies trying to get a hang of surfing, the summer is more favorable.
Some of the coolest spots to surf are:
You might also like: 20 Best Places to Go Surfing in Portugal.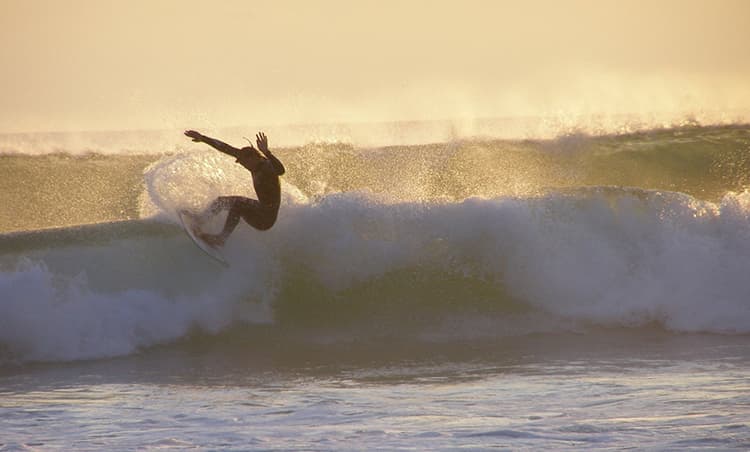 Did this information help you to choose the best time to visit Portugal? Do you have any experiences to share? Feel free to leave a comment below.
Keep up to date with everything about Portugal by subscribing to our FREE newsletter today.