Here is everything you wanted to know about the Algarve weather for every month of the year.
Plan your holiday to the Algarve with our month-by-month guide.
We've also included some great festivals and special events for each month to keep you entertained on your vacation.
What's the weather like in the Algarve?
In the south of Portugal you can find a region that fulfils all your needs when you're thinking about going on summer holiday.
The Algarve is the place where summer seems to stick around for the whole year, with warm temperatures every month.
Put simply, the weather is very warm, especially in the summer time.
What is the temperature in the Algarve right now?
The Algarve is the most searched for holiday destination for tourists living in the UK and other European countries where cold weather can be felt for the most of the year, like in the Netherlands, for example.
So, it is very common to find more tourists in the Algarve than Portuguese people. And that happens mainly because of the Algarve weather. Even in the winter, the south of Portugal still remains very warm for the most days, even at night.
From the months of May to the end of September, the climate in the Algarve can reach 30°C (86°F) and even more than that for a many days.
That is why the Algarve weather is so cherished, it's a place where you can spend a good time outside without feeling humid.
Planning your visit to the Algarve
So you are planning a holiday to the Algarve. When is the best time to go? We're glad you asked.
Here is a breakdown of what to expect throughout the year.
Algarve weather in December, January, and February
At the winters in Portugal, especially in January, the temperatures can swing from around 9°C (48°F) at night to about 16°C (61°F), during the day. It is, without a doubt, the time where you can experience the coldest months in the region. However, rainy days are not as abundant as you would hope them to be. It stays quite dry.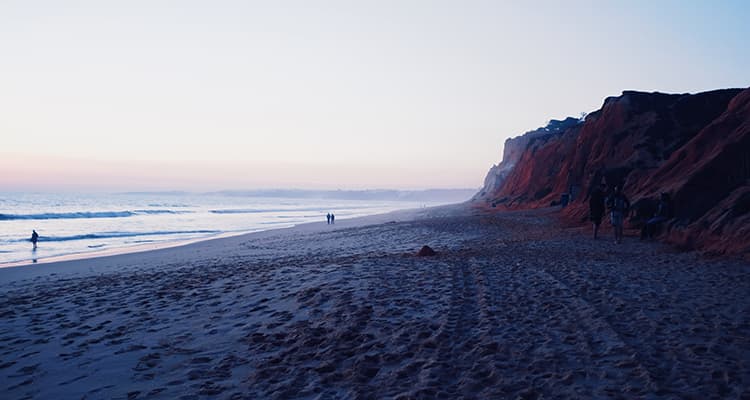 What to do in the Algarve in December, January and February?
Find out what the Portuguese do at Christmas here.
On New Year's Eve you can easily find yourself at an outdoor party and there's always fireworks to enjoy.
Also in January there is the Festival of "Chouriças" (sausages), which is also known as the Festival of Saint Luís, the patron saint of animals in Querença, Loulé.
For those who like history and music (especially Moorish music), you should check out the Festival de Música al-Mutamid.
In February every year, there is Portugal's largest cycling event called the Volta ao Algarve which prepares riders for the Spring Classics.
If you love chocolate, you will really enjoy Loulé Festival of Chocolate ("Feira Do Chocolate") hosted by Mercado de Loulé every year.
Don't forget about Carnival which is not as big as it is in Brazil, but is just as important in Portugal leading up to Easter.
Algarve weather in March and April
These are the months in which you feel a bit of change in the temperatures, since they begin to slowly rise. However, you should know that March can be the month when it rains the most, so be cautious when booking a vacation around that month.
As the days go by, the temperatures increase significantly and can go by a medium of 10°C (50°F) at night to 20°C (68°F) during the day. So, grab a jacket, if needed, and just enjoy the warmer days.
What to do in the Algarve in March and April?
In March there is a great food festival called "Feira dos Enchidos" in Monchique. And continuing the locals love of food, you can also go to the Hot Bread & Cheese Festival ("Feira do Pão Quente e Queijo Fresco") which is held every year in Vaqueiros-Alcoutim.
For music festivals, check out our article: 9 Awesome Music Festivals in Portugal for Summer 2019
March also marks the start of the FIESA Sand Sculpture Festival (website is in Portuguese) which runs right through until October in Pêra.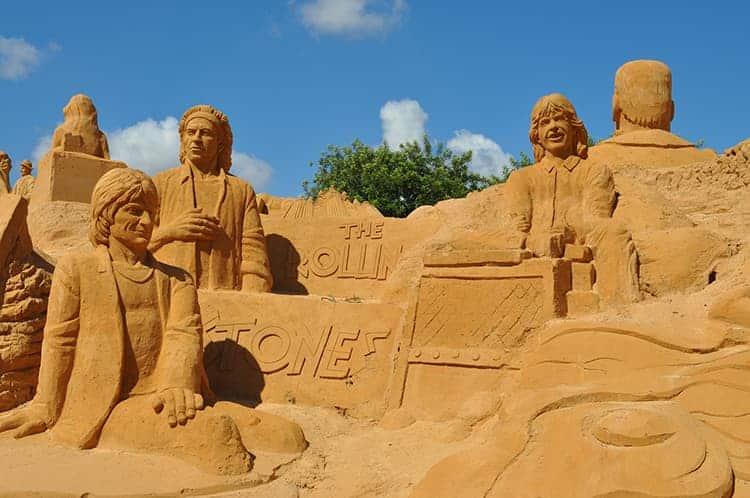 If you love women's football, be sure not to miss The Algarve Cup (also called the Mini FIFA Women's World Cup).
In April, there is more food to enjoy with the Mountain Gastronomy Festival ("Festival de Gastronomia Serrana") held in Tavira.
Most importantly for Portugal is the 25th April Liberation Day celebrations which will showcase food, culture music and more throughout the Algarve.
Algarve weather in May and June
This is when things really start to warm up! It is fine if you take a walk at night with no jacket on and prepare to face increasingly warm days. Temperatures are always way above 20°C (68°F) and can easily reach 30°C (86°F) with no effort.
This is the time when the Algarve weather really starts to speak for itself, as you can experience the beginning of warm nights. Also, expect no rain. It is really hard to rain around these months.
What to do in the Algarve in May and June?
Sometimes held in April, but most likely to be held in May is the Algarve Nature Week which is a must for lovers of animals and nature. If you would like to book a boat tour to see some dolphins, click here.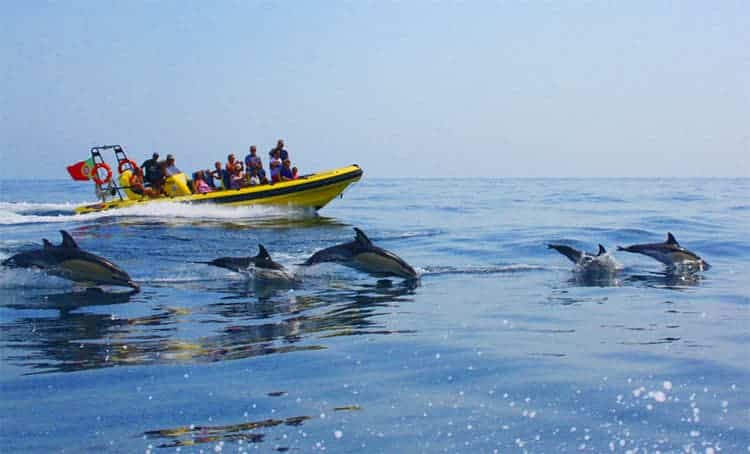 A huge food fair to challenge the biggest in Europe is the Vila Vita Fine Wines & Food Fair which is a feast of events run over a week that takes place every second year in May.
For the runners, there's the Lagos Half Marathon that happens around this time before it gets too hot.
If you're going to Lagos, you might like: Visiting Lagos in Portugal, There's Something for Everyone
10 June is Portugal Day ("Dia de Portugal") and there are festivities taking place all over Portugal. In Albufeira, you can enjoy a free concert in the evening at Largo dos Paços do Concelho square.
Also in June you have the Black & White Night in Carvoeiro full of live music, DJs and summer parties.
Portimão has its own version of the Popular Saints festival ("Santos Populares") which is on all over the country in June. Enjoy parades, outdoor entertainment and plenty of grilled sardines.
If you're in Loulé in June, you can enjoy the cultural Festival MED with lots of entertainment, street theatre, food stalls and handicrafts.
I can also recommend the Silves Beer Festival in June.
There are many other events going on at this time of the year in the Algarve. For more ideas, check out Visit Algarve Events page for activities all year round.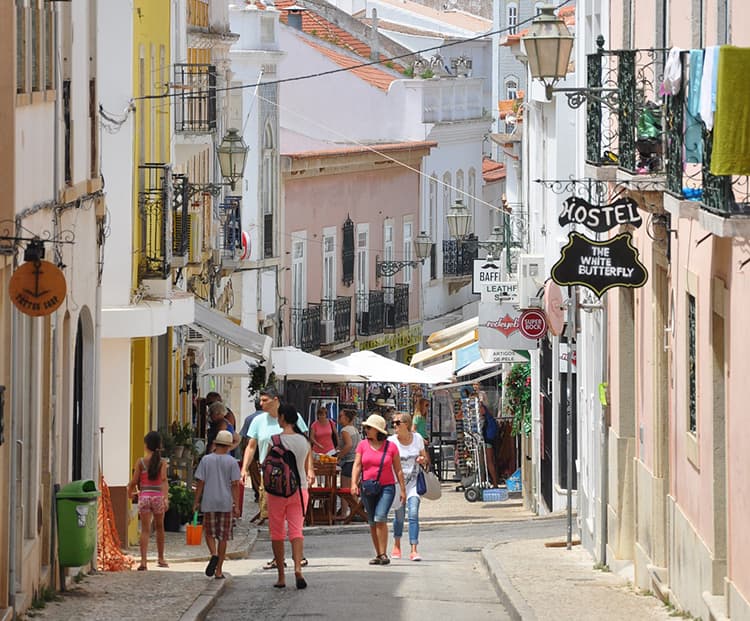 Algarve weather from July to September
Summer in the Algarve can be extremely hard for children and elderly people. It is always extremely warm during the day, and you can only feel some soft breezes even when you are staying near the ocean. Otherwise, expect extremely dry Algarve weather.
You can expect temperatures to easily reach 35°C (95°F) during the day, and you'll at least 12 hours of sun. Needless to say, there is absolutely no rainy days and you can go out at night in a t-shirt and shorts, or even in a dress, as you won't feel cold at all.
What to do in the Algarve from July to September?
This is when things really get busy. I'll pick out just a few top events which you should check out if you're not content to just sit on the beach all day.
When in Faro, have a look at the Alameda Beer Festival which is the largest beer festival in the Algarve.
Running for more than 30 years is the four-day International Bikers Rally in Faro.
I absolutely love the International Jazz Festival in Loulé in July every year.
You might like the Arrifana Sunset Fest for live music and a great party.
If you love piri-piri chicken, you would enjoy the Festival of Chicken in Guia ("Festa do Frango da Guia") in August.
On 20 August, Albufeira celebrates their municipal holiday with a street parade, live music and a fireworks display at night.
The Sardine Festival in Portimão is one of the biggest food festivals in the Algarve in August and well worth a visit.
For a traditional festival, you should go to Folk Faro, the biggest cultural festival in southern Portugal.
Festival F is the last big summer festival on the Algarve and features mostly Portuguese talent.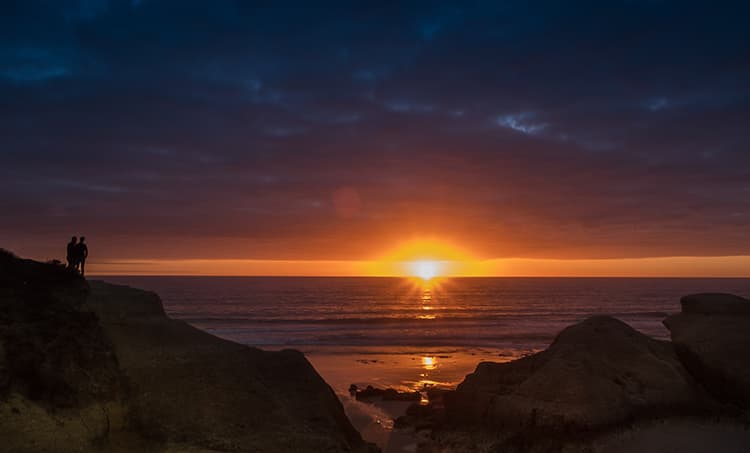 If you are planning your holiday to Portugal now, make sure you subscribe to our newsletter for all the best advice and tips for travelling around Portugal.
Algarve weather in October and November
Temperatures slowly descend later in the year as you would expect, but it still gives a warm touch – especially when compared to other regions in the north of Portugal, for example. During the months of October and November, you can find people still laying on the beaches and taking a dive very now and then.
Minimum temperatures can swing between 10°C (50°F) and 15°C (59°F), whereas the maximum temperatures can go from 17°C (63°F) to 25°C (77°F).
Discover what the weather is like in the rest of Portugal here.
What to do in the Algarve in October and November?
Along the Spanish border in October, you will find the Guadiana International Music Festival.
When if Faro, make sure you see the oldest fair in Portugal (dating back to 1596!). It's called the Feira de Santa Iria.
1 November is a public holiday in Portugal and it's called the Day of the Saints ("Dia de Todos os Santos").  It's Portugal's version of Halloween.
For foodies, be sure to keep an eye on Junta de Freguesia de São Bartolomeu de Messines' Facebook page for the week of gastronomy event ("Semana Gastronómica de São Bartolomeu de Messines") that usually takes place in November.
Which are the coldest and hottest cities in the Algarve?
Some of the most known cities in the Algarve are Vilamoura, Albufeira, Portimão and Faro. The climate can change a bit between them, but they are very similar from one city to the other. It depends on where you are staying but closer to the sea, you will have more breezes cooling you off.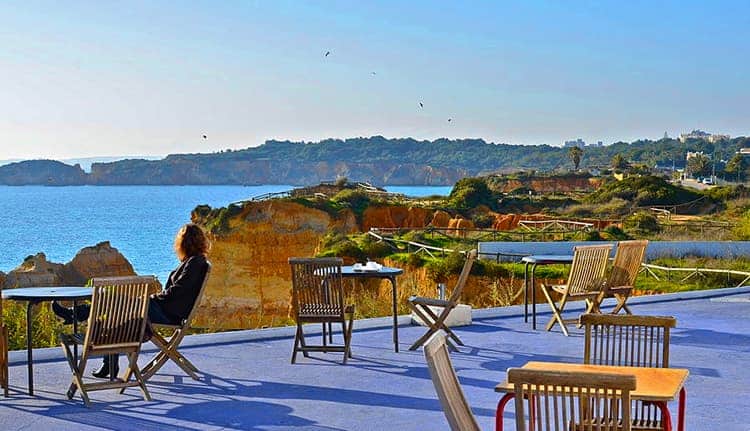 The Algarve weather is known to be very regular in any of these cities, so you would not be disappointed in any of them. However, as you approach Algarve's east side, the temperatures rise even more – and also the sea temperature. Nice warm water.
This happens because, the more "east" you go, the more you approach Spain, where the climate is even hotter, including the ocean's temperature. For example, in Vilamoura and Albufeira, the water temperature can be colder than in places like Monte Gordo, (which is closer to Spain).
To summarise, the Algarve weather, when compared to Lisbon, is hotter in the interior areas and bearable around the coast.
Want more ideas about the Algarve? Read our article: Visit the Algarve, People Say it's the 'Florida' of Europe
The best weather forecasts for the Algarve
There are a few forecast reports you can choose from, such as the BBC weather in Faro. But, you can also use other platforms that will give you very accurate predictions.
Some examples include:
Why the Algarve is amazing
This one is easy, but I am going to briefly explain to you why the Algarve is such a great choice for a family or romantic vacation.
When compared to other countries and cities, the Algarve can be a bit cheaper than most of them – especially for hotel and food costs. That is a reason that stands alone and differentiates this region a lot.
Besides having incredible beaches, you will find many lovely and helpful people who are available for whatever you need. The climate is warm for the most part of the year and great during summer.
You can go hiking in Portugal in the mountains or walks by the beach and you will be dazzled by so much beauty.
The food is marvellous and there are options for every single person, offering the best Portugal has to offer. You can find typical Portuguese dishes and delight in a great variety of fish and seafood, which you should order grilled in order to fully enjoy the best meal of your life!
We hope you enjoyed reading about the weather in the Algarve. If you have any questions or would like to know more, let us know.