If you love wintersport, there is an option for you in Portugal.
Yes, it does snow in Portugal. And it's enough to go skiing (well, sometimes).
Here we will tell you all about what to expect from the ski resorts in Portugal, when is the best time to go and what it costs.
Where can you go skiing in Portugal?
Serra da Estrela is the only place where you can go skiing in Portugal.
Serra da Estrela is a mountain range, a continuation of the Central Cordillera in the central region of Portugal. If you follow this line further south, then the last links of this chain will be the mountains of Sintra.
It is in Serra da Estrela where the Portuguese bring their children to show them what winter looks like. Here you can play with snowballs and make a snowman, and go skiing and sledding at one of the ski resorts.
What are the best places to ski at Serra da Estrela?
Ski holidays in Serra da Estrela are offered by several resorts, but the most popular one is Estância de Ski da Serra da Estrela (website is in Portuguese).
This resort is located near the town of Loriga at the very top of Torre Mountain, the highest point of mainland Portugal which is 1,993 metres (6,539 feet).
Here, skiers can experience 10 tracks of varying difficulty, from green to black, with a total length of 7.7 km (4.8 miles).
Another popular area to ski is at SkiParque Serra da Estrela, also known as the SkiParque Manteigas, which is not far from the town of Manteigas.
Not into skiing? There are plenty of other activities to do in Serra da Estrela. Have a look at our article: Top 10 Things to Do When You Visit Serra da Estrela
What does it cost to ski at Serra da Estrela?
At Estância de Ski da Serra da Estrela (website is in Portuguese), the cost of skiing for one day costs €25 in the peak season (as a rule, it includes weekends, holidays and vacation time) and €15 in the "low season".
When buying a ticket for several days, for a group or a child, the price naturally decreases: for example, five days of skiing for an adult in the "low season" will cost €65.
Rental equipment (skis or a snowboard) will cost €11 to €25 per day depending on the season and age of the skier. At the same time when you hire your gear with a credit card, a deposit is charged at €150 for skis and snowboards, €100 for boots, €25 each for sticks and a helmet.
Naturally, hotels, restaurants, spas and other entertainment with sports facilities are concentrated around the main mountain resort.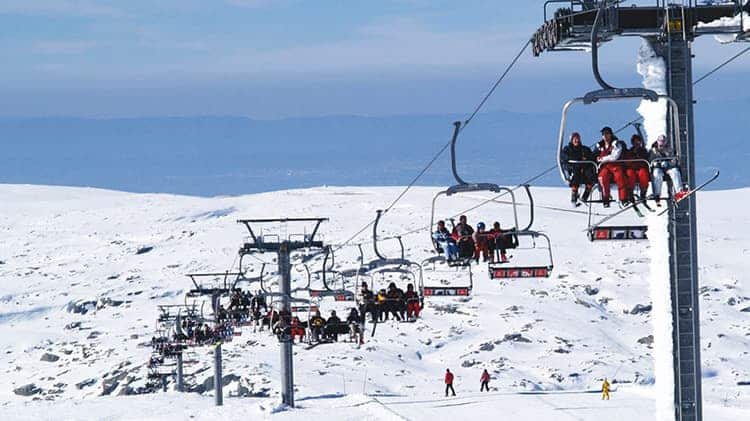 At SkiParque Serra da Estrela, guests do not need to carry bulky equipment with them, because everything you need can be rented on site for reasonable money.
Their prices are as follows:
One hour  €14;
Two hours €17;
Three hours €20;
Four hours €23;
Five hours; and
more than five hours €26.
Children under 7 years old are charged at €8 for 30 minutes.
Interestingly, people with their own equipment are simply not allowed in the park. The owners insist on using their equipment because the sensitive pavement of local roads is adapted only for rented skis and snowboards.
There is a slope for beginners with an average slope of 15%, a ramp half-pipe with a slope of 35% and a 400-metre long track (slope of 25%) and a they also have lights so you to ski at night.
They do top up the snow with artificial snow when needed so you can ski anytime.
What are the prices for the lifts?
There are 6 km (4 miles) of slopes available at Estância de Ski da Serra da Estrela for you to enjoy. There are three lifts to transport skiers to the top.
The prices for the lifts are for an adult ticket it costs €25 and a ticket for a child is €20.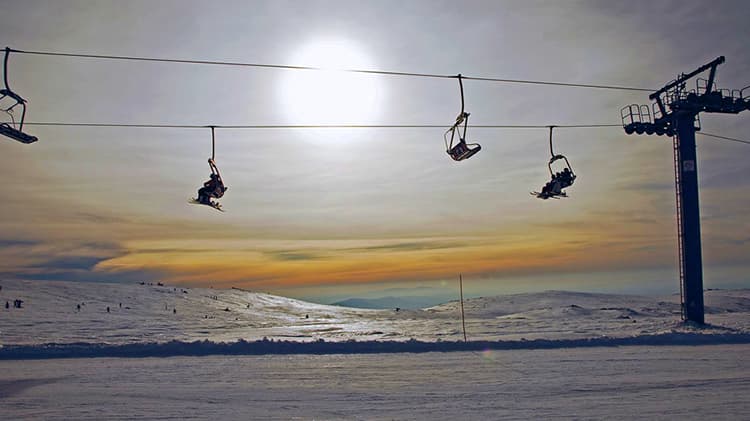 What ski lessons are available?
Even if you do not know how to ski or snowboard, there is an option available for you to learn. A usual skiing lesson at Estância de Ski da Serra da Estrela costs €40 per person.
However, the more people you bring with you, the more you can count on a discount. For example, if you bring one of your friends, you will pay only €50 for both of you.
When is the best time to start skiing in Portugal?
The day of Saint Martin is one of days honouring the Popular Saints ("Santos Populares") among the people in Portugal. On this day, 11 November, the whole of Portugal celebrates, eats sweets, roasted chestnuts and drinks "água-pé" (a type of weak wine).
The fact is that the holiday of Saint Martin in Portugal means that the warm season has passed and the transition into winter begins.
So, it's time to open umbrellas, get your thickest sweaters on and wait for the winter fairy tale to begin. Or one could go straight to the centre of Portugal where you can find real snow.
Check out what the weather is like in Portugal all year-round here.
Weather in Loriga, Serra da Estrela for the next seven days:
Tips for booking your ski trip
When booking your ski holiday, check all the details that are important to you: prices, skiing schedule, ski passes, hotel location, bar opening hours, etc.
You may be surprised at what Portugal has to offer and you will surely be pleased with a great and memorable stay!
Have you been skiing in Portugal? Let us know in the comments below.
Don't miss out on expert tips for your visit to Portugal. Subscribe to our newsletter today.