A little less daylight, a little more rain, and everyone is digging their warm clothes out of storage. This is Portugal in winter. No one would call it beach weather, but winter in Portugal is pretty pleasant compared to the frigid climates many of us come here to escape.
Read on to see what Portugal in winter is really like, and find out about some activities that are even better when the weather turns colder.
What is Portugal in winter really like?
First of all, it does snow in Portugal, but typically only in the Serra da Estrela range in northern Portugal. Otherwise, it rarely gets below freezing anywhere in the country – and the idea of lakes or rivers freezing over is basically unheard of.
You won't see snowfalls in Lisbon or the Algarve, but the depth of winter in Portugal can be chilling, especially during December and January. The depth of winter in Portugal can be unpleasantly cold. Temperatures at night can get down to 2 degrees C (36 degrees F). Making up for this, though, are mild daytime temperatures that can climb as high as 20 degrees C (68 degrees F).
Probably the most inconvenient part about winter in Portugal is the rain. When it rains in Portugal, it pours. Unlike the endless drizzle that you would experience in London, you will often see a month's worth of rain in a couple of hours.
Planning to visit Portugal?
Make the best of your trip with our tips.
Now you won't see snowfalls in Lisbon or lakes in the Algarve ice over in winter, but the depth of winter in Portugal can be extreme, especially during December and January. This is mainly due to the extreme variation in temperatures that each day has. Temperatures at night are the coldest, sometimes reaching 2°C (36°F) while day time temperatures can be as high as 20°C (68°F).
Probably the most inconvenient part about winter in Portugal is the rain, which often causes cities to come to a halt. When it rains in Portugal, it pours. Unlike the endless drizzle that you would experience in London, you will often see a month of rain in a couple of hours.
Winter in Portugal is still winter. When there are clear skies overhead, that is usually a sign that a warm winter day will be a cold winter night once the sun sets.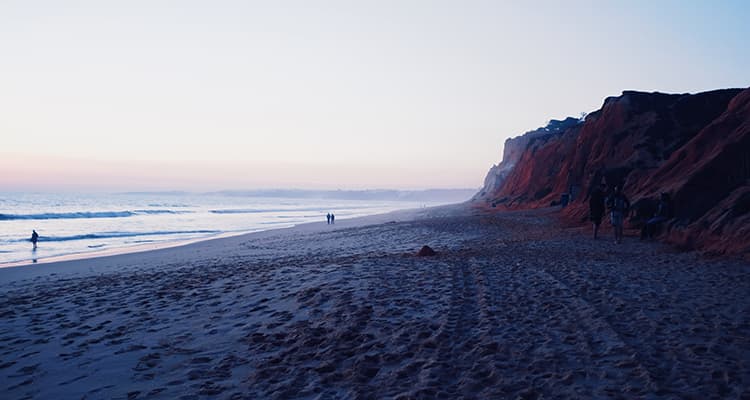 Winter in Portugal is always nicer in the Algarve
Located in the southern region of Portugal in the Algarve, is Faro, one of the warmest cities in Portugal, and even in Europe. If you're used to snowy skies and freezing wind, there is no "real" winter in Faro. It's more like a long, pleasant spring, with more than 10 hours of sunshine on most day. This doesn't mean that weather conditions are always suitable for the beach, but you can usually count on fair weather that doesn't require more than a long-sleeved shirt to be comfortable.
That being said, the nights can still get cold because of the wind, so we suggest you bring a jacket and at least one pair of pants – rather than shorts – if you head to the Algarve over the winter.
The coldest area of Portugal is around Porto, in the north. Porto sees a lot of rain in the winter. We mean really a lot. The winter months here are also not so friendly, temperature-wise, but the city takes on an atmospheric, mysterious beauty. And of course, you can still enjoy the city's scenic beauty and famous Port wine.

Where to find snow and skiing in Portugal
Yes, it does snow in Portugal! But only in a few places. Most people are surprised to discover that not only does it snow in Portugal, but you can even ski here.
From Porto, you can take a day trip to Portugal's mountains and go on a guided tour of Serra da Estrela. If you're with a group of four or more, there is a beautiful full-day nature tour you can take that includes a visit to the Lagoa Comprida lagoon.
Serra da Estrela is the highest mountain range on the Portuguese mainland and it receives snow every winter. In fact, it gets enough snow that there's a ski resort near the Spanish border. Serra da Estrela also boasts the country's highest mainland altitude, at 1,967 metres (6,453 feet).
The single ski area definitely isn't challenging. The slopes are ideal for beginners as it has high safety ratings and helpful instructors. There are some intermediate and advanced runs, but they don't compare to the slopes in countries like Norway or Switzerland.
If you don't want to ski, Serra da Estrela's resort area is also a nice place for winter walks and, of course, admiring the beautiful mountain views from a cabin or cozy hotel. The city of Guarda, just northeast of the mountain, also has a beautiful 12th-century cathedral to explore.
In Portugal for the winter? Here's what you can do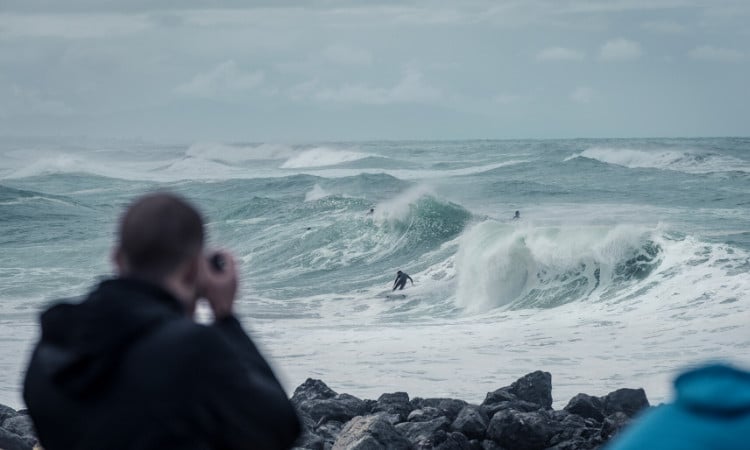 Explore the outdoors
While lying on the beach may have to wait, winter is a great time for surfing, rafting, and other activities. Portugal's waves and rivers are higher and faster moving in winter, and the sun is less intense.
The west coast of Nazaré also gets the biggest surfing waves during the colder months and many surfing competitions are held here. Exploring the landscape can also be much more beautiful during the winter. And if you're interested in a more urban vacation, the cities and popular tourist attractions are less crowded.
Warm up with a traditional Portuguese dish
No other traditional Portuguese dish is better for winter than caldo verde ("green soup"). Hearty and warming, it's still sometimes cooked in a traditional clay pot. The soup is normally served with slices of linguiça (pork sausage) and, often, cornbread. The Portuguese also love chouriço, and add it to stews or serve it still flaming on a hot plate.
A walk through the city in winter will often smell like castanhas (roasted chestnuts). Street vendors sell this and other Portuguese traditional snacks in the autumn and winter months. Want to really feel like a local? On Nov. 11, Saint Martin's Day, the Portuguese celebrate by eating warm roasted chestnuts and drinking jeropiga, a traditional liqueur. This celebration kicks off the countdown to Christmas.
Other national holidays over the winter are, of course Christmas in Portugal, New Year's Eve, and Carnival, which is held in February.
Keep warm inside
Often when it's cold outside, we want to stay indoors. In Portugal however, houses can feel chilly and damp, especially in older properties. That's because most buildings are designed to keep out the summer heat rather than stay warm in the winter.
Central heating is very rare and reverse-cycle air conditioning is not ideal for warming an entire home. Sometimes the best option is to invest in a dehumidifier, some fluffy blankets, and fuzzy sweater. Alternatively, space heaters can be a lifesaver in bedrooms or smaller apartments.

Portugal in winter is thankfully short
Winter may mean more time to catch up on your favorite Netflix series, but "real" winter in Portugal is short. Summer's warmer temperatures generally start around the beginning of May and last well into September. In the meantime, keep warm!
Book your hotel with Booking.com
With Booking.com you can book the best hotels in Portugal for the cheapest price. Get instant confirmation, pay 0 booking fees and even cancel your booking for free at most hotels. 
Booking.com -
Find the best prices and prepare your trip to Portugal today
FAQ
What is Portugal like in the winter?
Portugal in winter is often on the cloudy, rainy side. While it's not beach weather, it also doesn't get bitterly cold. The Algarve, in southern Portugal, is warmer than the rest of the country, and it gets cooler (and rainier) and you head north. Porto, for instance, can be gloomy and damp in winter.
Is it cold in Portugal in December?
Yes, December in Portugal is cold – but this is compared to the rest of the year. You'll still have sunny days, especially from Lisbon south. The nights will get particularly chilly, and if you're visiting in December you'll want a warm coat and maybe a hat to keep the cold at bay.
Is December a good time to visit Portugal?
December is a fantastic time to visit Portugal. It's a delightful place to celebrate Christmas, with different traditions and festivities throughout the country. There are lower crowds than in the most popular months of the year (July and August), but still tons of things to do and see.
How cold does Portugal get in winter?
Portugal doesn't get particularly cold in winter, at least in most of the country. Not counting the Serra da Estrela mountain range, the winter temperatures hover between 2 degrees C (36 degrees F) in the coldest nights and up to 20 degrees C (68 degrees F) on the mildest winter days.