The Alentejo is a big fertile region covering a third of Portugal by area.
With a fascinating and checkered history, the hardworking and humble people that call this place home have done much to turn it into Portugal's gastronomic soul.
Food from Alentejo
Rich ingredients prepared according to ancient methods, by skilled hands, are what makes the food of Alentejo truly special. In Alentejo, you'll find fresh sheep's cheese, black pork, wild mushrooms, fresh herbs, and artisan bread.
Each town has its own speciality and you're never far away from a vineyard producing some of the country's most delicious wine.
Here are a few dishes that you absolutely don't want to miss out on while discovering the cuisine of Alentejo.
1. Porco preto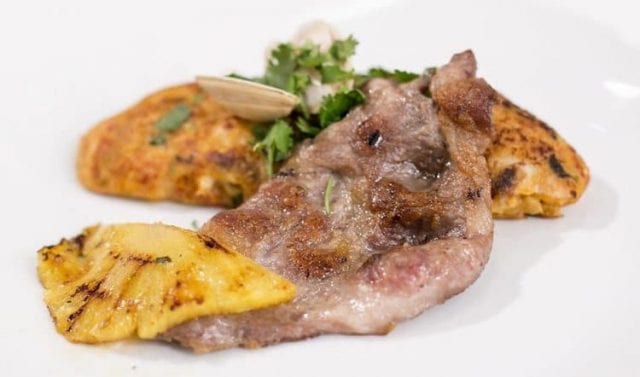 You won't make it far in Alentejo without encountering a sign offering black Iberian pork (or porco preto in Portuguese). This is one of the most celebrated ingredients in Alentejo cuisine and features heavily on menus across the region.
The reason the flavour is so mouth-watering is due to the fact that the pigs of Alentejo are able to freely roam the countryside and therefore eat a hearty and varied diet of acorns from cork and holm oak trees.
Try the migas de porco preto, a dish made with leftover bread, or the secretos de porco preto, a lean filleted parts of the porks belly.
Where can you try porco preto?
I can strongly recommend Taverna Os Templários in Monsaraz. This quaint family-run restaurant is located 20km from the Spanish border and has a terrace with a beautiful view.
2. Favada real de caça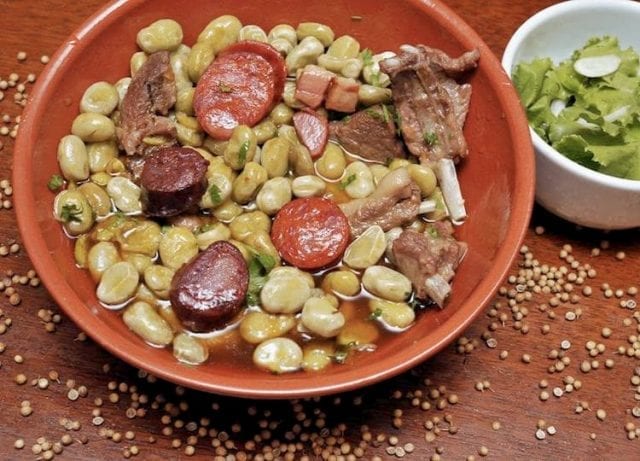 Found in certain traditional eateries throughout Alentejo, favada real de caça is a hearty bean stew that was customarily served to royal guests after hunting trips.
It is rich, flavourful, and comforting, the perfect way to wind down after a busy day of sightseeing.
Fialho restaurant, in Évora, is the place to go to try this classic of Alentejan cuisine. Fialho has been open since 1948 when its founder, Manuel Fialho, began serving local snacks.
Today, the walls are covered with antlers and awards and the kitchen serves up some of the best local dishes around.
3. Pão Alentejano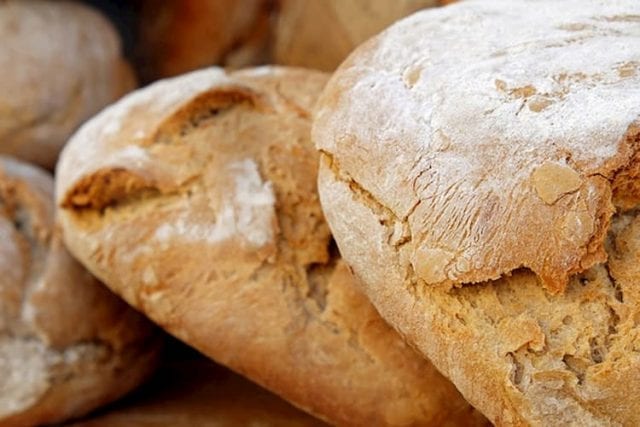 Known as the breadbasket of Portugal, the bread of the Alentejo region certainly bears mentioning.
It the basis of the area's cuisine and the smell of freshly baked loaves wafts throughout the towns and villages that speckle this part of southern Portugal.
A distinct shape consisting of a round base with a head, this beautiful bread is made with wheat flour from Alentejo and traditional yeast.
In order to be considered fully authentic, it should be baked in a wood-burning oven to be authentic which produces a dense interior while the crust is thick and crispy.
Most meals in Alentejo will begin with this special bread served alongside cheese and olives, and you'll also see it mashed and sliced in most of the region's soups.
You won't have any trouble finding chances to sample this regional staple, but if you find yourself in Vila Nova de Milfontes, pick up a loaf at Pão, Café e Companhia to take with you for a picnic.
| If you like Portuguese food you will also love exploring the Algarve cuisine.
4. Açorda à Alentejana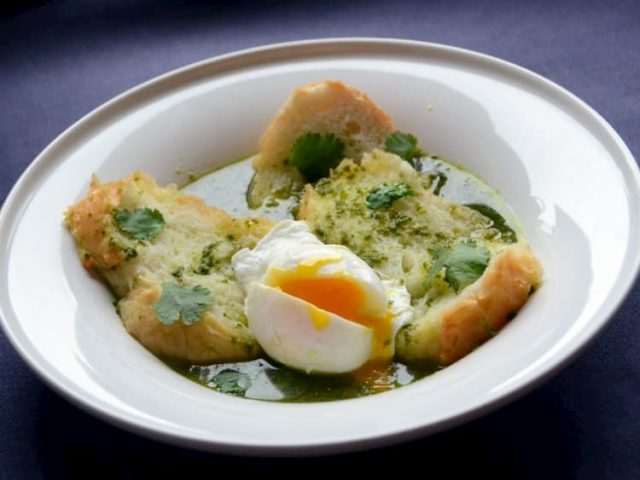 Speaking of bread, another way to sample this region's speciality is in Açorda à Alentejana.
This satisfying dish is prepared as a hearty soup and features torn off pieces of day-old bread mixed with garlic, cilantro and poached eggs.
Other ingredients depend on the season and the preferences of those preparing it, but you can always count on it being warm, filling, and full of aromatic herbs.
Try this classic at Buerere in Évora and you won't be disappointed.
5. Ensopado de borrego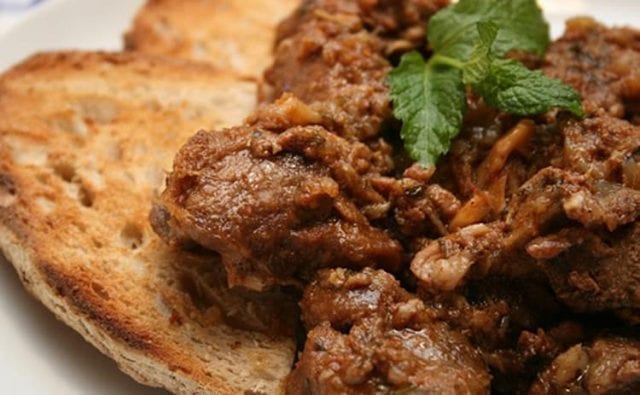 You'll quickly find that soups and stews dominate the cuisine of Alentejo.
The excellent quality of their meat, the freshness of the herbs used to season, and the patience of the skilled cooks tending large boiling pots over many hours is what really sets these dishes apart in a category all their own.
Ensopado de borrego is the region's lamb stew and is a wonderful comfort dish that you don't want to miss out on.
Try it at O Alentejano in Serpa where they've become famous for it.
| Sign up to our newsletter and discover the sides of Portugal no one ever tells you about.
6. Sopa de Tomate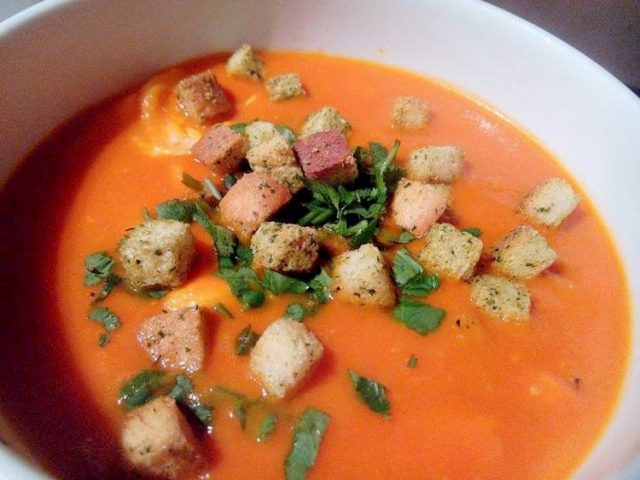 One of the most Portuguese traditional flavours, the tomato soup. It's nutritious and delicious and it's part of the foods of the Alentejo.
Made with locally grown tomatoes, in a way, it's very similar to the Spanish Gazpacho although but much better in my opinion.
For the best tomato soup in the whole of Alentejo, visit Adega do Alentejano in Évora.
7. Migas com carne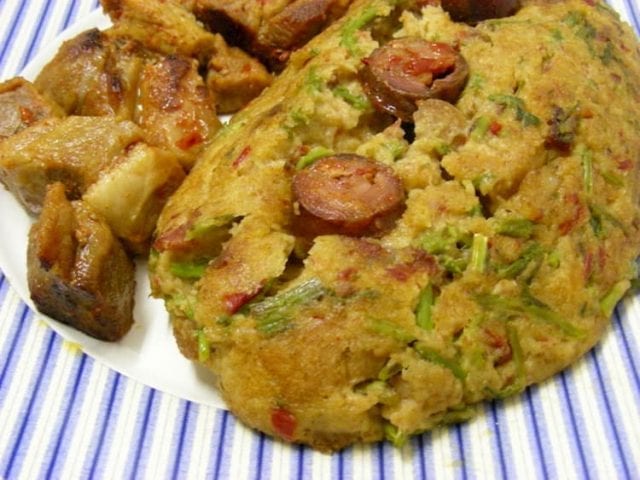 Bread from Alentejo, sliced in cubes with fried meat, garlic and paprika. I can't think of anything more delicious and comforting. This is one of the most popular dishes in the Alentejo.
8. Queijada de Évora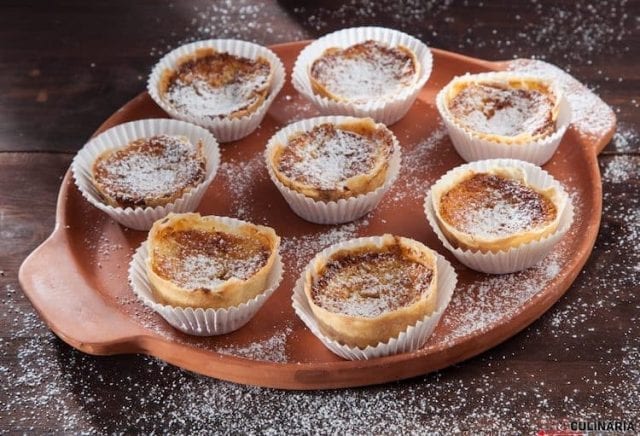 The Portuguese love their sweets and the Alentejo has no shortage of beautiful pastries on offer.
One of which they are proudest of the region are the delicately flavoured queijada you will find in bakeries across the land.
A mildly sweet cheese pastry, these little pockets of joy are light, fluffy, and the perfect accompaniment to your morning or afternoon coffee.
Try Pastelaria Conventual Pão de Rala in Évora and chances are you'll end up having more than one.
If you like sweets, you must try the 20 Mouth-Watering Portuguese Desserts (Recipes Included).
9. Pastéis de Toucinho
Another rather unusual treat that is worth trying in the Alentejo region is the Pastel de Toucinho, which translates into bacon pastry or pork pastry.
This dessert highlights the Alentejan tendency to make (good) use of the entire of the animal and showcases how unexpected ingredients can come together to create something special when done with care.
Despite the name, these little treats aren't short on sugar.
They have a smooth creamy texture and there is only a very mild taste of pork that lingers at the very end.
Try these unusual and delicious treats at Pastelaria Espiga D'Ouro in Arraiolos.
10. Vinhos do Alentejo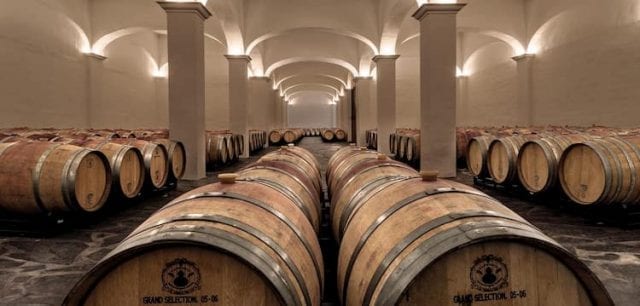 As Alentejo becomes an increasingly must-visit destination for wine lovers and connoisseurs, you really shouldn't leave the area without learning about (and sampling) some of the region's famous grapes.
The winemakers of Alentejo want to make it easy for you to find them, so now, by following the Rota dos Vinhos do Alentejo, you can visit over 60 wineries.
Most are happy to welcome you inside to take a tour of the vineyards, offer you a wine tasting and even to indulge in the local cuisine.
Even if you're more interested in history than sipping wines, you'll be able to enjoy this experience.
There are numerous vineyards in Alentejo that have a history stretching all the way back to the Middle Ages and it is said that the Romans played a role in influencing and developing viticulture and winemaking in the region.
Learn more about the Portuguese wines with Portuguese Wine, a Guide to Finding the Best Wines in Portugal.