Are you considering studying abroad? Have you thought about studying in Lisbon? It might be the perfect destination for you to study.
In this article, we will discuss what you need to know about studying in Lisbon, the cost of living and tips to help you settle down in Lisbon easily.
Studying in Lisbon
Lisbon is the capital city of Portugal, one of the oldest cities in western Europe and home to some of the best Universities in the country.
Studying in Lisbon offers a wholesome experience in terms of education, student life and city charm. Besides this, it is also relatively cheaper to study in Lisbon than other neighbouring countries in western Europe.
Most programmes and courses taught at the undergraduate level mainly have Portuguese as the language of instruction. It is, however, common to find English-taught courses at masters and PhD levels.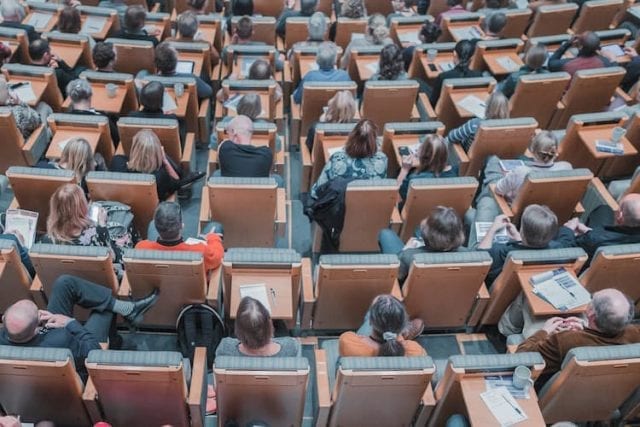 Universities in Lisbon
If you're thinking of where to study in Lisbon, you should check some of the following universities;
The universities listed above offer several programs which are taught in English across various disciplines like management, economics, chemistry, computer science and engineering.
These Universities also have top quality MBA and Executive MBA Programmes as well as collaborations and partnership with world-leading universities and colleges in the US like Massachusetts Institute of Technology (MIT) and other top universities in Europe and China.
Some MBA programs you can consider in Lisbon are:
The Lisbon MBA – This MBA program is arguably the best in Portugal. It is put together by  NOVA SBE and Catolica Lisbon School of Business and Economics in collaboration with MIT Sloan.
MBA ISEG  – It is ranked as one best of the best international MBAs by the CEO magazine and its also internationally accreditated by the Association of MBAs (AMBA).
Also, universities in Lisbon promote exchange programmes through the Erasmus initiative.
Studying in Lisbon will afford you the opportunity to study abroad in other European universities for one semester or two semesters.
Applying to study at a university in Lisbon
Undergraduate Applicant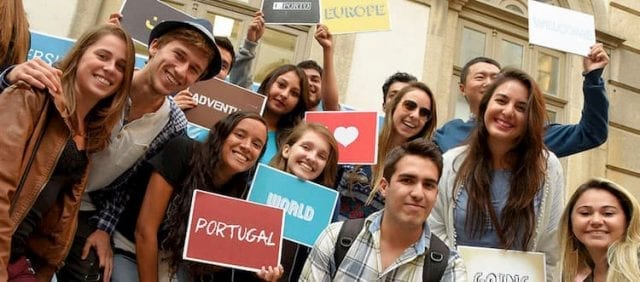 For undergraduate study, you will need to present a transcript of secondary education and pass an entrance exam.
Applicants who are EU students may not need to take the entrance exam if you have passed similar exams in your home country.
There is a special admission process for Brazilian and Chinese applicants. Please see individual school websites for more details.
If you would like to get daily news and information about Portugal you sign up for our newsletter today.
Masters and PhD applicants
For a master's application, you must have a bachelor's degree or its equivalent and for a PhD application, you must possess a relevant master's degree or its equivalent.
Some other documents you will need to have when applying to a university in Lisbon include the following:
A completed application form
Transcripts of academic records
A motivational letter
For some degrees, you will also require a portfolio of your work.
Proof of payment of the application fee
Some schools may require to do an interview
The application is done entirely online on the school's website and there are usually three to four rounds of applications for students between November and August.
You should check each school's website because application deadlines may vary.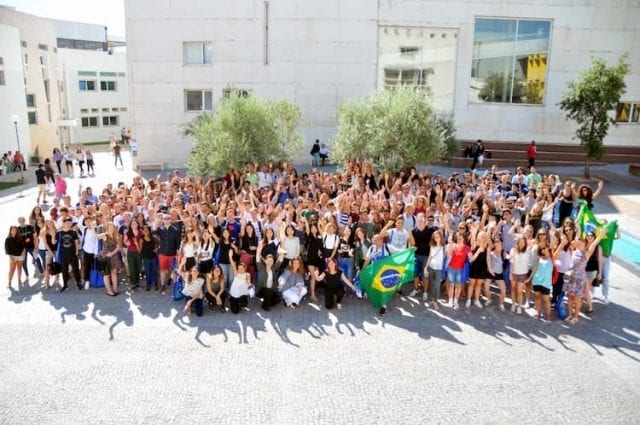 Finding a house in Lisbon
Finding accommodation in Lisbon is complicated and as a student to get a decent place to stay can be very challenging.
School Accommodation
As an international student to get a comfortable and cheap accommodation you should apply for a place in the residence halls of the university. In the school's residence hall, the average price is between €170 to €250 per month.
You should also know that spaces in the university's residence are very limited. The university halls of residence are usually managed by the "Serviços de Ação Social – SAS" of the University.
Private Accommodation
However, if you do not want to stay in the university's residence halls, you can opt for private accommodation by searching for rooms and apartment online from websites like
The average price for private accommodation in Lisbon in a shared apartment is between €300 to €400 monthly and you will also need to most likely pay security deposits as well as paying for the first and last months' rent.
Alternatively, if you would like to live in a studio apartment (in Portugal it's called a T0) in the city centre you should budget about €650 for monthly rent.
When searching for where to live as a student in Lisbon, proximity to the faculty and public transport service are very important.
Generally, anywhere close to the city centre is a good option, areas like Baixa-Chiado, Marquês Pombal, Rato, Alameda and Saldanha are all good neighbourhoods to live in Lisbon as a student.
Sometimes it is not possible to get proper accommodation before arriving in Lisbon, do not worry too much, there are many hostels around the city with good prices where you can stay a few days or weeks before getting a place to stay in Lisbon.
You can also check our article on renting an apartment in Lisbon.
What's the cost of living in Lisbon?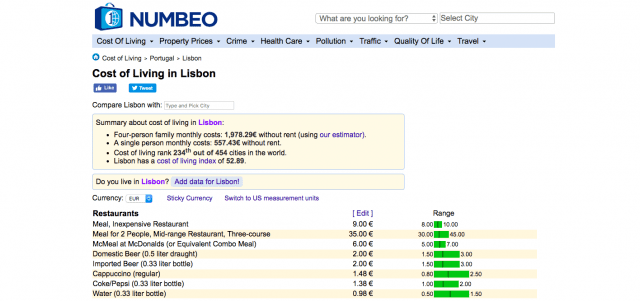 The cost of living in Lisbon varies from person to person depending on your budget and lifestyle. Most of your monthly spending will go to rent as other living amenities are inexpensive.
For example, you can spend €100 to €150 on food monthly. If you stay close to the school, you will not need to do a monthly transport pass which costs between €30 to €40 monthly.
Also, alcohol and dining out isn't too expensive as a litre of beer costs almost €2 and a jug of Sangria costs about €10 while an inexpensive meal at a decent restaurant is about €10.
Overall on a minimal budget with very frugal spending, you can live decently with €600 to €700 a month, on the other hand, to live a more comfortable and outgoing lifestyle in Lisbon you might spend as much as €1,000 per month.
See living in Lisbon for a comprehensive guide to living in Lisbon.
Is it possible to get a scholarship to study in Lisbon?
Yes, it is possible to get a scholarship to study in Lisbon. Some institutions that provide scholarships are:
Fundação para a Ciência e Tecnologia 
Fulbright Portugal (only for North American citizens)
Fundação Millennium BCP 
Fundação Oriente 
Centro Nacional de Cultura 
What's the nightlife in Lisbon like?
The nightlife for students studying in Lisbon is buzzing and interesting.
The Bairro Alto neighbourhood is the popular go-to place for students in Lisbon to have fun, drink and party. It is filled with lots of bars, pubs and disco.
The Erasmus corner is also a hot spot for student nightlife in Lisbon. Also, in the Cáis do Sodré area, you will find many discos and clubs.
Are there student associations?
Most universities and faculties in Lisbon have student associations which help both local and foreign students.
A student organisation exchange and international students can join is the ESN Lisbon group which is usually present in most faculties in universities in Lisbon.
They also help students and organize fun activities and trips for students to see other parts of Lisbon and Portugal.
Advantages of studying in Lisbon
There are lots of reasons and benefits why Lisbon has become a studying destination. Some of these advantages are:
Lisbon is a cosmopolitan city with many people from all parts of the world
The cost of living is reasonable
It is a beautiful and scenic city
You will enjoy lots of great food and wine
There are also many job opportunities
Great quality of education
Disadvantages of studying in Lisbon
Lots of bureaucracy and somewhat complicated administrative process
Overpriced apartments for rent