Should you launch your startup in Portugal? Does Portugal have a good Startup Hub? What about incubators and investors?
More and more entrepreneurs, organizations and investors are expanding to Portugal.
But there's a lot of doubt and confusion around this topic, so we decided to tell you everything you need to know about launching a startup in Portugal (or investing in one), the good and the bad.
Advantages of launching or moving a startup to Portugal
There are many advantages to creating a startup in Portugal. We'll just go through some of the most important.
There's less competition in Portugal
The ones who have an entrepreneurial mindset tend to succeed in Portugal since there's "less competition" among people who prefer to perhaps work for other companies instead of creating their own.
We've also written a mega-guide on how to reigster yourself as a freelancer in Portugal.
People prefer safety over risk
Some say that the Millennial generation is perhaps one of the less entrepreneurial ever. The numbers in the United States are heavily decreasing since people do not want to take the risk of opening a company. Besides these, there are also a lot of people moving their small businesses to other countries, like Portugal.
What are the advantages businessman find here that they do not get in other European countries?
Access to Schengen Zone
Establishing a business in Portugal allows you to operate and move across the Schengen zone without restrictions. That includes selling your goods and services as well.
Competitive salaries
When you compare the average salary in Portugal to the rest of Europe you'll understand it's way below the average. Unfortunately for the people who live there, and fortunately for businessmen, salaries are low in Portugal.
That will obviously make your company more competitive especially if you're competing with companies located in the US, for instance.
See in detail the minimum and average salary in Portugal.
Portugal is a very diplomatic country
We are talking about a small country but we "think global" from the very start in order and we don't close doors to business opportunities.
Historically Portugal has always maintained good relationships with almost every country in the world and has one of the most powerful passports in the world.
Climate and food is also a great motivator
We also shouldn't forget about the fantastic climate and food you can find in Portugal that really will make you enjoy the time you spend here.
See more about the Portugal weather.
The Portuguese government supports startups
Lastly, the Portuguese Government's encouragement towards startup creation has been one of the reasons for the country's acceptance of this lively startup environment that even small cities like Aveiro or Braga live.
As you'll see further down in this article, Portuguese has created initiatives such as the startup voucher (financial support) but also startup visa to attract foreign entrepreneurs who want to establish their business in Europe.
Highly qualified professionals
It is usual for a typical student in Portugal to leave school and go straight to University, where in addition to completing a Bachelor's Degree, there are some who take on a Master's degree afterwards.
There are very qualified professionals available in the market for your startup in Portugal.
Also, you should know that English is taught as a second language in public and private schools from a young age.
We have also written about the top 20 startups in Portugal.
Affordable living
This, obviously, depends where you coming from, but overall the cost of living in Portugal is cheap.
Portugal's values
Another great thing which makes this country one of the best for the business panorama is that we respect human rights before anything else, not judging other races, cultures or sexual orientations – nor having any kind of law that punishes people who follow their own journey.
We also value people who can fluently communicate in English (other languages are a plus) since many job positions require the knowledge of different languages.
Also, if you move to Portugal from a European country, you do not need any Visa. The same does not apply to people living outside the EU, but that is, however, an easy process to complete.
To find out more about visas in Portugal, read: Types of Portugal Visa.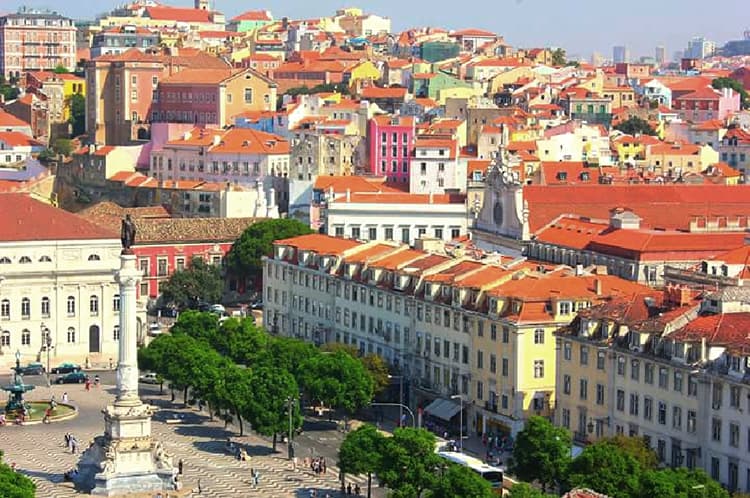 Understading the Portuguese startup scene
It was once said, by Vodafone's CEO, that Portugal is "the Silicon Valley of Europe". That alone must tell you something about creating a startup in Portugal and the whole startup scenario you can find in this country.
Numbers say that since 2016, investment in the startup scene in Lisbon has grown 30% every year, a rate which is twice the average of the rest of Europe. These are impressive numbers also because we are only focusing on the growth registered in Portugal's capital. But there are other cities in which startups have found the ideal place to be, such as Porto, Braga or Coimbra.
That does not come as surprise for the Portuguese, at least, since the Government tends to encourage people to launch their own businesses, mainly startups. In fact, the Portuguese Government has launched the "National Strategy for Entrepreneurship Startup Portugal" back in 2016 full of exciting advantages.
StartUp Portugal
Nowadays, a strategy is known as StartUp Portugal, has been one of the highest achieving initiatives for entrepreneurs in the country so far.
It basically has three main objectives around which it works:
To create and support the national ecosystem;
To attract national and foreign investors;
To accelerate the growth of Portuguese startups in foreign markets.
As you can see, these established goals encompass both national and foreign companies, which is a great advantage when comparing to other countries.
Launching a startup in Portugal begins with a "Startup Voucher" (website is in Portuguese), a kind of financial support given by the Government to support the development of projects in its initial phase (this only applies to companies owned by entrepreneurs from 18 to 35 years old).
But it is not only at this early stage that the Portuguese Government offers support since it provides other kinds of incentives to help startups grow, mainly at an internationalisation level, offering training and organising important meetings and workshops.
Startup Lisboa
Having Lisbon as the capital of Portugal, it is expected to find there are more opportunities than in other cities. Startup Lisboa calls itself a "Soft Landing Program" that has helped more than 280 startups since 2012.
They offer support including mentoring and financial support, necessary for the first months of a startup. If you wish, you can attend the event to be held from the 24 to 28 June 2019. Startup Lisboa is creating this event for anyone who is interested in the startup scene in Portugal.
Interested in knowing more about startups and about living in Portugal? Take 15 seconds of your time to subscribe to our newsletter
What are the requirements to launch a startup in Portugal?
As mentioned before, if you are from the EU, you do not need a Visa in Portugal, but the same does not apply to people coming from other countries. There are two primary options you can take regarding asking for a Visa, which you can find below.
1. Startup Visa
To put it in a few simples words, Portugal's Startup Visa is the reason why there are so many startups in the country. This is a Visa created for founders that allows them to live in the country – guaranteeing legal residence.
The Startup Visa mainly aims to attract investment (internationally), which is the safest way of getting foreign revenue. It also seeks out talent and innovative ideas that can highlight Portugal even more in the startup scene – especially in the technology area.
Tech startup that will make more than €325k
So, in case you are thinking of creating a tech startup in Portugal and you can prove a prospective turnover of more than €325,000 (five years after the incubation period), look for the Startup Visa since you are most likely eligible for it.
But those aren't the only "requirements" since you have to come from outside of the Schengen area and prove that you will make employment opportunities available.
You can find more about this Visa at StartUp Portugal's website here.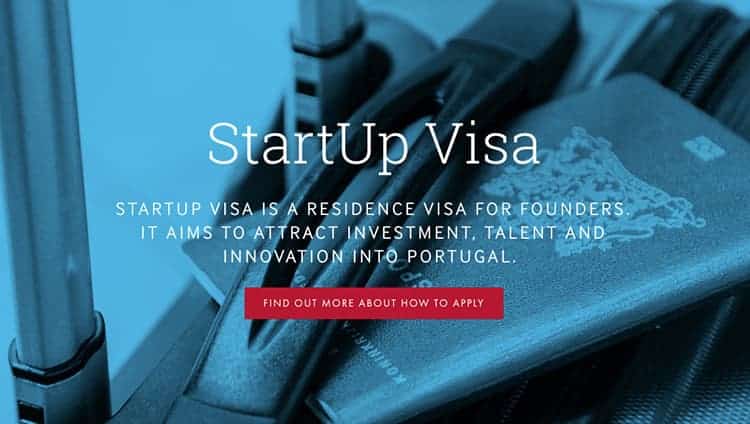 2. Portugal's Entrepreneurship Visa
The only reliable option you can find regarding getting a Visa is Portugal's Entrepreneurship Visa D2. This one does not come as a Government proposal since it is provided by a private company. It can be, however, a possible option for you.
Besides providing the economic support you need, they also introduce you to investment opportunities that can be good for your business.
As they say on their official website: "By establishing an economic base and business activity in Portugal, the investor and his family will be eligible to apply for the temporary residency that could be obtained in nine to 12 months".
It might also be useful to see our guide about jobs for foreingners in Portugal.
Residency as entrepreneur
If you got any of the above mentioned visas, congratulations and welcome to life in Portugal.
Your first step now will be to go to SEF and exchange your VISA to a residency title which wil give you some benefits:
Visa free travel to Europe;
Free health care;
Free education; and
Eligibility to apply for a Portuguese passport after six years of residency.
What's the best visa for me then?
The one that best suits your business. It is vitally important that you first inform yourself before trying any of the options listed above. We also advise you to get a professional opinion either at StartUp Portugal or Startup Lisboa.
Top 5 cities for startups in Portugal
We will now let you know the best cities for startups in Portugal.
1. Lisbon
Lisbon is undoubtedly the best city to launch a startup in Portugal. The amount of support you can get (not only from a monetary point of view) in the capital is much more than in any other city. See here our guide to living in Lisbon.
2. Porto
Porto has attracted more foreign investment in startups than Lisbon in 2018, which increases the city's significance when creating a startup in Portugal. Actually, you can check out the number of startups in Porto right now here.
We' ve also shared top tips from expats to living in Porto.
3. Coimbra
In the centre of Portugal, there is another important hub of startups: Coimbra. It is an important academic and historic city known for its tech-savvy entrepreneurs.
The most known startups based there are:
See also how's it like to live in Coimbra.
4. Braga
In the north of Portugal, there is yet another important city when it comes to startup growth. Braga also has an incentive programme for new companies that want to create something in Portugal, which is Startup Braga.
5. Aveiro
Aveiro is also a growing city regarding the startup scene. There are many companies starting to show their value in the city, where you can also find some incentives and incubators.
Finding an office space for your startup in Portugal
Coworking spaces are beginning to get very popular here, but not as much as in other countries and continents. However, you can find great offices in Portugal in a co-working space but the price differs from city to city. It is normally more expensive in important urban centres, especially in Lisbon.
Porto and Braga can also be seen as more expensive when compared to cities like Aveiro or Coimbra, but they are cheaper than Lisbon for sure.
Dedicated co-working spaces can start at €15 per hour or day, depending on the office itself.
To find out about co-working in Lisbon, you might like: Top 20 Co-working Spaces in Lisbon.
Applying for incubation in Portugal
It is difficult to tell you what the price is for applying for incubation in Portugal. Every case is dealt with in a very specific way and the numbers are not public.
The country has, however, more than 90 incubators all over the country, so it should not be difficult for you to find the perfect place and deal.
Either Portuguese or foreigners can apply for incubation and that is one of the reasons why StartUp Portugal has a proper "Incubation Voucher" for those that want to establish a business in this country and don't yet have their own place to open a startup.
Best startup incubators in Portugal
We've listed some of the best business incubators in Portugal below:
What kind of industries do startup incubators support in Portugal?
Every case is different, but the majority of startups that are located in incubators are related to technology.
Into tech? You might also be interested in: Web Summit Lisbon.
How to apply for an incubator in Portugal?
If you are not from the EU, you first need a Visa and then you should head on to the incubator's official site to see if the information you need to apply is available or not. Nevertheless, we advise you to first reach out to a startup programme that can guide you through each phase of the process.
Whether you are already in Portugal or not, we must say that most applications are made directly with the person responsible for the incubator. So try to contact the place you're interested in and they will certainly guide you from there.
Is it worth moving or creating a startup in Portugal?
Moving or creating a startup in Portugal can be good a good option.
Portugal is cheaper than the rest of Europe
Lisbon has been rated by the European Digital City Index as 75% cheaper than London. Also, the cost of living in Lisbon, the Capital is cheaper and rent values are better for foreigners.
Portugal has more than 90 incubators
Conditions vary, but they can be better for people who are moving in, leaving space for continuing internationalisation.
Portugal has Government incentives
As the incentives mentioned above and provided by StartUp Portugal.
The negative of doing business in Portugal
Bureaucracy
Old-habits
Low productivity
I think any Portuguese (and foreigner will agree with me on this). Portugal has way too much bureaucracy, which is not uniformized throughout the country.
Secondly, there's a lot of old-school thinking like "oh you need to do extra hours to be a good worker".
Thirdly, a lot of people actually enjoy having long lunches, big pauses and staying late in work.
As a consequence, business culture can be hard to "deal with it".
Nothing comes without a pay-off.
Did you find what you were looking for about a startup in Portugal? Let us know if you have any questions or experiences to share in the comments below.