To all the remote workers in Lisbon! We have news for you.
Looking for an office space you can go to every day to get you out of the house is much easier in Lisbon now that co-working has become so popular.
We've made a list of 20 of the best co-working spaces in Lisbon right now. Before we dive into the best places in Lisbon to work from, you can also check out this article from our partner, Global Citizen Solutions, for more information on the Digital Nomad Portugal Visa.
Co-work in Lisbon
If you are working for yourself or remotely for a company and want to mingle with like-minded people, it might be worth considering a new co-work space.
Co-working has become increasingly popular in recent years as a sense of community, sustainability, and inspiring workspaces has become more and more valued. Lisbon is home to the world's largest digital nomad community with regular meet-ups and co-working spaces popping up all over the city in order to accommodate the influx of freelancers and startup companies.
There are over 50 co-working spaces available catering for freelancers, startups and small businesses in Lisbon.
Let's check them out neighbourhood by neighbourhood.
Just a note on pricing: Some of these may change, so check out their websites for the most up-to-date membership prices. All prices quoted here include tax (VAT/IVA).
Top co-working spaces in Cais do Sodré
Just by the Tagus River is Cais do Sodré where you'll find plenty of delicious foods to eat with the Time Out Market or Mercado da Ribeira, the city's main food courts. A short walk away is Pink Street, which is full of restaurants and bars.
1. Second Home
Located in a 19th century building above the Time Out market, Second Home (featured image) is a stunning, light-filled, open space that is filled with a jungle of flowers and plants – the ideal setting for creatives. This is probably one of the best co-working spaces we've found and it offers several locations across Europe. Contact Second Home here for more information and their latest offers.
Membership starts at €120 per month.
Address: Mercado da Ribeira, Second Floor, Avenida 24 de Julho.
2. Cowork Central
With two great locations in Lisbon, at Cais do Sodré and Príncipe Real, Cowork Central offers cozy, co-working spaces in a diverse environment in the heart of the city centre. Fill in Cowork Central's online form for more information and a quote.
Prices start at €10 for a few hours, €15 per day and  €227.55 per month.
Addresses: Praça Duque da Terceira 24, 3°, Cais do Sodré and Rua da Alegria 122-B, 3°, Príncipe Real.
3. Outsite
Situated in the heart of the city, Outsite is a trendy space decorated with plants channelling coffee shop vibes. They host weekly events and offer fast WiFi, meeting rooms, free coffee, and printing.
Prices start at €15 per day, €70 per week and €150 per month.
Address: Rua de São Paulo 109.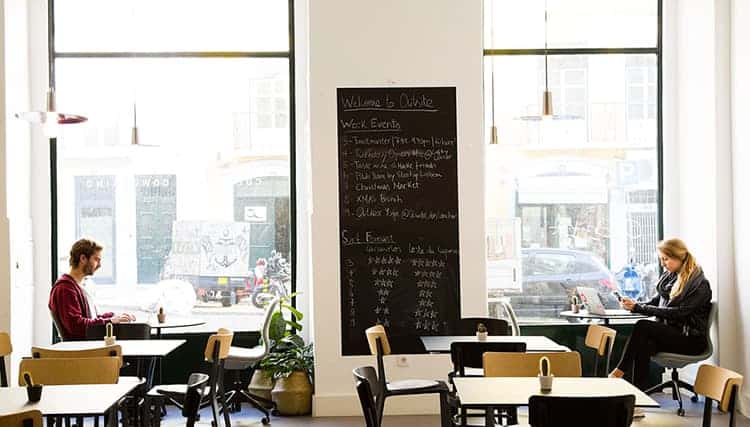 Top co-working spaces in Alcântara
Situated between downtown Lisbon and Belém, Alcântara is a neighbourhood that also runs along the Tagus River where visitors often check out Docas de Santo Amaro and LX Factory.
4. Impact Hub
More than a workspace, Impact Hub Lisbon is a community of entrepreneurs and innovators willing to make a difference. This is a place to connect, share, inspire and get things done. They also organize events and community activities; and empower purposeful entrepreneurs through acceleration and capacity building programs. As part of a global network based in 100+ cities, they want to make a positive impact worldwide. Visit them or contact Impact Hub here for more information on their pricing.
Membership starts from €30 per month.
Address: Rua 1° de Maio 103.
5. Cowork Lisboa
This was actually the first co-working space in Lisbon and has remained one of the trendiest offices with its location in the heart of LX Factory. Cowork Lisboa is a space is frequented by designers, artists, programmers, and the like, which makes it an exciting and dynamic environment to work in. Contact Cowork Lisboa here for more information of what they have for your needs.
Prices start from €12 per day, €40 per week and €100 per month.
Address: Rua Rodrigues Faria 103.
6. Village Underground
Another cultural community filled with artists and creatives, at Village Underground you'll find 14 refurbished metal shipping containers that you can share or create a studio for yourself.
Prices start from €18 per day, €150 per month for a shared container or €600 per month for a full container.
Address: Rua 1º de Maio 103.
Top co-working spaces in Intendente
One of the coolest, hippest neighbourhoods in the city; Intendente appeals to designers, musicians and artists. There are many cool cafés and bars nearby.
7. Garagem Infinita
Giving off industrial vibes, this garage, turned office space, is ideal for creatives, designers, entrepreneurs and digital nomads. Garagem Infinita offers temporary spaces and meeting rooms for events or workshops. Nearby to plenty of metro stations, its easy access and equipped spaces will accommodate your creative needs. Contact Garagem Infinita for special deals and discounts.
Prices start from €15 per day, €40 per week and €110 per month.
Address: Rua Damasceno Monteiro 110D.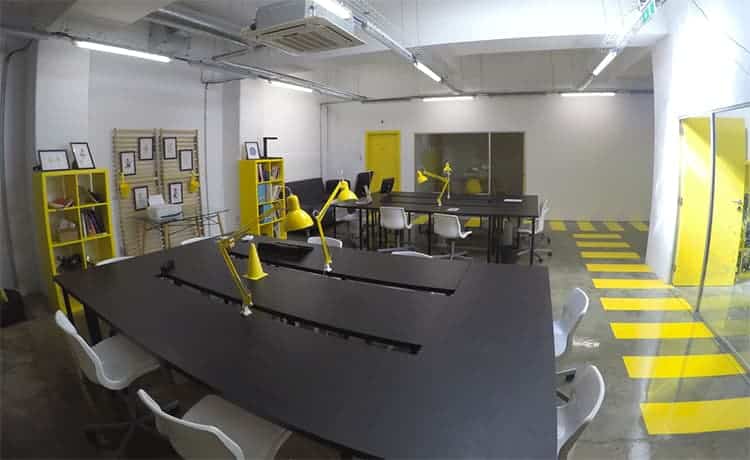 8. Oficinas
Located in Intendente in a refurbished building, Oficinas has four floors with a reception, meeting rooms, bar and terrace, all filled with natural light and a relaxed ambiance. Just knock on the door to have a look and discuss options.
Prices start at €18 per day or €72 per week and they have various monthly offers.
Address: Rua do Benformoso 227.
9. Cura Dura
Cura Dura (website is in Portuguese) is a funky co-working space with their own outdoor garden for those warm days. They have a window space at the front for your products if you wish to sell something. To find out more, fill in the contact form on their website here.
Prices start at €10 per hour, €50 per day and €100 per month.
Address: Rua Palmira 33 G.
Top co-working spaces in Marquês de Pombal
The heart of modern Lisbon, here you'll find more businessmen and women than in other parts of the city. There are plenty of great restaurants and shops nearby.
10. House of Maria Amalia
If you're looking for a modern, light-filled space and want to bring your pet to work, House of Maria Amalia is the space for you. It is the only pet-friendly space in Lisbon, located in the centre close to Marquês de Pombal with a sister office in London. It is decked out with kitchen facilities and gorgeous city views. Contact them directly here for their offers.
Membership is €125 per month and a free day-pass is offered to try it out. The daily price is €7.50.
Address: Rua Padre Luis Aparicio 9, 6F.
11. HOurSpace
For those looking for more short-term desks. HOurSpace offers flexible rates that let you stay by the hour. The interior is decorated by local artists and they offer unlimited coffee and tea – perfect for freelancers with strict deadlines on the go. At the time of writing they were not taking new bookings, but be sure to contact them directly for availability coming soon.
Address: Rua Padre Luís Aparicío 9, 4D.
12. Espaço 3D
A cool hub for startups, this space offers meditation and yoga classes to refocus as well as fruit, tea and coffee to refuel. Espaço 3D has fixed desks, hot desks, and even virtual offices.
Prices are on request by contacting them directly here, but a free day pass is offered.
Address: Rua Braamcamp 84, 3°.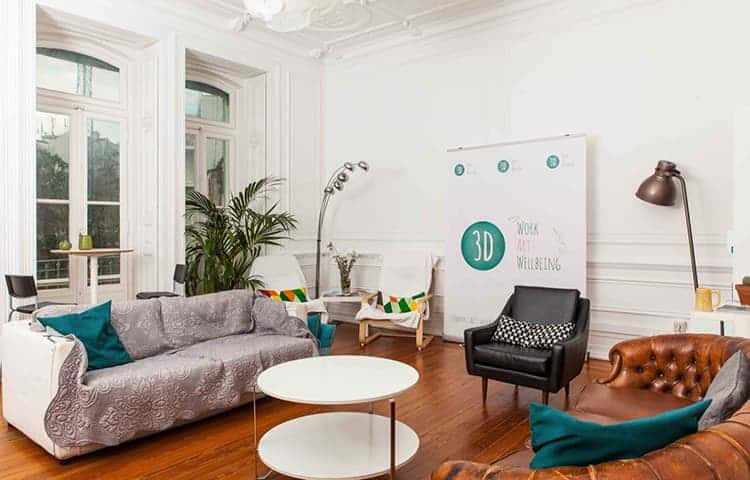 Top co-working space in Saldanha
The financial district of Lisbon, this area is more commercial, modern and smarter than downtown. There are plenty of restaurants and shops to enjoy; as well as less hills to walk up.
13. Beta-I
Beta-I is hotspot for startups and entrepreneurs. This hub has supported over 500 Portuguese and international startups. Beta-I as an incubator and part co-working space. The space occupies a whole building featuring plenty of amenities and activities, even parties. Contact Beta-I here for a price for a desk space or join their start-up incubator hub.
Address: Avenida Duque de Loulé 12
14. Bworking Space
A fresh, new co-working and office space, Bworking Space offers a free day pass to see how you like it. With big, wide windows, this office has lots of natural light. It's ideal for creatives and small businesses. Saldanha is a great location so contact Bworking Space here for their latest offers.
Prices start from €18.45 per day and €184.50 per month.
Address: Rua Latino Coelho, 13A
Top co-working spaces in Parque das Nações
A modern part of the city where the Oriente train station and the Oceanário de Lisboa are located. Parque das Nações is also home to a number of restaurants and bars along the river.
15. Rocket Hub
Rocket Hub offers premium facilities including meeting rooms, common workspaces, rooftop areas, lounges, and private hubs. Contact RocketHub here for details and a quote for what you are looking for.
Prices start at €20 per day.
Address: Alameda dos Oceanos 41R.
16. IDEA Spaces
A professional, bright and modern co-working space set across two locations with spectacular views of Lisbon. IDEA Spaces even offers free beer and an onsite café alongside events and meeting rooms with membership.
There are several options seating options, from hot-desk to private office. It all depends on your preferences and the size of your team.
Both IDEA spaces are usually crowded, so please make sure you contact IDEA Spaces in advance. Prices start at €100.
Addresses: Avenida Dom Joao II 35, Edificio Infante 11ª, Parque das Nações and Avenida Fontes Pereira de Melo 16, Marquês de Pombal.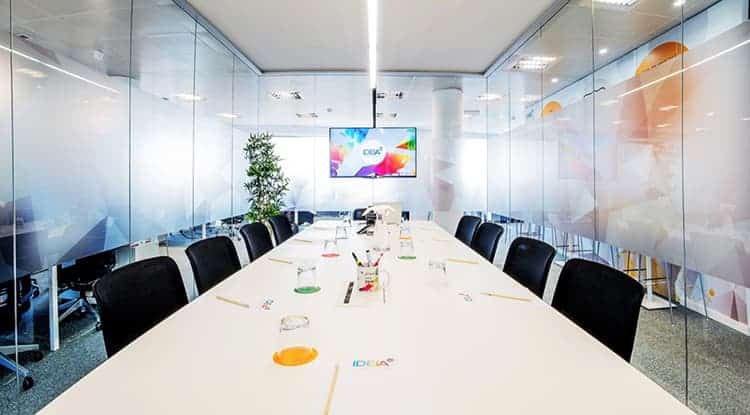 Top co-working spaces in Beato
One of the oldest districts in Lisbon and one of the quietest; this area is a place of ancient farms and regal buildings, such as the Convento do Beato, which often hosts various types of events.
17. NOW Beato
NOW Beato ("No Office Work") is located in a recently renovated building from 1094. This co-work space offers three floors for business rooms and startups, co-working spaces, a cafeteria and an event space. They offer fixed desks, hot-desking, nomad and private studios for companies and teams. A great spot for those seeking an active and engaging workspace. With three locations to choose from, contact NOW Beato directly for a quote on what you need.
Prices start from €100 per month.
Address: Rua do Grilo 135.
18. Workhub
Workhub is a modern co-working space in a 100-year-old renovated wine factory and is also a cool space if you're looking for an incubator. The co-working space partners with Amsterdam Venture Partners who can give you a foot in the door with investors. For everyone else, it offers a great lounge and balcony, bike garage, regular events and a friendly atmosphere. Contact Workhub for more details.
Prices start from €15 per day, €160 per month.
Address: Rua Amorim 2.
Join our mailing list for more top tips about life and working in Portugal.
Top co-working space in Graça
Like Alfama, Graça is an older part of the city, apparent in the narrow streets and even smaller pavements. There are plenty of beautiful viewpoints here including the impressive National Pantheon.
19. Heden
Short for "Hidden and Eden", Heden is is a creative center addressing the demand for workspaces for locals and travelers. It's located in a vibrant neighborhood and offers fast internet, friendly and helpful staff who follow its motto: "Inspiring, Comfortable, Sustainable". To contact them, just fill in the form on their website.
Prices start from €10 for a half day, €15 for the day and €150 per month.
Address: Travessa da Pereira 35A.
Top co-working space in Ericeira
What about a beach getaway for your working day or maybe a retreat for your team? At just 30 minutes from Lisbon, the Ericeira scene is more relaxed with plenty of beach vibes all year-round.
20. The Surf Office
If you're looking for atypical office space, then you'll find The Surf Office in Ericeira right for you. Space includes a swimming pool (!), fully equipped rooms for meetings, training or workshops and a ping-pong table to have some competitive fun. Perfect for nomads who can't stay away from the beach. Get in contact with the Surf Office for more on what they can offer you..
Contact them for a price tailored to your needs.
Address in Lisbon: Rua Maria Andrade 8A.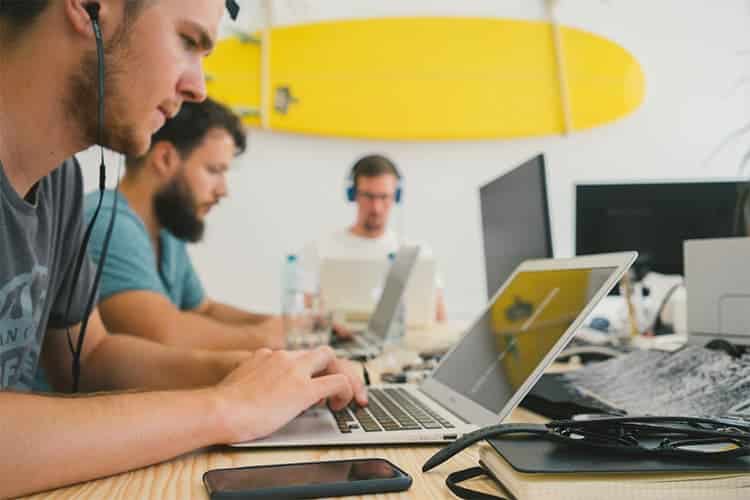 Co-working spaces in Lisbon has everything you need
That's 20 top co-working spaces in Lisbon. If you're feeling creative, need to meet a deadline or simply looking for a new co-working space for 2019, then go visit one of these dynamic and modern spaces that will boost your creativity and work day excitement.
Looking for a job and don't speak Portuguese? Check out our article: Jobs for Foreigners in Portugal.
Did we miss your favourite co-working place in Lisbon off our list? Let us know in the comments below.