Did you know that Coimbra was the first capital of Portugal?
Did you also know that Coimbra is home to the oldest University in Portugal?
Coimbra, as a district and city in central Portugal, is very historic and deep in cultural heritage with its roots going as far back to the Moorish times and the Roman occupation of the Iberian Peninsula.
Would you like to know what it's like to live in Coimbra?
I'm guessing: Yes!
What it's like living in Coimbra
Living in Coimbra affords you the opportunity to live in a tranquil city with a low cost of living and a high quality of life. In this article, we will discuss all you need to know about living in Coimbra.
Where is Coimbra exactly?
Coimbra is in the Centro Region of Portugal and it's the capital city of the district of Coimbra. It is halfway between Lisbon and Porto and easily accessible by rail and road. The entire district of Coimbra is home to over 450,000 people while the city of Coimbra itself is home to about 140,000 people.
Would you like to visit Coimbra first? Read our article: Visit Coimbra.
How's the labor market in Coimbra?
In terms of job opportunities in Coimbra, the opportunities are few and far between. Coimbra is a city that attracts a lot of students both domestic and international, so a lot of jobs and services are designed mostly to cater to the needs of the students.
This makes renting out apartments and rooms a good business in Coimbra due to the high number of students who come to the city to study. So, purchasing a property to generate rental income can be a good business.
For expats who are qualified to teach English, it is possible to find employment in Coimbra as there are several international language schools such as:
Also, if you looking to start an agricultural business, the surrounding areas of Coimbra could be an option to consider.
You can check for job opportunities in Coimbra on Randstad's website here.
The weather in Coimbra
Coimbra's climate is mild and a little cooler than in Lisbon. The climate is Mediterranean with the summers being very warm, with average temperatures of 28°C (82°F) during the day and 16°C (61°F) at night.
Also, in the summer, rainfall is very minimal.
In the winter months, temperatures rarely fall below 0°C (32°F), you can expect a daily temperature of around 7°C (45°F), and a lot of rainfall.
What's the cost of living in Coimbra?
The cost of living in Coimbra is very reasonable and offers a high quality of life when compared with cities like Lisbon and Porto.
For example, a one-bedroom (T1) apartment in the city centre will cost on average €400 per month to rent while in Lisbon the same type of apartment costs almost double to rent.
In general, the cost of living in Coimbra besides rent, ranges from €300 to  €500 per month depending on your lifestyle and interests.
If you would like to compare this to the rest of Portugal, have a look at: The Cost of Living in Portugal.
Is it easy to rent or buy a house in Coimbra?
Finding a place to live in Coimbra is relatively easy. You will have a variety of options to choose from depending on your taste and preferences though most apartments are designed for student accommodation.
As mentioned earlier, Coimbra is a city with a large student population, so areas in the centre and close to the university tend to be in high demand and are generally more expensive than other neighbourhoods.
If you would like to buy a house in Coimbra, you will also find several properties to buy. However, some of these properties are usually centuries old and are in dire need of renovation. It is also common to see many older people buy houses in outlying towns because they want to live in peace and quiet.
Just to give you a rough idea of the cost of buying a house in comparison to Lisbon, the average price per square metre to buy an apartment in the city centre of Coimbra is €1,937.50, while it costs about triple that in Lisbon which is on average €4,171.24 per square metre.
See this Numbeo site for an extensive list to compare the cost of living in Coimbra to Lisbon,
Best neighborhoods to live in Coimbra
Some of the best neighborhoods to live in Coimbra are;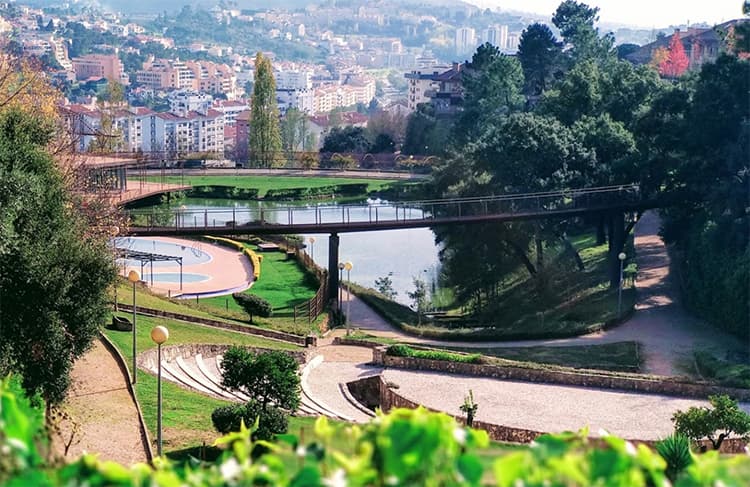 Transportation in Coimbra
The public transportation system in Coimbra is quite developed. The two major means of transportation in Coimbra are the bus and train.
Bus transportation in Coimbra
The bus is the cheapest means of public transport in Coimbra. The city's bus network is run by the SMTUC (Coimbra Municipality Urban Transport Services) (website is in Portuguese).
There is one main bus station in Coimbra: Station A which is located at Avenida Fernão de Magalhães 667 and serves as the main station for buses coming from other cities and towns in Portugal. The main bus company is Rede Expressos.
Train transportation in Coimbra
The other public transportation in Coimbra is the train. It is also cheap and reliable. There are two main train stations in Coimbra: Coimbra A, situated in the city center which mainly serves destinations within Coimbra, and Coimbra B (Estação Velha) where you can find the high-speed trains to cities and towns outside the Coimbra district.
Studying in Coimbra
Besides the University of Coimbra, the two most popular institutions to study in Coimbra are the Polytechnic Institute of Coimbra ("Instituto Politécnico de Coimbra") and the Coimbra Institute of Engineering ("Instituto Superior de Engenharia de Coimbra").
There is a very lively student community in Coimbra with students coming from all over the world.
For a complete guide to Portugal's top schools and institutions, click here.
Leisure things to do in your free time in Coimbra
Coimbra and its surrounding areas are very historic and beautiful, so you would have plenty of things to see and do in your leisure time.
Some things you may consider doing in your free time are: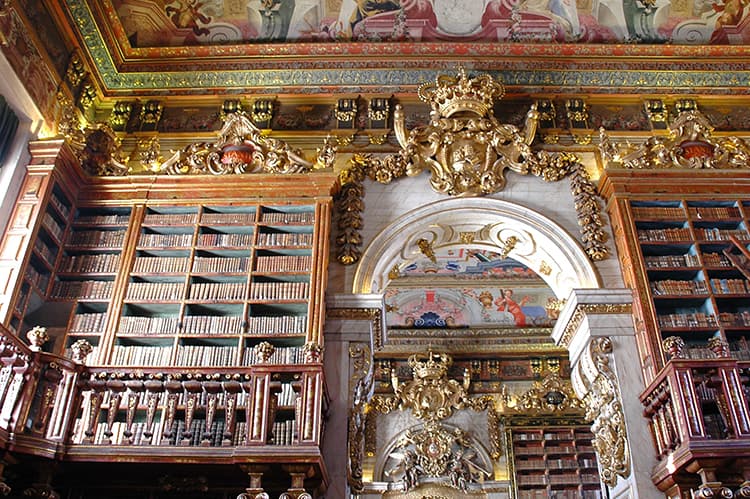 Is Coimbra a good place to live?
Living in Coimbra is probably most ideal for people looking to retire in Portugal or anyone looking to live a more tranquil and quieter life. The cost of living is very reasonable and there are plenty of amenities to make living in Coimbra comfortable.
Pros and cons of living in Coimbra
Pros
Property prices are cheaper than in Lisbon and Porto;
There is a good public transport connection to Lisbon and Porto as well as other towns in central Portugal;
It is a very peaceful and quiet city; and
Coimbra is a very traditional Portuguese city.
The only "con" about living in Coimbra is that there are limited job opportunities.
Overall, Coimbra is not as cosmopolitan as Lisbon and so life in general in Coimbra flows at a much slower pace.
Do you have any questions about living in Coimbra? Let us know in the comments below.
Liked this article? Subscribe to our newsletter to know when we publish new stories.
Get expert advice on residency in Portugal
Investment consults, real estate portfolio strategy, tax residency advice or second home location planning - we're on hand to help with whatever you need.
Global Citizen Solutions -
Schedule a free 15 min call with our specialists