Costa Nova used to be a fisherman village but now it is a coastal resort town that attracts both foreigners and locals.
It is also the home to one of the best beaches in central Portugal, Costa Nova do Prado a very sandy beach with beautiful dunes and lovely views of the Atlantic Ocean.
The incredible landscape of the Ria, the golden sands, freshly caught fish and cooked seafood, colourful striped houses and the idyllic landscape of the area are all reasons why you should visit this enchanting resort town.
Where is Costa Nova
It is in the central region of Portugal situated between the Atlantic Ocean and the famous Aveiro Lagoon.
Costa Nova is very close to Aveiro, discover the city of canals, sweets and beauty with our guide.
How's the weather in Costa Nova
Costa Nova has a Mediterranean climate. Hence, the summers are usually very warm and dry, while the winter is rainy and cold. In the Autumn and Spring season, it is also very rainy.
In general, the warmest month is August with an average daytime temperature of 27°C while the coldest month is January
The Best Time to Visit
To experience great outdoor activities and good weather the best time to visit is from April until October.
If you want to avoid rain, you should avoid visiting in December as it is usually a very wet month.
Seven things you should do in Costa Nova
Palheiros da Costa Nova (The Colourful Striped Houses)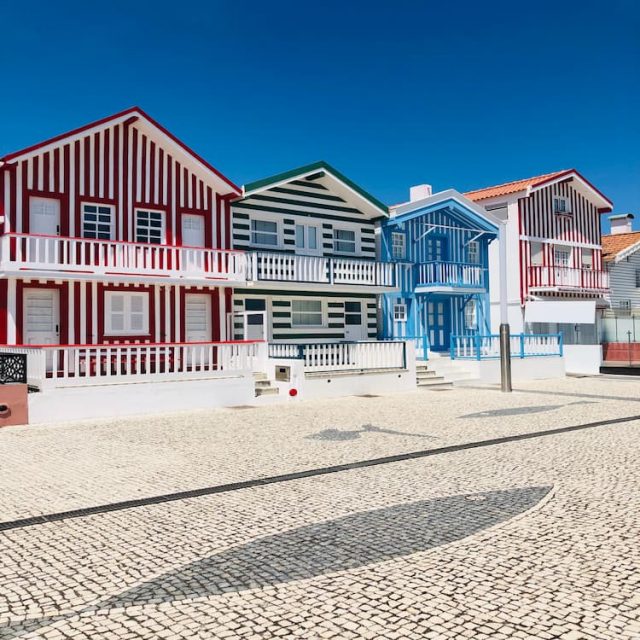 Situated on José Estêvão Avenue promenade, these are probably the most photographed houses in Costa Nova. They used to be traditional fishermen houses used for storing fishing equipment but now they are iconic landmarks.
These beautiful coloured striped houses in Costa Nova is an unmissable feature of the town. They add colour to the landscape of the city and make for a pleasant stroll on the waterfront while admiring the houses painted in several vibrant colours.
 Take a tour along the Costa Nova beaches and see the colourful fisherman houses aboard a moliceiro cruise. 
Visit the Fish Market
One thing you must do here is to visit the fish market. At this market, the fishermen display and sell their daily catches. You can also get freshly caught fish or shellfish from the Lagoon like crab, shrimp or whelk to be prepared immediately for you.
Ria de Aveiro
Ria de Aveiro is a shallow coastal lagoon that stretches 45 km along the western coast of Portugal from Ovar to Mira. It is a natural habitat for a wide variety of fish, especially the seaweed.
The "Ria" is also an ideal spot for birdwatching activities as it is a natural habitat for water birds and protected species such as the purple heron, white stork and more.
Eat a Tripa
A trip to this part of Portugal without eating a Tripa is incomplete. It is a dough made with flour, sugar, eggs and milk and sometimes filled with chocolate. A sweet tooth's delicacy!
Water Sports
Costa Nova is a great place to engage in several water activities. Some of the main water sports you can do here include windsurfing, kitesurfing, sailing, kayaking and canoeing, Stand Up Paddle, water skiing and Surfing.
There are also a few bodyboard and surf schools where you can either learn how to surf or rent surfing gear. One popular surf school situated in the Aveiro lagoon, close to the main beaches is Ria Activa.
Costa Nova Beach
This beach is a stunning landscape. It is a long stretch of unspoiled beaches along the Atlantic shoreline surrounded by colourful striped houses and undulating sand dunes.
The beach is a perfect place to catch the ocean sunset as well as relax or eat in a restaurant with a view of the Atlantic.
There is also a well-constructed wooden pathway which makes it easy to move from one end of the beach to the other while admiring the riverscape.
Praia da Barra and Farol da Barra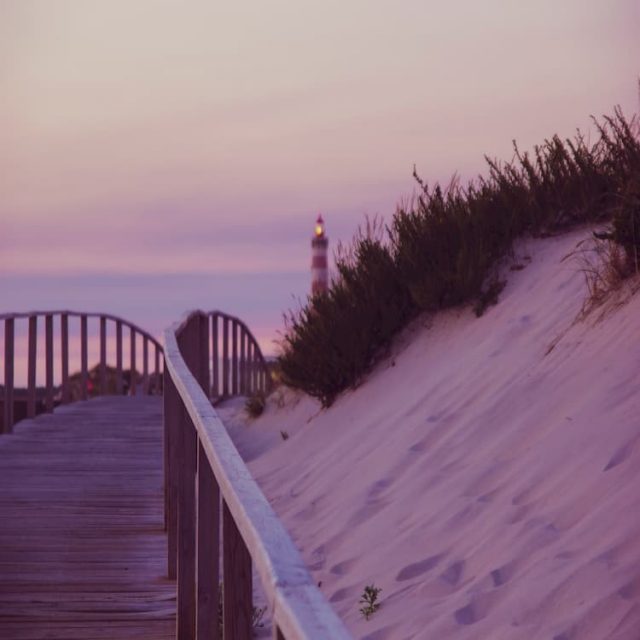 Located to the north of Costa Nova near the mouth of the Vouga River you will find the Barra shoreline. It is not as big as Costa Nova Beach, but it is equally a charming blue flag beach with a serene environment.
Here, you can engage in a range of water sports like bodyboarding, kitesurfing, surfing and sailing.
Also, at Barra beach, you will see the tallest lighthouse in Portugal (Farol da Barra). The lighthouse stands at 62 metres high and was built over 100 years ago. To explore the lighthouse, you must visit on Wednesday between 2 pm and 5 pm.
If you are looking to enjoy fresh seafood, this is an ideal place to do so as there are also lots of restaurants and bars near the beach that offer this.
See also: Your Guide To The Best Beaches In Aveiro.
Best hotels
Costa Nova Hotel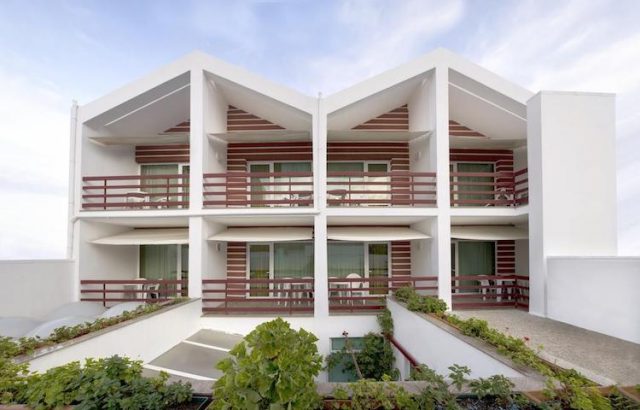 Nicely situated between the river and the beach, this hotel is the perfect base to explore the city from. The average price per night is €64.
Check their availability here.
Hotel Farol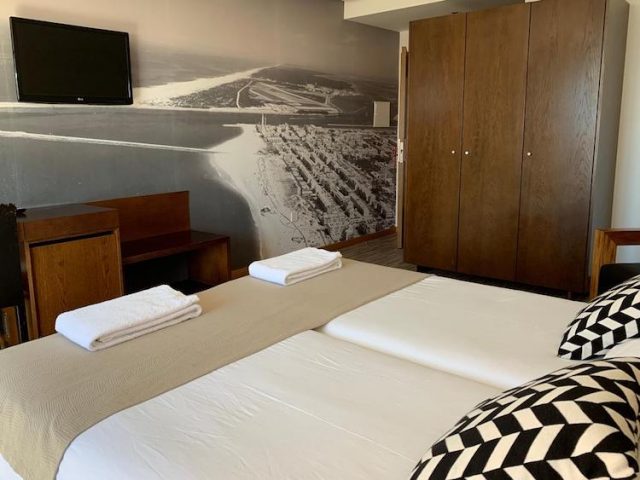 Located near Praia da Barra, Hotel offers a tranquil setting and a scenic landscape. The average price per night is €66.
Check their availability here.
Cestaria Costa Nova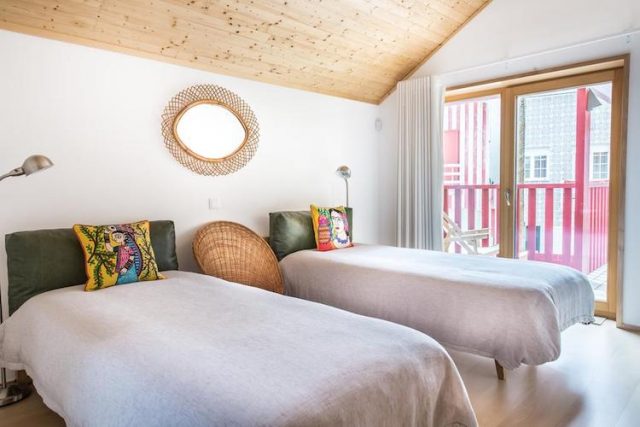 Situated on the main avenue, this is a good accommodation option which is easily accessible and offers a sun terrace and lovely views of the river. The minimum stay here is at least two night. The average price for two nights is €240.
Check their availability here.
Belle View Apartment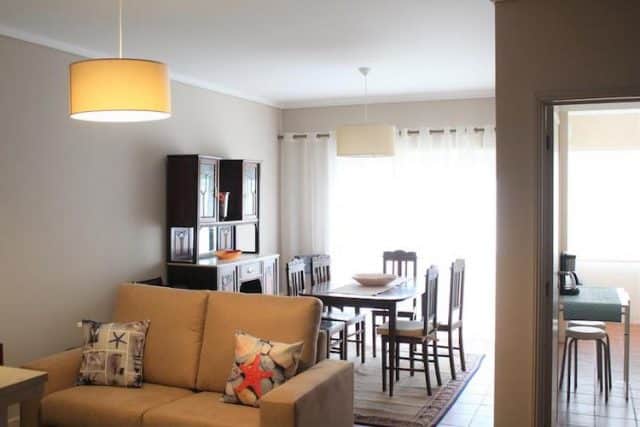 Situated near the lagoon, this is the ideal accommodation option for anyone interested in fishing, sailing, surfing, kite-surfing or other nautical sports.
Check their availability here.
Costa Nova Marina Apartment
This is a two-bedroom apartment situated near the beach in one of the colourful striped houses (palheiros). It has a big swimming pool and a spacious garden.
Check their availability here.
Book your hotel with Booking.com
With Booking.com you can book the best hotels in Portugal for the cheapest price. Get instant confirmation, pay 0 booking fees and even cancel your booking for free at most hotels. 
Booking.com -
Find the best prices and prepare your trip to Portugal today
Where to Eat in Costa Nova
Peixe na Costa
This is a good seafood restaurant in Costa Nova with great wine selection and Portuguese dishes. You should also know it is a bit pricey.
Address: Avenida de Nossa Senhora da Saude N0 73, Costa Nova, Ilhavo 3830-460, Portugal
Restaurante O Cais
Situated on the main Avenue, O cais is easily accessible and offers a great dining experience too. You can enjoy European, Portuguese and seafood delicacies here.
Address: Avenida Jose Estevao 238 | Near the market, Costa Nova, Ilhavo 3830-453, Portugal
Zé da Tripa
Also situated on the main avenue, Zé da Tripa is the perfect place to try the local delicacies like Tripa and Ovos moles.
Address: Avenida Estevao, Costa Nova, Ilhavo, Portugal
Canastra Do Fidalgo
Perfectly situated in the centre of the town, Canastra Do Fidalgo is a cozy restaurant that offers great freshly prepared seafood. Also, to ensure you get a seat, it is advisable to make reservations.
Address: Avenida Jose Estevao 240 | Costa Nova, Aveiro, Costa Nova, Ilhavo 3830-453, Portugal.
Costa Nova

In all, this is a charming town to visit and makes for an interesting day trip from either Porto or Aveiro (The Portuguese Venice).
If you want to go on a half-day cruise tour through Costa Nova and Aveiro, check out this offer.
It is a place to relax and enjoy the pureness of the locals, nature and magnificent scenery.