Undoubtedly one of the most romantic countries in the world, whether you're looking to celebrate your nuptials on a dreamy white sand beach or in a palace perched atop a hilly lush forest, Portugal has something for you.
All of the wedding venues and best places to get married in Portugal I'm about to suggest, boast something truly unique. Once you discover all the options you have available, your biggest problem might be having to choose just one place.
Best Places to Get Married in Portugal
A beach weddings in Portugal
There is a reason why so many opt to exchange vows on the beach, with soft sand under your feet and an ocean of blue stretching out behind you, beaches provide a stunning, serene environment full of fantastic photo opts.
Getting married in the Algarve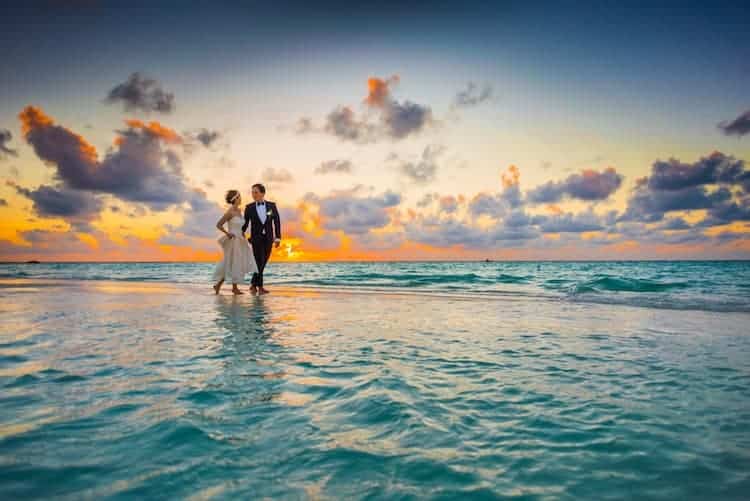 If that sounds good to you, the Algarve region is one of the best places to get married in Portugal. Albufeira and Lagos are the most popular place for getting married in the Algarve and they both offer beautiful landscapes, Lisbon hotels with excellent service and unforgettable.
Unlike other parts of the country, the Algarve climate is quite pleasant even during winter, making a wedding possible all year round.
Suggested venue:
Boutique Hotel Vivenda Miranda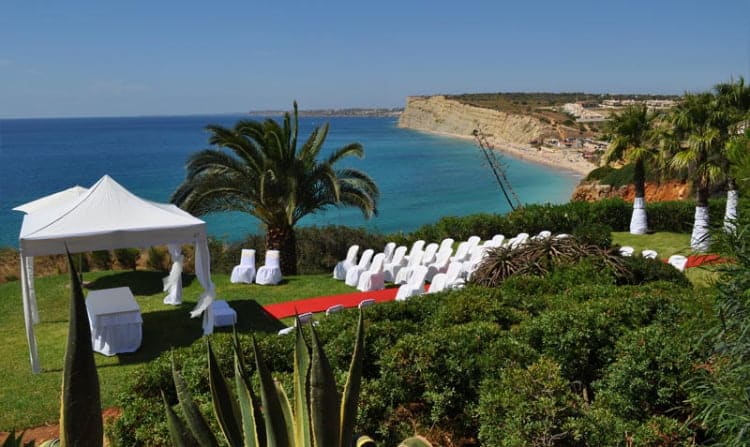 Originally the home of a local noble family, this cliff-top estate in Lagos back to the 17th century. Today it is a stylish boutique hotel with an ambience that instils harmony, relaxation, and offers truly incredible views of the surrounding area.
The hotel's wedding support team can help you arrange every detail of your special day, from suggesting authentic organic food to create your wedding day menu, to sourcing fair trade and ethical products and services to enhance and complete your unique event.
Easily one of the best places to get married in Portugal, this hotel has it all.
A historic wedding in Portugal
Many of the best places to get married in Portugal are also special because of the rich history they hold. Your guests will be enchanted by tales of kings and castles, while you and your partner get to say your vows in an environment steeped in tradition.
Getting married in Coimbra
Anyone who has been to Coimbra will tell you that it is one of the most romantic cities in the country.
The city was the scene of Portugal's most tragic love story, the ill-fated and much-adored romance between D. Pedro and D. Inês de Castro, sort of like, the Portuguese Romeo and Juliet.
Suggested venue: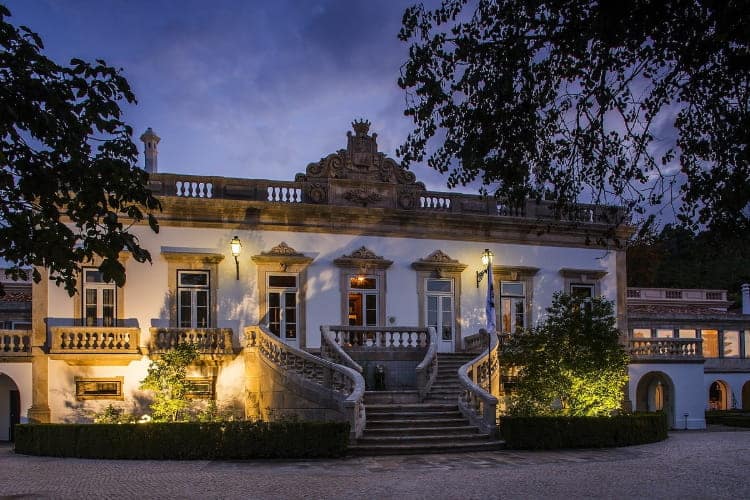 This gorgeous venue has a hotel that organises weddings and is one of the most sought-after places for weddings in Coimbra.
A retreat of peace and tranquillity set within an 18th-century palace surrounded by 12 acres of lush gardens, this elegant sanctuary is definitely one of the best places to get married in Portugal.
A farm wedding in Portugal
Sweet, rustic, and perfectly picturesque, the beautiful countryside is another one of the best places to get married in Portugal.
Wedding in Alentejo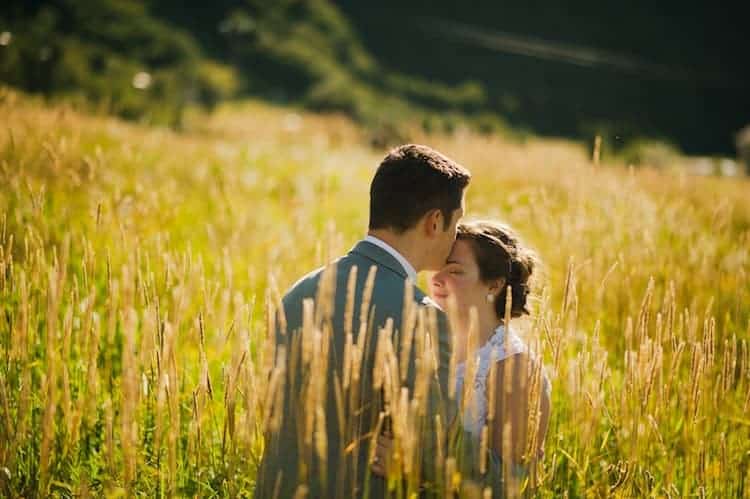 With breathtaking properties scattered throughout the region, you can also have a wedding in Alentejo in beautiful cities such as Beja, Évora, Porto Covo or Monsaraz.
If you've always dreamt of saying "I do" amidst endless plains or in picturesque, whitewashed towns, a wedding in the Alentejo will not disappoint. Surrounded by nature and the heart-warming hospitality of friendly locals, this peaceful part of the country is one of the best places to get married in Portugal.
Suggested Venue:
On this spectacular property in Monsaraz, you and your guests are greeted by ancient olive trees and an immense sky.
You can choose to begin your wedding program by serving welcome drinks in the vegetable garden, in the beehive garden, in the meadows.
Or in venues such as the hotel bar, the winery rooms or the 200-year-old olive mill room, all interconnected by outdoor terraces, where all can be entertained and catered with fresh farm to table food.
A city wedding in Portugal
If you're planning to invite many guests to travel from across the globe to attend your big day, a city with a major airport can make the idea of a destination wedding a lot more accessible.
Luckily, Lisbon has just that and with a unique and arresting charm, it's naturally one of the best places to get married in Portugal.
Getting married in Lisbon
Lisbon has all the elegance and amenities of a European capital while still offering many diverse neighbourhoods to wander and get lost in.
A treat for any visitor, you can rest assured that any guest you invite to travel to Lisbon will be thanking for a lifetime.
Suggested venue: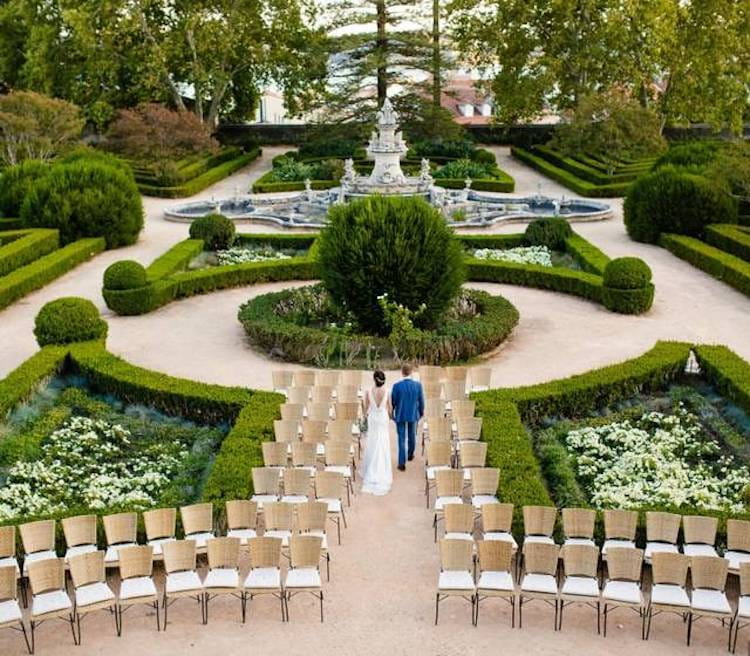 One of the best wedding venues in Lisbon for several reasons, this gorgeous property is located in the city centre, a five-minute walk from the Jerónimos Monastery and has one of the most wonderful gardens in Lisbon.
The place boasts three different salons, a tent in which you can have a personalised decoration.
From there, you have an amazing view over the gardens and the blue Tagus river. You can have up to 300 guests and if you book the place, you will have it all to yourself.
A mountain wedding in Portugal
Want the best of both city and nature for your big day? Luckily for you, one of the best places to get married in Portugal is just a 30-minute trip from Lisbon yet located amongst lush greenery and beautiful mountain skyscapes.
Getting married in Sintra
This is one of those places you just have to see to believe. Dreamy, romantic, and unbelievably picturesque, you'll have no trouble understanding why this unique and beautiful piece of land was traditionally a vacation spot for Portuguese royalty.
Suggested Venue: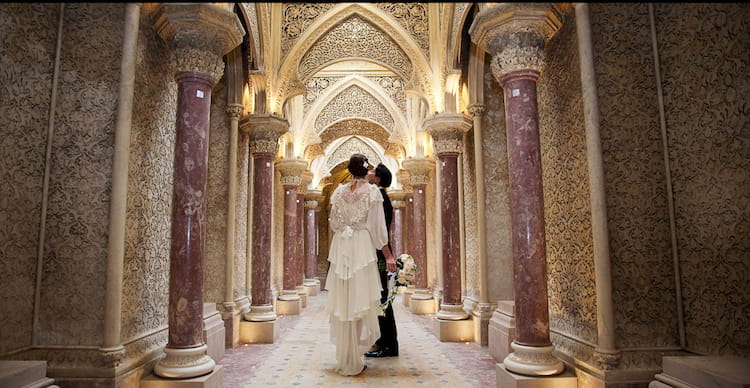 One of the best places to get married in Portugal is a centenary palace located in the mountains of Sintra. Surrounded by exotic gardens and with a unique architecture with gothic and Indian traces and Moorish details, this one of a kind wedding venue in Portugal is sure to impress all in attendance.
A church wedding in Portugal
For those looking to keep things a bit more traditional, you'll be happy to learn that some of the best places to get married in Portugal also offer gorgeous churches that have stood tall and proud for hundreds of years.
Getting married in Braga
Braga is the largest city of the Minho region of northern Portugal and is a beautiful city full of history and traditions, perfect to organise a soulful wedding in a stunning church.
Suggested venue:
Although Braga is basically full of beautiful churches, the highlight goes to the incredible Braga Cathedral (Sé de Braga), whose work dates back to 1070. The also called Sé de Braga, artistic relics, of its more than nine centuries of history, is preserved within.
Portuguese wedding traditions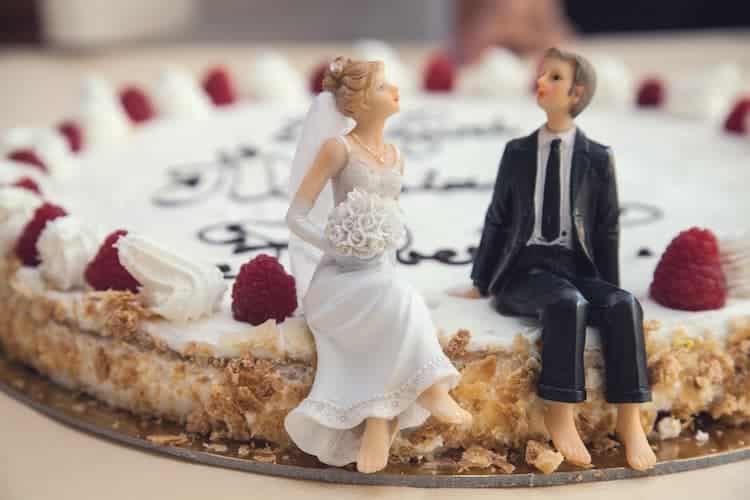 A country steeped in tradition, weddings in Portugal resemble weddings in many other parts of the western world in that they usually include many time-honoured traditions to bring the new couple luck and prosperity.
Take a look at the Portuguese wedding traditions:
The hen and stag do in Portugal are usually called  'despedida de solteiro(a)'.
It's usual for the bride and groom to through a party or dinner together with their friends and family members – the grandparents and parents are usually invited.
On the day of the wedding, just before heading to the church, it's customary in some areas of the country for the parents to throw a little buffet for their guests at their own houses.
In smaller towns, both the bride and groom walk to the church (separately) with their wedding parties in tow – which can be tricky in high-heels with a long train!
The best man and maid of honour are not typical traditions in Portugal. Instead, in most places, the godparents will fulfil a similar role.
Money is usually the present given to the new couple, guests are expected to give, as a minimum, the price per head of the reception. Guests at Portuguese weddings are usually very generous.
Instead of confetti rice is thrown outside as the newlyweds leave the church.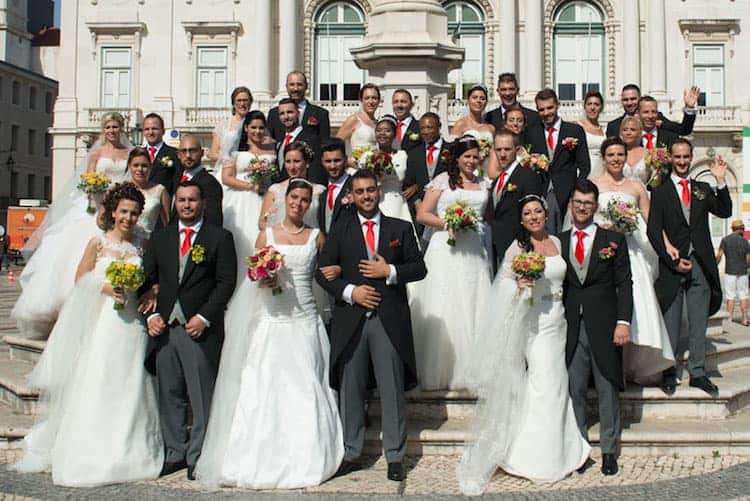 Every year during the popular saints festivals, such as the infamous Santo António party, weddings are sponsored by the Lisbon city hall. These weddings are offered to couples from Lisbon and who are struggling to finance their big day. This tradition started in 1958 to help lovestruck couples, who were a bit strapped for cash, tie the knot.
Wedding planning services
Planning a wedding can be hard and stressful, especially when you're doing it all in a foreign country. That's why sometimes, it's just better to have some specialized help, so you don't have to do it all alone. Here's
Wedding Venues Portugal – specializes in offering you the most breathtaking castles and palaces wedding venues in Portugal. They can help design packages for any budget and have lots of experience crafting a day that reflects your unique style and wishes.
Portugal Wedding Guide – whether you are looking for a unique large wedding villa for your romantic civil ceremony or the perfect beach for your beach wedding ceremony, Portugal wedding guide won't let you down.
They have experience with a wide selection of unique wedding venues located in the best place places to get married in Portugal and will help take care of all necessary details for your big day.
So regardless of how you're looking to celebrate your big day, you're sure to find something that makes your heart sing in one of the many wonderful wedding locations scattered throughout Portugal.
Did you have any questions about getting married in Portugal? Leave a note in the comments below and we'll do our best to find out for you.
If you want to be kept informed about travel tips and places to visit in Portugal, sign up for our newsletter today. 
If you like this you might also like:
Stang and Hen Do in Portugal, Your Ultimate Guide to the Best Party Places
Wedding in Portugal, the Ultimate Guide to Plan Your Big Day
Best Clubs in Portugal: Ready for a Night Out You Won't Forget