A fairy tale-like castle sitting on the Sintra hills, the Pena Palace is a national monument and one of the most popular tourist attractions in Portugal like you can visit Viseu.
Do you love castles?
Then the Pena Palace ("Palácio da Pena") is a must see on your visit to Evora, Portugal.
Let us give you some tips for your visit to the Pena Palace.
Pena Palace in Portugal
The Pena Palace is located on the eastern part of the Pena park in Sintra, Portugal. It is composed of two wings; the monastery and the new palace.
It was designated as a National Monument in 1910 and forms part of the Cultural Landscape of Sintra, which has been classified by UNESCO as a World Heritage site since 1995.
Brief History of Pena Palace
Before what we know today as the Pena Palace, the site used to be a medieval chapel dedicated to Our Lady of Pena, until a monastery was built under the order of King Manuel I, which was donated to the Order of Saint Jerome.
For centuries, Pena was a small place and housed only 18 monks. In the 18th century, the monastery was severely damaged by the great Lisbon earthquake.
Luckily, the chapel was barely damaged which astonished the king of Portugal at the time, King Ferdinand II. He therefore decided to acquire the monastery and its surroundings in other to build a palace.
This led to the construction of the architectural masterstroke now known as the Pena Palace.
This stunning castle was built between 1842 and 1854 by German architect, Baron Wilhelm Ludwig von Eschwege, at the direction of King Ferdinand. The architectural style is different from other castles as it is a mix of several styles such as Neo-Gothic, Neo-Manueline, Neo-Islamic and Neo-Renaissance.
As grand as it may look, the king designed this palace to be a summer residence!
That's it? Just for the holidays?
The outer part of the palace is fascinating and the interior is equally extravagant. The whole structure will leave you in awe. The reason it is so magnificently decorated is because King Ferdinand and Queen Maria II had very opulent tastes and they intervened constantly on matters of decoration and symbolism.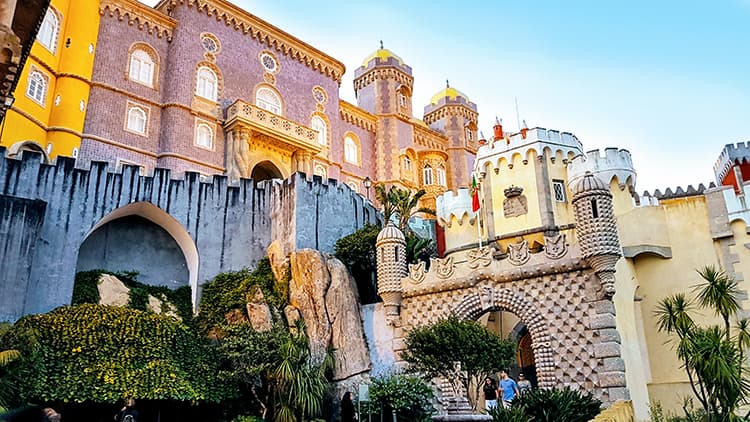 Pena Park (the gardens)
Pena Park spreads out over 200 hectares (about .77 square miles) and it surrounds the Pena Palace. The Pena garden was created as a labyrinth and is filled with walking paths, secret paths, pavilions, lakes, ponds and exotic trees.
The park was also created by King Ferdinand and the design of the park therefore reflects his exotic tastes. He ordered trees and plants from different parts of the world to be planted in the park.
Some of the trees include:
sequoias from America;
gingkos from China;
cryptomeria from Japan;
ferns from Australia; and
succulents from Africa.
The park is a masterpiece and an amazing natural beauty.
How to get to Pena Palace
Pena Palace is in Sintra which is easily accessible by road or rail from Lisbon. You can go from Rossio Station ("Estação do Rossio") and take the Sintra Line. It takes 45 minutes to reach the historic centre of Sintra.
Rossio station is centrally located in Lisbon and easily accessible. Alternatively, you can go from Oriente Station ("Estação do Oriente") which is closer to Lisbon Airport. Great for visitors staying close to the airport who have time for a memorable day trip.
Buying train tickets and getting to Pena Palace
To go to Sintra you will need to buy your tickets at the train station. In the station there are ticket offices and ticket machines, but it can get very busy at peak tourist times so it is advisable to go as early in the day as possible.
You will need to buy the "Viva Viagem" card to pay for the journey. The initial purchase price for this card is €0.50 and it is reusable.
Then you top up the card on the machine and select Sintra as the destination. It costs €2.25 (€1.15 for a child) one way from Rossio Station.
When you arrive at the Sintra train station, you can take the tourist bus 434 from Sintra train station to the Pena Palace.
Look up!
The palace is high on a steep hill about 5 km (3.1 miles) from the town centre, so it's  a bit of a hike. We recommend that you take the bus.
Getting to Pena Palace by car
If you are driving to Sintra, take the IC19 (from Lisbon), IC30 (from Mafra) or EN9 (turning off the A5 motorway to Cascais).
The drive to Sintra from Lisbon is about 30 mins. Be aware that parking space is limited and the streets are very narrow.
Preparing for a visit to the Pena Palace
Visiting the Pena Palace can be energy sapping, so we recommend going with a bottle of water, comfortable shoes, as you will be doing a lot of walking, and a light jacket (a thicker jacket in the winter).
To fully explore the Pena Palace, you should set aside half a day to see this site and some of the gardens.
It is best to go as early as possible because the queues are usually quite long, especially in summer.
Entrance Fees to Pena Palace
The ticket prices for visiting the Pena Palace and the park are;
Adults (18 to 64 years): €14
Youths (6 to 17 years): €12.50
Seniors (over 65 years): €12.50
Family ticket (2 adults and 2 youths): €49
The fees for visiting just the Pena Park are;
Adults (18 to 64 years): €7.50
Youths (6 to 17 years): €6.50
Seniors (over 65 years): €6.50
Family ticket (2 adults and 2 youths): €26
There are some discounts available if you would be visiting multiple sites. You can find out more by visiting Parques de Sintra.
We can also recommend taking a guided walking tour. There are many options available for all levels of fitness and some that will take you through Sintra and to nearby Cascais. Enjoy!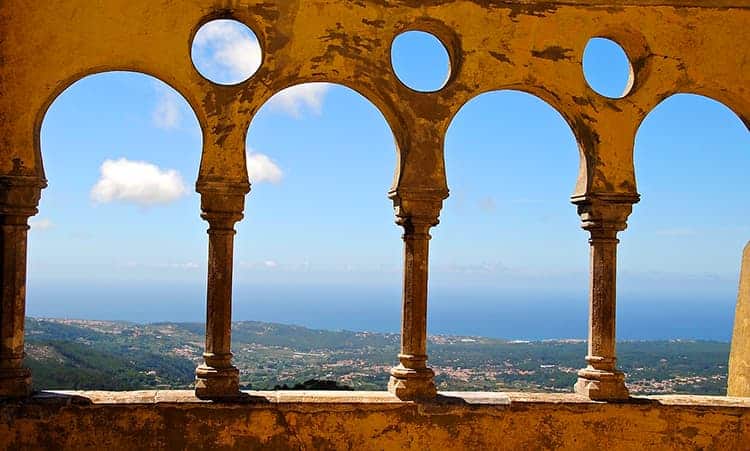 Is the Pena Palace worth visiting?
Yes and yes! It is definitely worth visiting.
The Pena Palace is the 'castle of castles' in Portugal.
It is one of the seven wonders of Portugal and one of the grandest buildings of romantic architecture.
A palace rich in history with breathtaking views of Sintra and Lisbon at the top.
If you only get to see one castle in Portugal, we recommend the Pena Palace. Totally worth it!
Did we convince you to visit Pena Palace? Have you already been there? Tell us what you think by leaving a comment below.
Don't miss a moment. Make sure you subscribe to our newsletter to get notified of the latest tips for your visit or move to Portugal.