So you're getting married? Parabéns! ("Congratulations!")
We know that planning the bachelor or bachelorette party can be a consuming and difficult task. Often the hardest decision for the best man or maid of honour to make is choosing the location for the classic stag or hen do.
You need a location that is accessible, affordable and one that will, of course, provide a weekend full of laughs and memories for all involved.
Let us give you a hand with that. Keep reading for some great ideas for your stag or hen do.
The ultimate stag and hen do in Portugal
Look no further, we've got you covered. Or rather, Portugal has got you covered. Whether you are looking to plan a relaxing beach getaway or a weekend of non-stop partying, Portugal is the perfect destination for a memorable (or not so memorable) stag or hen do.
Located in the westernmost region of mainland Europe and bordering Spain, Portugal offers travellers year-round Mediterranean weather, a mix of cultural activities, crazy nightlife, and plenty of adventure or water activities to do.
The country is easily accessible from many cities in Europe with three main airports: Lisbon, Porto and Faro.
Food and drink are very cheap in Portugal with main meals in restaurants costing, on average, less than €10. And most importantly, you can find a half litre (12 ounces) of beer for around €2.50 or cocktails for €5, making a night out in Portugal very affordable.
English is also spoken fluently by almost everyone, especially in touristic cities, so the language barrier is not a problem.
We have made a list of cheap cities in Portugal have the best to offer for your stag or hen do in terms of nightlife, adventure, and culture. We will also offer you some tips for planning the big event and finally our personal recommendation for an unforgettable, pre-wedding extravaganza.
Option 1: Albufeira
Just one hour from Faro in the south of Portugal is Albufeira, one of the most popular destinations for stag and hen do's in the country. The city's roaring nightlife and seaside location make it easy to understand why, because what better way to cure a hangover than relaxing on the beach?
The hot spot for nightlife in Albufeira is centralised to 'The Strip', a street of bars, clubs, and late venues offering all sorts of happy hours and themed parties.
The Strip has grown accustomed to groups of drunk people celebrating brides and grooms, so bouncers at clubs are also more tolerant of groups there to have 'a bit of fun'. If you plan to take your squad on tour dressed in matching t-shirts, Albufeira is likely the city for you.
Apart from the infamous strip, Albufeira also offers many group activities like water sports, booze cruises, wine tasting, and more. On the other side of the city, you will find the old town where you can tour the old church and clock tower built in 1800. The old town is more family focused, however, and less tolerant of large groups.
If you know you'll be out drinking and dancing until the early hours of the morning, be sure to organise your accommodation close to the strip. There are plenty of villas or hotels nearby that cater for large groups.
The best time of year to visit is during the spring or autumn (April, May, September and October) as the summer months are often overcrowded and prices are inflated. The resorts close in the winter with only a handful of bars open.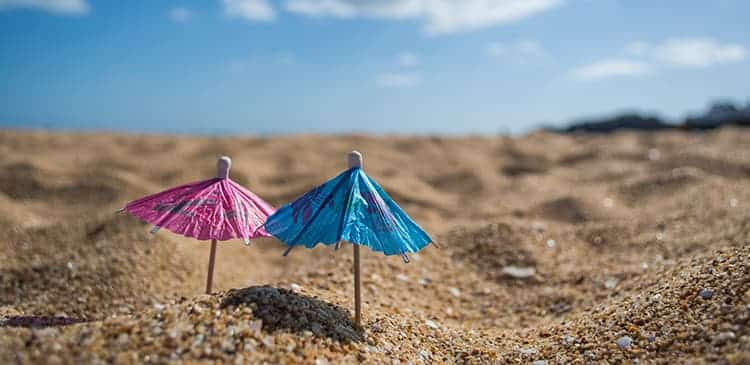 Option 2: Lisbon
As the country's capital and economic and cultural centre, Lisbon is no stranger to stag and hen groups roaming about. Like many capital cities, Lisbon offers the best in terms of nightlife with a large selection of modern and traditional bars and nightclubs with music of all genres.
In the heart of the city lies Bairro Alto, the infamous bar district with over 200 bars open from Monday to Sunday all year-round. Here you'll notice that the Portuguese enjoy drinking on the streets and so many of the bars in this neighbourhood open out on to the streets where people drink and mingle.
And if you aren't already dressed up in outrageous costumes, you probably will be by the end of the night with many street vendors selling colourful fedoras, ridiculous bow ties and glowing Mickey Mouse ears.
Unlike Albufeira, the nightclubs in Lisbon can be less tolerant of drunk and disorderly people. Large groups of people may even find themselves refused entry or being charged upwards of €100 to gain entry to a venue. It is best to be aware of this and, at the very least, act sober when waiting in line for a club.
Lisbon also offers many daytime activities, including free walking tours of the city, tapas tours, several beaches nearby and sailing tours along the Tagus river. You can also try a traditional Portuguese custard pastry ("pastel de nata") in the cultural centre of Belém; enjoy a refreshing beer at Rio Maravilha's rooftop bar found in the trendy LX Factory area or ride tram 28 around the entire city.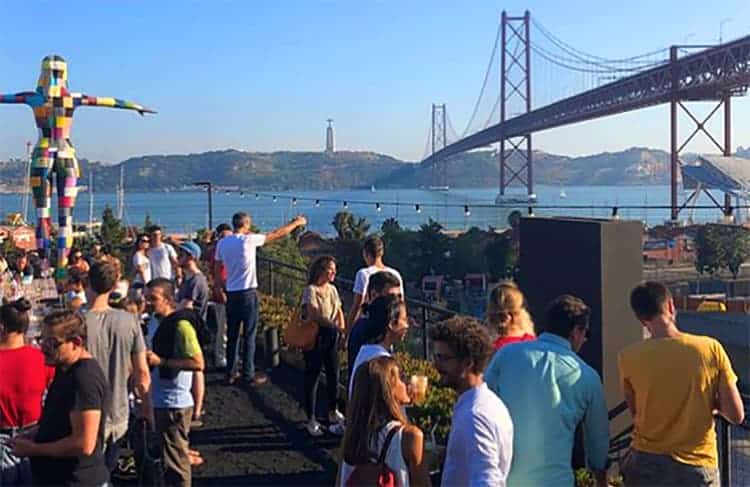 Option 3: Porto
Portugal's second largest city, Porto, has become a very popular and hip travel destination in recent years. Located by the sea and mountains, the old centre is a world heritage listed site visited by many tourists each year.
This city offers the perfect combination of attractions to suit all tastes with a diverse nightlife and lots of cultural and historical sites. Porto is comfortably compact so ideal for exploring by foot, lounging in cafés, and enjoying a cocktail or three in the sunshine.
The city's nightlife is smaller than the likes of Lisbon but, there are still plenty of bars and clubs to dance the night away in. If you are looking for more culture than nightlife with a good mix of both, then Porto is your destination.
Similar to Albufeira and Lisbon, tour companies offer boat tours down the Douro river, water activities like kayaking and surfing not far from the city, and plenty of wine-tasting or craft beer tours.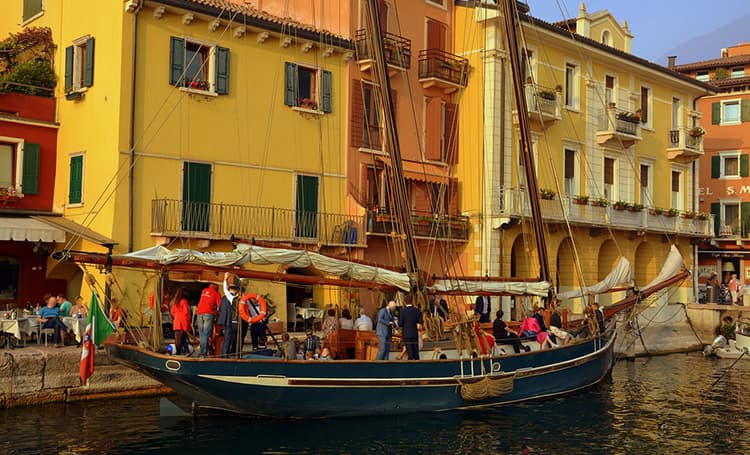 Stag and Hen do activities in Portugal
Tour companies in all of these cities can arrange activities for groups of all sizes to cater for your stag or hen do. Depending on the purpose of your trip, you can choose to drink all day on a booze cruise or wine tasting tour or splash around in the water on a jet-ski or surfboard.
Adventure-seekers could even go skydiving, hiking or go-karting.
To sum it up, here's a list of common activities and Portugal events in these cities if you aren't spending the days too hung-over!
yacht cruise;
go-karting;
paint-balling;
surfing;
skydiving;
wine tasting;
pub crawl;
tapas tour;
city walking tour;
beer bike;
cocktail mixology class;
Portuguese tile painting;
canoeing or kayaking.
Top 3 tips for planning your stag or hen do
When traveling abroad, regardless of the purpose of your trip, it is always a good idea to purchase travel insurance to Portugal. If you are intending to host a gaggling, drunken stupor of a weekend, there is a chance someone will lose a phone, or even trip and break a toe (who knows!) Buy travel insurance.
Plan ahead! If you book ahead, you will secure the cheapest deals on flights and accommodation, which means you can spend your money where it counts: On beer!
Don't' forget to keep the groom or bride in mind! We know that planning this party is already difficult enough but remember to ensure the bride or groom is going to have the best time.
Our recommendation: 3 days in the beer capital of Lisbon
Day 1: Arrive in Lisbon at Lisbon Airport. Take the metro to your hostel or hotel right in the heart of Bairro Alto. Wonder the city during the afternoon and enjoy dinner at Praça do Comércio, the largest square in Portugal. Try the "bacalhau", a traditional Portuguese codfish dish.
Join the Lisbon Pub Crawl in Camões Square in Chiado at 10.30 pm, which heads to three bars and includes VIP entrance to a nightclub. Buy some ridiculous fedoras and make sure your stag or hen party is clad in costume. Try not to lose each other!
Day 2: If you wake up early enough, join the Free Walking Tour of Alfama at 11 am (meeting point: Rossio Square, also known as Praça Dom Pedro IV). Have lunch in the historical Alfama neighbourhood once the tour ends.
Later that afternoon, try the famous Portuguese custard tart ("pastel de nata") from Manteigaria in Chiado, then stroll along the Tagus river. Have dinner at the Time Out Market and head to the Pink Street near Cais do Sodré in the evening for a few beers and a disco.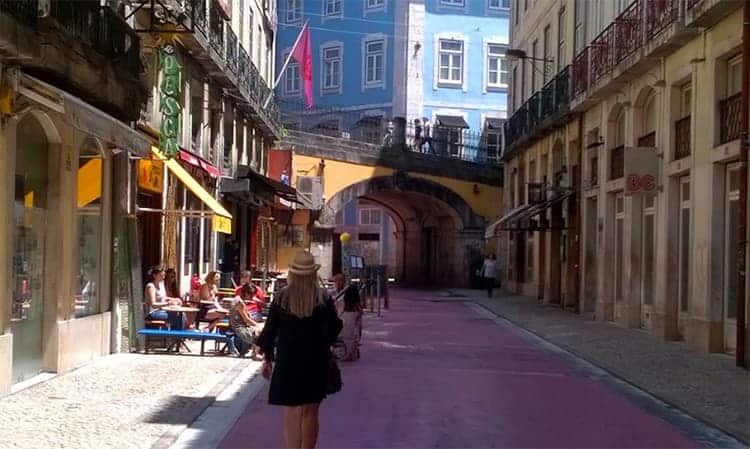 Day 3: Go surfing at Carcavelos beach or try go-karting in Odivelas (just north of the city). Finish the day catching the sunset from the Miradouro de São Pedro de Alcantara. And if your liver can survive another evening out, head back to Bairro Alto one last time.
Bachelors and bachelorettes, stags and hens, you're all welcome in Portugal
We hope this helps make your decision to throw a stag or hen party in Portugal a little bit easier! With the perfect combination of nightlife, the great outdoors and cheap prices, you really can't go wrong bringing your stag or hen party to Portugal. Have fun!
Did we miss anything about your stag or hen do in Portugal? Do you have any experiences to share? Feel free to leave a comment below.
We publish new content every day so be sure to subscribe to our newsletter to get notified of the latest tips for your visit or move to Portugal.
You might also be interested in:
Weddings in Portugal, the Ultimate Guide to Plan Your Big Day