If you're a vegetarian making a trip to Lisbon, you do not need to worry about not finding vegetarian-friendly restaurants in the city.
In addition to numerous establishments dotting the city, you will also find vegetarian options in many restaurants that are not specifically marketed towards vegetarians.
Lisbon boasts many vegetarian restaurants with stellar reviews across the web.
Discover the best vegetarian restaurants in Lisbon and how to navigate your dietary needs in Portugal in the following guide.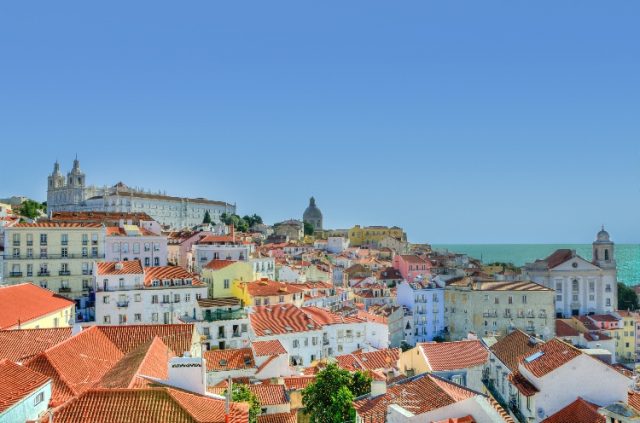 Read our article about Being Vegan in Lisbon, Your Plant-based Food Guide for Portugal's Capital.
What's the vegetarian scene like in Portugal?
The vegetarian scene in larger cities, such as Lisbon, Porto, and larger cities in the popular tourist and expat destination the Algarve, is booming these days as the country receives millions more tourists and expats every year and continuously looks to appeal to a wide range of traveller needs.
Traditional Portuguese cuisine is heavy on meat and seafood. However, there are many more cuisines and dietary-specific foods that you can find in larger cities.
Note that if you travel to smaller cities or towns in Portugal, it is less likely that you will find a vegetarian restaurant. You will either need to buy ingredients in a local supermarket and cook them at home.
That or content yourself with the limited vegetarian-friendly soups, salads, and other small bites that restaurants may have available.
Most Portuguese restaurants will serve omelettes, tossed salads, vegetable soups, and french fries.
Read our local guide about the Time Out Market: Eat Like a Local At The Best Food Market In Lisbon.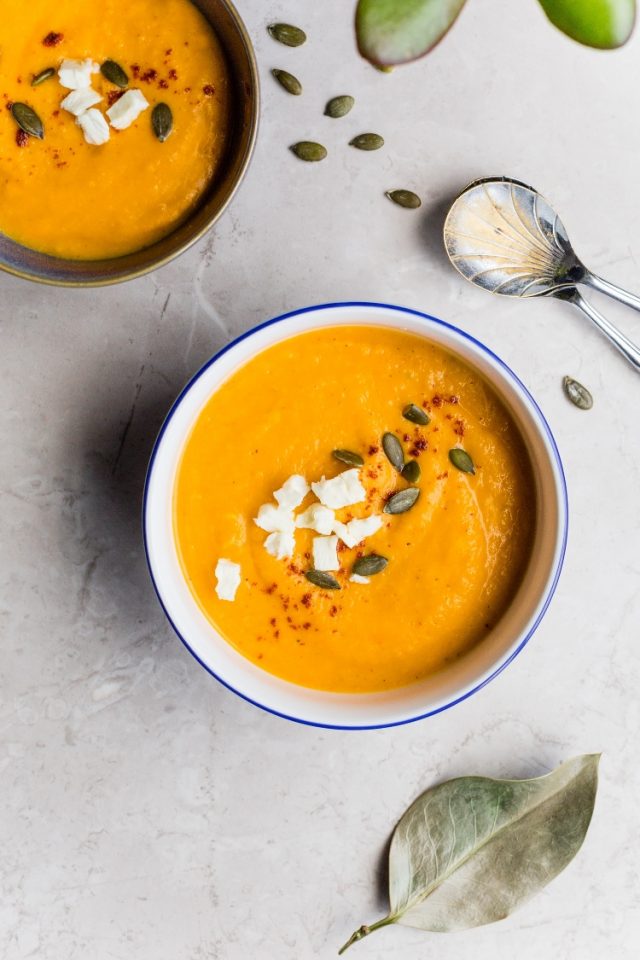 Are there many vegetarians in Portugal?
While vegetarianism is growing around the world, Portugal tends to lag behind when it comes to the percentage of the population that identifies as vegetarian, which is only around 0.3% of the population.
Despite a small percentage of Portuguese people who follow a vegetarian diet, most large supermarkets contain a health-foods section that includes meat substitutes and organic produce and products.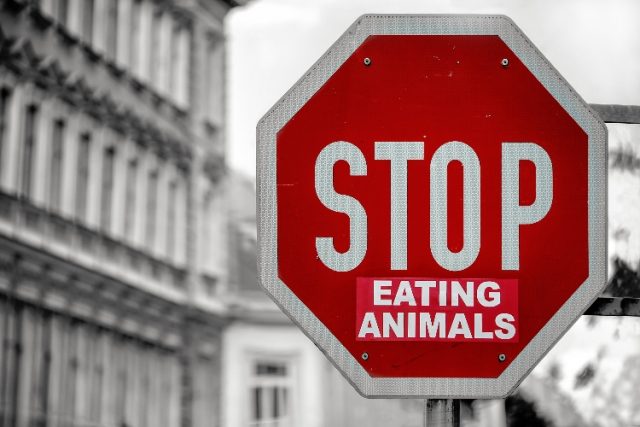 What typical Portuguese dishes are vegetarian-friendly?
The Portuguese people pride themselves on their gastronomy, which dates back centuries and includes a large variety of meat and seafood-based dishes.
While the food is often touted as one of Portugal's best qualities, for vegetarians, it can be a bit of a letdown.
However, not all traditional Portuguese dishes are stuffed with meat and fish. Check out some of the country's best vegetarian-friendly dishes.
We publish new content every day so be sure to subscribe to our newsletter to keep updated on Portugal.
Açorda
This classic Portuguese dish is incredibly versatile and can be made with or without meat and seafood. It consists of a soft, mashed bread base with garlic, finely chopped coriander, olive oil, vinegar, water, and salt.
While it is traditionally made with the addition of codfish or shrimp, many establishments offer a non-meat and seafood alternative, often adding a variety of legumes to fill out the dish.
Soups
In most Portuguese restaurants, patrons can find a vegetable soup on the menu, which is traditionally a potato-based soup that includes various vegetables, such as carrots, onions, garlic, squash or pumpkin, and a water-based broth. The vegetables are cooked and then pureed, making it a warm, hearty option.
Pastéis de Nata
These pastries are one of the most famous Portuguese treats and can be found in nearly every cafe throughout the country. This egg tart is traditionally sprinkled with cinnamon or powdered sugar for a sweet touch.
Does Portugal have a vegetarian-vegan law?
As of 2017, Portugal became the first country to pass a law that made it illegal for any public building, such as schools, universities, hospitals, and prisons, to not include a vegan option on their menu.
The law was approved after the Portuguese Vegetarian Society started a petition that gained more than 15,000 signatures.
The 5 best vegetarian restaurants in Lisbon
As Lisbon is the heart of the vegetarian scene in Portugal, you'll find a large array of restaurants catering to vegetarians and vegans.
Restaurante Terra
With reviews calling this restaurant "superb" and "a must," the restaurant is set in a charming 18th-century building with a private terrace and boasts a delicious buffet, serving up a variety of dishes and cuisines. You can find curry, tempura, burritos, kebabs, and tabouli among the many options present on the buffet table.
Don't forget to try their heavenly chocolate brownie, tiramisu, or Arroz Doce for dessert.
Opening times: Lunch: Tuesday – Sunday 12:30 pm – 3:00 pm; Dinner: Tuesday – Sunday 7:30 pm – 10:30 pm
Cost: For lunch, expect to pay around €9 per meal and for dinner, around €13.
Location: R. da Palmeira 15
My Mother's Daughters
This restaurant, run by a mother and her three daughters, features organic ingredients without any animal products. Try their bowls, such as the Fresca (with kale, pesto, roasted vegetables, black rice, and sauerkraut) or the Terra, a more heavy bowl (with lentils, cauliflower rice, and roasted sweet potato).
Opening times: Tuesday – Friday 8:30 am – 5:00 pm; Saturday – Sunday 10:00 am – 5:00 pm; Monday 12:00 pm – 3:00 pm
Location: Largo de São Sebastião da Pedreira, 49
Os Tibetanos
This world-inspired restaurant serves a variety of all-vegetarian cuisine. The tofu steak with goat cheese and pesto is a classic while the mango curry with tofu and spinach and cheese momos are to die for. Prices are also affordable and you will not spend more than €20 per meal.
Opening times: Monday – Friday 12:15 pm – 2:15 pm & 7:30 pm – 10:30 pm; Saturday 1:00 pm – 3:00 pm & 8:00 pm – 11:00 pm; Sunday 1:00 pm – 3:00 pm & 7:30 pm – 10:30 pm
Location: Rua do Salitre, 117 
PSI
This vegetarian restaurant is one of the oldest in the city and earns consistently stellar reviews. In business for over 15 years, PSI is located in a peaceful garden setting and includes an outdoor seating area. Try the seitan meatballs for lunch and the berry cheesecake for dessert.
Opening times: Monday – Saturday 12:30 pm – 10:00 pm
Location: Alameda Santo Antonio dos Capuchos
Foodprintz
Boasting good service and a menu free of any animal products, this restaurant is a must for your list. Of the hearty, filling dishes, enjoy the avocado-pineapple toasties for just €2.50, the homemade vegan nut cheeses (between €4.50 and €9), and banana-cinnamon ice cream for dessert (€3.50).
Opening times: Monday – Friday 12:00 pm – 7:00 pm; Sunday 10:00 am – 6:00 pm
Location: Rua Rodrigo da Fonseca, 82A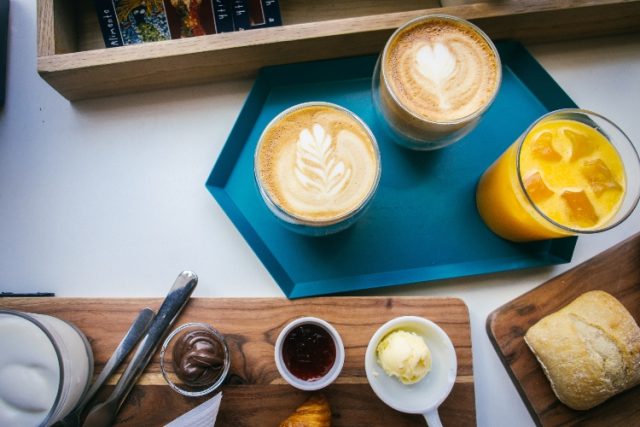 Traditional Portuguese recipes made vegetarian-friendly
Bacalhau à Brás
This popular Portuguese dish is codfish-based and also includes crispy potato straws, onions, black olives, and eggs to bind it all together. To imitate this dish without taking away any flavour, just substitute the codfish with a vegetarian chicken alternative. Shred the "chicken" into pieces to imitate the texture of the cod and you're all set!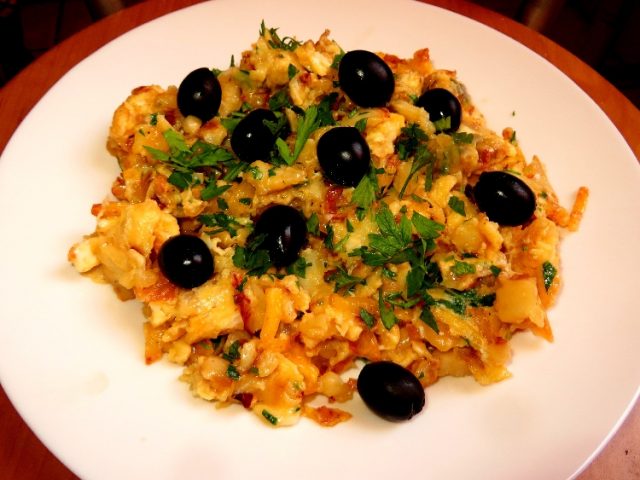 Francesinha
Another traditional dish from the north of Portugal, the francesinha is incredibly meat and cheese heavy, made with bread, ham, linguiça, fresh sausage, steak or roast meat, and covered with melted cheese and a thick tomato and beer sauce.
Substitute the meats with their meat-free alternatives, which you can find in any supermarket selling meat substitutes. If you want to opt-out of the cheese on top, you can use a vegetable-based cheese alternative.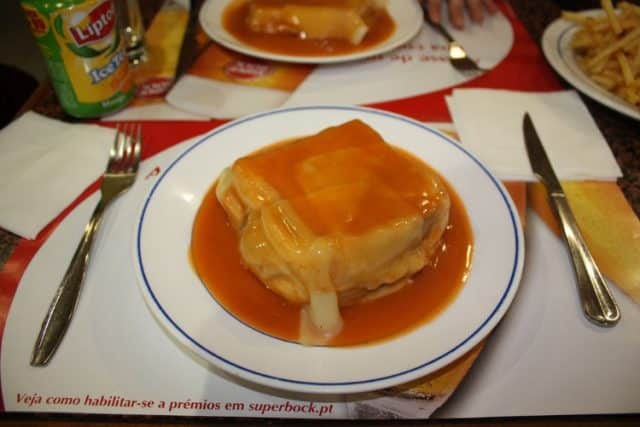 There is not a lack of vegetarian restaurants in Lisbon
Following a vegetarian diet in Lisbon is more than doable. There is a wide array of vegetarian and vegan-friendly restaurants located throughout the city.
Are you hesitating to book your trip to Portugal because you're worried you won't find food that meets your dietary needs? Rest assured that this will not be a problem!
Remember that when in doubt, you can always ask if a vegetarian meal can be made available in any restaurant.
Did you find enough vegetarian options here? Do you have any experiences to share? Feel free to leave a comment below.