Located in the south of Portugal, Carcavelos is very famous for its wonderful beach.
In this guide, we tell you how to get there, the things to do in the area and what it's like to live near this beautiful beach resort.
Where is Carcavelos?
Carcavelos belongs to Cascais, the Portuguese Riviera, which is not far from Lisbon. This is the perfect place for locals, expats and tourists to visit when they want to take a dive in the middle of the Atlantic.
Praia de Carcavelos is indeed one of the longest beaches in Cascais, and as a result, it receives lots of visitors due to its reliable surf environment, spacious sand and easy access to public transport.
Weather in Carcavelos
The weather in Carcavelos is mostly warm and quite similar to Lisbon, but not as extreme during summer and winter.  The warmest months are July and August and the coldest months are January and February.
How to get to Carcavelos from Lisbon
If you want to go to Carcavelos, Lisbon is the closest city to depart from. The city is less than 20 km away from the beach area.
The public transportation in Lisbon is quite reliable and efficient, so you can go as far as you need to go.
Whether you want to travel by train, bus or car; you will never have a problem getting to Carcavelos from the city.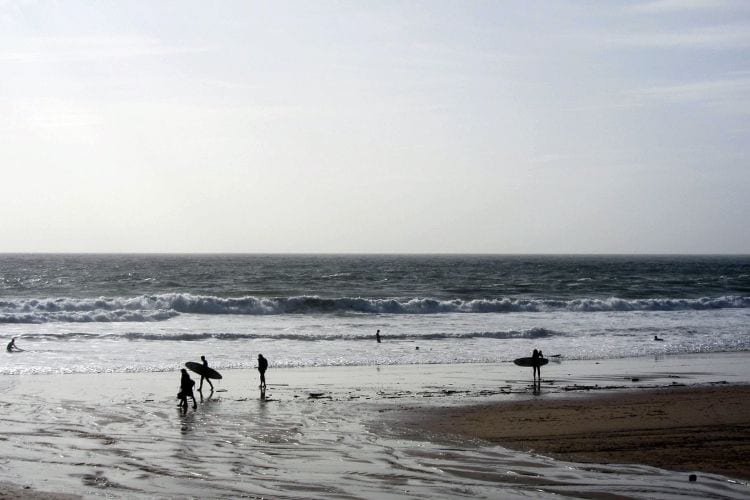 Getting to Carcavelos by train
At Cais do Sodré station, trains leave every 20-30 minutes every day, so you should be fine while planning your schedule. The journey lasts approximately 30 minutes and the distance between Cais do Sodré and Carcavelos is around 20 km.
A single train ticket costs €1,95, otherwise €4 for a two-way journey. You can plan your trip at any time with CP Comboios de Portugal, a Portuguese company that operates trains.
To get to Carcavelos, you will need to hop on the Linha de Cascais (the Cascais line), as it connects Cais do Sodré to Cascais Station. For more information, please view the schedule before your trip. You may also find the schedule displayed at the train station.
Getting to Carcavelos by bus
Unfortunately, there are no buses that take you directly to Carcavelos. The best option is to hop on bus number 115 and get off at Oeiras.
In order to do this, you need to catch the bus at Praça de Espanha which will get you to Oeiras in 30 minutes.
From there, you will need to walk to Carcavelos but it is not that far.
You can either catch a train on Linha de Cascais (the yellow line) or go by foot. However, the walk may take around 20 minutes until you reach the center of Carcavelos.
Check out our Oeiras guide for more information about the city.
Getting to Carcavelos by car
There are three different ways to get from Lisbon to Carcavelos by car:
Traveling on highway A5: The distance from one city to the other is less than 23 km, so the journey should only last around half an hour.
Using 2ª Circular and highway A5: Going this route may take a bit longer, which means it can take around 40 minutes to get to your destination with the driving distance of 28 km.
Traveling on highway A5 and Avenida Marginal/N6: This route will last approximately 40 minutes, even though the distance between both cities is less than the previous one (less than 25 km). The view from the road Marginal is definitely worth it, though.
If you are planning on driving to the beach, there are some car renting companies that you can consider. Prices may vary depending on the one you choose. On average, a day rental can cost between €20 and €40.
Besides the car renting prices, don´t forget about gas. Gas can be very expensive here in Portugal, depending on the type of gas, the location, and company you choose.
So… what's the best way of traveling?
If you want to explore Lisbon first, there are some things that you can do for free before heading to the beach! Getting around in Lisbon is quite easy as there are several public transportations around.
If you don´t have a car, the best way to get to Carcavelos (or to Lisbon from Carcavelos) is definitely by train. Trains are direct and function very regularly. You wouldn´t have to wait very long.
If you are on a tight budget, it is also the cheapest option. So plan your day, check out the train schedule, and head down to the beach this summer!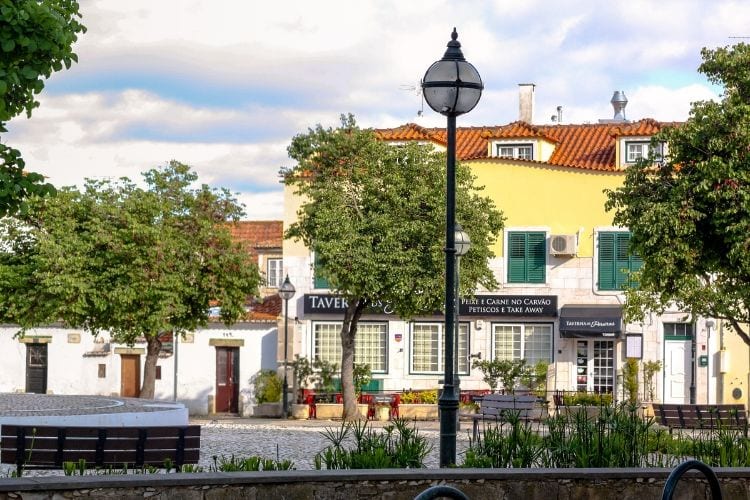 What is Carcavelos famous for?
Carcavelos is mostly famous for its beach, Praia de Carcavelos. As mentioned, it is the longest beach in Cascais. And as a result, it is very popular for those who want to enjoy a day at the beach.
Do you know where the name comes from?
The beach area was named Carcavelos after its wine production, Carcavelos DOC. The wine production is the smallest wine region in the country. Its story goes back to Marquês de Pombal, a remarkable Portuguese figure responsible for Lisbon's reconstruction after the earthquake of 1755.
The beach is also known for its waves – and when we speak of waves, we speak of surf and bodyboard. Carcavelos attracts a lot of surfers who come by to workout or enjoy themselves in the ocean. It is also known as the very first wide, sandy beach to ever exist on the Lisbon to Cascais coast.
In Cascais, there is a Parish that is known for Espirobol (also known as Tetherball), a game for two opposing players. The game consists of a ball tied to the top of a pole and is hit one way, either clockwise or anti-clockwise until the rope wraps completely around the pole by the winning team.
The reason why this is mentioned is because Espirobol actually originated in Carcavelos, which is why Lisbon is the European capital of sports.
Things to do in Carcavelos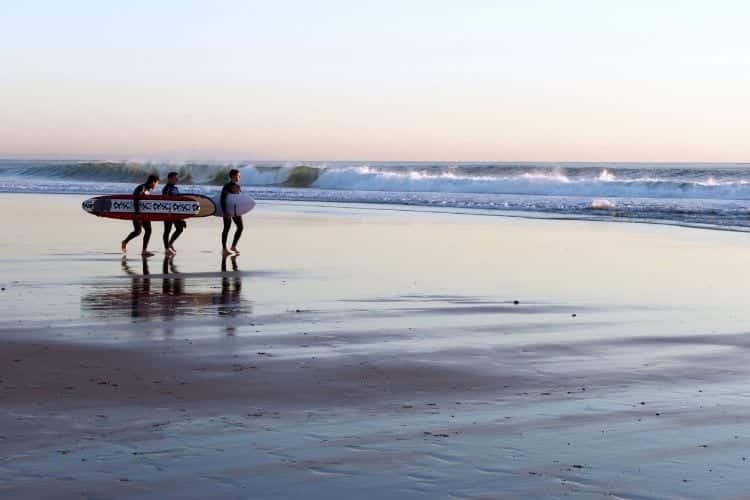 Even though this is a small town, there are some interesting things that you can do in Carcavelos. Check these out:
Want to surf in the north of Portugal? Subscribe to our newsletter and get to know the best beaches to practice your moves.
Everything you need to know about Carcavelos beach
Is it good for a family day-out?
Yes, it is the perfect beach to spend time with your family, not only them, but with friends too. The facilities are great (with fantastic restaurants, cafes and local stores), the transport is direct, and besides surfing; you can enjoy a relaxed day on the sand, with nothing to worry about.
Is Carcavelos beach crowded?
Indeed. Things can get complicated especially during the Summer and mostly on weekends. Carcavelos beach is 1.6 km wide and is the first beach recommended for those who want to take a dive when in Lisbon. Even for the people who live in the capital, this is by far their first choice.
What is the beach like?
Carcavelos beach is great, mainly because of its extensive white sand. During the Summer, the ocean is calmer, which is great for divers and beginner surfers.
Throughout Winter, you´d be surprised by the amount of people who go to the beach: mainly professional surfers, due to the massive waves.
Don't forget Carcavelos beach can get very crowded. If you want to know other options, we´ve got you covered below.
Other beaches nearby
This part of the Portuguese coast is great, as you will find other amazing beaches nearby. The following are: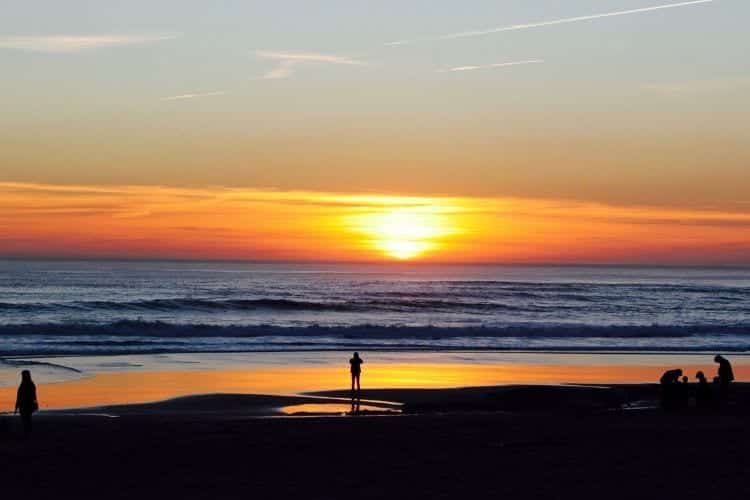 Living in Carcavelos
We are speaking of a small area, especially when compared with other beach resorts in Portugal, such as Estoril for example. That being said, you can expect a calm environment with not that many people around.
In 2011, there were 23,347 people living in Carcavelos, which is not that great of a number. Since then, it hasn´t increased much. So, if you are looking for a small village close to the beach, this is the perfect place to be.
Let's not forget about education, mainly the schools that you can find in Carcavelos, which are very prestigious. Nova School of Business and Economics and Saint Julian's School are two great examples we can name.
Best neighborhoods
Carcavelos is great in terms of access, which means you can quickly get to Lisbon or Sintra. So, besides the Parish Center, check out the best neighborhoods around:
Sassoeiros
São Miguel
Rebelva – Quinta da Alagoa
Quinta do Barão
Quinta dos Ingleses
Lombos – Quinta de São Gonçalo
Cost of living
Living by the sea has its advantages and disadvantages. Yes, you can be a minute away from the beach, but that can cost you a lot of money. To know what it is like to live in Carcavelos, you should first understand more of what it is like living in Cascais.
From there, you get a better idea of the cost of living in Carcavelos. Renting an apartment may cost you between €850 (with one room) and €2,550 (with three rooms) per month. Buying an apartment or house can vary between €200,000 and €600,000.
If you are looking for a place with basic necessities, prices may be lower than you expect. Coming from Europe or other continents, you may find things such as going to the supermarket or a pharmacy a lot cheaper than in your country of origin.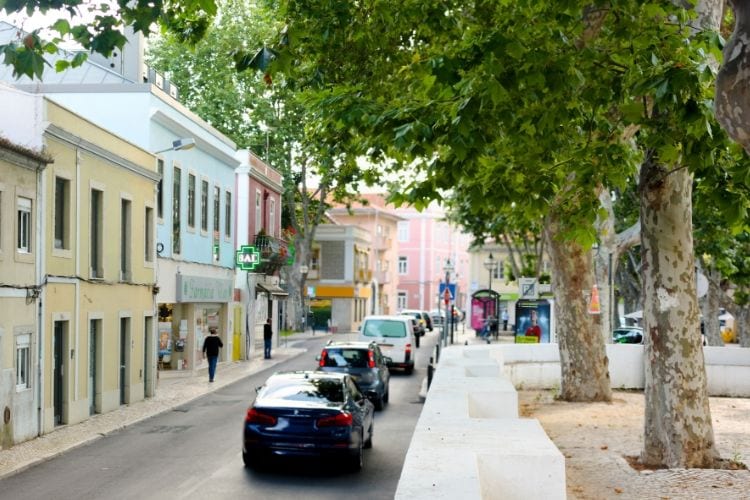 Pros and cons
There are a lot of people who choose to live in Carcavelos (and other villages near Cascais) as it is cheaper than living in Lisbon, even though they work in the capital. One of the disadvantages of living in these areas is the traffic. Traffic between both cities is chaotic, especially during rush hours.
Don't think using public transport will solve the problem.
There are a lot of people using those means, mainly the train. During peak hours the train can be extremely packed. But you can organize to go on the train at times when there are fewer people.
Besides that, it can also be very expensive to rent or buy an apartment or house in Carcavelos, especially now. The real estate speculation in Portugal has been extremely high due to its slight increase in population with tourists and expats.
But not all things are bad, right?
Of course not. And you can't forget that you are as close to the beach as you can get. The beaches are amazing, and imagine the nice breezy walks you can do at any time of the day. It is also a very safe area, with lots of friendly locals around.
You can expect long sunny days and less rain, so if you want to make the most of summer, Carcavelos is surely the perfect place to be.
Is it worth it to live in Carcavelos?
Even though it can be a bit expensive, it is cheaper to live in Carcavelos than in Lisbon. The village makes a great getaway too if you're not looking for a new place to live in, but a place to visit. Its location is great if you want to go from there to places such as Estoril, Sintra or even Costa da Caparica.
However, don't assume that you have a huge amount of stuff to do or places to visit, such as museums or monuments, for instance. Carcavelos is a beach resort and a calm area surrounded by amazing beaches.