Are you looking for things to do with your kids in Portugal this summer?
There are plenty of activities and events around the country to discover everything from history, music, animals and wildlife, food, and more.
Today we've compiled a list of the 15 best fun and educational things to do in Portugal with kids this summer – a sure thing to help you plan out your little one's holiday activities!
Fun and educational things to do with kids in Portugal
Planning a holiday in a new city can sometimes be a challenging task, especially if children are involved.
Portugal's culture offers families with children an incredible location for simultaneously learning and enjoying.
When we talked to Mr. David Laird, headmaster of the British School in Lisbon, and he gave us some tips on fun family activities to try this summer.
Keep yourself and your family entertained and try these out!
1. Discover Lisbon with the Little Lisbon Tours
Learn about Portugal's long history with Little Lisbon Tours – a tour group in Portugal's capital, providing experiences designed to educate children and families about Portuguese culture.
There are options for private family tours, groups or even self-guided programs as well as different tour durations. Check out their website to find out more.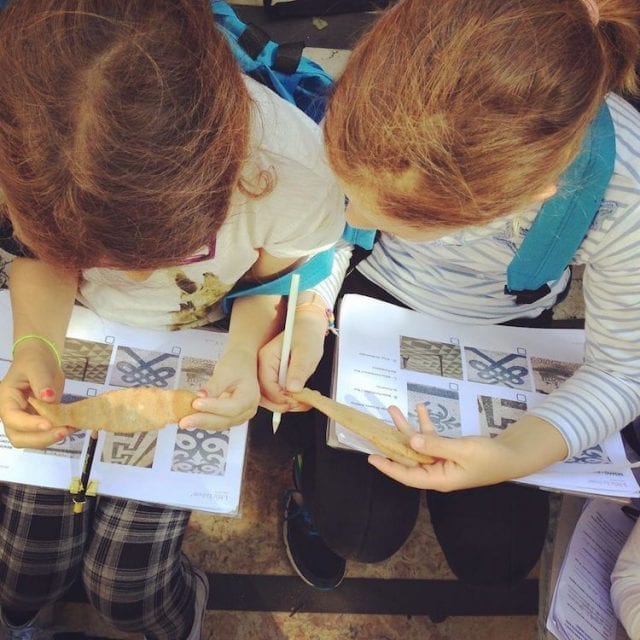 2. Visit Livraria Lello & Irmão
Step into the world of Harry Potter at Livraria Lello & Irmão – a bookstore located in the northern municipality of Porto.
It is one of the oldest bookstores in Portugal and frequently rated among the top bookstores in the world by publications such as Lonely Planet and The Guardian.
It is also famous for being the inspiration behind the magical Harry Potter series by J. K. Rowling.
By visiting libraries or bookstores you'll be exposing kids to reading which ultimately leads to brain development. Reading also helps to provide a richer vocabulary and literacy skills.
Location: R, das Carmelitas 144, 4050-161, Porto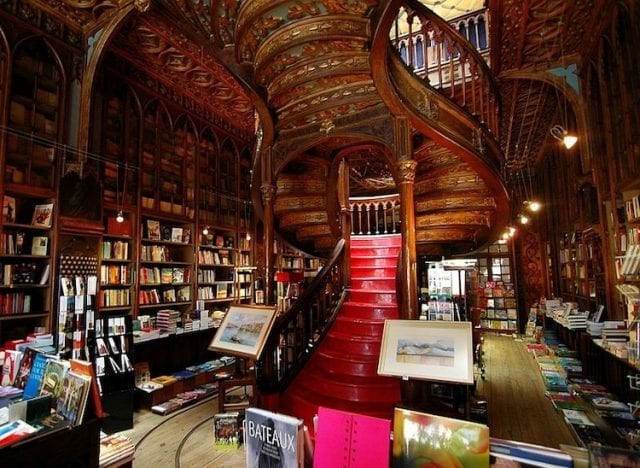 3. Explore ancient ships at the Lisbon Maritime Museum
The Navy Museum in Lisbon is dedicated to all aspects of the history of navigation in Portugal.
It is located in the district of Belém, also home to other famous navigational sites such as the Statue of Discoveries.
By visiting a museum your child will be able to appreciate the human history and discover more about what we have.
Location: Praça do Império, 1400-206, Lisboa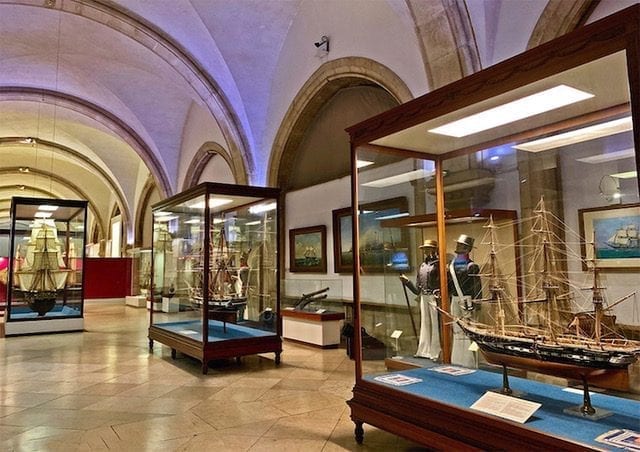 4. Discover sea life at the Oceanarium
The Lisbon Oceanarium is located in the Parque das Nações district of the city, which was also the location for the 1998 World Expo.
It is the largest indoor aquarium in Europe with 450 species to be discovered inside.
A trip to an aquarium can teach kids about responsibility, like what it takes to run and maintain an aquarium and develops children's love for science.
Location: Esplanada Dom Carlos I, 1900-005, Lisboa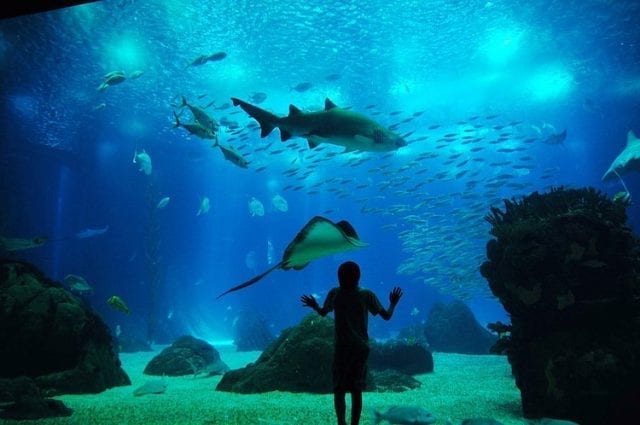 5. Wonder the historic gardens of Quinta da Regaleira in Sintra
The Quinta da Regaleira is a historical palace in the tourist district of Sintra. It is a romantic palace and chapel set amongst a luxurious green park that also features lakes, wells, fountains and other exquisite constructions.
Learning about architecture and studying what was done at other times teaches kids patience and problem-solving.
Location: R. Barbosa du Bocage 5, 2710-567, Sintra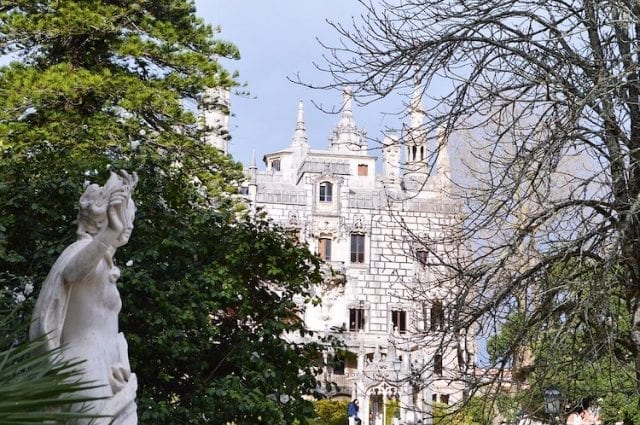 6. Learn to surf in Baleal
Nearby Peniche, just one hour north of Lisbon is Baleal, a surfer's paradise in Portugal.
Here you can visit Baleal Surf Camp, a family-run business teaching newbie surfers how to ride waves since 1993. They offer all sorts of lessons perfect for kids and families of all surf levels.
Surfing will teach your children how to deal with challenges while practicing mindfulness and improving their self-confidence.
Location: R. Amigos do Baleal 2, 2520-052, Peniche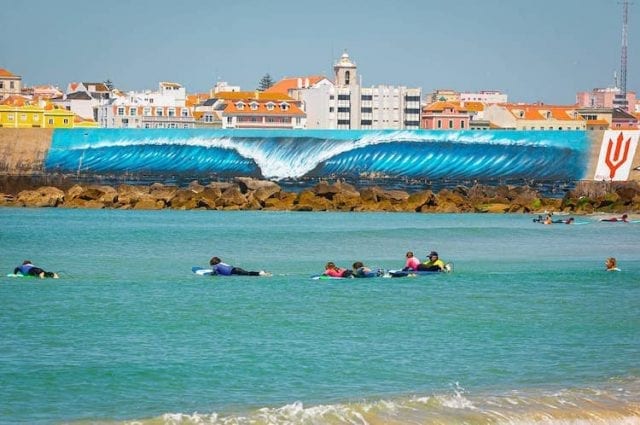 7. Learn about wildlife by visiting the Lisbon Zoo
Come face-to-face with wildlife from around the world at the Lisbon Zoo.
Located in the northern district of Lisbon resides a zoological garden founded in 1884.
The park resembles a theme park and is a fantastic destination when traveling with kids. You can observe animals from all over the world such as lions, elephants, and lemurs.
There is also a Children's Farm inside where you can learn all about domestic animals and take a ride in the Zoo train.
Visiting a zoo will help children understand science and the importance of animal conservation.
Location: Praça Marechal Humberto Delgado, 1594-004, Lisboa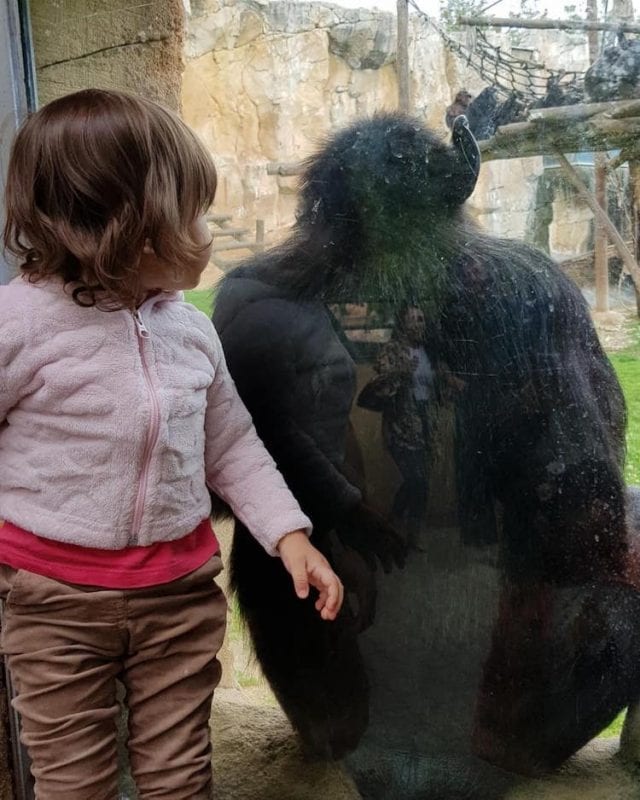 8. Cook your very own Portuguese dessert at Cooking Lisbon
Once you've tried the famous pastel de nata in Portugal, you'll definitely want to know its secret recipe. While only a handful of people know the original recipe, you can still learn how to bake a version of the famous tarts.
Cooking Lisbon offers pastry classes for €40 per person at their culinary school near Anjos subway station.
It's important to teach children healthy eating habits and what better way than by giving them some ownership of their own food preparation?
Location: Cidade de Liverpool 16D, 1170-097, Lisboa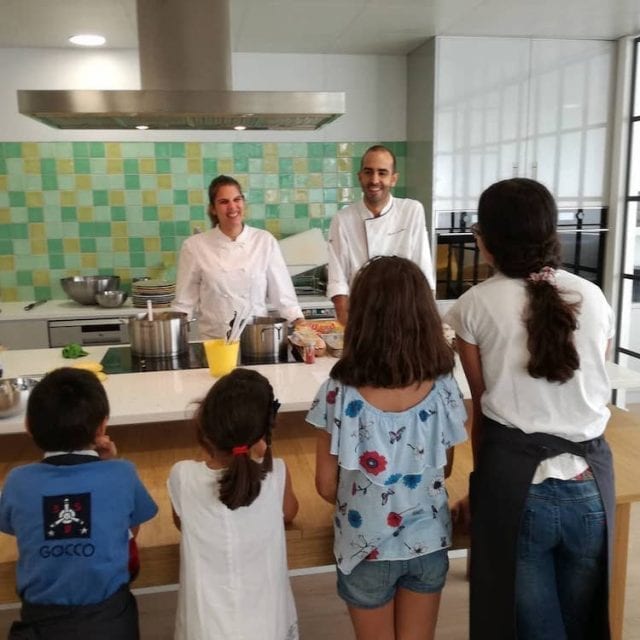 9. Admire the Portuguese azulejos
The beautiful tiles in Portugal can be admired in their very own museum, the Museu Nacional do Azulejo, in downtown Lisbon.
The museum is dedicated to the traditional tilework of Portugal, an artistic expression that differentiates Portuguese culture and the uniqueness of its buildings.
Its collections showcase the history of the work from the 15thcentury to the present day.
Challenge your kids to count the number of tiles they can find!
Location: Rua Madre de Deus 4, 1900-312, Lisboa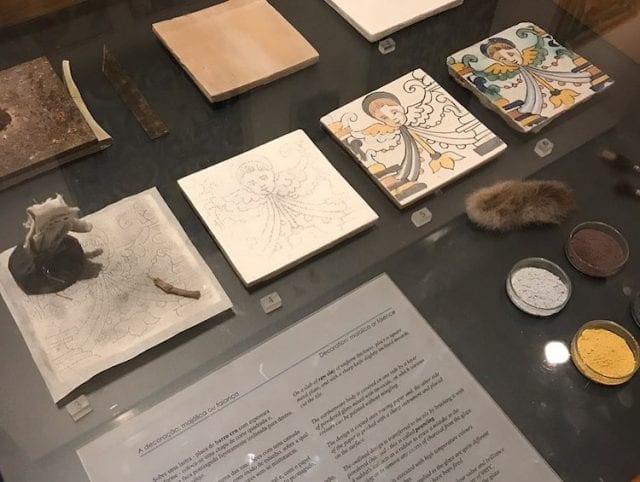 10. Visit Benfica Stadium
For football fans, the SL Benfica stadium tour and museum is a must-do!
Visitors are allowed the chance to re-trace the footsteps of legendary players and victories over a two-hour tour of the Luz stadium.
Highlights of the tour include panoramic views of the stadium as well as access to the player locker rooms, and the media press room.
The tour ends with a visit to the museum where you and your kids can learn all about SL Benfica.
Location: Sport Lisboa e Benfica, Av. Eusébio da Silva Ferreira, 1500-313 Lisboa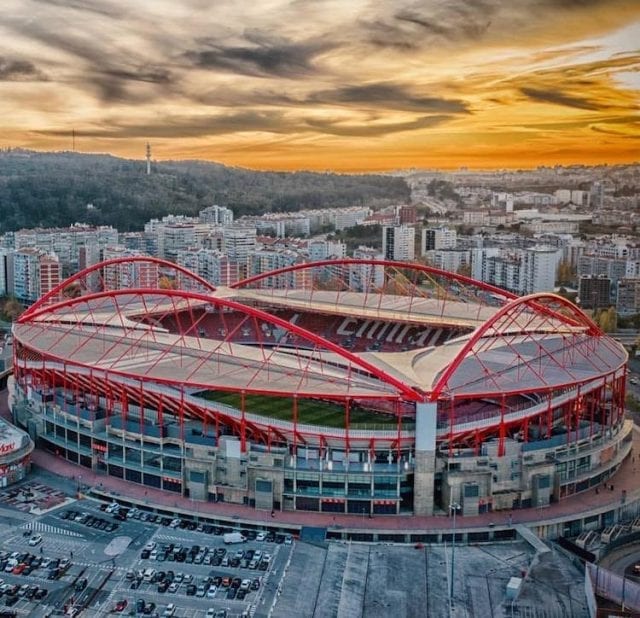 11. Go whale watching in the Azores
If you make your way to the Azores then whale watching is the perfect adventure fit for the whole family.
Various tour groups such as Responsible Travel or Azores Whale Watch, offer visitors the unique chance to experience a guided boat tour while admiring whales and dolphins in the sea.
The main season for whale watching runs from April all the way through the summer to October while the whales travel on their migratory paths.
12. Experience and experiment with all things science at Pavilhão do Conhecimento
Visit the Pavilhão do Conhecimento in Lisbon with your children for a fun and educational day out. The science museum is very interactive with plenty of fun exhibits, experiments, workshops and plays areas inside.
You learn by experimenting and can do things like make a ball float in the air, create a tornado, or ride a bicycle on a string! This is a great day out for both kids and adults!
Location: Largo Jose Mariano Gago, 1990-071, Lisboa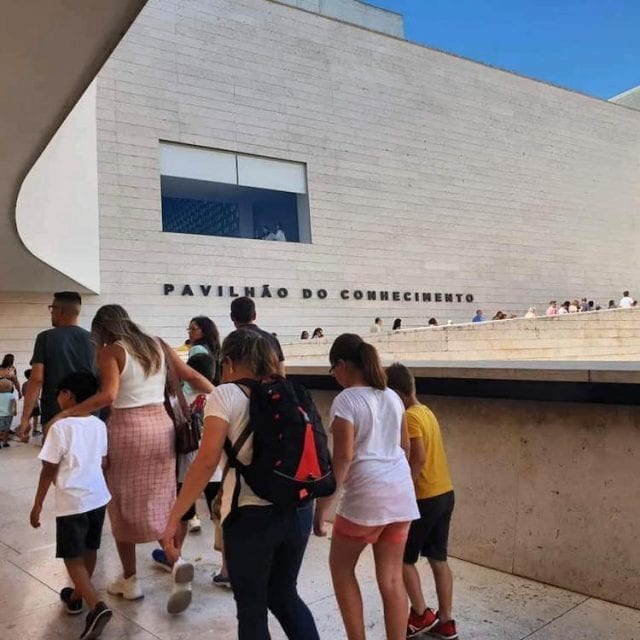 13. Learn how to scuba dive in the Algarve
An experience you and your family won't forget – diving in the crystal-clear waters of the Algarve!
The Algarve Dive Experience is a PADI dive center in the Algarve that caters for all levels of diving.
They specialize in providing first-timers who are interested in trying the sport, a fun, safe, and informal introduction to the world of scuba diving.
The PADI Scuba Diver 2-day course is perfect for beginners and allows participants to dive to a maximum of 12 metres. If you don't want to dive, you can also rent snorkel equipment at the center.
Location: Hotel Tivoli, 8400-526 Cavoeiro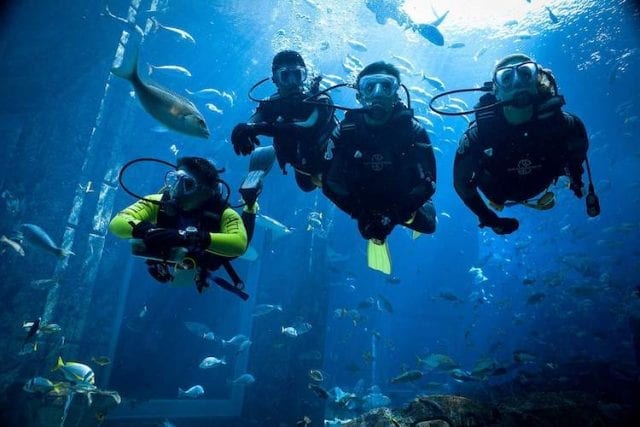 14. Visit MAAT, the Museum of Art, Architecture and Technology Museum
MAAT resides in an old riverside power station, with renewable energy and electrical phenomena exhibits. It is a great place to visit for kids, also perfectly located along the Tagus River.
Location: Av. Brasilia, 1300-598, Lisboa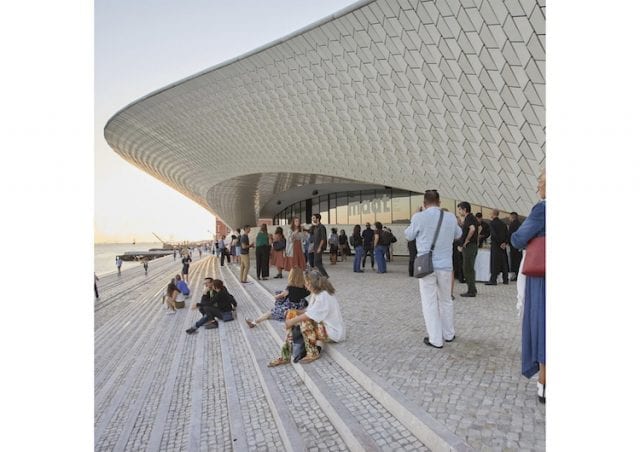 15. See all of Portugal in a day at Portugal dos Pequenitos
The Portugal dos Pequenitos is a miniature amusement park located in Coimbra.
Built in 1940, the goal of the park was to become a "living portrait of what it is to be Portuguese and the Portuguese presence throughout the world".
The park features "mini" versions of Portuguese houses and monuments and is the perfect place for children to see "all" of Portugal in one day.
Location: Rossio de Santa Clara, 3040-256, Coimbra
Open hours: October – February 10 am – 5 pm; March-May 10 am – 7 pm; June – September 9 am – 8 pm; and September – October 10 am – 7 pm.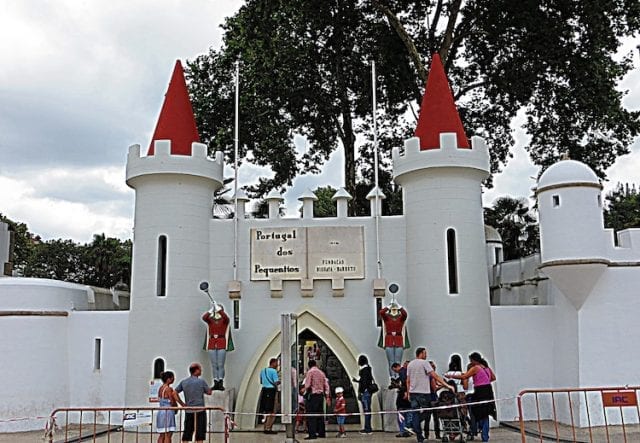 Get the most out of Portugal with your kids
From history lessons to surf schools, art, science, football, and castles – Portugal has a wide variety of fun and educational activities for families visiting with children.
Whether you're looking to fill one day or two weeks' worth of activities, there is definitely something here for everyone.