Lisbon Gay Pride, officially known as Arraial Lisboa Pride, is the largest LGBTI event in Portugal.
It's an important event that aims to shine a light on the various issues of injustice that still affect the LGBTI community. A much loved and celebrated event, it attracts huge crowds each year – with over 70,000 visitors attending in 2018.
Lisbon Gay Pride
Lisbon Gay Pride goes hand in hand with a Lisbon that knows how to value diversity, inclusivity and equality. The invitation for Pride each year is made loud and clear: Everyone is welcome!
Read on to learn about Pride and find out how you can get involved in Lisbon's most fabulous party!
What is the history of Pride?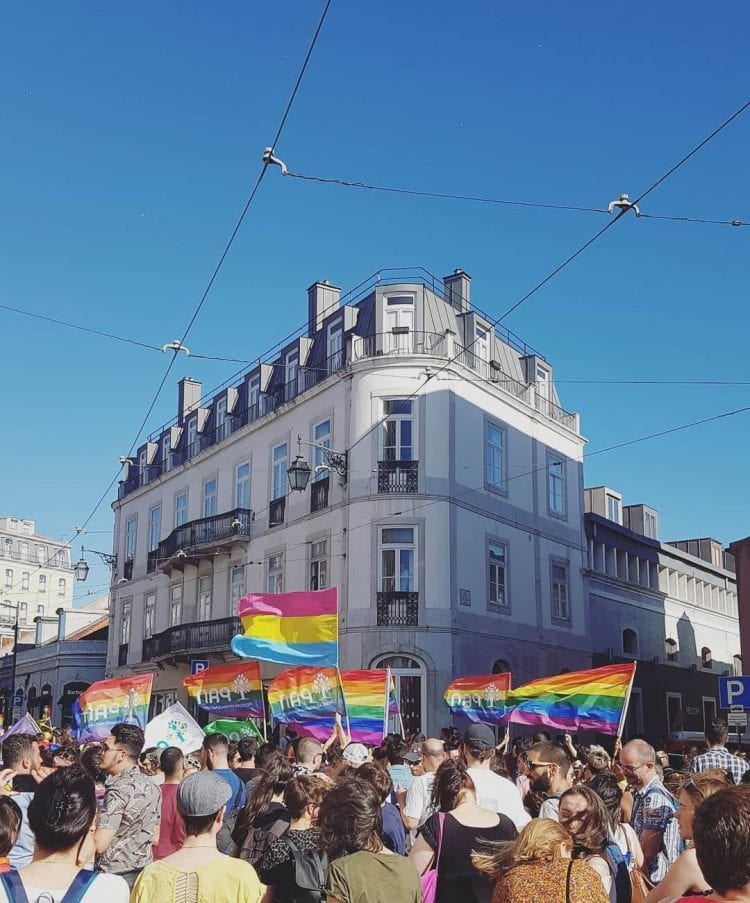 Since 1997, Lisbon Gay Pride has aimed to bring visibility to the queer community. Pride is equal parts celebration and political demonstration of achieving equal rights for the LGBTI community.
Across the world, the month of June was chosen as Pride Month to commemorate the Stonewall riots, which occurred at the end of June in 1969.
Following a police raid on the Stonewall Inn, a gay bar in New York, the Stonewall riots marked the turning point for the LGBTI community to come together in protest of decades of oppression, discrimination and violence.
Since then, Pride parades have been organized across the world to mark a positive stance against discrimination and violence towards the LGBTI community.
Pride, as opposed to shame and social stigma, is the powerful outlook that has been chosen to help uplift the LGBTI community around the world.
Why do we need a Lisbon Gay Pride?
Portugal legalized same-sex marriage on the 5th of June 2010, making it the 6th country in Europe and 8th in the world to do so.
While it was one of the earliest in the world to legally support the queer community, social attitudes in Portugal still don't fully reflect this.
A study published in 2018 revealed 59% of Portuguese people supported same-sex marriage, which is just barely the majority of the population.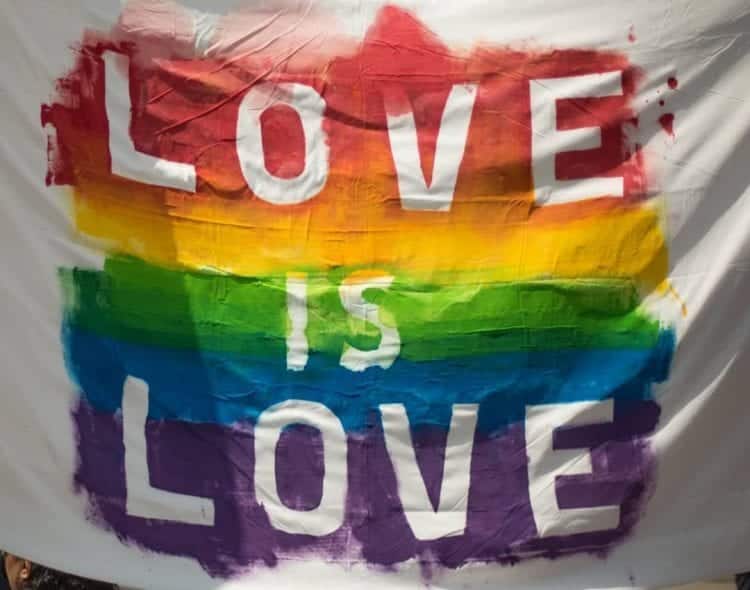 Lisbon Gay Pride is an important event that continues to show solidarity with the LGBTI community in Portugal.
Despite their gains, the LGBTI community still faces discrimination and inequality. The Pride events shine a spotlight on these issues not only affecting the LGBTI community in Portugal but also of those faced globally.
What's the gay scene like in Lisbon?
While Lisbon's gay scene may not be as big as other European cities, it did manage to host Eurovision, aka 'The Gay Olympics', last year.
Since then, it has certainly catapulted itself to be the hottest destination for queer travellers.
Lisbon certainly ticks all the right boxes – late night parties, consistently great weather, gay-friendly nude beaches, cheap alcohol and of course, the friendliness of the Portuguese people.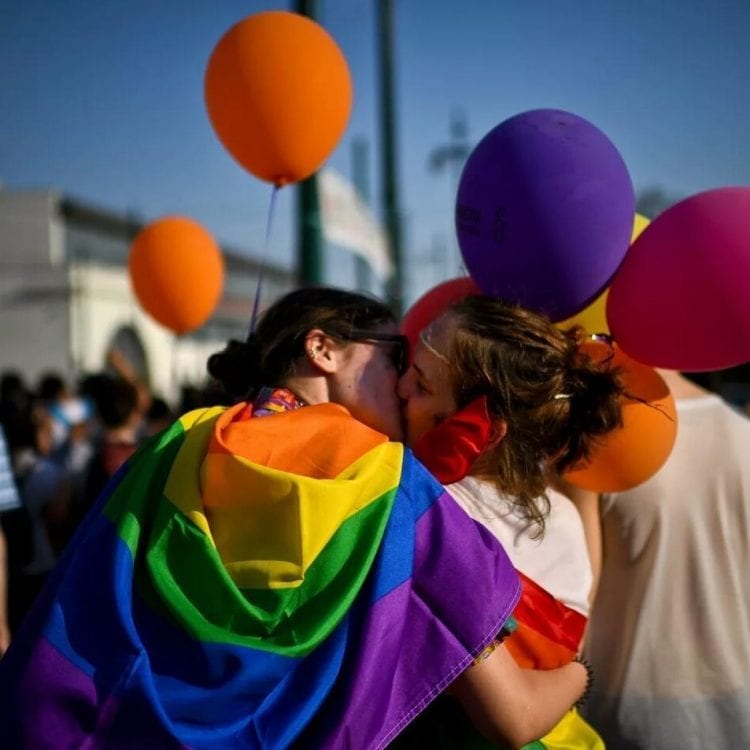 Lisbon is the nation's liveliest city and quite embracing of the LGTBI community.
As a city, it's renowned for its freedom, tolerance and creative spirit. You'll find the main gaybourhood's here are Príncipe Real and Bairro Alto, which are both conveniently in the city center.
Bairro Alto is Lisbon's renowned cobble street bar quarter. A mixture of late-night restaurants, fado music, and straight bars.
Most of the gay bars here like Side Bar can be found on Rua Barroca, which primarily attracts the Lisbon locals. For twinks, twink lovers and lovers of great pop music, Friends Bairro Alto is the place to visit to start your night!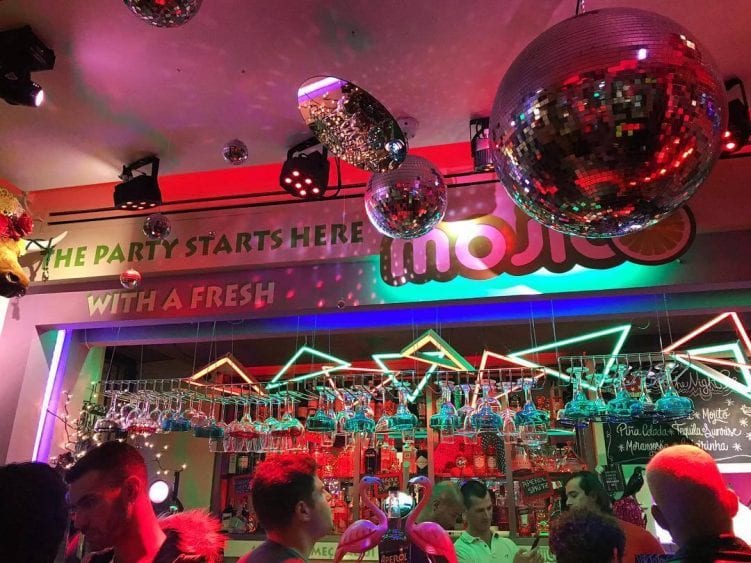 Only after midnight should you even consider making your way to Príncipe Real. Here, late night clubbers are spoiled for choice amongst the many gay clubs available.
Trumps is the largest gay club and an institution that's super popular with tourists. Construction is catered towards bears and muscle gays.
Finalmente has the best drag shows in Lisbon. While the newest gay club Posh is full of great music and drag performers.
In Lisbon, you'll be glad to know that you can also drink on the streets here. A local's tip though, start your night at around 10pm as partying in Lisbon starts (and ends) very, very late!
When is Lisbon Gay Pride?
Unlike most gay pride events, Lisbon Gay Pride comprises of two main events that take place over two consecutive weekends.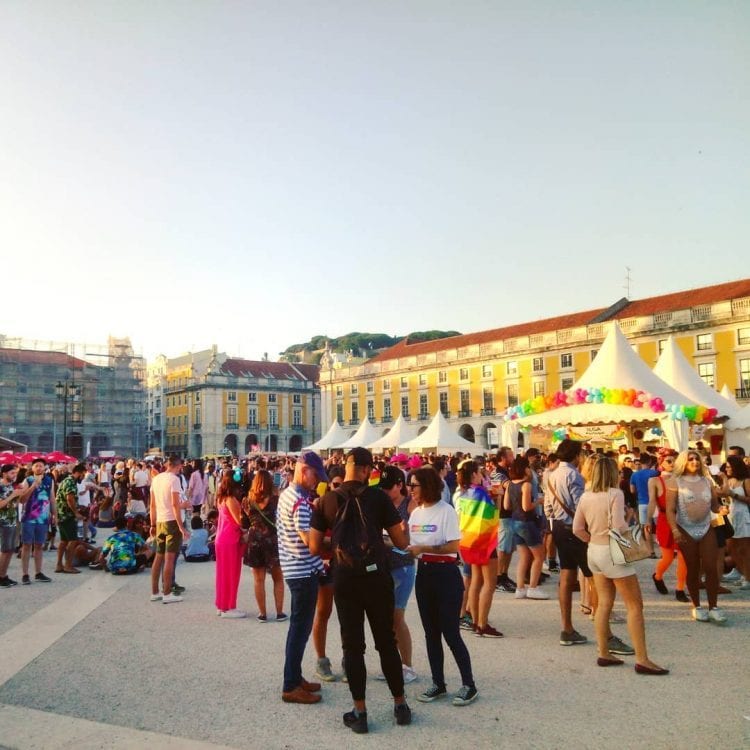 In 2019, the first weekend starts on Saturday, June 22, where Lisbon Gay Pride illuminates the city with a Pride event right in the heart of Lisbon.
It takes place at Terreiro do Paço, right in the heart of Praça do Comércio. You can expect one big fabulous party, with the event lasting for 12 hours straight – from 4pm till 4am the next day.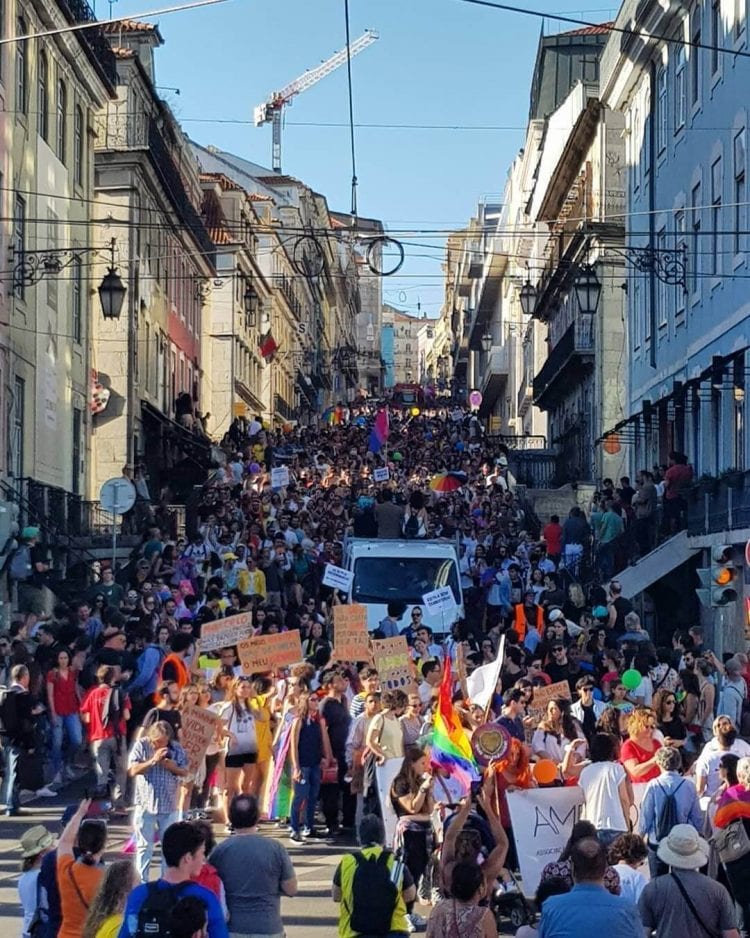 The second weekend is the Lisbon Gay Pride Parade, which kicks things off at 5pm on Saturday 29th June.
This year is a monumental year because the parade will coincide the day after the 50 year anniversary of the Stonewall riots. It starts at Praça do Príncipe Real and travels down, passing by the stunning River Tagus.
The parade continues along the river before finishing at Avenida Ribeira das Naus near Cais do Sodré.
What can I expect during the Pride events?
Lisbon Gay Pride is completely free to enter which means everyone is welcome to celebrate and show their support. It's an inclusive event that's family friendly with plenty of activities available for young and old, as well as your pets!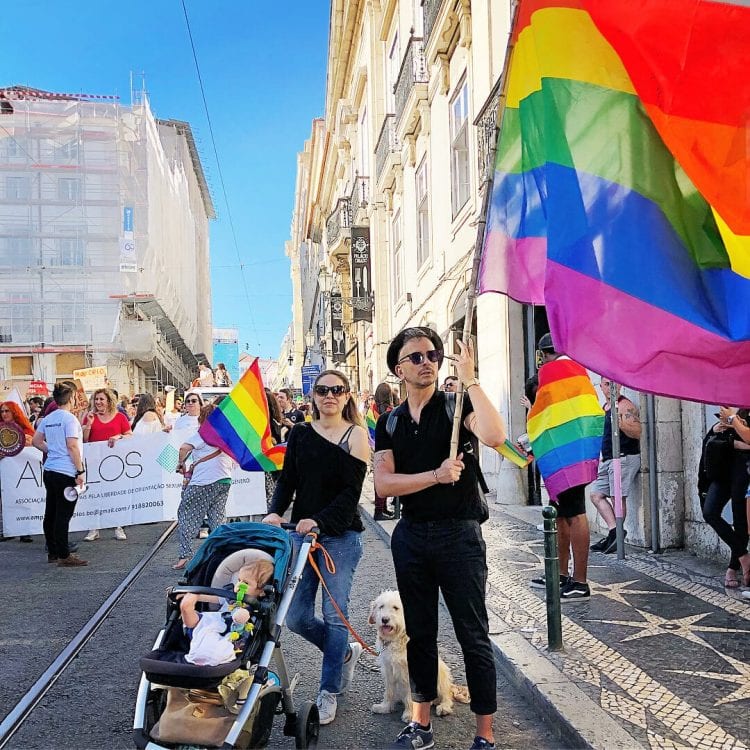 An incredible party filled with great music, Lisbon Gay Pride will take over Terreiro do Paço with delicious food stalls, great bars and fun activities throughout.
During the 12 hour party you will definitely have great music to dance to with special DJ sets on rotation each hour at the main stage.
For those wanting to learn a few things through the night, there is a mobile van from the Lisbon library with storytellers entertaining young and old.
The Welcome Centre is also an area to check out with awesome activities on offer such as face painting, speed friending and even recruitment from Fujitsu Portugal.
There is also a ''Sparkle Out Loud' session for those that want some extra make-up to shine for the night!
Best Hotels to Stay Around Lisbon
During Lisbon Gay Pride, it's important to show solidarity with businesses who also support the LGBTI community. We've found the best hotels that not only support Lisbon Gay Pride but are also perfect to stay close to all the action!
The Late Birds Lisbon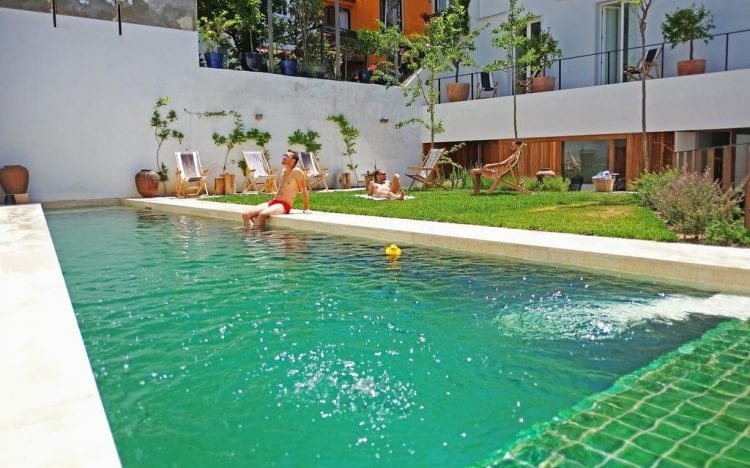 An urban resort in Lisbon's Bairro Alto district, The Late Birds is a gay, men's only hotel right in the heart of all the action.
Located just 650m away from Príncipe Real, the hotel features an outdoor swimming pool, sun deck and lounge bar. It's the perfect hotel for your daytime recovery after a big night out! Guests love the friendly staff and social atmosphere built in the hotel.
Here, guests are treated as friends!
Prices from: €140 per night
Address: Tv. André Valente 21, 1200-024 Lisboa
Anjo Azul Hotel Lisbon
Opened in 1998, Anjo Azul Hotel is Lisbon's first gay friendly hotel. Located in a renovated 18th-century property, it features modern decor and a charming facade covered with Portuguese tiles.
The hotel is just 300m away from Camões Square in Chiado, the starting point for most nights out in Lisbon. Each room features a private bathroom, flat-screen TV and safety deposit box.
Prices from: €40 per night
Address: Rua Luz Soriano 75, Lisbon, Portugal
Lisbon Marriot Hotel
The Lisbon Marriot Hotel is an official sponsor of Lisbon Gay Pride 2019. A large 4 star hotel, it's perfect for those flying into the city for the weekend. The hotel is strategically located between the airport and downtown.
It features a relaxing garden area, fitness center and an outdoor pool with palm trees for the perfect oasis.
Prices from: €103 per night
Address: Av. dos Combatentes 45, 1600-042 Lisboa
Casa do Jasmim by Shiadu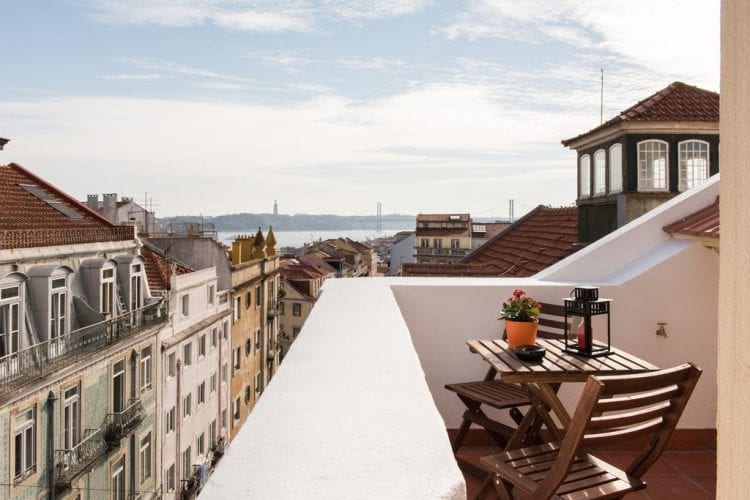 If you want to be in the heart of the Principe Real gaybourhood, look no further. Casa do Jasmim by Shiadu is just a few minutes walk from all the gay clubs making it absolutely perfect for your Pride weekend.
The rooms are spacious and tastefully designed, with private terraces available in some for the perfect moment to relax. Guests also rave about the excellent hospitality provided by the staff!
Prices from: €105 per night
Address: R. do Jasmim 19, 1200-311 Lisboa
Bairro Alto Hotel
Perfectly positioned to get the most out of your Pride weekend, Bairro Alto Hotel is an incredible 5-star boutique hotel.
The hotel features luxurious rooms and terraces with panoramic views over Lisbon. It's situated just a few blocks away from the best bars and restaurants and most importantly, Lisbon's gaybourhoods.
Prices from: €290 per night
Address: Praça Luís de Camões 2, 1200-243 Lisboa
If you're too late to book a room, there's also plenty of other options available. Read our Hotels in Lisbon list to find more hotels to stay! Or if you're looking for a more budget-friendly alternative you can also check the best hostels in Lisbon.
How to Get to Lisbon Gay Pride
Traveling to Lisbon Gay Pride is super easy, as the main events all take place in the center of Lisbon. If you're flying in, you can easily catch a taxi, bus or train from Lisbon Airport directly into the downtown.
Located just 7km away from the airport, the journey time should only take between 15 and 30 minutes.
For those staying or living in Lisbon, public transportation is the most efficient way to get to the events. For weekend one, Terreiro do Paço or Baixa-Chiado metro station is the closest to Lisbon Gay Pride.
While Rato metro station is the closest to join the start of the parade on weekend two.
Lisbon Gay Pride: Celebrating Love and Diversity
Lisbon Gay Pride ultimately aims to show that we are all equal and to celebrate the beauty in our sexual diversity and gender variance.
Whether you identify with the LGBTI community or are simply an ally, all that matters is that you make sure to join in on the festivities, have fun and show your support on each day.
Just remember, if you find glitter everywhere the next morning, you've certainly had a great night of partying. Happy Pride everyone!