Today, we will be talking about yet another place that you simply have to visit if you are spending some time in Lisbon: The Lisbon Oceanarium.
'The World's Best Aquarium' (according to TripAdvisor) – Oceanário de Lisboa is an iconic place to visit in Lisbon, and we carefully put together all the essential tips in one place.
Where is it and how to get to Lisbon Oceanarium by public transport, or by car; what can you do once you're there (except enjoying the beautiful view of course); if Oceanarium in Lisbon is only for kids or it also can be a cool experience for adults; how to skip enormously long lines and more.
We dug all the info about it, so you don't have to. Just stick around!
What is the Lisbon Oceanarium?
Chances are that if you are thinking about visiting Lisbon, you have probably come upon these words: Lisbon Oceanarium. And now, you might be wondering what it actually is.
Well, the Lisbon Oceanarium is a public (and giant) complex that includes a beautiful, public aquarium and a big complex surrounding it.
It is the second biggest oceanarium in Europe and the house to more than 8000 animals and plants of more than 500 different species.
So it is fair to say that if you enjoy the ocean and sea life, this is clearly a must.
What do you do at Lisbon Oceanarium?
Oh, where to start?
As we said before, the Lisbon Oceanarium is much more than a public aquarium. By visiting it, you are not getting in touch with the sea life and the oceans, but you really enjoy experiences and create memories that will last.
Expositions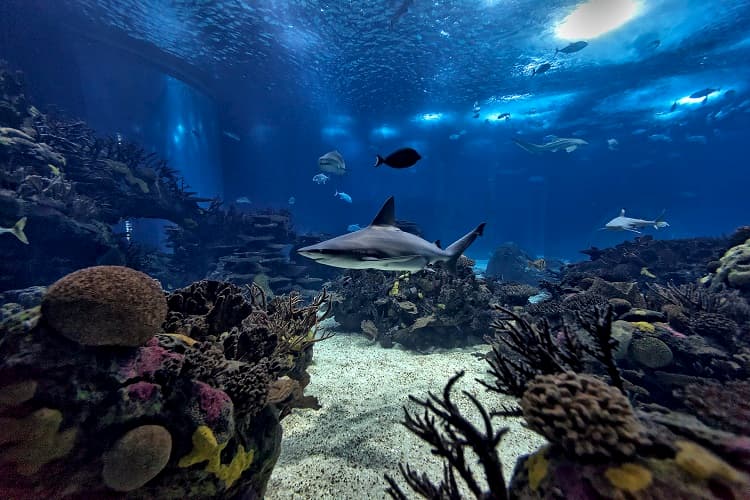 The first thing that comes to mind when you think about an aquarium is, certainly, seeing fishes and algae and lots of things. And you are right!
The Lisbon Oceanarium presents two different expositions every year.
Permanent exposition – the same all year long;
Temporary exposition – it varies with the season of the year.
It might also be interesting to see 9 things to do with kids in Portugal.
Permanent exposition
As said above, the Lisbon Oceanarium presents a permanent exposition all year long.
This can be seen in the Central Aquarium and it is impressive! About 5 million liters of salted water and 4 different habitats leave you with the impression that you are contemplating the ocean.
It presents two levels: the "above the ground" level, where you can see species like penguins and sea otters, and the "subaquatic" level, where you see numerous types of sharks, sea stars, algae, plants and fishes in their natural habitat.
What to expect to see?
Plants and Algae;
Mammals;
Amphibians;
Fishes;
Invertebrates;
Birds.
Temporary exposition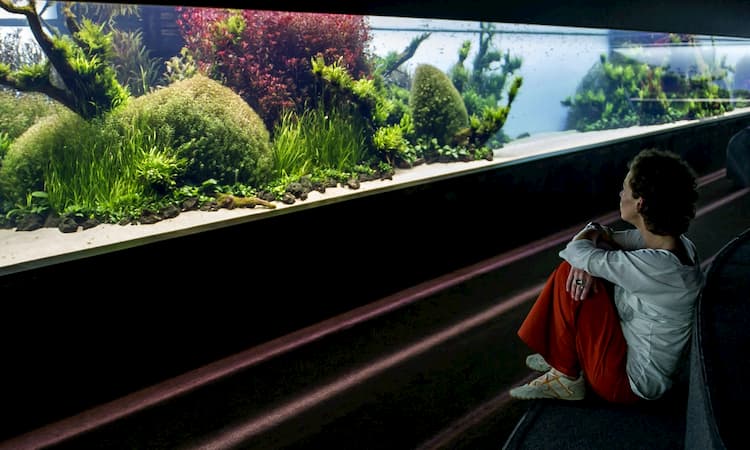 The temporary exposition, as the name implies, takes place only for a limited amount of time each year. Usually, it varies with the season of the year, therefore, the species presented are different from time to time.
The mains scope, however, is always to show all the biodiversity one can find in the oceans.
You can see the current temporary exhibition here.
Family fun
Although seeing sea life in their natural habitats may be impressive enough, the Lisbon Oceanarium goes a step further and provides some unique experiences that are fun for the whole family.
Here is a list of some of the activities that you (or maybe your children) could do at the Lisbon Oceanarium:
Birthday party;
Sleeping with the sharks;
Concerts for toddlers;
Fado for the little ones;
Underwater vacations;
Playing CSI;
The sea is for all ages (activity for senior citizens).
But even if you don't have the time you need for some of these activities, one thing is for sure: the sea otters will not disappoint!
Working hours
Now that you know what you could do at the Lisbon Oceanarium, you only need to know when you can visit it.
The Oceanarium is opened every day of the year, as follows:
Summertime: 10.00h – 20.00h (last entrance at 19.00h);
Wintertime: 10.00h – 19.00h (last entrance at 18.00h);
December 25th: 13.00h – 18.00h;
January 1st: 12.00h – 18.00h.
Where is it located?
The Lisbon Oceanarium is located in Lisbon (surprise, surprise!), more specifically, Doca dos Olivais – Parque das Nações.
For convenience, you can find the address here.
How can you get there?
In order to get to the Lisbon Oceanarium, just chose one of the following methods:
Bus – nearest stop: Estação do Oriente;
Underground: Redline; Stop: Estação do Oriente;
Train: Any train that stops at Estação do Oriente;
Car (see here how to rent a car in Portugal);
Take note: Bus -> You could take any of the following busses: 705, 725, 728, 744, 708, 750, 759, 782, 794;
If you are driving and need a place to park your car, consider the Oceanarium's parking space, the harbor's parking space or Vasco da Gama's Tower parking space.
Find out more Lisbon public transportation and choose the best way to get to the Oceanarium.
Prices to visit the Lisbon Oceanarium
Regarding prices, they vary according to the exposition you wish to see, where you buy the tickets and with the age of the visitor, as follows:
Ticket office: 11€ – 16€ (only permanent exposition) and 13€-19€ (both expositions);
Children under the age of 3 years – free of charge;
Family tickets – 2 adults + 2 children under 12 years may get a better ticket price.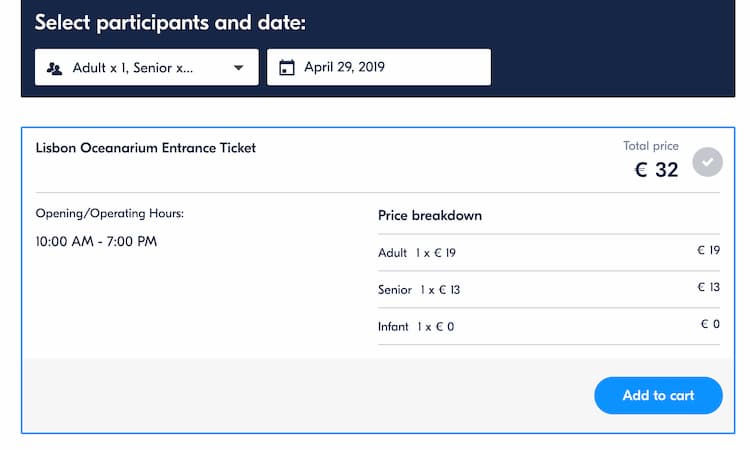 Tickets
Now that you know what is it, when and how to get there, you only need your tickets.
You can buy your tickets online directly from GetYourGuide.
It's safe and fast;
You can cancel up to 24 hours before the experience date;
You get instant confirmation;
You skip the line (believe me, they get really huge!).
Buying the tickets online will make your life easier. You will avoid the waiting lines and, you will have the ticket for both expositions (permanent and temporary) taken care of.
You can also buy your tickets at the ticket office, in which case you can choose the exposition you wish to see.
How long does it take to visit?
If you enjoy doing things in a relaxed fashion, we would recommend you clear at least 3 hours of your schedule and dedicate them to this activity. You will not regret it (promise!).
Keep in mind, however, that on high season, it could take a little longer.
It might get a little bit crowded
Also, take into consideration that some days the Lisbon Oceanarium gets very crowded, especially during national holidays, school vacations and weekends.
So plan your visit carefully and see the Portuguese calendar in advance.
Are there guided tours?
Yes! For every exposition.
Are there audio guides?
Yes! You can find one in Portuguese, English, French, Spanish, German and Italian.
Where can I store my things?
You can choose to use the lockers the Oceanarium has at your disposal.
Can I buy some souvenirs in Lisbon Oceanarium?
Sure! After finishing the main exposition you'll get to the big souvenir shop (no kidding, it's the whole floor) full of cute toys, color books, and things for kids; tote bags, t-shirts with original prints, notebooks and traditional Portuguese snacks for adults; and of course pens, magnets, and small statuettes to give as a gift to your friends.
Is it worth it visiting the Lisbon Oceanarium?
Yes, yes and yes!
If, by chance, you live in Lisbon and you haven't visited the Lisbon Oceanarium yet, just do it. You will find it very relaxing and fun at the same time.
If, on the other hand, you are only visiting Lisbon for a limited amount of time, this is definitely an option to consider.
Although it can take some time, visiting Lisbon Oceanarium is certainly worth it.
If you think you don't have enough time, at least put it on your ' Places to visit ' list. Whenever you'll get a chance to come to Lisbon again, Oceanarium is waiting for you.
Real Reviews from people who visited
Not convinced? Check a few reviews on TripAdvisor below.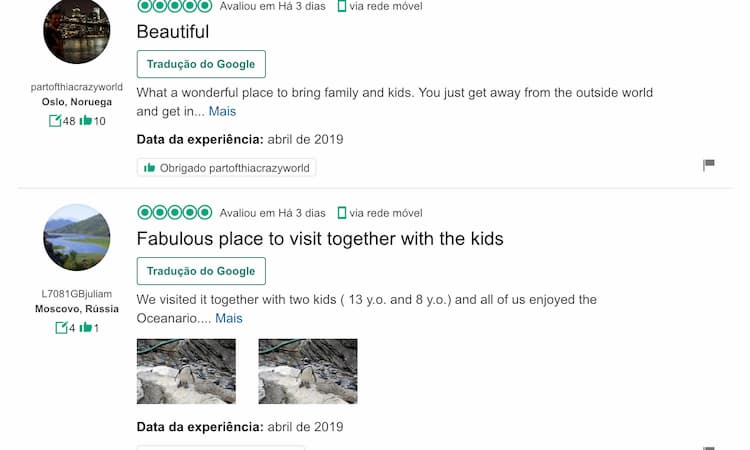 Do you want to receive more insider tips to visit Lisbon? You can subscribe to our newsletter. It only takes 30 seconds.
OMG Facts about Lisbon Oceanarium – More than a giant aquarium
When you are visiting the Lisbon Oceanarium, you are being much more than a customer or a visitor. You are contributing to the many projects the Oceanarium is involved in.
Cool no?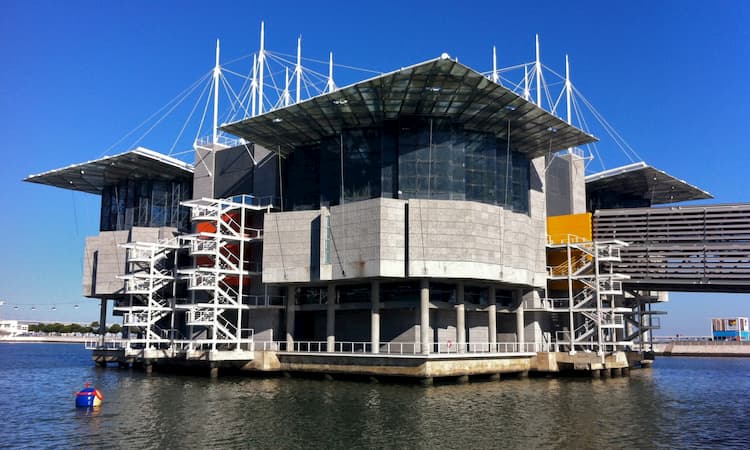 Ocean sustainability and education
The Lisbon Oceanarium collaborates with numerous scientific projects for biodiversity conservation and for sustainable development of the oceans.
In addition, the Oceanarium provides education on numerous topics concerning sea life and everything related to it on numerous levels, from pre-scholar age until high-school age.
It might also be interesting to read about the best international schools in Portugal.
Oceanarium Shuttle from other cities
One of the most impressive activities that the Lisbon Oceanarium presents is the one that is called Oceanarium Shuttle.
The Oceanarium, in partnership with numerous City Halls in the country, work together in order to get a part of the Oceanarium at least once in every possible city, in order to provide more knowledge about the ocean and its importance.
It really makes you feel part of something bigger, especially these days.
Planning a day trip to Lisbon Oceanarium – Word of Wisdom
One thing you can't recover in life is a moment after it's missed. We hope after reading this post you find some time to plan your visit to Lisbon Oceanarium and enjoy it to the fullest.
If you're looking for other things to do in Lisbon, see our top 10 free things to do in Lisbon.