Monsanto: the most Portuguese village in Portugal!
Well, that's what everyone says. Why, you ask?
If you want to go to the most typical Portuguese ancient village, this one is a must-see.
Things to know about Monsanto, Portugal
Let's get to know a bit more about this historical Portuguese village.
Monsanto's long history
In the interior region of Portugal, Monsanto sits on a hill with an elevation of 758 meters (2,487 feet). Throughout Monsanto, Portugal numerous ancient peoples have passed through adding their contribution to building this historical village.
Romans, Visigoths and Arabs have lived in the village until King D. Afonso Henriques arrived to take over the whole village and give it to the Templars in the 12th century. In order to defend their new township, the Templars built a wall around it and also a built castle which stands today.
In 1948, this castle was classified as a National Monument, since its resembles a kind of military architecture that is important to Portugal's heritage.
Since then, many illustrious people have lived there, including Fernando Namora, a very famous Portuguese doctor and writer.
Where is Monsanto?
Monsanto is in the municipality of Idanha-a-Nova, east of Castelo Branco, in the interior of Portugal very close to the Spanish border.
Monsanto is also called as "Monte Santo" which, in English, means "Holy Hill".
How to get to Monsanto
If you are coming to Monsanto from another country, the closest airport is Lisbon Airport. From there it will take you just under three hours by car.
There is no direct public transport to the village, so you really need to go by the highway.
If you are coming from Porto, you also should travel by car, since there is no direct train or bus to get to Monsanto.
The 297 km (185 miles) ride will take about three and a half hours.
Find out about visiting Porto and Porto's airport.
On the other hand, if you are in Coimbra, the closest city we have spoken of so far, you can grab a car and ride for about two hours and 20 minutes and you will be in Monsanto.
Need to rent a car in Portugal? Check out our handy guide: Car Rentals in Portugal.
How to get around Monsanto
Definitely by foot, since this is such a mountainous village with stone paths and a lot of tiny houses to walk by. The village is not very big, so it is better to get to know all the interesting places on foot.
What to do and see in Monsanto
Bring your camera because this charming village of Monsanto is very picturesque. Here are just a few of the sights to see.
Praça dos Canhões' lookout
As soon as you enter the village, you can see a lookout on the right side of the road. From this viewpoint, you can see all the plains surrounding Monsanto, Portugal and feel the company of the cannons that once were used to protect the kingdom.
Matriz Church
A bit higher up from the lookout, you can find the Matriz Church. The main door still is from the Roman Era and the whole building is very well preserved.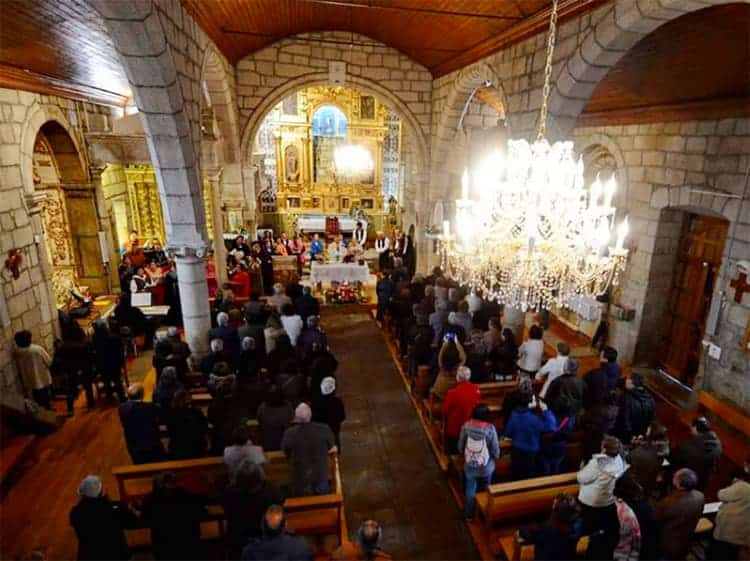 Penedos Juntos
On your way to the castle, you will first find the Penedos Juntos the huge granitic stones that you can see from the base of the village. The course passes through the middle of the cliffs and takes you all the way up into the castle.
Monsanto Castle
The Monsanto Castle marks the highest spot of the village. Located on the top of the 758 metre (2,487 feet) hill, you can only reach it by foot over the stone paths that begin in the village centre and end up on its boulders and ruins at the top.
You can also take a look at the Saint John's Ruins Chapel that are nearby.
If you visit in May, you can also take part of the Santa Cruz festivities.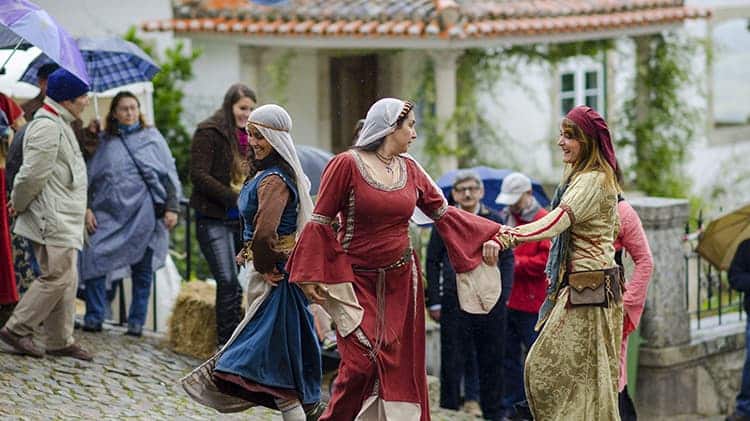 Necropolis of São Miguel
Near the castle, you can find the Necropolis of São Miguel. Here, you can visit the 12th century stone graves that are so well-preserved, even though they have no lid. These stone graves were sculpted directly from the rocks and had the exact same format as the body they were destined to hold.
Saint Anthony's Chapel – Portas de Santo António
On the west side of the village you will find Saint Anthony's Chapel which was built based on the gothic style and its entrance is as unique as can be – it has a Manueline portal with an arch of four archivolts.
Want more tips for travelling around Portugal? Don't miss our newsletter every week by signing up here.
Weather in Monsanto, Portugal
Let's put it this way: in the winter Monsanto, Portugal is really cold and as soon as the spring starts to bloom, the weather begins to turn significantly warmer. Temperatures can easily go over 30ºC (86°F) with a very dry feeling.
The best time to visit Monsanto would be from spring to summer, since you can enjoy your visit  to the village without worrying about putting on more layers of clothes to keep you warm.
If you are into festivals, we would advise you to visit Monsanto in May, when the main festivities take place – and, also, the Medieval Fair.
Check out our article on music festivals in Portugal and where to find them.
Where to eat in Monsanto
Taverna Lusitana
It doesn't get more typical than Taverna Lusitana. Ideal to grab some food or drinks in or outside. In the spring and summer, you can enjoy the magnificent view over the village. Taverna Lusitana is right in the middle of the village, at Rua do Castelo, 19.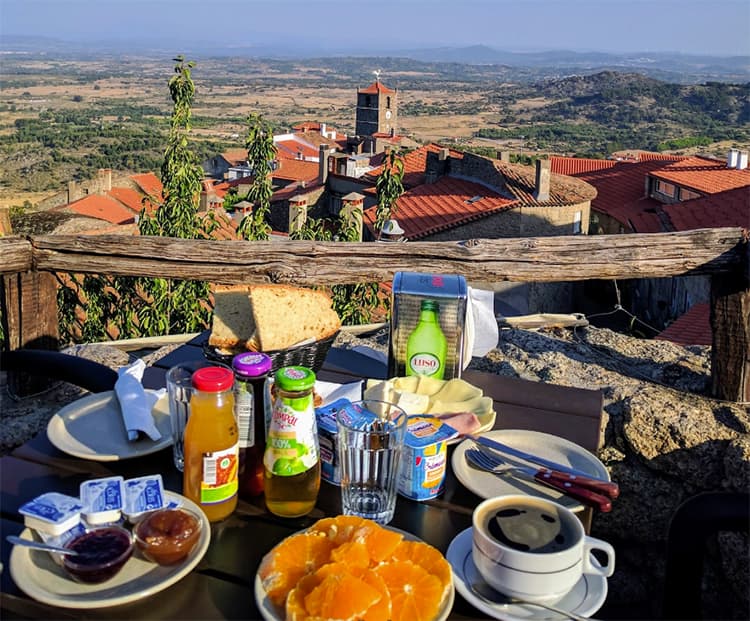 Adega Típica O Cruzeiro
Adega Típica O Cruzeiro at Avenida Fernando Ramos Rocha 17, has a modern decor and serves traditional food at affordable prices with spectacular views. Well worth a visit.
Petiscos e Granitos
Typical and traditional food is what you can find in Petiscos e Granitos which was built around a huge granite boulder. The food is simple but traditional and the staff is super-friendly. You can find this restaurant at Rua da Pracinha 16.
What's a typical dish to try? Have a look at Typical Portuguese Food.
Where to stay in Monsanto, Portugal
Taverna Lusitana
Besides being a restaurant, Taverna Lusitana is also a local guesthouse right in the middle of the village. It only has two bedrooms, so you'd better be quick on your booking.
Casa Pires Mateus
One of the best accommodation options you will find in Monsanto, Portugal is Casa Pires Mateus. It is located in an antique house that was recently restored. It has three double rooms and two twin rooms available as well as a common kitchen where guests can share to cook their own meals.
Monsanto GeoHotel Escola
Very close to the Monsanto Castle, you can find the Monsanto GeoHotel Escola, where you can find a terrace, a shared hall and a bar. It has a twin a double room available for bookings.
Casa de David
In case you are traveling with your pet, Casa de David is the place to stay, since you can bring your pet along. You can choose from a self-catering studio to a typically Portuguese-style suite.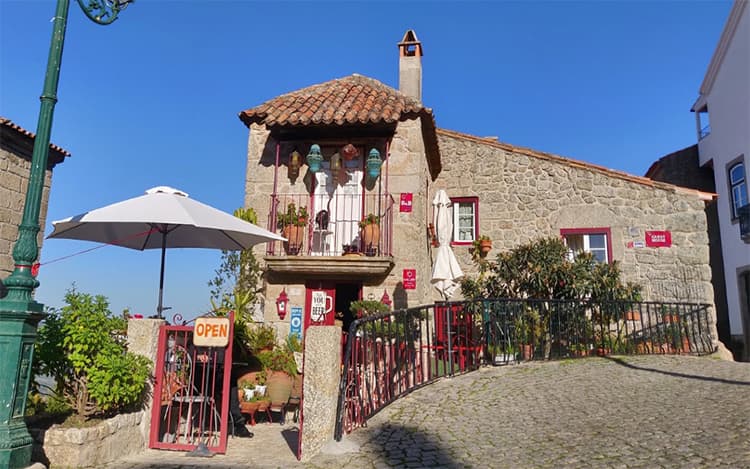 Is Monsanto worth visiting?
It is! Besides the historical monuments, Monsanto, Portugal offers a very quiet environment in which you can relax and just enjoy some quiet times. To visit the whole village you should need two to three days, depending on your schedule.
Living in Monsanto, Portugal
If you are a sociable kind of person that loves to go to a bar or a disco to hang out with some friends, forget about Monsanto Portugal. This is a very peaceful village where the majority of the population is much older.
It is, however, the perfect place to retire, for example, or just live a peaceful life away from all those city noises.
If you are thinking of buying a house there, the price varies. It can go from €10,000 to €100,000, depending on the area (a lot of them are farms and not only houses).
Discover more about the Cost of Living in Portugal here.
Have you been to Monsanto and have any tips to share? Let us know below.