Sines is a small seaside town that rests on the Alentejo coast and is known for being the birthplace of the great explorer Vasco da Gama.
Famous for its breathtaking kilometres of sandy beaches and wild, untamed waves, this historic fishing town is a must-see on your trip to Portugal.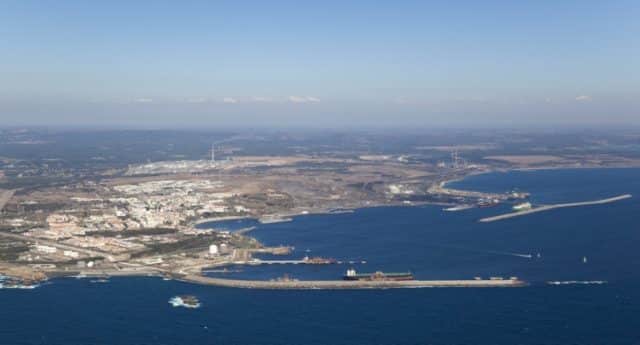 Where is Sines?
Located in the Setúbal District, the Alentejo region, and subregion of the Alentejo coast, the town is about 150 km from the country's capital of Lisbon.
It is perched on the tip of Sines Cape, which juts out into the Atlantic Ocean. The coastline of Sines also makes up part of the natural parks of Southwest Alentejo and the breathtaking Vicentine Coast Natural Park.
How to get to Sines from Lisbon?
If you're arriving in Portugal via Lisbon, you will find that it is quite convenient to travel to Sines from the capital city. The fastest and most obvious way is by car – Sines is just a 1h 45min drive from Lisbon, with the fastest routes leading via the A2 and IP8.
Unfortunately, the national train service does not include any routes from Lisbon to Sines, leaving the only option for public transportation a bus.
You can catch a coach bus, operated by the national carrier Rede Expressos, from the Sete Rios bus terminal.
If travelling to the bus terminal from the airport, you can take the underground metro via the red line to São Sebastião and hop on the blue line for two more stops to Jardim Zoológico. The metro station is adjacent to the bus terminal.
Once arrived at Sete Rios bus terminal, you will find that there are eight journeys every weekday from Lisbon to Sines and seven on Saturdays and Sundays.
A one-way journey will cost you €14.20 and take anywhere from 2h to 2h 40min, depending on which route you choose.
Find out everything you need to know about public transports in Lisbon by clicking this link.
Weather in Sines
The climate in Sines is fairly mild, with winters seeing more precipitation and summers being dry and hot.
During the spring, average temperatures fall between 20 degrees Celsius (68°F) and 25 degrees Celsius (77°F), while July and August tend to be the hottest months of the year.
The coolest month tends to be January while the wettest is typically December. Sines experiences increased precipitation during the months of January, February, October, November, and December.
Over the course of the year, temperatures in Sines typically vary from 8 degrees Celsius (48°F) to 27 degrees Celsius (81°F) and are rarely below 5 degrees Celsius (42°F) or above 32 degrees Celsius (90°F).
The best time of the year to visit Sines is in the late spring and early fall when temperatures are warm but not too hot and the town sees plenty of sun.
Read all about the Portuguese weather here.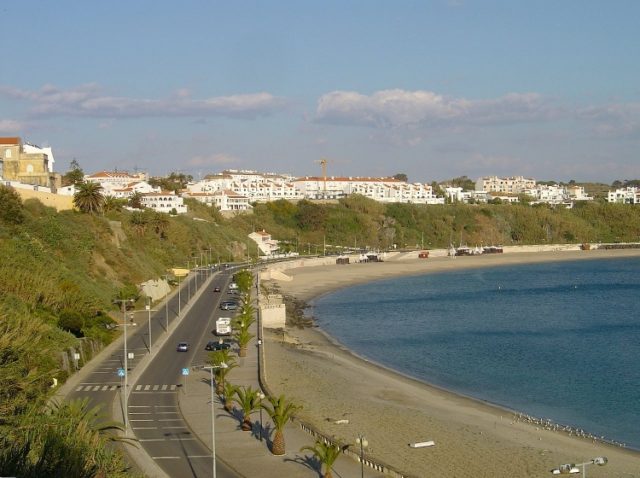 Surfing in Sines
Similar to most of the coastal cities in Portugal, Sines is a prime spot for surfing. The stretch of coast between Sines and Porto Covo is highly sought after for its waves.
The beaches of Morgavel, Vale Figueiros, São Torpes, Praia Grande do Porto Covo, and Ilha do Pessegueiro are the most popular of the Sines beaches for surfers and frequently win European Blue Flags for cleanliness.
São Torpes
This popular surf beach includes a sheltered area protected from swells and northern winds. The red cliffs and clear waters give the beach an added touch of beauty.
This is also an ideal beach for beginners and intermediates. Summer should be avoided due to the lack of waves.
Cabo de Sines
This exposed beach/jetty break provides reliable surf and waves and tends not to be overly crowded. This beach is also generally regarded as the best for beginners.
Surfing classes in Sines
There are several surf schools in Sines where you can sign up for lessons and rent equipment.
Escola de CostAzul is one of the most popular schools, boasting classes for all levels in addition to quality, professional instructors. It was the first surf school in the area and has built a vast reputation for being a small yet professional school that students love to return to.
Surf School ESLA is another school where tourists and residents alike can learn how to surf or fine-tune their skills. It is located on São Torpes beach and offers group and private lessons in addition to clinics and a kids camp in the summer.
For those looking for a more immersive surf experience, check out Pig Dog Surf Camp, designed for groups and large families. You can purchase a surf package through the camp, which includes a seven-night accommodation in a shared room, five days of lessons with equipment and beach transfers, breakfast, and a free BBQ.
Pig Dog Surf Camp also offers lessons and equipment rental for those who do not want to opt for the surf package.
Things to do in Sines, Portugal
In addition to the breathtaking beaches and shoreline, the small town has plenty to offer in terms of attractions, food, and things to do.
Monumento do Vasco da Gama
Vasco da Gama went down in history as one of the greatest Portuguese explorers, having been the first European to arrive in India by sea in the late 15th century.
Sines is the birthplace of Vasco da Gama and the town proudly boasts a statue of the explorer just next to the west tower of the town's castle. The statue was erected in 1970 to mark the 500th anniversary of his journey.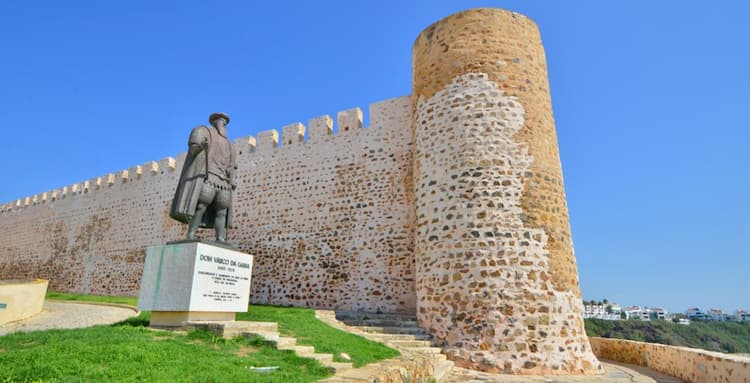 Castelo de Sines
As one of Portugal's busiest fishing harbors during the middle ages, the inhabitants of Sines decided to build a castle to defend their ships and the town against enemy navies and pirates. The castle dates back to the 15th century and still stands in its entirety. Although it was built smaller than average to adapt to the landscape it was built on, the castle boasts a large history, including being home to Estêvão da Gama, father of Vasco da Gama.
Capela de Nossa Senhora das Salvas
This large chapel is classified as a national monument and boasts white-washed walls that blend in with the style of the small town. The church follows the typical religious architecture found in the south of the country with similar chapels including São Brás in Évora, Santo André in Beja, São Sebastião in Alvito, and São Bartolomeu, also in Sines.
You can visit Wednesday to Sunday from 10:00 am to 12:30 pm and 2:30 pm to 6:00 pm.
Discover more places to visit in Portugal when you subscribe to our newsletter.
Best beaches in Sines
The coastline of the Alentejo begins at the mouth of the River Sado and stretches down to Zambujeira do Mar. Until Sines, the coastline is an unbroken strip of sand with quieter waves and less wild terrain. From the port of Sines southward, the strips of sandy beaches and smooth bays alternate with enormous rocky formations and wild brush and dunes. Depending on the time of year, visitors to the beaches surrounding Sines can also marvel in the large swells and wave activity.
São Torpes
A popular destination for surfing, families and large groups also like to camp out on the expanse of sandy beach found here. Known for its slightly warmer waters due to the rocky formations dotting the coastline, this beach is a must if you visit Sines.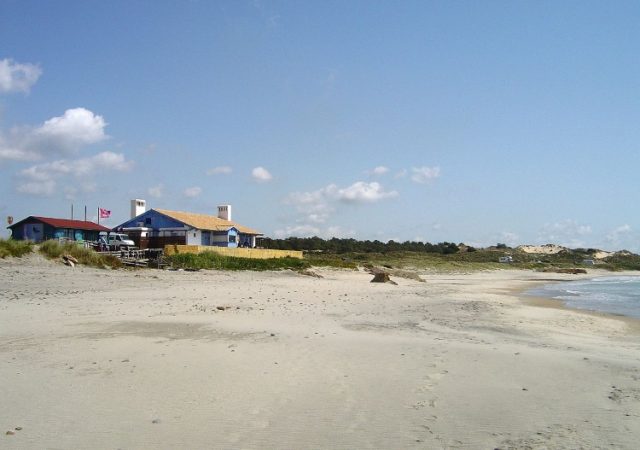 Morgável
With waters considered to be the cleanest on the Alentejo coastline, this beach is surrounded by a tight ring of dunes and despite being one of the region's busiest beaches, it rarely becomes overcrowded. You can find excellent access to the beach via paved roads and keep your car securely parked in the adjacent parking lot.
Vale Figueiros
Other names for this beach include Vieirinha and Pedra da Casca and it is often frequented by bodyboarders and surfers for its regular wave activity.
FMM Sines Music Festival
This yearly summer festival, held in July, draws participants from all over Europe to enjoy music of all different styles, including folk, jazz, alternative music, fusion, urban music, and more. With the motto "music with a spirit of adventure," the festival stands out among its competitors for its coastline location presented in historic and urban scenarios. Venues for the festival include the Castelo de Sines, Avenida da Praia (with gorgeous ocean views), and Poeta Bocage square.
Taking place in two parts, the first three days are held in the village of Porto Côvo, at Largo Marquês de Pombal, before it moves on to the city of Sines.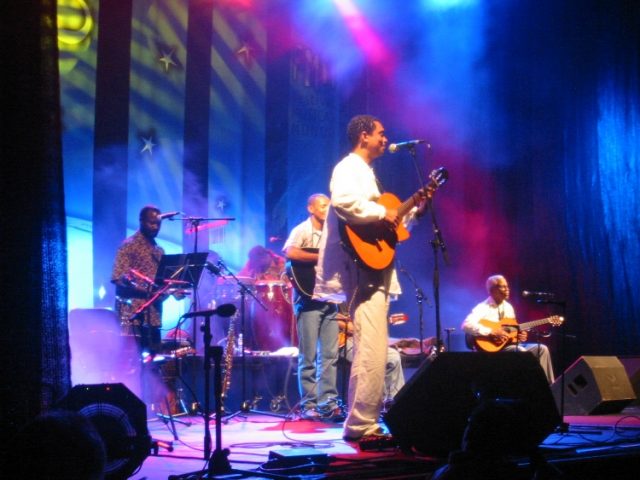 Tickets for the festival can be purchased here, and those interested in the program can also find this information on the website updated closer to the start date of the festival.
For many of the events, admission is free, with certain venues requiring a pre-purchased ticket ranging from €10 to €50 depending on the day and type of pass (single or multiple-day).
Is it worth visiting Sines?
In short, yes! Sines is an unforgettable town along Portugal's famed western coast, boasting stunning beaches and cliffs, a fishing harbour, and a quaint historical centre with centuries of history behind it.